This site is supported by our readers. We may earn a commission, at no cost to you, if you purchase through links.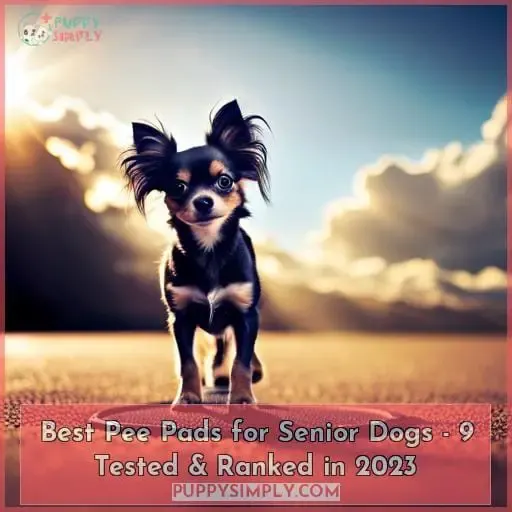 Are you looking for the best pee pads for your senior dog? With so many different options out there, it can be hard to know what's right.
We've tested and ranked nine of the top pee pads on the market today, broken down their features in detail, and laid out some guidelines to help you make an informed decision.
No matter your pup's size or needs, we have something that will work perfectly with them.
Key Takeaways
Frisco pads feature a leak-proof design and a built-in attractant for potty training senior dogs.
Pet Parents Pawtect pads are washable, reusable, and eco-friendly with a waterproof backing, making them a sustainable option for senior dogs.
Glad pads offer five layers of protection, including pheromones and activated carbon for effective odor control for senior dogs.
Four Paws pads are 140% larger than the original size, with six layers of leak-proof protection and an unscented attractant, making them suitable for senior dogs.
Top 9 Best Pee Pads for Senior Dogs
Finding the perfect pee pad for your senior dog can be a challenge. Fortunately, there are several options available that provide excellent absorbency, odor control, and leak-proof protection. Popular brands include Frisco Dog Training Pads, Pet Parents Pawtect Pads, Glad Pets Activated Carbon Dog Pads, Four Paws Dog Training pads, and more.
Frisco Dog Training Pads
View On Chewy
You'll appreciate the leak-proof design and built-in dog attractant of these Frisco Dog Training Pads, which are perfect for potty training puppies and keeping floors dry. The core dimensions measure approximately 20 x 20.5 inches, making them ideal for all breeds and sizes.
These pads feature a quilted top layer that prevents tracking. They also have five layers of absorbency to lock in moisture. Additionally, they have an effective built-in attractant that draws your pup to the pad as part of their training routine.
You can choose between unscented or scented options, depending on your preference.
Absorbent and effective for puppy housebreaking
Leak-proof with plastic lining
Built-in dog attractants
Comes in multiple sizes
Fast-drying quilted top layer
May need more than one pad per accident
Not suitable for senior dogs
Edges may not fully absorb urine
Pet Parents Pawtect Pads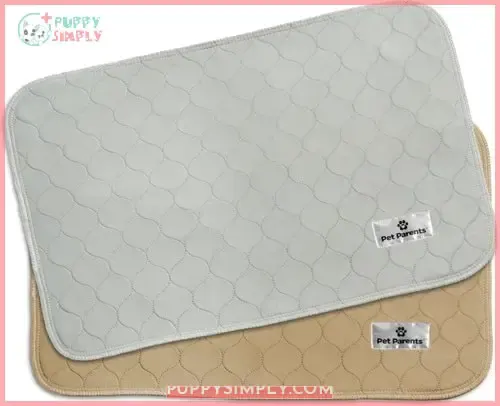 View On Chewy
You can help your senior dog stay clean and dry with Pet Parents Pawtect Pads, a washable pee pad that quickly absorbs liquids and features a waterproof backing to keep messes off your floors. These modern pads come in neutral colors to blend right into their surroundings.
Triple stitched for durability, the polyester fabric holds up well under daily washing so you don't have to worry about replacements or disposables being an added expense. This option is preferred by pet parents who want reusable, eco-friendly alternatives when it comes to potty training indoors or lining crates and carriers for travel needs.
Pawtect Pads absorb liquids quickly while locking them away from surfaces, as well as preventing tracking around the home – even tags won't wick urine off! Best of all, these pads are designed specifically for adult dogs, puppies, and extra small breeds too, making them suitable across multiple life stages of our furry friends! The non-skid bottom also helps prevent slipping if they start running on their slippery paws after using the bathroom – because we know how much fun that can be without safety measures in place!
Absorbs & locks in liquids
Durable construction – triple stitching & waterproof backing
Holds lots of liquid
Non-skid bottom
Eco-friendly alternative
Suitable across multiple life stages
Some pets may think it's just another rug
Glad Pets Activated Carbon Dog Pads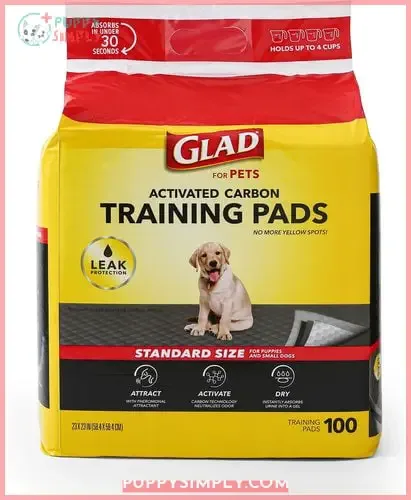 View On Chewy
Glad Pets Activated Carbon Dog Pads offer five layers of protection and contain pheromones to draw your pup to the pad, making it a great option for potty training. It's a 5-layer leak-proof system that turns liquid into gel quickly while neutralizing odors and containing a built-in attractant.
Glad Puppy Pads are suitable for all breeds, including puppies, seniors, and crates. They come in an easy 23 x 23 size that is perfect for housebreaking your pup or keeping messes at bay in multi-dog households.
Durable yet thin pads provide excellent absorbency while controlling odors without being too bulky or taking up too much space.
Five layers of leak-proof protection
Built-in attractant draws puppy to the pad
Absorbs urine & odor control
Suitable for all breeds & puppies
Easy 23 x 23 inch size
Reports of not being tear-resistant
May have leaks despite claims
Dogs may ignore pads
Four Paws Dog Training Pads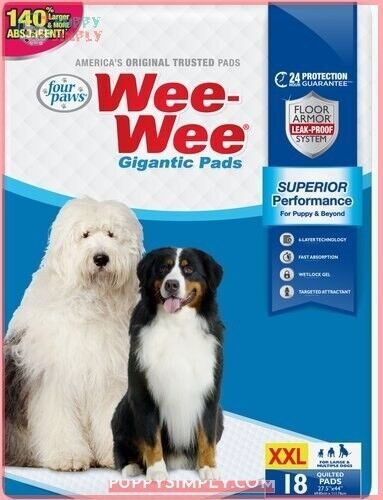 View On Chewy
Four Paws Dog Training Pads quickly wick, absorb, and lock in liquids with a waterproof backing that grips floors for ultimate protection. They are made from cotton and natural fabric with an unscented pheromone attractant to draw your dog's attention.
These pads are 140% larger than the original Wee-Wee pads, making them perfect for puppies in training or adult potty needs.
The pads have six layers of leak-proof protection, providing excellent odor control. They also feature triple stitching to prevent tearing, even when used by large breed dogs. Additionally, you can secure the pads with clips, ensuring they stay in place during car rides or outdoor adventures.
They are also great for multi-dog households, as one pad can last all day without needing frequent changes like many disposable options.
6 layers of leak-proof protection
Unscented pheromone attractant draws your dog's attention
Triple stitching prevents tearing
Can secure with clips in car
Not suitable for small breeds due to size
Not as effective against odors compared to other brands
Frisco Premium Giant Dog Pads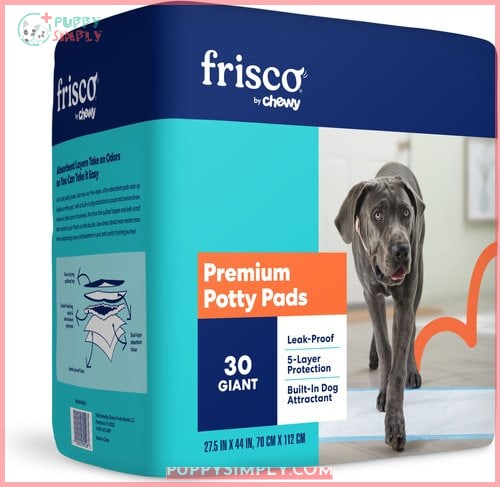 View On Chewy
Frisco Premium Giant Dog Pads
Frisco Premium Giant Dog Pads provide a fast-drying, leak-proof surface with five layers of protection to keep your pet's area clean and odor-free. These disposable pads are designed for all breeds and sizes. They offer a quilted top layer that prevents tracking, as well as plastic lining to prevent floor wetness.
The built-in attractant helps make potty training easier, while the large size makes cleaning up messes more efficient.
Fast-drying & leak-proof surface
5 layers of protection against odors & messes
Built-in dog attractants help with potty training
Plastic lining prevents floor wetness
Large size makes cleanup easy
Quality has declined recently – thin padding
May have inconsistent quality between shipments
Some users report leaking or not holding liquid
Other sizes have better quality
Glad Pets Puppy Pads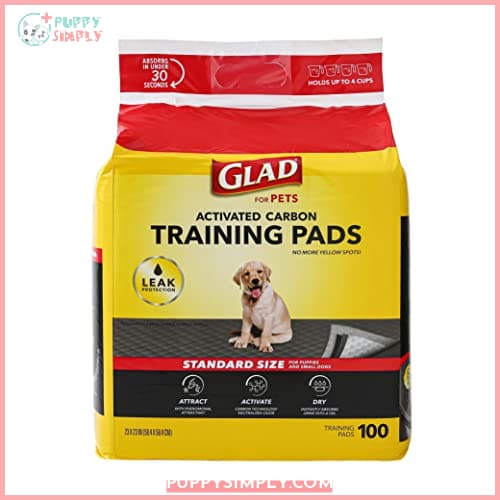 View On Amazon
You'll love the Glad Puppy Pads, designed with five layers of leak-proof protection to keep your home clean and odor-free. These pads offer up to four cups of liquid absorption in under 30 seconds, as well as a pheromone attractant that helps make potty training much easier for you and your pup.
The activated carbon layer absorbs odors and urine quickly, while the polymer layer locks in moisture so there's no mess or wetness left behind. The quilted cushion also prevents any spreading on floors or furniture when accidents occur.
These puppy pads are available in a convenient 100 count pack with 23×23 inch dimensions, perfect for puppies who are just starting out their potty training journey but can be used by senior dogs too! They're great for crates and beds if needed – saving you from having to wash bedding multiple times due to accidents during potty time – making them an essential item every pet parent should have on hand at all times!
Five layers of leak-proof protection
Absorbs up to 4 cups of liquid within 30 secs
Activated carbon absorbs odor & urine
Polymer layer locks in moisture
Quilted cushion prevents spread
Issues reported regarding leakage
Edges must be folded out completely
Additional leakage prevention may need underneath
May need larger size pad for multiple dogs
Four Paws Dog Pee Pads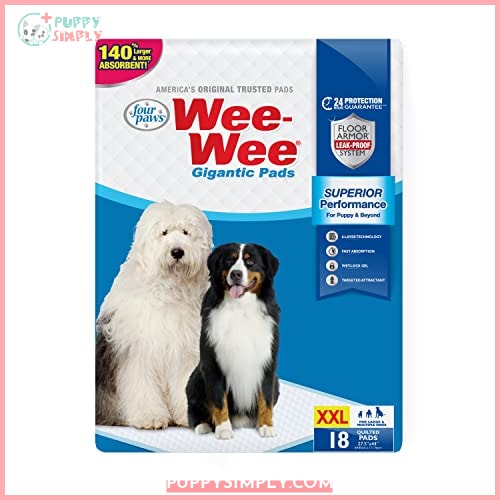 View On Amazon
You'll love Four Paws Dog Pee Pads, which offer 24-hour protection with a rapid-drying quilted top layer and 6 layers of leak-proof technology. These pads are 140% larger than the original 5-layer Wee Wees, making them perfect for large breeds or multi-dog households.
The built-in attractant helps your pooch know where to pee and makes it easier for potty training.
Plus, these pads come in a convenient 18-pad set that's compact enough to create less pollution when shipping! They're also tear-resistant, so they won't rip easily like softer versions might do, but you may need some tape if you want them to stay put on floors.
24-hour protection guaranteed or money back
Rapid-drying quilted top layer & 6 layers of leak-proof tech
Attractant draws dogs & easy potty training
Compact packaging creates less pollution
Tear-resistant; holds up well against leaks
More expensive compared to other brands
Very large size – not suitable for small pets
Takes time to fully dry once wet
Extra Large Dog Pee Pads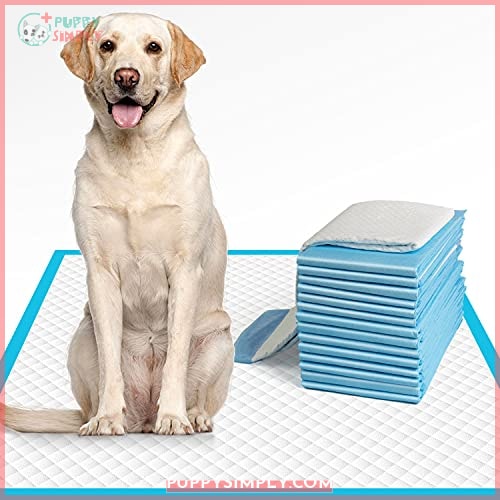 View On Amazon
The Extra Large Dog Pee Pad offers a 6-layer protection system and flash-dry technology to quickly absorb up to four cups of liquid, making it perfect for multi-dog households or those with large breeds.
With its 28 x 34 inch size, these pads are designed specifically for larger dogs who have difficulty fitting on smaller pads. The leakproof backing and border prevent messes from spreading while the charcoal layer helps reduce odors.
Plus, they hold up well when you can't take your pet outside or their regular potty routine is disrupted – ideal for puppies in training as well as senior dogs!
Large enough for long dogs who potty corner to corner
Super absorbent and leakproof backing contains messes
Odor control layer keeps smell down
Can be used indoors or outdoors
Expensive compared to other brands
Some customers reported defective pads with poor absorption
May need more frequent changes due to heavy use
Guidelines for Choosing a Pee Pad for Your Senior Canine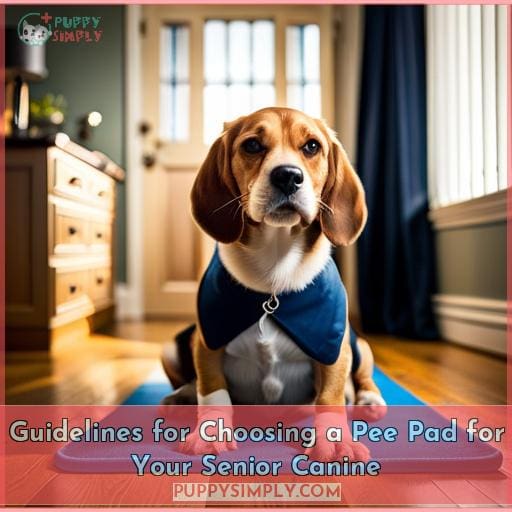 Choosing the right pee pad for your senior canine can be challenging. When making a decision, it's important to consider factors such as size and absorbency to ensure sufficient drainage, as well as safety and compatibility with your dog breed.
This will help you select a suitable option for managing accidents indoors or providing relief from incontinence issues.
Pad Size
Choosing a pee pad size for your senior canine is important – it should fit comfortably and be easy to access. Consider absorbency, safety, dog type, and odor-locking features when selecting the right one.
Bulldogology Pee Pads offer premium layers with high-capacity absorption.
Pet Parents Pawtect Pads are reusable and washable.
Glad Pets Activated Carbon Dog Pads have 5 layers of leak-proof protection.
Four Paws Wee-Wee pads come in sizes suitable for all breeds.
Training pads from Chewy's Frisco can help housebreak puppies.
Kirkland Signature Extra Large Absorbent pads are perfect for large breeds.
Selecting the most appropriate size will ensure mess-free indoor potty training!
Enough Drainage
Make sure the pad you select has enough drainage to keep your senior canine's paws clean and dry. Look for pads with good odor control, moisture retention, and leak protection features. Training tips, such as Pawtect Pads washable dog pee pads or Frisco Dog Training & Potty Pads, can help ensure proper training of your pup.
With proper research and adequate knowledge about different types of pee-pads available in the market today, you'll be able to find a suitable one that offers optimal comfort along with necessary features like paw safety and odor control for your beloved four-legged companion without compromising on quality.
Dog Type
When selecting a pee pad for your beloved canine companion, consider the type of dog you have as well as its size – think super-sized options if you have an extra-large pup! Consider:
Dog breeds and their needs
Pee odor control and house training
Absorbency rate, puppy pads & potty pads
Premium puppy training pads like Four Paws Wee-Wee Gigantic or IMMCUTE Dog Pee are great options. Look for absorbent materials that offer maximum protection against odors while providing comfort to your pet.
Don't forget about larger dogs who may need a bigger pee pad with higher absorption rates.
Pad Absorbency
It's important to consider the absorbency of a pee pad when selecting one for your senior canine. Test out multiple brands and sizes for the best fit. Look for odor control, environmental benefits, tracking prevention, and leak-proofing features.
Breeze resistance is also key – choose pads that can withstand gusts without shifting or leaking liquids. Pads with pheromone attractants will help your pup learn potty training quickly while managing health issues associated with aging dogs efficiently.
Safety
Checking pad safety is essential to keeping your canine companion clean and mess-free. Puppy-proof any area using pee pads for senior dogs by placing them in easy-access locations with absorbency levels that can handle accidents or incontinence.
Odor-free surfaces away from loud noises and other distractions will make potty training seniors easier while encouraging indoor habits.
What is a Pee Pad and Does Your Dog Need One?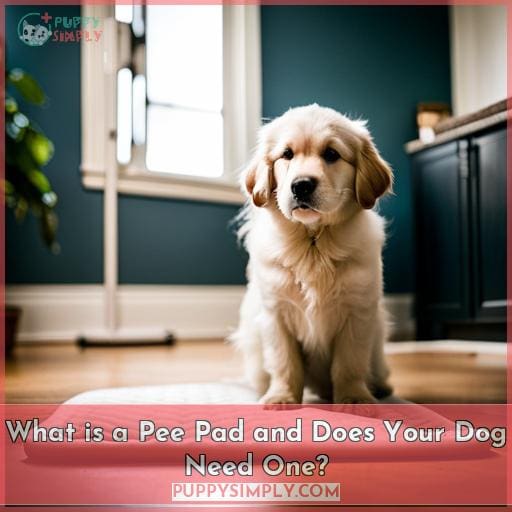 If you're considering a pee pad for your canine companion, you may be wondering what exactly they are and if your dog needs one. Pee pads are an ideal solution for housebreaking a puppy, lining pet carriers or crates, providing relief to seniors with poor bladder control, post-surgery incontinence care, and even keeping pets comfortable during bad weather or icy temperatures.
It's important to do the research before deciding on the best option as there is a wide variety of choices available today.
Housebreaking a New Puppy
Housebreaking a new puppy requires patience, consistency, and the right pee pad. Choose one with high absorbency, odor control, and durability for senior incontinence or potty training.
Carrier Liner
Carrier liners are an effective way to keep your dog's crate clean and comfortable, as they provide additional liquid-proof protection. Reusable options help the environment, while carbon pads offer leak-proof protection with odor control.
Perfect for puppy training or when it's too weak/cold outside, these can also be useful if you have mobility issues.
Senior Dogs With Poor Bladder Control
If your elderly pup is struggling with bladder control, pee pads can be a great solution. Accident prevention, improved potty training, and quick drying are just some of the advantages. Glad for Pets Activated Carbon Pads are perfect for senior dogs that suffer from bedwetting or poor health.
Post-surgery Incontinence
For post-surgery incontinence, reusable pee pads can provide a comfortable and eco-friendly solution. They can help manage age considerations, aid in post-surgery care, reduce environmental impact, and be used to potty train with rewards.
Pee pads come in different sizes for various breeds of dogs and offer leak-proof protection for ultimate convenience. With proper placement, they are easy to access while also containing messes efficiently, thus providing an ideal solution for senior dogs with poor bladder control due to incontinence causes such as accidents or health issues.
Icy Temperatures and Bad Weather
When the temperatures drop and bad weather arrives, keep your senior dog warm and dry with a pee pad that can withstand icy conditions. Training consistency is key to success when housebreaking older breeds in wintery snowstorms.
Look for pads that provide odor control, weatherproofing, fast absorption, and leak-proof backing – all important features of quality pee pads designed to make life easier during cold outdoor walks.
Reward good behavior with verbal cues like 'go wee!' or snacks as reinforcement for using the pad correctly.
When Can You Train Your Older Dog to Use Pee Pads?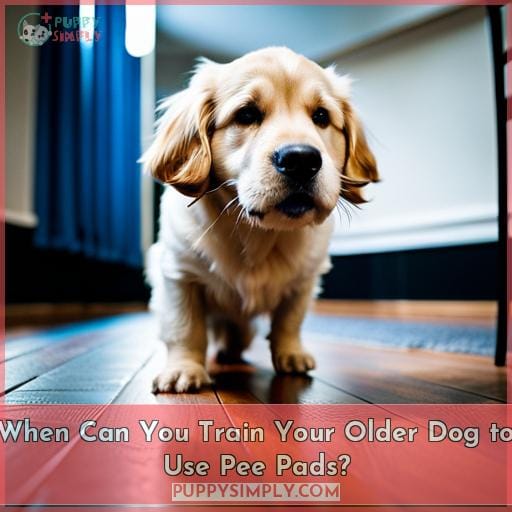 You can train your older dog to use pee pads effectively, providing them with a safe and comfortable spot for indoor pottying. Training methods will depend on the individual needs of your pet; however, consistency is key.
It's important to choose quality pee pads that offer competitive pricing but also have features such as absorption capacity and leak prevention in order to prevent messes around the house. Reusable options are also available if you want something more eco-friendly or cost-effective over time.
Consider placing the pad in an area near where they normally rest – this may make it easier for them to find it when needed since dogs typically prefer familiar spots when going potty indoors after being trained properly!
Verbal cues like go pee should be used consistently while training so that your pup associates those words with using their designated bathroom area every time they hear them spoken aloud at home or outdoors.
Patience is essential during this process, avoiding punishment any time accidents occur along the way as learning takes repetition and reinforcement before full understanding can take place successfully over time without error from either party involved (you and/or pup).
Where to Place Pee Pads for Older Dogs?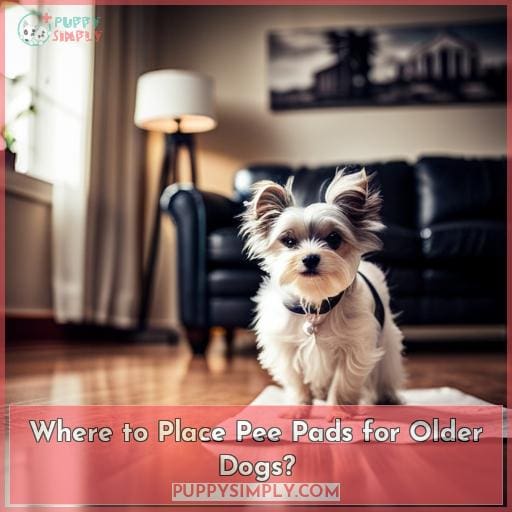 Ensure your pup has easy access to their pee pad in a spot that's comfortable and clean. Proper placement of the pee pads for older dogs can make or break potty training success.
To ensure quick and effective housebreaking, choose an area that makes it easy for your senior dog to get on the pad quickly while also keeping them clean when they're done with it. Consider placing multiple pads around different locations so they have plenty of options throughout the day if needed due to limited mobility or incontinence issues associated with aging health conditions.
Use attractants like scents and pheromones strategically placed on each pad to help direct them towards certain locations, as well as use odor control products like activated carbon layers within more absorbent materials such as quilted fabric liners in order to keep odors down between uses.
It's important to remember that patience is key during this time, especially if you're dealing with pre-existing medical issues from aging pets who may need retraining after experiencing accidents prior due to health problems.
Most senior dogs will need consistent repetition, rewards, and reinforcement before adapting to new routines when transitioning indoors using pee pads full-time.
With consistency comes comfortability, which helps increase confidence levels over time, allowing these special seniors to feel safe enough to trust themselves and move forward independently away from their owners, yet still remain close by contact when necessary – all adding up to a successful potty training experience and a happy ending for everyone involved!
How to Choose a Pee Pad for an Older Dog?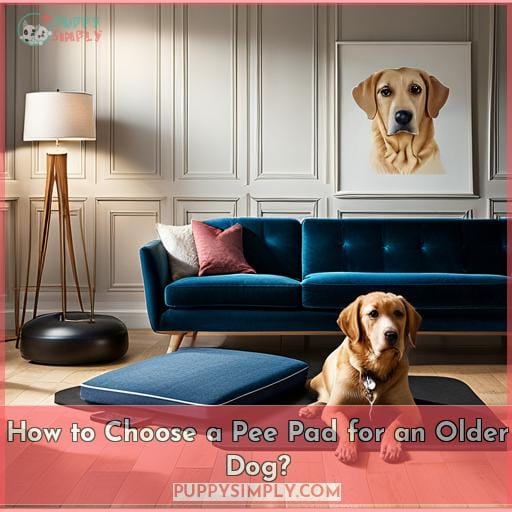 When choosing the best pee pad for your older dog, there are several key features to consider. It should be large enough to provide ample coverage for your pup and have an adhesive backing or sticky surface that will ensure it stays in place.
Look for a pad that locks in odors with activated carbon technology, has a built-in attractant scent to help guide them towards it during potty training sessions, and is designed specifically with quick-drying capabilities so moisture doesn't linger too long on their paws or fur.
It Should Be Large
For older dogs, it's important to choose a pee pad that is large enough for them to move around comfortably. Proper placement and scent can help guide your pup towards the right spot. Reusable pads offer environmental benefits as well as discounts at retail stores.
Carbon pads like Bulldogology are great for odor control, while scented ones like Kind Floral mask odors for hours.
Sticky / Adhesive
Adhere pads to the floor with adhesive tabs for odor control and breeze resistance. There are reusable options available, and discounts at retailers like Chewy or Costco make them eco-friendly too.
Odor Locking
Look for pee pads that effectively lock in odors, so your home stays fresh and clean. Odor-reducing scented pads, odor-blocking materials, and odor-neutralizing or control layers are all great options.
Consider carbon-infused technology for maximum protection against lingering smells.
Attractant
Reward your older dog when they use a pee pad with an attractant. This will help them associate the cue to go potty. Look for pads that offer odor control, leak prevention, and come in scented or unscented options.
Quick Dry
Quick-dry technology gives you peace of mind when it comes to accidents. Pee pads dry liquids in less than 30 seconds, preventing floor and furniture damage. Place pee pads where your dog can easily access them for maximum absorbency rate and odor control.
For leak prevention, ensure the pad is large enough that your pet can move comfortably on it without any messes! With quick drying tips in hand, you'll be able to keep your home clean while providing comfort for older dogs with limited mobility or incontinence issues.
Frequently Asked Questions (FAQs)
How Often Should a Senior Dog Use a Pee Pad?
How often your senior dog uses a pee pad depends on their individual needs. To ensure success, provide ample access and reward them for using it correctly.
Are Some Pee Pads Better for Senior Dogs than Others?
Yes, some pee pads are better for senior dogs than others. Look for features like absorbency, odor control, and durability to ensure your pup is comfortable and clean. Reward good behavior with verbal cues when they use the pad correctly – this helps reinforce training! With a little patience and consistency, you can find the best option that works for your pet's needs.
Are Reusable Pee Pads a Good Option for Senior Dogs?
Yes, reusable pee pads can be a great option for senior dogs. They offer environmental benefits and are often more affordable than disposable ones. Reusable pads come in different sizes and styles to accommodate your pet's needs while providing leak-proof protection against accidents.
Is it Necessary to Use a Pee Pad Holder with a Senior Dog?
A pee pad holder can be an extra layer of protection for your senior pup. It helps secure the pad to the floor, preventing movement and messes. Plus, it's a symbol of safety – a reminder that you're always there for them as they age gracefully into their golden years.
How Can I Make Potty Training Easier for My Senior Dog?
Potty training with a senior dog can seem daunting, but it doesn't have to be. Use patience and consistency while rewarding your pup when they go in the right spot. Provide easy access to their designated pee pad area and give them verbal cues like go potty each time they use it correctly.
Crate training is another effective method for older dogs that may struggle with stairs or long walks outside.
Conclusion
Finding the best pee pads for your senior dog can be a challenge. With so many options, it can be hard to know what's best for your pooch. As a rule of thumb, you'll want to look for a pad that's large, sticky, odor-locking, attractant, and quick-drying.
We tested and ranked the best pee pads for senior dogs, so you can have peace of mind knowing you're providing the best for your furry friend. From the Frisco Dog Training Pads to the Four Paws Dog Pee Pads, each of the nine pee pads we tested has something special to offer.
Make sure to consider the size, absorbency, and safety of each pad to ensure your senior dog is comfortable. By providing your pup with the best pee pad, you can be sure your senior canine will be happy and healthy.