This site is supported by our readers. We may earn a commission, at no cost to you, if you purchase through links.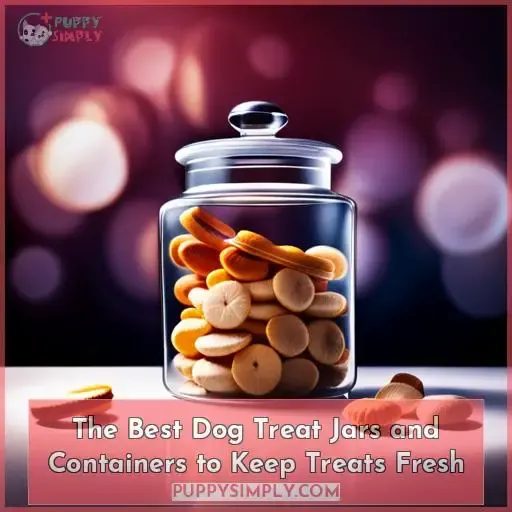 Are you searching for the best dog treat jars and containers to keep your pup's treats fresh? Finding the right container can be challenging, but it doesn't have to be. We've conducted all the research for you and compiled a list of our top 10 favorites.
From stylish ceramic designs with playful lettering like The Boss or Live, Love, Bark to airtight storage options from trusted brands like Frisco or PetRageous Designs, we have something that will fit every personality and budget.
Key Takeaways
Lixit Dog Treat Jar: Airtight seal, wide mouth opening.
Bone Dry Pet Treat Canister: Heavy ceramic, bamboo lid.
Fringe Studio Dog Treat Jar: Stylish ceramic design, wooden lid.
PetRageous Designs Treat Jar: Handcrafted ceramic.
Top 10 Best Dog Treat Jar Containers
If you're lookin' for the best dog treat jar containers, look no further! The Lixit Dog Treat Jar, Bone Dry Pet Treat Canister, Fringe Studio Dog Treat Jar and PetRageous Designs Treat Jar are all great options.
Other top picks include the Iris USA Pet Food Container Navy, Van Ness Pet Food Container and Vittles Vault pet food storage. For more unique styles, check out the Personalized Ceramic Paw by Frisco or Rae Dunn's signature hand-lettered font on their ceramic treat jar.
1. Lixit Dog Treat Jar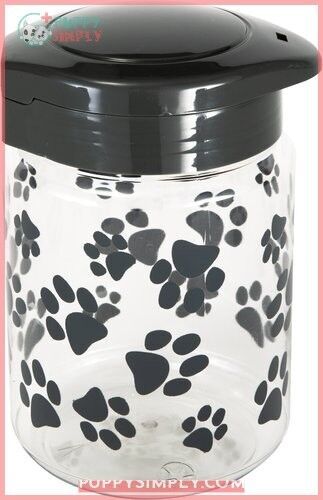 View On Chewy
If you're looking for a reliable container for all your pup's treats, the Lixit Dog Treat Jar is an ideal choice with its airtight seal and secure latch. This wide-mouth jar features a drop-resistant design that makes it easy to access and store pet food safely.
The BPA-free material provides safety while also lasting long enough to hold up against daily wear and tear from usage or moving around.
With a 64oz capacity, this container can easily accommodate 4 pounds of dog treats at once.
Airtight seal keeps freshness locked in
Wide mouth opening ensures convenient access
Drop-resistant construction allows worry-free storage
BPA-free plastic offers peace of mind and durability
Easy-open lid accommodates individuals with limited grip/strength
Some users experienced latch issues after several months of use
Not suitable for storing wet foods
2. Bone Dry Pet Treat Canister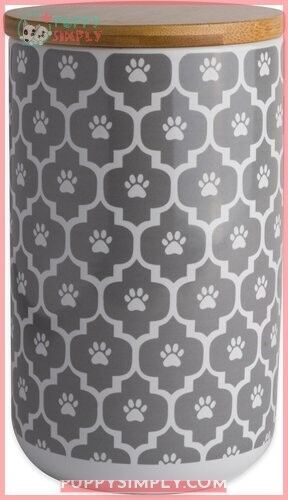 View On Chewy
You'll love the heavy ceramic and bamboo lid of this Bone Dry Pet Treat Canister for storing pet snacks. It's designed to match most home décor, making it an ideal addition to your kitchen countertop.
The airtight silicone seal keeps treats fresh while its lightweight design allows you to easily move it around when needed.
This canister is suitable for both cats and small breeds, so no matter what type of furry family member you have, they can enjoy their favorite snacks in style!
The customer reviews are generally positive about this product. Users appreciate its attractive design that adds a touch of modern elegance, as well as the convenience factor that comes with having everything stored together in one place.
Some people found it smaller than expected but still adequate size-wise given how much a standard box of soft baked treats weighs. They also noted that adjusting the silicone ring on top helps secure better sealing quality over time, which was appreciated.
Attractive design
Suitable for cats & small dogs
Easy access due to light weight
Air tight seal with adjustable silicone ring
Dishwasher safe (ceramic)
Lid snugness issues reported by some customers
Smaller than expected by some users
3. Fringe Studio Dog Treat Jar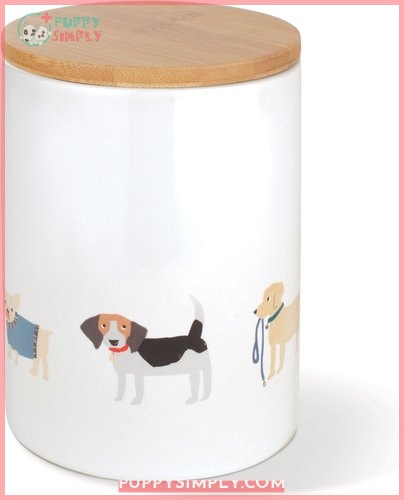 View On Chewy
Treat your pup to the Fringe Studio Dog Treat Jar, a durable ceramic container with unique illustrations and an airtight seal for freshness. This stylish treat jar is perfect for storing small dog treats and comes with a wooden lid featuring a silicone seal that keeps treats fresh.
The dishwasher-safe design makes it easy to clean, while its modern look adds charm to any home decor.
Customers love this product's appearance but have mixed opinions regarding the effectiveness of its lid in staying closed. Some users reported that it pops open easily due to weak rubber seals on the sides of the lid.
Modern style suitable as a gift or home decor
Comes with a silicone sealing which ensures freshness
Dishwasher-safe construction allows easy cleaning
Lid may not sit tightly, potentially affecting treat quality
Not suitable for larger treats like Greenies
Some users report faulty lids after several uses
4. PetRageous Designs Treat Jar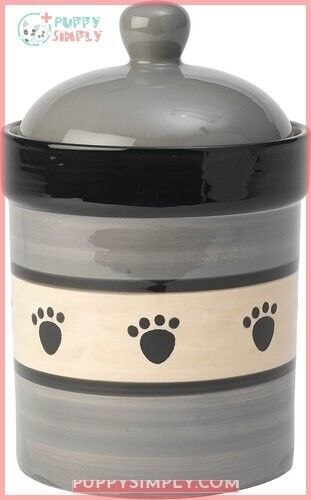 View On Chewy
Show your pup some appreciation with the PetRageous Designs Treat Jar, a hand-crafted ceramic container that adds a unique and stylish touch to any kitchen. This ceramic dog cookie jar is resistant to fading and chipping, thanks to its contemporary design and oven-fired construction.
Hand-crafted ceramic design
Decorative and stylish
Resistant to fading and chipping
Holds up to 72 oz
Contemporary style
Sturdy lid
Dishwasher safe
The seal may not keep treats very fresh
The lid can break when opening
It can be difficult to remove labels and epoxy
Designs and colors may not match perfectly
5. Iris USA Pet Food Container Navy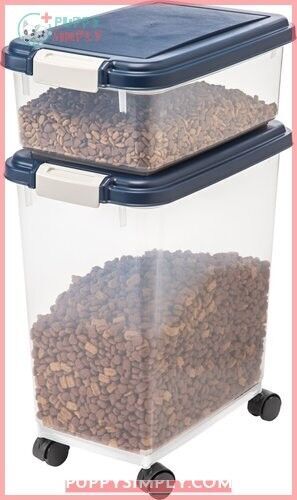 View On Chewy
Experience the convenience of the Iris USA Pet Food Container Navy, designed with an airtight seal for freshness and optional caster wheels for mobility. This durable, BPA-free plastic storage container is perfect for pet owners who need to store large quantities of kibble or treats.
The snap-lock latch ensures a secure seal, while its translucent design allows you to quickly check food levels without opening the lid.
It's slim profile also makes it great for pantry storage, while its optional caster wheels make it easy to move around your home or yard as needed.
This versatile pet food container has mixed reviews from customers due to potential issues with sealing quality and durability that have been reported by some users; however, many others are pleased with their purchase and appreciate how convenient this product is when storing large bags of dog food or treats in a compact manner.
Airtight seal preserves freshness
Slim profile fits easily into pantry space
Translucent body helps monitor food level
Optional casters allow easy movement
Durable, BPA-free plastic construction
Affordable price point
Quality control issues can lead to poor sealing
Some containers arrived broken upon delivery
Missing scoop in some units
6. Van Ness Pet Food Container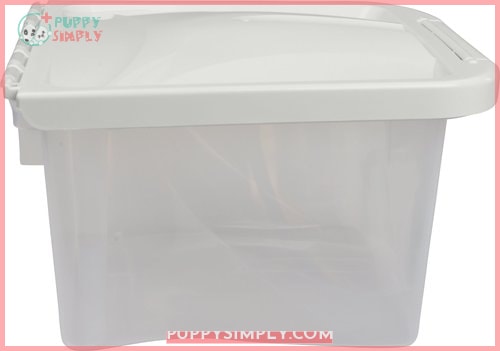 View On Chewy
Take advantage of the Van Ness Pet Food Container's convenient handle grip and sleek smoke finish for easy storage. Available in five, ten, twenty-five, and fifty-pound sizes, this durable BPA-free container features an airtight seal to reduce spoilage due to pests or moisture.
The lid opens easily with a secure latch mechanism, while the handle grip allows you to lift it up without any struggle.
The transparent smoke finish makes food tracking quick and simple, so you know when it's time to reorder supplies. Plus, its compact design fits well into cabinets or against walls, making storage effortless and hassle-free.
Customers love how functional yet stylish this container is — perfect for small households that need just enough pet food stored away but still want something modern-looking!
Airtight seal reduces spoilage from pests/moisture
Handle grip & wheeled options make lifting easier
Transparent finish aids in quick monitoring of food levels
Compact size suitable for small homes/locations
Quality control issues reported on plastic hooks
Smaller sizes not suitable if storing large quantities
7. Vittles Vault Pet Food Storage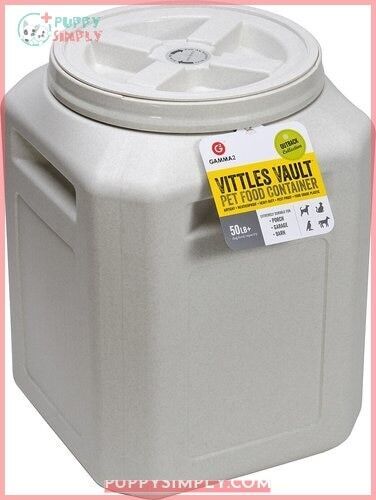 View On Chewy
Enjoy the convenience and effectiveness of Vittles Vault Pet Food Storage, a durable BPA-free container with an airtight seal that keeps food fresh and pests out. This 50 lb plastic pet food container is wide enough for easy access to your pup's kibble, while its stylish granite finish makes it suitable for any home décor.
The heavy-duty waterproof construction allows you to store the container on your porch or in your garage without worry of spoilage due to moisture or pests getting into the stored treats.
Effective at keeping ants and other pests away
Maintains kibble freshness similar to newly opened bags
High quality & durable construction
Stackable design for convenient storage
Not ideal if moving often due to weight when filled
May not be completely mouse proof outdoors
Lid alignment can be tricky
Initial odor dissipates after washing/airing out
Stated capacity may underestimate bulkier kibbles
8. Petmate Mason Treat Jar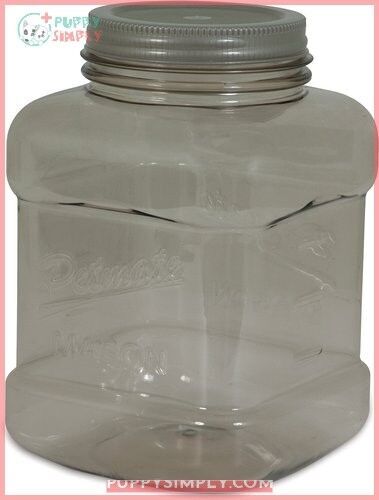 View On Chewy
Discover the Petmate Mason Treat Jar – a unique mason jar design that keeps treats and food fresh with an airtight seal. This must-have pet accessory is made from recycled bottles (PET – Polyethylene terephthalate) in the USA, ensuring quality materials and craftsmanship.
Its 6 x 6 x 9.7 inches size makes it perfect for storing up to 150 ounces of kibble or treats, while its light smoke-colored tint allows you to easily monitor treat levels. The silver screw top plastic lid ensures a secure seal, but it may pop open depending on your pup's strength or grip level.
While this product is practical for storage purposes and has a unique look customers love, there are some drawbacks worth considering before purchase. It is not dishwasher safe and should be hand washed only. Additionally, it is larger than expected for smaller breeds.
The lid type also makes it not tamper resistant, and the flap on the lid may become faulty after several uses, making opening difficult at times.
Made from recycled materials in the USA
Keeps treats & food fresh with an airtight seal
Light smoke colored tint allows easy monitoring of treat levels
Not dishwasher safe – should be handwashed
Larger than expected size
9. Frisco Personalized Ceramic Paw Treat Jar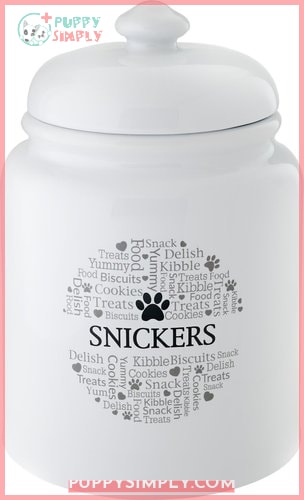 View On Chewy
Personalize your pup's treats with the Frisco Ceramic Paw Treat Jar, featuring a clean white ceramic design and custom graphic space for up to 12 characters!
This jar is perfect for holding dog food without sacrificing style. Its modern look fits into any décor, while its easy accessibility allows you to grab what you need quickly. The tight-fitting lid ensures freshness of treats — even when they're stored in large quantities like a 3lb bag of Buddy Biscuits.
Customers love this product not only because it looks great but also due to its fast delivery and good quality construction that makes it suitable for gifting as well.
Great for holding dog food
Modern look & easily accessible
Personalization option is a bonus
Fits a 3lb bag of Buddy Biscuits
Tight fitting lid keeps treats fresh
Heavy duty & suitable as gift item
Quick delivery & good quality
10. Rae Dunn Pet Treat Jar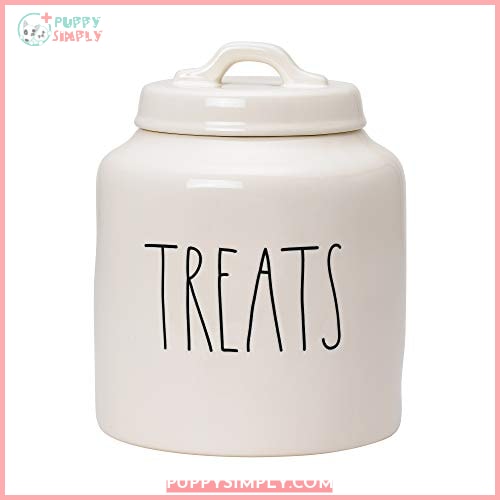 View On Amazon
Bring a touch of sophistication to your kitchen with the Rae Dunn Pet Treat Jar. This ceramic jar is perfect for storing dog or cat treats, as well as other small items like candy. It features Rae Dunn's iconic hand-lettered font labeling it Treats, and its white stoneware body will give any home decor style from farmhouse rustic to modern an elegant upgrade.
The molded silicone lid helps keep treats fresh and can hold up to 1200mL at once – that's over 13 cups (104 oz). Its petite 6-inch size makes it suitable for countertop placement, but still big enough for larger breed kibbles or soft baked snacks.
Customers love this product not just because of its stylish design but also due to its quality construction.
Whether you're looking for a unique housewarming gift or something special just for yourself, the Rae Dunn Pet Treat Jar is a must-have for any pet owner.
What is a Dog Treat Jar and Why Do You Need One?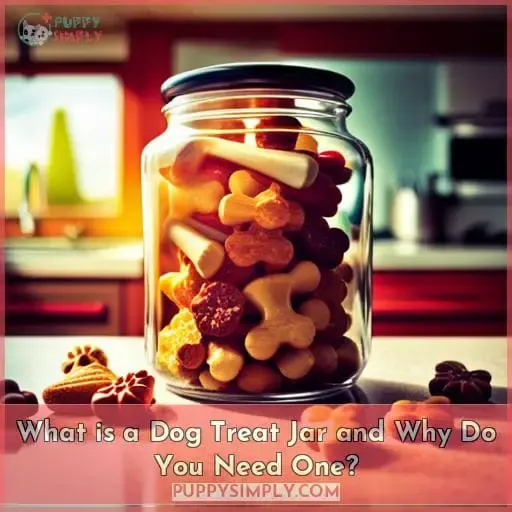 A dog treat jar is an essential item to keep your pup's treats fresh and organized, so you can easily reward their good behavior. When choosing the right dog treat jar for your pet, consider its size, material, and airtight seal.
Plastic containers are safe if they are food-grade. A solid lid helps maintain freshness while deterring pests. Ceramic or stainless steel jars add a stylish look with vibrant colors to match any home décor.
Airtight seals offer additional protection against spoilage due to humidity or heat exposure.
For DIY personalization ideas, try adding vinyl stickers to plastic containers or painting ceramic jars for unique designs that reflect your pup's personality. Keeping treats in an airtight container will help preserve freshness longer than leaving them exposed on countertops or shelves, but be sure to check regularly as lids may become loose over time.
Additionally, there are plenty of options available from small travel sizes perfect for walks with Fido all the way up to large capacity storage solutions suitable for entire boxes of snacks!
Key Features to Consider When Choosing a Dog Treat Container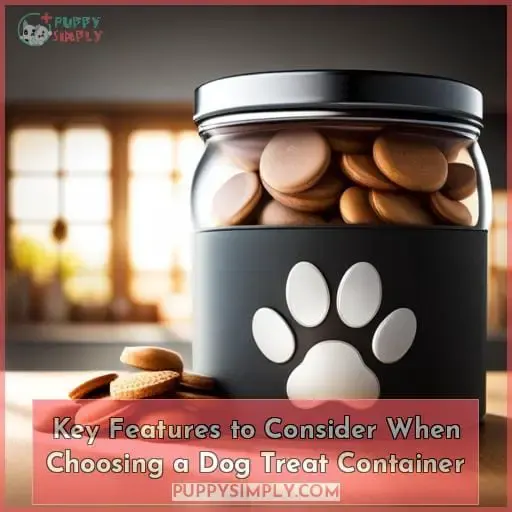 When choosing a dog treat container, size and capacity, material and durability, seal and freshness are all important considerations. The size of the container should be based on how many treats your pup needs for 30 days; airtight seals will keep pests out while maintaining freshness; materials such as ceramic or plastic can both work if food-grade quality is assured to ensure durability.
Size and Capacity
When considering a dog treat container, you'll want to assess the size and capacity needed for your pup's treats. Take into account how many treats you generally give at once or over time. For larger breeds, choose containers with capacities up to 50 pounds.
Materials range from plastic and stainless steel to ceramic and glass. Each offers varying levels of durability and decorative options. Consider airtight sealing mechanisms, such as snap-lock latches, that keep pests out while preserving freshness within the container itself.
With a variety of sizes, materials, and designs available on the market today, it's easy to find one that fits both your pup's needs and your home décor!
Material and Durability
Choose a container that's durable enough to endure your pup's enthusiastic snacking habits.
Ceramic treat jars are stylish but can break if dropped, so they may not be the best option for households with active pups.
Plastic containers come in various sizes and colors, and their durability depends on the quality of construction.
Fingerprint-proof stainless steel is another great material option. It also retains freshness due to its airtight silicone seal.
For an extra decorative touch, choose food-safe acrylic or glass options with vibrant designs and secure lids!
Size considerations should still be taken into account when selecting any dog treat jar.
Seal and Freshness
To ensure your pup's treats remain fresh and delicious, look for a treat container with an airtight seal.
Look for materials like stainless steel or ceramic that will last through years of use, as well as silicone seals to provide extra protection from air and pests.
Airtight containers come in decorative options so you can find something stylish to fit any kitchen decor.
Benefits include extended shelf life, improved flavor retention, and resistance against moisture damage.
Consider features such as easy-to-open lids or handles, which make it convenient when scooping out treats on the go!
With these tips in mind, you'll be sure to find the perfect dog treat jar for your furry friend!
Benefits of Using a Dog Treat Container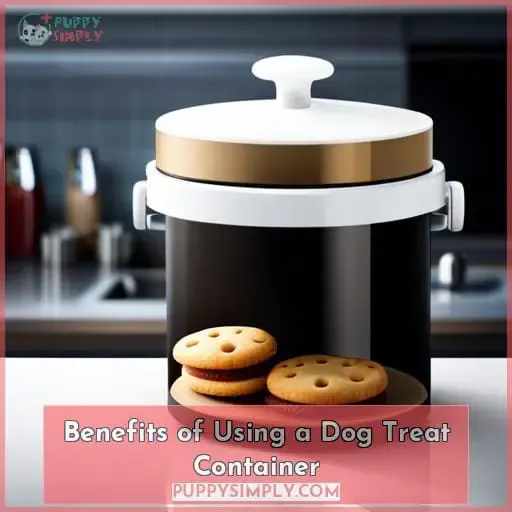 When searching for a dog treat container, it is important to consider the benefits of using one. A high-quality dog treat jar can provide a long-lasting freshness seal to prevent spoilage and make treats easily accessible and stored away.
Investing in a well-made container will not only ensure your pup's snacks stay fresh but also help you keep track of their food intake.
Long-lasting freshness seal.
Ensure your pup's treats stay fresh and delicious with a long-lasting airtight seal. Ceramic or plastic dog treat jars can be found in decorative designs that help preserve the freshness of pet treats while organizing them for easy access.
Look out for containers with silicone seals to ensure an airtight closure, protecting against moisture and pests that could spoil their snacks. Whether it's ceramic or plastic, choose one made from BPA-free materials for safety when storing food items like kibble or chews.
The right container should keep your furry friend's treats tasty and safe no matter where you store them!
Prevents treat spoilage.
By securely sealing treats inside a container, you can avoid spoilage and keep them as fresh as possible. An airtight dog treat jar with a Fresh-Tite seal will help prevent moisture buildup, which is essential for preserving the life of your pup's favorite snacks.
Additionally, when shopping for containers, make sure to check that it has an airtight lid and fits the size of treats you are storing.
Dog owners should also consider purchasing several containers in various sizes, so they have enough storage space for all types of treat varieties, including wet food items like jerky or chews.
Easy access and storage
You'll love the convenience of having easy access and storage for your pup's treats with dog treat containers that offer up to a 50-pound capacity.
From airtight seals to clear designs, you have plenty of options when it comes to maintaining freshness and organizing treats. Look for features like stackability, durable materials, an easy-to-open lid, or scoop combo set.
You can also find vintage design options as well as modern decor pieces in various sizes and shapes perfect for any home! With the right container choice, you will benefit from its airtight seal benefits while being able to organize your pet's favorite snacks easily without worrying about spoilage or pests getting inside!
Factors to Consider Before Buying a Dog Treat Jar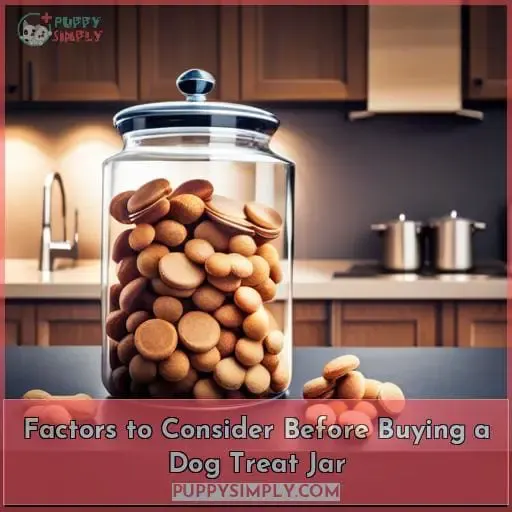 When it comes to finding a suitable dog treat jar, there are several factors to consider. From size and material to seal and durability, these elements should all be taken into account before making your decision.
With the right container, you can ensure that treats remain fresh for longer periods of time while also ensuring convenience and style when storing them in your home.
Size considerations for jars
Considering the size of your pup's treats and how many you want to store, pick a jar that can hold enough with room to spare. Material options include ceramic, plastic, and airtight stainless steel – all BPA-free for safety.
Always fully dry jars before adding more pet food or treats. When shopping around for the best dog treat jar container option, it won't take long to find the perfect fit!
Material and durability factors
When selecting a dog treat jar, pay attention to the materials used and how durable it is. Look for airtight seals that will keep treats fresh. Choose from stylish options made of ceramic, plastic, stainless steel, or glass.
Consider DIY customization with custom labels or hand-painted designs if you're looking for something unique! Also, be aware of reviews when buying jars online as this can help choose the best option based on other pet parents' experiences.
Budget-friendly options
For those looking for a budget-friendly option, there are plenty of dog treat jars available that provide an airtight seal and stylish design without breaking the bank. Plastic containers are good storage solutions if they are food-grade and BPA-free.
Ceramic or stainless steel containers may be decorative options. When choosing the right container material for your pup's treats, consider whether you want an airtight or non-airtight design. Regularly checking the seals to ensure freshness can help keep costs down in the long run.
Some popular budget picks include the plastic Lixit Dog Treat Jars and Bone Dry Pet Treat Canisters.
Should You Invest in a Dog Treat Container?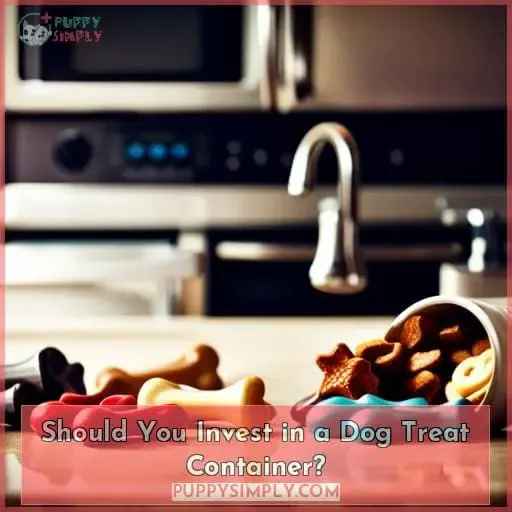 When it comes to your pup, one of the most important considerations is how you store their treats. Investing in a dog treat container can provide numerous benefits and ensure that your pet's snacks remain fresh and safe from pests.
The material choices are vast, ranging from ceramic to stainless steel containers with airtight seals for maximum freshness preservation. When selecting a style, consider whether you need something portable for walks or more decorative options for kitchen countertops.
No matter what type of storage solution you choose, there are some tips all pet owners should follow. Keep food in its original bag within the container and regularly check seal tightness for freshness assurance.
With so many stylish yet functional designs available on the market today, including sets specifically designed to hold both wet food cans and kibble, finding just the right dog treat jar has never been easier!
Conclusion
Have you ever wondered what the best dog treat jar containers are? With so many options available, it can be hard to decide.
From airtight containers to ceramic canisters and even personalized jars, the options are vast.
The top 10 dog treat jars and containers include the Lixit Dog Treat Jar, Bone Dry Pet Treat Canister, Fringe Studio Dog Treat Jar, PetRageous Designs Treat Jar, Iris USA Pet Food Container Navy, Van Ness Pet Food Container, Vittles Vault Pet Food Storage, Petmate Mason Treat Jar, Frisco Personalized Ceramic Paw Treat Jar, and Rae Dunn Pet Treat Jar.
Each of these containers offers a unique design, airtight seal, and durable construction that will keep your pup's treats fresh and safe.
Whether you're looking for a budget-friendly option or a splurge item with stainless steel construction, these containers are sure to meet your needs.