This site is supported by our readers. We may earn a commission, at no cost to you, if you purchase through links.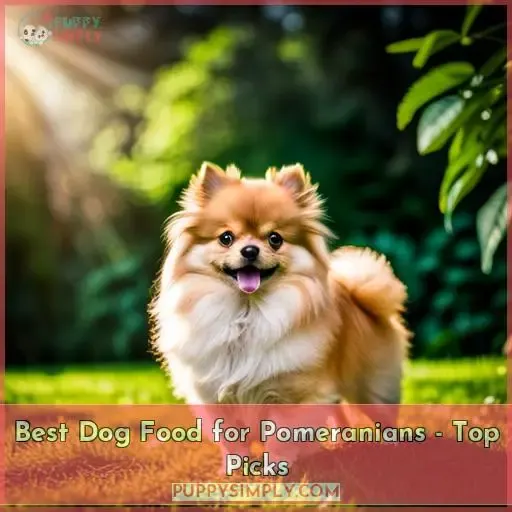 Picking the perfect pup food is paramount for pet parents of Pomeranians. Each pooch needs a diet that not only provides essential nutrients but also meets their unique nutritional requirements. To make sure your pampered pooch stays healthy and happy, it's important to understand what makes up the best dog food for Pomeranians – from protein content to portion size.
With so many brands on the market, sifting through endless options can be time-consuming and overwhelming! Fear not; we've done all the hard work for you by handpicking 10 top picks plus breaking down exactly what you should look out for when shopping around – providing power in making an informed choice with confidence!
Key Takeaways
The right dog food is crucial for a Pomeranian's overall health and well-being.
Factors to consider when choosing dog food include age, activity level, health status, and specific dietary needs.
There are several top recommended dog food brands for Pomeranians that address their specific nutritional requirements.
Homemade dog food can be an option but requires careful planning and consultation with a veterinarian or canine nutritionist.
10 Best Dog Foods for Pomeranians
If you are a pet parent of a Pomeranian, finding the right dog food for your pup can be confusing. Nutro Ultra Toy Breed Adult, Blue Buffalo Puppy Food, Eukanuba Senior Small Breed Dog Food, Purina Pro Plan Toy Breed Chicken Rice, and Wellness Toy Breed Dog Food are just some of the top recommended brands that provide complete nutrition tailored to small breed dogs.
1. Nutro Ultra Toy Breed Adult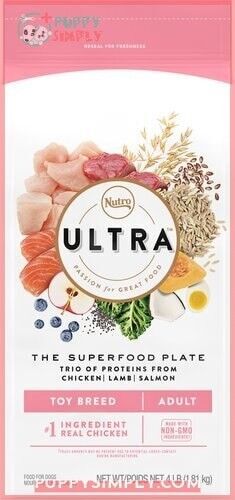 View On Chewy
You owe it to your furry friend to give them the nutrition they deserve with Nutro Ultra Toy Breed Adult—a protein-rich blend of real chicken, lamb, and salmon along with 15 superfoods for complete and balanced nutrition.
Crafted specifically for toy breeds like Pomeranians, this formula has all the essential vitamins and minerals needed for adult dogs while avoiding fillers such as corn, wheat, or soy proteins.
The ingredients are sourced from trusted farmers around the globe who adhere to high standards of quality control, ensuring a safe product every time.
The 4-pound bag is quite affordable, especially when compared to similar products on the market. However, there have been some reports of higher prices recently that could be concerning for pet owners looking for a budget-friendly food option for their pup.
Overall, reviews are positive, with many customers reporting that their pups love the taste and have seen improved coat health after switching to this diet.
Protein-rich formula made with real chicken, lamb & salmon
Contains 15 superfoods like coconut, chia, kale, & blueberries
Free from artificial preservatives, flavors, or colors
Suitable even for finicky eaters
Reported price increases in recent times
Taste preferences may vary
2. Blue Buffalo Puppy Food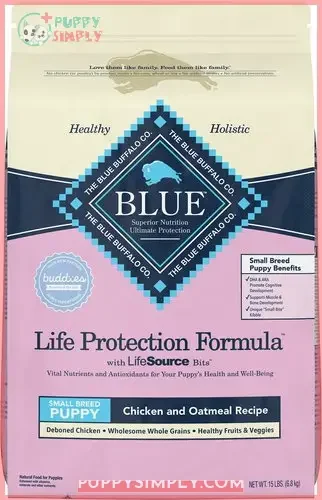 View On Chewy
Experience the amazing power of Blue Buffalo Puppy Food and watch as your pup's health skyrockets! This specially formulated food contains real meat, whole grains, garden veggies, fruit, LifeSource Bits – a unique blend of vitamins and minerals that support immune system health.
Plus, it also offers calcium for strong bones and teeth; DHA & ARA for healthy brain development; high-quality proteins to build lean body mass; omega fatty acids to promote a healthy skin & coat; chelated minerals plus essential vitamins for optimal nutrition.
All this without corn, wheat, soy, or chicken by-product meals! Perfectly sized kibble makes it easy on smaller jaws while helping reduce tartar buildup too. Picky eaters love its taste while owners relax knowing their pup is getting wholesome nutrition without any fillers or artificial preservatives.
Contains real deboned chicken as the #1 ingredient
Nutrient-rich with 15 Superfoods including coconut, chia, kale, and blueberries
Free from corn, wheat, soy, or chicken (or poultry) by-product meals
Smaller kibble size reduces choking risk
Added probiotics and selenium
Vet recommended, suitable even for picky eaters
Some puppies may need time to adjust to the new food
Formula change led to some dogs being selective with the kibble
May cause diarrhea in certain pups
3. Eukanuba Senior Small Breed Dog Food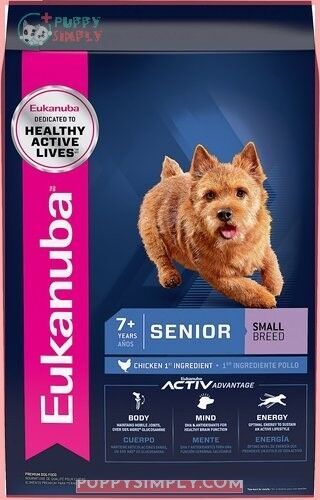 View On Chewy
Eukanuba Senior Small Breed Dog Food is designed to meet the needs of older small breed dogs, with ingredients such as glucosamine and chondroitin sulfate for joint health, DHA and antioxidants for brain function support, a balanced blend of fats and carbohydrates for energy maintenance, plus S-shaped kibble that can help reduce plaque.
This food also helps promote healthy immune systems in senior dogs while providing essential vitamins and minerals they need to stay active.
Many customers have found this food beneficial for their pet's overall health when transitioning them from puppyhood into adulthood or beyond.
Contains high-quality chicken as the first ingredient
Includes glucosamine & chondroitin sulfate for joint & muscle health
Balanced blend of fats & carbs
Reduces tartar buildup
Probiotics aid digestion
Some reports of digestive issues
Puppy version rated higher
Potential accidental order errors
4. Purina Pro Plan Toy Breed Chicken Rice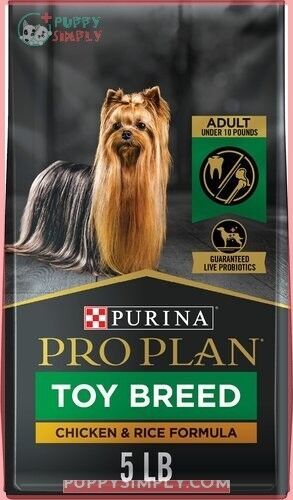 View On Chewy
Take your pup's nutrition to the next level with Purina Pro Plan Toy Breed Chicken Rice! This complete and balanced formula is made with real chicken as its number one ingredient, providing high-quality protein for active toy breeds.
It contains prebiotic fiber from wheat bran to support digestive health alongside essential vitamins, minerals, and calcium for strong bones and teeth.
The tiny kibble size reduces choking risk while being well-suited for picky eaters or dogs with limited teeth.
Ideal for dogs under 10 lbs & those w/limited teeth
Tiny kibble size prevents choking risk
Suitable high-calorie needs & picky eaters
Contains probiotics selenium added benefits
Vet recommended product
Packaging lacks resealability requires transfer container
Smaller kibble compared to other brands
5. Wellness Toy Breed Dog Food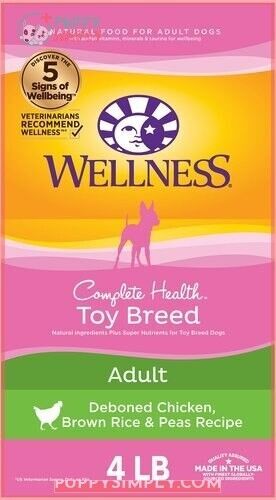 View On Chewy
Try Wellness Toy Breed Dog Food for your pup's whole-body health, featuring nutrient-rich proteins and wholesome grains to fuel their daily adventures. Crafted into smaller kibble sizes that are easy to eat, this food is designed specifically for extra small and small breeds.
It contains no meat by-products or artificial preservatives, making it a great choice if you're looking for high-quality nutrition without all the fillers.
With essential vitamins, minerals, and prebiotic fiber, this food supports healthy digestion. The omega fatty acids in Wellness Toy Breed Dog Food nourish skin and coat health, while glucosamine helps maintain joint integrity.
Customers have reported improved energy levels in their pups after switching to this food, which is perfect if your pet has been feeling lethargic lately.
Many picky eaters seem to enjoy the taste of Wellness Toy Breed Dog Food, and it is also suitable for dogs with teeth issues due to its tiny kibbles. However, it is worth noting that the food is not available in larger bag sizes. Additionally, taste preferences may vary among dogs.
6. Solid Gold MightyMiniChickenSalmon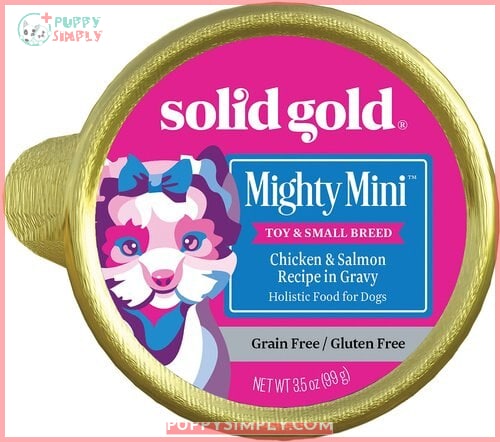 View On Chewy
For the picky pup, Solid Gold MightyMiniChickenSalmon might just be the ticket to staying active and healthy! This grain- and gluten-free wet dog food is specifically designed for active dogs with an extra helping of lean cold water salmon.
Peas, carrots, and other wholesome ingredients give your pup nutrition without limiting their activity levels. The single serve cups make it easy to portion out meals so you can keep track of how much they're eating while making sure there are no leftovers that could go bad.
Plus, it's recommended by vets for those with sensitive stomachs which makes this a great choice if your pooch needs some digestive support or has allergies.
Grain & Gluten Free Wet Dog Food
Suitable For Puppies And Adult Dogs
High In Fiber For Digestive Support
Highly Palatable For Selective Eaters
Comes In Convenient Single Serve Cups
Recommended By Vets For Sensitive Stomachs
Mixed Reviews – Some Dogs Dislike It
Expensive Due To Salmon Content
Could Potentially Be Spoilage Issues
7. Royal Canin Pomeranian Adult Dog Food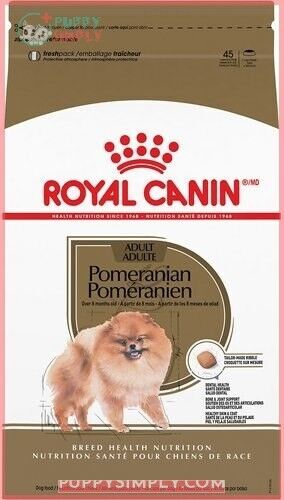 View On Chewy
Experience the joint support of Royal Canin Pomeranian Adult Dog Food, specifically designed to meet the needs of purebred adult Pomeranians. Enriched with EPA and DHA for skin, coat, bone, and joint health, this meal is sure to keep your pup happy and healthy.
The balanced blend of digestible fibers and highly digestible protein promotes healthy digestion. Additionally, the smaller kibble size helps reduce tartar formation in their small jaw, ensuring that all their nutritional needs are taken care of.
Customers have reported improved coat quality after switching to this formula, making it an ideal choice if you're looking for premium nutrition tailored just for your little one.
Enriched with EPA & DHA for skin & joint health.
Balanced blend of proteins & fiber promotes digestive health.
Smaller kibble size reduces tartar formation in small jaws.
Improved coat quality reported by customers.
Availability issues at times.
Kibble may be too small for some dogs' preference.
Have to buy a 24-can wet dog food pack.
8. Hills Science Diet Mobility Dog Food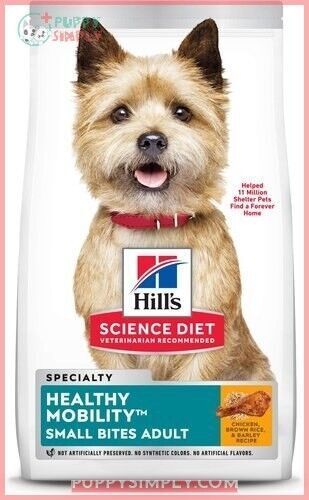 View On Chewy
Discover how Hill's Science Diet Mobility Dog Food can support hip and joint health in small-breed dogs, like the toy Pomeranian with hip dysplasia who avoided pain meds after trying this food.
Formulated to meet the needs of senior small breed dogs, Hill's Science Diet Mobility contains natural sources of EPA from fish oil for mobility and joint health, glucosamine and chondroitin for joint health, as well as a balanced set of minerals for strong bones.
This formula also includes added vitamins, minerals & amino acids plus omega-6 fatty acids & vitamin E for healthy skin & coats.
It tastes delicious too – perfect even for picky eaters or those with teeth problems – so there's no need to worry about getting your pup to finish their meal.
Supports hip and joint health from day 1
Contains EPA from fish oil for mobility & joint health
Natural sources of glucosamine & chondroitin sulfate
Balanced set Omega 6 fatty acid Vitamin E
Tastes great – even suitable choice picky eater
Potential product quality issues or spoilage
Home delivery option not available everywhere
9. Authority Fish Potato Small Breed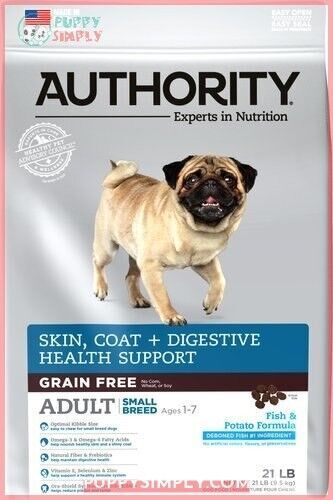 View On Chewy
See how Authority Fish Potato Small Breed offers essential proteins, vitamins, and minerals to help maintain your pup's skin, coat, and digestive health. Formulated for small breeds with real fish as the first ingredient, this food is packed with nutrients that can address allergies and reverse sneezing in dogs.
It's suitable for puppies, adults, and mature dogs alike – perfect if you've got a mixed-age pack.
Customers have reported positive feedback from picky eaters or those with food sensitivities, while some concerns have been raised about product quality and potential spoilage.
Formulated specifically for small breeds
Real fish is the first ingredient
Contains high-quality protein & essential vitamins & minerals
Suitable for puppies, adults & mature dogs
Addresses allergies/reverse sneezing in pets
Can be used as training rewards
Some reports of product quality issues
Potential spoilage concerns
10. Wellness CORE Small Breed Dog Food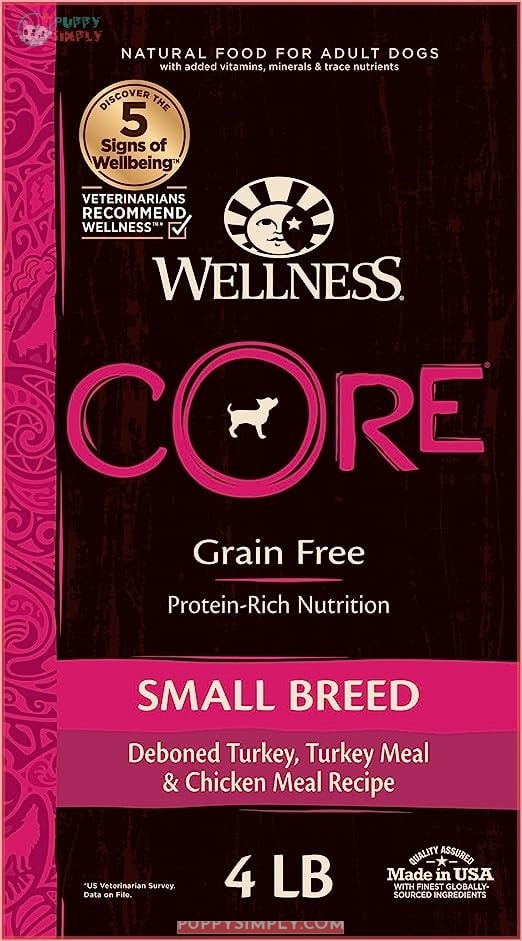 View On Amazon
Indulge your pup with Wellness CORE Small Breed Dog Food – a delectable blend of proteins, fats, vitamins, and minerals that will make them feel like royalty! Made in the USA without grain, wheat, soy, or any artificial additives, this premium dry dog food is designed specifically for small breed adult dogs.
It contains 47% protein from responsibly sourced turkey to provide leaner body mass and improved muscle tone. Omega fatty acids help support healthy skin and coat, while glucosamine promotes joint health.
High fiber content alongside probiotics aid digestion, while taurine helps keep hearts healthy.
Customers have praised its effectiveness for tear staining prevention, as well as improvements in their dogs' digestion after switching to this formula.
To ensure quality control, all ingredients are carefully selected according to rigorous standards at every step of production, making sure only the best gets put into each 4-pound bag made available on Amazon since 2012 (ASIN: B008J7G1QI).
Responsibly sourced turkey provides leaner body mass & improved muscle tone
Contains omega fatty acids & glucosamine for healthier skin & joints respectively
Supports digestive health with high fiber & probiotics content
Taurine keeps the heart healthy
Quality controlled ingredients throughout the production process
Taste preference may vary among pups
Slightly more expensive compared to other brands
Some users received a 5kg bag without a zip lock
What to Look for in Dog Food for Pomeranians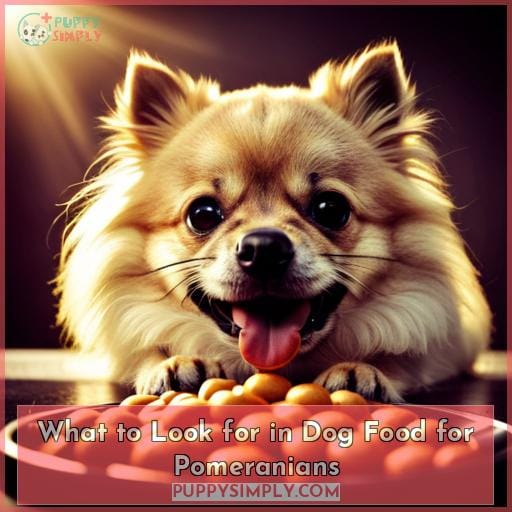 When choosing dog food for your Pomeranian, consider high-quality protein sources, kibble size, and nutritional needs based on age and activity level. Also, look for available dry or wet options to meet dietary preferences and health concerns.
Look for real meat as the first ingredient in a dog food formula that avoids excessive fillers such as corn, wheat, soy, or chicken by-product meals. Smaller kibbles are preferable since they can be easily chewed and digested by smaller breeds like Pomeranians.
Make sure the diet contains vegetables and fruits to provide essential vitamins, minerals, antioxidants, probiotics, selenium, omega fatty acids, glucosamine, chondroitin sulfate, DHA, ARA, EPA, taurine, and prebiotic fiber.
All of these have been linked with improved overall health of small breed dogs, including Pomeranians.
Consider homemade recipes if you wish, but read up on portion control guidelines before attempting them yourself!
How to Choose Dog Food for Pomeranians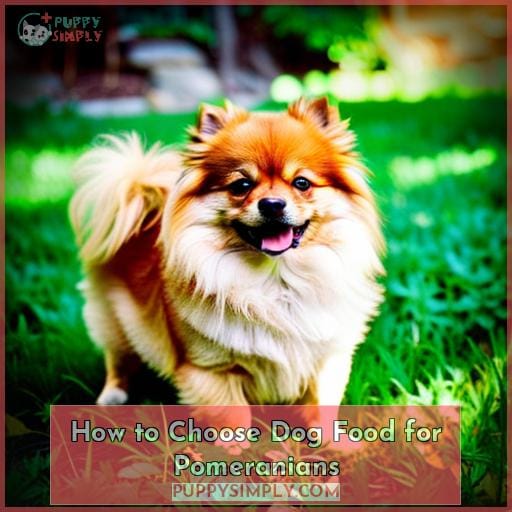 Choosing the best food for your Pomeranian requires knowledge of their specific nutritional needs. As a small breed, they require high protein, fats, and digestible carbohydrates in their diet to support healthy growth and development.
Nutritional requirements for Pomeranians
Considering the unique dietary needs of Pomeranians, it's important to ensure their diet contains high levels of protein, fats, and digestible carbs – around twice the amount compared to larger dogs. Homemade dog food can be a great option for providing essential nutrients as well as variety in your pup's meals.
A healthy meal plan should include lean meats such as chicken or turkey, vegetables and fruits like carrots or apples, whole grains like brown rice and pasta; plus organs for additional minerals. Additionally, feeding guidelines must take into account age-appropriate caloric requirements based on activity level to keep your pooch in its best health condition.
With proper nutrition from an appropriate diet tailored towards small breeds' specific nutritional demands, you'll have a happy Pomeranian!
Factors to consider when choosing dog food
Selecting the right dog food for your Pomeranian requires considering several factors. These factors include price and quality, ingredients used, and nutritional content.
Ingredient analysis is key to determine if real meat is present, as well as fillers like wheat or corn. It is important to choose a dog food with small kibble size for tiny mouths. Additionally, the nutritional balance should provide vitamins A & E, as well as beneficial fatty acids from fish oil.
Price comparison across different brands can help identify which offer good value without sacrificing the quality of nutrition. While there are numerous brand recommendations available, it is always advisable to consult a vet first before making a final decision on the best dog food for Pomeranians.
This is especially important for Pomeranians with special dietary needs such as allergies or hypoglycemia.
Homemade dog food options
If you're looking for a more homemade approach to your Pomeranian's diet, there are some delicious and nutritious options available. You can create balanced meals by using real meats, vegetables, and grains. Ensure adequate protein intake with high-quality sources like fish or poultry, while also providing the right calcium-to-phosphorus balance.
Make sure to incorporate fruits and veggies for vitamins and minerals, as well as healthy fats from nuts or seeds, in order to get all the essential nutrients into their diet.
Consider investing in best-selling formulas designed specifically for Pomeranians if you want an easier way of providing a high protein diet without compromising on quality ingredients.
How Much and How Often to Feed a Pomeranian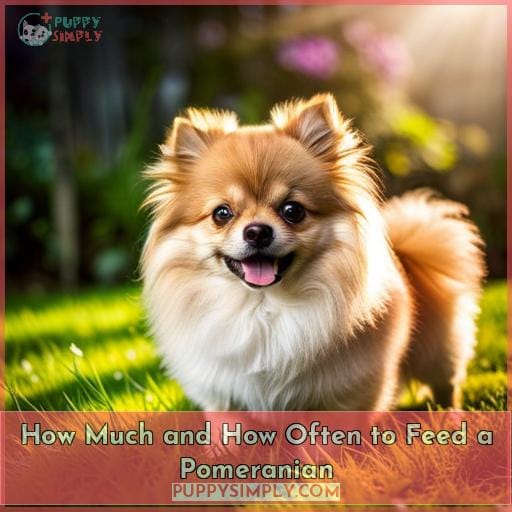 Feeding your Pomeranian is an important part of keeping them healthy and happy, so it's essential to know how much and how often they need to eat. When setting up a feeding schedule for your pup, consider the portion sizes, meal timing, weight management goals, as well as treats.
High-quality dry dog food, like Royal Canin Breed Health Nutrition, should be fed in smaller portions several times daily to ensure adequate energy intake throughout the day. Make sure each meal contains enough lean protein sources and healthy fats that are appropriate for their age group.
Feeding frequency can vary between two or three meals per day depending on individual needs.
What Can Pomeranians Eat?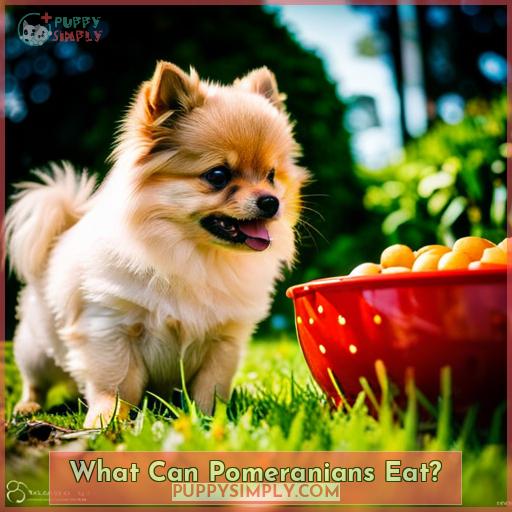 Finding the right diet for your Pomeranian can help keep them healthy and happy. These fluffy dogs have unique dietary needs that should be taken into consideration when selecting dog food. High protein, fats, digestible carbs, and nutrient-rich vegetables are important components of a balanced meal plan for this breed.
Avoid inexpensive brands with fillers or subpar ingredients; consult a vet to find the best option for your pup's age and activity level. Homemade recipes made from lean meats, organs, rice/pasta/grains plus veggies can also provide adequate nutrition if prepared correctly.
Treats should be given sparingly, but some options include freeze-dried meat treats from reputable dog food manufacturers which contain no artificial preservatives or flavors – great for training rewards! With careful research on nutritional requirements matched with quality products tailored specifically to meet those needs, you'll ensure optimal health and happiness in your Pomeranian companion!
Wet or Dry Dog Food for Pomeranians?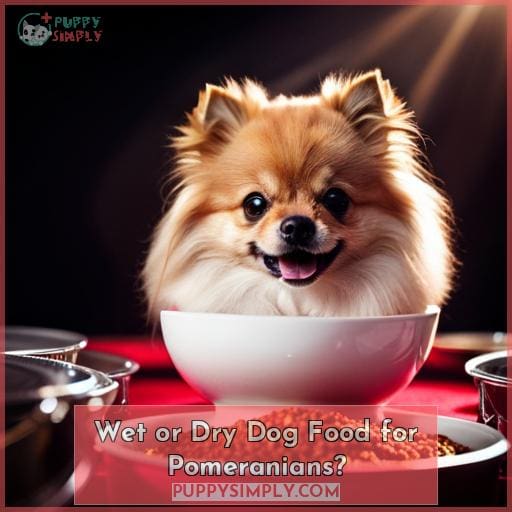 Deciding between wet or dry dog food for your Pomeranian can be a daunting task, but with the right information, you'll be sure to find an option that's out of this world!
Wet and dry dog foods have their own benefits when it comes to nutritional comparison. Dry kibble helps keep teeth clean by scraping away plaque buildup, while wet food has more moisture content and may appeal more to picky eaters.
Toy breed dogs are prone to dental issues, so looking into vet recommendations regarding moist vs crunchy diets might help in deciding which type of food is best for your pup's health overall.
For skin and eye problems, high-quality ingredients such as fish oil provide essential vitamins like DHA/ARA that promote healthy development in toy breeds. On the other hand, dry foods without fillers tend towards better digestion and weight management due to moderate calorie counts per serving size.
In short, both types of puppy chow offer something special: choose based on individual needs such as age or activity level at any given time – there's no one perfect answer here, just lots of nutrition options tailored specifically for poms!
High Protein Dog Food for Pomeranians?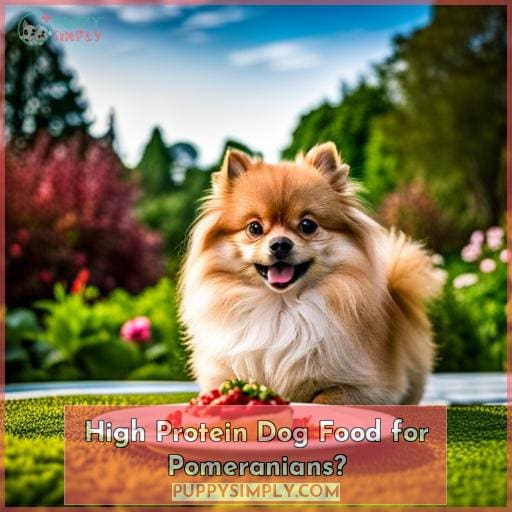 When considering a diet for your Pomeranian, look for high-protein formulas to provide essential amino acids and support muscle health. Protein requirements vary by age and activity level, but most dogs need an average of 18% protein in their diet.
Homemade options are also available with lean meats, vegetables, rice, or pasta. Organs like liver and heart can be added for extra nutrition. Dental health is another important consideration. Small kibbles reduce tartar buildup, while wet food may be preferred if your pup has trouble chewing due to teeth problems.
Weight management should not be overlooked either. Avoid fillers in the food such as corn, wheat, or animal by-products that can cause weight gain without providing any additional benefits. Allergen considerations include turkey and chicken recipe dog foods, which have fewer allergens than beef or lamb-based diets.
Additionally, consider joint and bone issues when selecting food. Higher levels of glucosamine and chondroitin help protect joint cartilage from wear and tear during exercise.
Special Diets for Pomeranians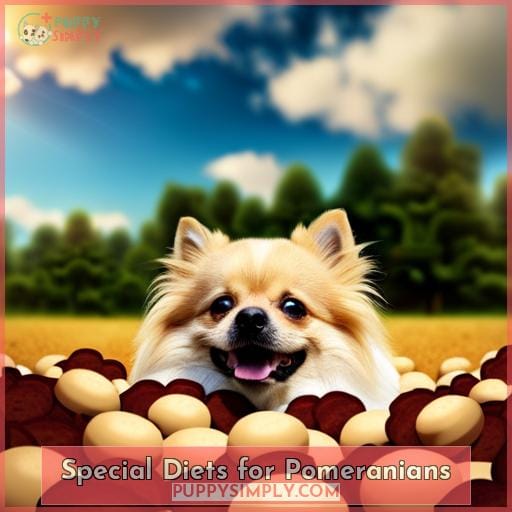 If you have a Pomeranian, chances are you've already considered the best food for them. However, special diets may be necessary depending on your pup's life stage or health concerns.
Homemade vs Commercial is one consideration: homemade can provide high-quality nutrition but requires more time and effort to prepare; commercial options are convenient and often contain nutritional supplements like glucosamine or omega fatty acids.
Allergen-free options may also be necessary if your dog has any allergies to common ingredients such as wheat, corn, soy, chicken (or poultry) by-product meals, etc.
Weight management formulas help prevent obesity in senior Pomeranians with lower calorie requirements than their younger counterparts.
Finally, dietary supplements can address dental problems caused by tartar buildup as well as joint issues due to aging bones—just make sure they don't contain artificial flavors or preservatives!
Ultimately, there is no single answer when it comes to finding the best food for your pet—it's important that you research what works best for their individual needs!
| Homemade | Commercial | Dietary Supplements |
| --- | --- | --- |
| High-Quality Nutrition | Convenient | Glucosamine/Omega Fatty Acids |
| Time-consuming preparation | No Artificial Flavors/Preservatives | |
| Weight Management Formulas & Lower Calorie Requirements For Seniors | | |
| Tartar Buildup & Joint Issues Due To Aging Bones | | |
Conclusion
You've done your research and you have the answers! Picking the best dog food for your Pomeranian can be a daunting task, but it doesn't have to be. Now you know to look for high-quality ingredients, small kibble size, and specialized nutrition for this breed.
You should also consider nutritional requirements such as protein, fats, and digestible carbs. Wet or dry food, as well as how much and how often to feed, can be determined based on age and activity level.
With these tips, you can be confident that your pup is getting the best nutrition and you're providing the best care.