This site is supported by our readers. We may earn a commission, at no cost to you, if you purchase through links.
The best dog car seats are an excellent option for dog owners who want to take their beloved pup with them everywhere but don't want a traffic accident. They keep your pet firmly in one place, so you don't get distracted while driving.
We all love to take our dogs everywhere, which usually means a lot of car rides. Small dogs, including puppies, may have trouble driving. They cannot comfortably look out the window, and the movement of the car can be quite dangerous.
That's why a car seat for dogs is so handy. You can strap your puppy in for the ride and rest assured that they won't hurt themselves. And if they need some extra help looking out the window, many car seats are double as booster seats too. Two in one!
It is essential to ensure that our puppies are as safe and comfortable as possible. Not only does the law now state in all states that all dogs must be kept in a moving car for the safety of the driver, passengers, and the dog itself, keeping a dog in a comfortable confined space prevents them from being overstimulated while traveling.
Whatever the reason, a dog seat is almost a necessity for a dog owner. Unfortunately, there are thousands of different car seats for dogs on the market, which makes it challenging to choose the right one. This article covers the best dog car seats so that you and your pup can sit safely in the car.
Essential Features To Consider When Choosing The Best Dog Car Seat
There are several things to consider when choosing the dog car seat that is best. The right dog car seat will keep your dog safe and healthy while being kept out of your hair while driving.
We have listed the best car seats for dogs below, but keep in mind the following points when choosing the definitive car seat for your pet.
1. Picking the right size for your pup
When choosing a dog car seat, you must purchase one that is the correct size for your dog. Too small, and you may not be able to keep your dog in it because they will feel uncomfortable. Too big, and they are unsafe and can cause injuries. The perfect car seat for dogs should give your puppy the space to sit or lie down.
If there is a harness or belt mechanism, it should fit snugly but not be too tight; otherwise, it can irritate the skin.
2. Usability, installation, and storage
A significant problem with booster seats for dogs is that many dog owners have bought one, but never use it or just for hours of driving. The first criterion to consider when buying a dog car seat is how easy it is to put it on and store it.
Most booster seats for dogs are very quick to remove with buckles and can be easily folded to store in your trunk or at home. Cheaper car seats for dogs often don't have as much convenience when it comes to usability and folding, and if they do, it will most likely break after a few weeks.
3. Materials, color, and design.
Before buying your dog car seat, make sure it is aesthetically pleasing. Check the dimensions and see how it fits in your car and make sure it is large enough to fit your dog comfortably.
If it goes against your car's decor, it's less likely to use it, but if it's aesthetically pleasing and fits your vehicle, keep it in the car.
4. Safety features and protection
Two safety features should get your attention in any dog car seat you want to buy:
how the booster seat is attached to the actual car seat
how your dog is held in the booster seat
First, the dog car seat that you purchase must have a sturdy fastening system on the car seat; and it should work perfectly in the back seat or front.
Most pet bucket raisers pass the seat belt and lock themselves securely. With some other products, an additional seat belt can also be attached to the headrest of the car.
Second, the dog car seat absolutely must come with adjustable safety leashes that can be attached to the dog to ensure your dog's car ride remains safe.
5. Easy to clean
You want something easy to remove and clean. That way, you always smell your car clean and fresh. Detachable dog car seat covers are also a great way to make sure your car seats stay clean even when your dog is on them.
Types Of Dog Car Seats
1. Bucket-Style Dog Chair
This is the most popular type of dog seat on the market. As the name suggests, the dog seat has a bucket-like shape. You place the dog in it and tie the seat with a cord that is attached to the hardness of the seat. It positions your dog and gives him a good view of the outdoors.
3. Bed Style Dog Chair
This is probably the best dog car seat for long trips as your pet can sit comfortably in one place. This option offers you two products in one because it is longer and can also be used as a bed. This type of chair is a preferred option for dogs that suffer from nerves as the bed can feel safe and comfortable for the dog.
10 Best Dog Car Seats Of 2023
Finding the perfect car seat for dogs is difficult, so we reviewed dozens of dog car seats and booster seats to find the best, most qualitative and most comfortable car seats based on their prices, design and Amazon rating.
We narrowed our search to 10 of the top-rated dog car seats and booster seats dog owners can purchase for their beloved family member.
1. Kurgo Car Pet Booster Seat For Dogs Or Cats
View On AmazonFirst on the list is Kurgo's Pet Amplifier Set, whose maximum weight capacity of 30 pounds is perfect for use with small dogs.
With its quick and easy installation process, the Kurgo chair makes it easy for you and your dog. Also, this dog car seat can be used for both the front seat and the back seat of your car, giving you more options where to place it.
Also, it provides additional support and structural integrity with its metal frame that folds up for easy and convenient storage. It also comes with a dog safety harness that can be adjusted and attached to any dog harness so that your precious dog stays securely in its seat during the ride.
The Kurgo chair may not be the choice, for if you have a larger or larger dog for space, it can be a bit cramped for them.
The collapsible metal frame gives the chair extra structural support and integrity while you can easily store it
Includes seat belt to secure your beloved dog in its seat while driving
It is only intended for small and short dogs
2. Snoozer Lookout Car Seat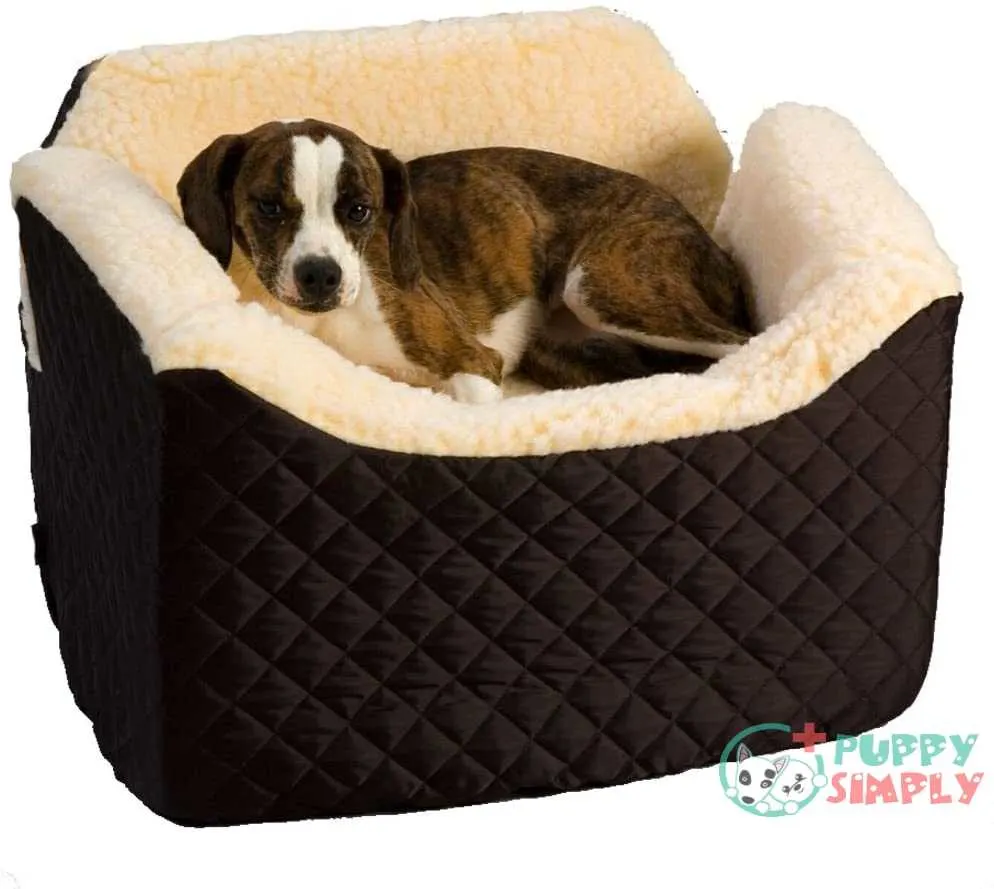 View On AmazonA further car seat meant for smaller sized breeds, the Snoozer Lookout Car Seat can be employed by dogs up to 25 pounds. The raised nature of the seat permits your canine to take pleasure in the sights throughout your journey, retaining him calm and entertained.
In addition to maintaining your canine correct upcoming to you while driving, this also assists in minimizing their nervousness and other undesirable behaviors in the vehicle.
It comes with a cozy and removable micro-suede cover. It also features a plush lining that will enable your canine to enjoy lengthy rides. This booster seat comes with a safety strap that protects your canine from little jolts and turns.
Before buying it, measure it to see if it fits efficiently on the console. This puppy seat could get up also significantly location in your back seat. You might also not be in a place to save the canine properly, given that the harness connects to the seat belt rather than the automobile seat.

It guarantees the highest comfort for your dogs especially those who get anxious and carsick easily
The removable cover allows you to preserve the seat and your vehicle clean at all instances
It can match only small breeds
View On AmazonThe K&y Bucket Booster Pet Seat is an outstanding seat for your favorite puppy. It is a comfy bucket-shaped seat that your puppy will feel safe and safe in. It comes in two different sizes, small and big, so there's an ideal substitute for most dogs, and it will price you $61 or $94 bucks, respectively.
This seat has a material exterior and a plush, quilted-fleece interior that feels snug. With a design produced to match both the front and back seat of your average vehicle, it's good to fit your car. The seat secures onto the seat with a regular seat belt, which is hidden at the back. There is also a secured leash on the within that can be employed as a seat belt for your canine, securing them to their harness so that they don't injure themselves due to the car's movement.
The inside of the seat is contoured so that your canine feels safe in its seat, which truly comes in two distinct colors. The tiny seat fits a single tiny canine or puppy, and the massive seat fits two little canines or a single medium-sized canine. It is simple to get in and out of, not also pricey and has glowing evaluations. That's why we chose it as our biggest selection.

It is simple to set up and get rid of
The adjustable leashes make specific that your pet is secure in their seat the whole time
Boosted seat permits your puppy to see out of the window
Includes a safety leash
It can get as effectively a great deal region in your automobile
4. Petsfit Booster Lookout Dog Car Seat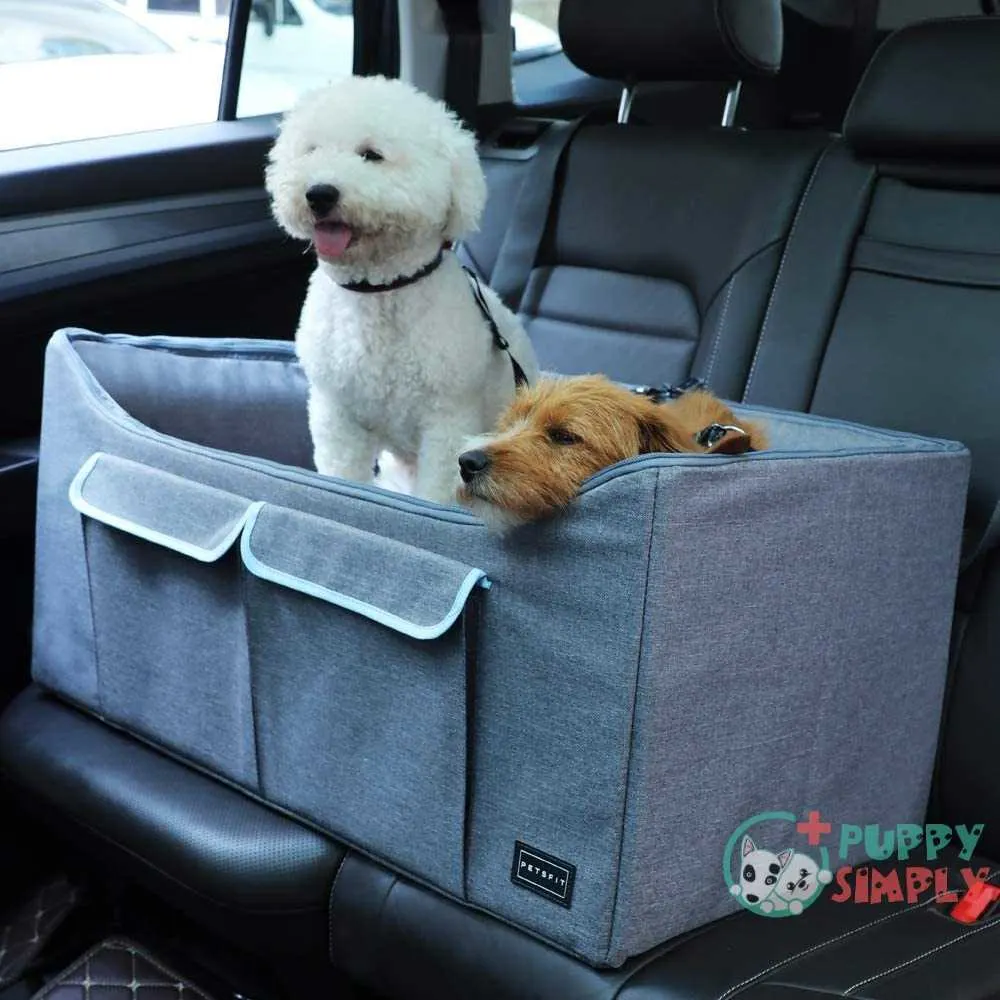 View On AmazonThis booster seat comes in 1 dimension for dogs and little pets up to 45 lbs and has two storage pockets. The liner is removable and machine washable. It is also reversible – smooth side for warm days, plush side for cold days. It comes in two colors – grey or light grey.
The car seat belt loops by way of the back, even though a strap goes above the headrest to protect the automobile seat in location. There is also a storage bag to make storing and carrying simpler. Pet mother and father loved that their canines could lie down or sit up to take pleasure in looking out the window. Several individuals reported that their as soon as-carsick pet was no longer sick while riding in this seat.
Clients loved how simple it is to clean and that their pets loved it as a bed in residence as effectively as the vehicle. The biggest complaint was about the connected leash. Some individuals reported that it was incredibly thin like ribbon and broke effortlessly when their canines pulled on it. You may want to also save your pet with a seat belt harness for backup, specifically if they tend to jump out.

It can accommodate two small canines or a single large canine
It has a sound and secure construction
It is cozy adequate for use as a puppy bed
It requires as effectively significantly area in the backseat
5. Snoozer Luxury High Back Console Pet Car Seat
View On AmazonThe Snoozer Luxury Large Back Console Pet Vehicle Seat is developed for use on your car's console. This permits your pet to sit in front and maintain them with you at all occasions. It is developed to be attached to your seat's base and console's lid, producing particular that the car seat and your dog are secure.
Extra safety attributes include a protection strap that attaches to your pet's harness, a large-back design and style to preserve them from jumping out, and a non-skid bottom to keep them secure in scenario of a sudden cease.
Its cover and inner pad can be eliminated and washed, enabling you to preserve your vehicle free of charge of pet hair and filth. However, this car seat is on the lot more pricey finish price-wise.

Its higher back design keeps your canine from jumping out
The non-skid bottom and safe attachment stop it from dislodging in the situation of a sudden quit
It is much more costly in contrast to others
6. Solvit Jumbo Deluxe Pet Safety Seat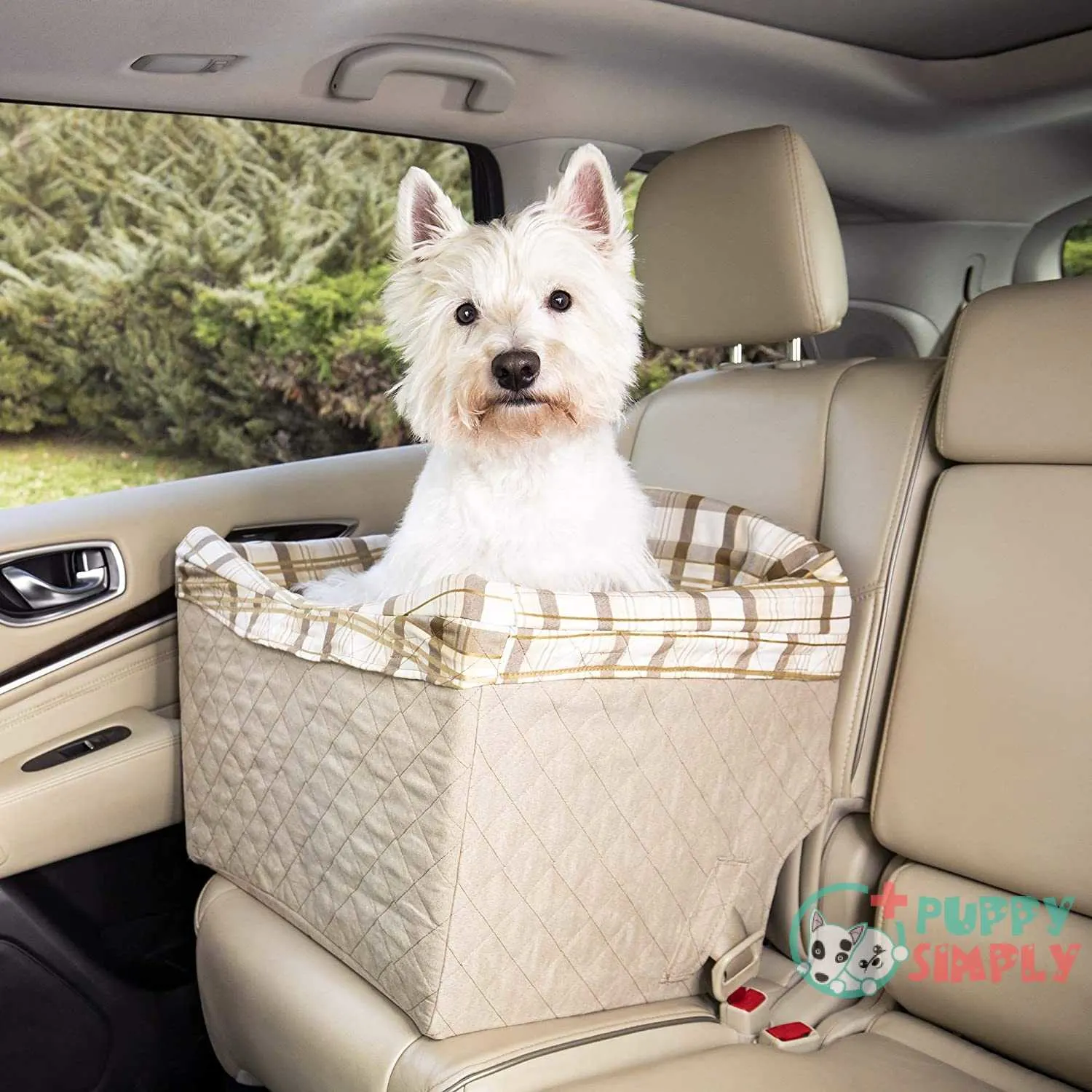 View On AmazonAll the earlier seats on our listing had been for smaller sized canines. The Solvit Jumbo deluxe animal chair is something else. This chair is specially created for medium-sized canines. Nonetheless, we like it much more than just the dimension. Here are some of the elements we like.
As pointed out earlier, the better size of this chair implies, you can transport your greater canine in it. Now you can no longer carry your Wonderful Dane or Mastiff, but if you have a beagle or any other medium-sized puppy, you will be fine. In reality, there are such numerous canine chairs on the market, but most of them do not execute effectively for a medium-sized canine.
The raised tray at the bottom signifies your canine has adequate padding to preserve soft and appear out the window. Once a lot more, looking out the window is super essential to preserve your canine cozy and calm. It can also preserve your calm, dependent on your attachment degree to your puppy. All round, the raised seat is a definite plus with no real downside.
Lastly, not needing a headrest to attach the seat is an additional frequently overlooked advantage. Most vehicles have a headrest, but if you do not have a headrest, you ought to fundamentally buy this kind of a seat. Just location, most other options require a headrest to be safe the seat, so a vehicle seat without a headrest just won't function.
All round, we like this chair. It honestly is not going to vary that significantly from earlier animal chairs, but it does have the benefit of functioning wonderful for a medium-sized canine. These prior options just in no way perform for a canine more than ten or 15 lbs.

Its style does not demand headrests
It also adds nine more inches to give your pup a far better view
It does not have sufficient padding to preserve your puppy cozy for lengthy trips
7. Devoted Doggy Deluxe Dog Booster Car Seat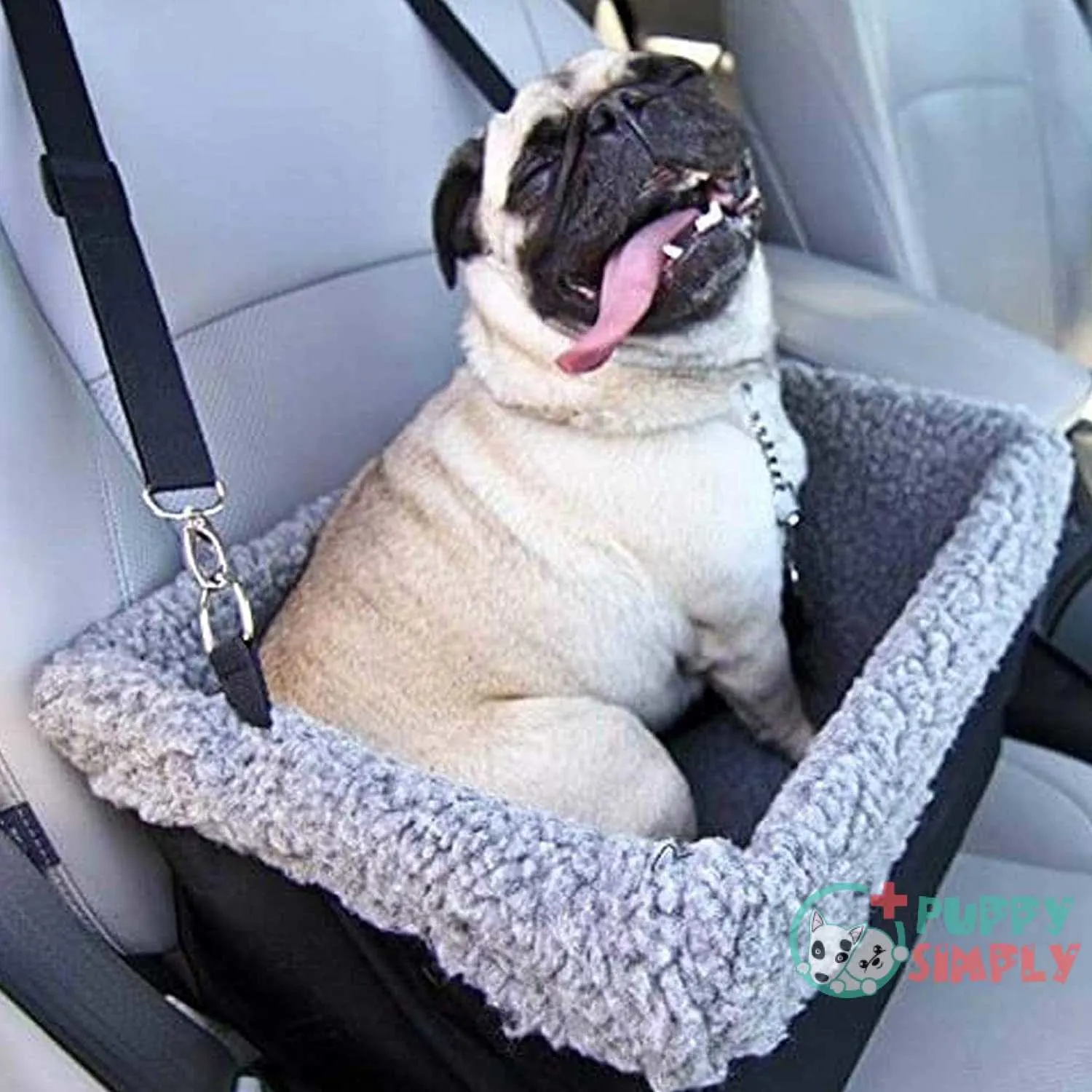 View On AmazonThe Deluxe Dog Booster seat is simple to set up and comes with entirely adjustable straps that match any seat in the vehicle, so you can have your puppy riding shotgun, or in the back, the alternative is yours! A cozy, super soft, and lined seat with cottony padding that your pet will adore, it is created for little to medium-sized dogs and provides them plenty of areas to lie down, stand, and settle in as they please, due to its large dimensions.
Guaranteed to preserve your puppy protected and happy all using any car journey, whether or not brief or lengthy, they will also be provided an unobstructed see of the window. Due to the elevated nature of the Deluxe Canine Booster's progressive style, your pet can comfortably see you and the planet outdoors the window, helping to ease their nerves.

It comes with full lining and soft padding for optimal comfort
It is simple and quick to install
It isn't an option for canines greater and heavier than 15 lbs
8. Pupsaver Crash Tested Car Safety Seat For Small Dogs
View On AmazonThe PupSaver Crash-Tested Car Protection Seat is the only canine automobile seat on the business that has been examined and confirmed to be safe in the event of an automobile crash. It faces the rear so it can catch your puppy on influence and act as a barrier, retaining your puppy safe. It is meant for use by canines up to thirty lbs.
It is created of extremely tough and hefty-duty supplies that preserve your pup secure in his seat even in case of an accident. Despite focusing a good deal a lot more on its protection, this canine car seat doesn't sacrifice top quality and comfort for it. This tends to make it one of the greatest automobile seats for canines.
The only downside is that it is not as easy to clean compared to the other vehicle seats on the listing.

It is the only crash-tested canine vehicle seat on the marketplace
It is created of extremely difficult materials meant for hefty duty use
It is cozy while retaining your pup secure
9. Cozy Boost Dog Booster Seat
View On AmazonThis deluxe option has every tiny thing you could ever want from a booster seat and a lot more! The Cozy Boost gives your pup of up to twenty lbs a cozy area to be stored secure and sound while you protect your thoughts and eyes on the street ahead. With the addition of a collapsible silicone dish and a lavishly soft and snugly blanket, you will not need to be concerned about packing something at all for your pup, and this seat has it all!
It could be soft, but it is mighty tough: a robust metal frame encased in thick fleece helps make particular that the Cozy Increase will last for several years to come. Excellent for use on each the front or back seats of the car, it's capable of being utilized with 60/forty rear split fold-down back seats with ease. Its additional huge dimension gives you the space to load it up with blankets and cushion for an even cozier drive for longer journeys and unique larger-best quality components adjust to the temperature to preserve your very best friend snuggled up in awesome climate and chilled out in the heat.

Contains a silicone collapsible bowl and blanket
Sturdy metal frame design and style
A security seat belt that attaches to your dog's harness
Parts alter to temperatures to keeps dogs great in the summer and warm in the winter
It does not give your canine the selection to just hop in or get out when necessary
10. AmazonBasics Pet Car Booster Bucket Seat
View On AmazonThe upcoming on the listing, we're taking it back to fundamentals with this straightforward but brilliant supplying from the AmazonBasics variety. This bucket design booster seat is ideal for maintaining your pooch protected in the car and fits on both the front or the back seats, and the option is yours. Providing your puppy a more entertaining ride by providing them a raised see out of the window, this booster seat tends to make use of your car's current seatbelts for immediate setup.
Regardless of whether or not you are on a week-extended street journey or a straightforward drive to the canine park, your pup will stay trendy and cozy in this quilted flannel seat complete with hard sporting Oxford materials detailing on the sides and bottom. Machinable washable and oh-so-cozy, your pet will adore it! For additional safety and peace of ideas, the seat consists of an adjustable leash, created to be clipped on to your dog's harness.

It is produced of higher large-quality supplies that make it durable and lengthy-lasting
It secures your pet in 1 location for distraction free of charge driving
It can be linked utilizing present seatbelt straps
Its seat cover is flimsier in contrast to other car seats
Advantages Of Car Seats For Dogs
Protect your dog:Keep the dog in the place to reduce distractions while driving. This reduces the chances of you and your dog having an accident by taking away the challenge of interacting with your dog rather than focusing on the road.
Lift the dog so he can see the way:If your dog loves the outdoors, the chair can look out the window comfortably.
Give your dog peace of mind: During car rides, dogs are easily distracted and pant, howl, and walk back and forth. The car seat gives the dog a physical feeling of safety and security.
Help reduce motion sickness: Dogs with car sickness benefit from a car seat because it makes them high enough to look outside, which in turn reduces car sickness. It can also help relieve anxiety in the dog.
FAQs About Dog Car Seats
Why is it important to use a car seat for dogs?
Using a dog car seat, a dog car seat belt, or a dog car seat belt guarantees not only the safety of your dog but also yours. This is because if you keep your dog safe in one place, you will be less distracted and can keep your attention on the road.
What is a booster seat for dogs?
A booster seat for dogs is used for two purposes. First, it gives your dog a safe place to drive during car rides. They are infinitely safer than leaving your dog unattended in the car because they are secured with a seat belt, and the dog is attached to the car seat itself. The second purpose of a booster seat is to lift your small dog high enough that they can look out the window, which we know dogs love to do.
Can I place multiple dogs in my dog's car seat?
Yes. All of the seats on this list have at least one leash that you can use to attach your dog to the seat. Do not put a dog on a chair without securing the harness. Some chairs have multiple leashes for multiple dogs.
What size booster seat does my dog need?
Car booster seats are usually available in two sizes: small and large. A small booster seat is large enough for a small dog to sit comfortably. If your dog is medium in size, which means he weighs over 30 pounds, you will get the largest option available. Dogs over 30 pounds usually don't need to use a booster seat, as they can often look out the window just fine. For larger dogs, we recommend using a harness.
How to install a dog car seat?
Car seats for dogs are quite easy to install. Place them where you want your dog to be (the backseat is recommended) and secure them according to the manufacturer's instructions. Some car seats have straps that wrap around the back of the seat, while others snap onto the seat belt. When using straps, make sure to fasten them so that the car seat is stable.
How Safe Are Dog Car Chairs?
As long as you install the dog car seat correctly, the car seat should be completely safe for your dog. It is safer to leave your pet in a car seat rather than wandering through the car while driving.
Conclusion
Using the best dog car seats for your dog is the best choice, ideally from a young age, to avoid carelessness during car journeys. Everyone and I mean it, everyone will thank you for your responsibility along the way.
In addition, dog car seats can also help soothe anxious and car-sick dogs, so if your dog tends to be like this during car journeys, it might be worth investing in a dog car seat.
References
gooddogsco.com
breedingbusiness.com
carbibles.com
thedrive.com
dogsrecommend.com