This site is supported by our readers. We may earn a commission, at no cost to you, if you purchase through links.
Now it comes to choosing the best dog brush to keep your dog healthy and happy.
Regular grooming will not only help your dog to look good but can help their skin and coat be healthier too.
When you brush your dog's coat, you are removing dead and loose hairs before they can fall on their own, which may reduce shedding.
Brushing your dog's coat also helps distribute the natural oils produced by glands in his skin, which keep their coat soft and their skin moisturized.
This is why regular brushing can be so crucial for some dogs, and the best dog brush tool can make the task easier.
So, you need to select an ideal brushing tool based on various considerations, which we have discussed below to ensure the optimum health benefit of your pup.
We've reviewed the best dog grooming products in every category and have brought you our top picks for combo brushes, curry combs, slicker brushes, de-shedding tools, and grooming gloves.
We also guide you through the buying process, so you have an idea which brush to buy.
Things to consider before choosing the best dog brush
Each brush is special because of its different quality, and you should consider the coat type before choosing an effective brush for your dog. Here we have outlined some common considerations to keep in mind when selecting one.
1. Your dog's coat type
Before even choosing a brush, first determine your dog's coat type. Dogs with a short coat often need a simple meeting. Dogs with longer hair and thicker coat, however, need brushes with extra features.
2. Purpose
Good brushes that serve several everyday purposes such as massaging, detangling, grooming, flea, egg removal, loose and dead hair, or adding shine to your pet's coat. They are designed with a unique structure and have soft, hard, or wired hair.
So you have to decide what you need a brush for. The right choice will help you achieve your goal efficiently with a good brushing. If you're not sure enough to choose the right brush for your dog's coat, you can, of course, follow the vet's recommendation.
3. The type of brush
Finally, you should think about the type of brush you are going to buy. Different types of dog brushes are available, each with a different purpose.
They are as follows:
Slicker brush: Slicker brushes work best for removing knots in long or medium curly dogs. These can also help remove the undercoat. But an undercoat rake does that much better. Slicker brushes should be used with care as they can damage the dog's skin.
Bristle brush: A Bristle brushes come with tightly packed bristles used on dogs with short coats. It is an effortless yet functional brush that is ideal for removing loose hair from your dog.
Undercoat rake: These reach deep into thick dog coats and remove tangles and dead undercoat. It's good to adjust the length of your dog's coat to the length of the teeth of the comb to ensure that you get all the undercoat but don't hurt their skin.
Pin brush: A lot like the slicker brush, but this model's wire pins are tipped with plastic or rubber. It's made for longer, silkier coat types.
Flea Combs: This is a specialized dog grooming tool that is only used when there are fleas or flea eggs on your pet's body. These have excellent, tightly packed teeth that catch and pull out fleas. Flea remains are not spared either.
Shedding blade: Despite the name, this is a comb with small, harmless teeth. It is specially designed to remove loose fur in dogs with short or combination coats.
10 Best Dog Brushes Of 2023
With the right brush, along with a handful of tools like
dog shampoos and nail clippers, it shouldn't be that difficult to maintain your dog's hygiene.
Here are 10 of the best dog brushes, based on features, customer ratings and reviews, and other buying considerations.
1. Furminator Deshedding Tool For Dogs
View On AmazonFrom the very beginning, shedding is the number one concern for many dog owners. So it is mandatory to collect the correct tools that will allow you to pull long hair out of your dog's coat. Furminator is one of the most popular dog grooming tools, highly recommended by pet owners. It is perfect for both long-haired and short-haired dogs, available in five sizes, including minimal, small, medium, large, and extra-large.
Furminator repulsion tool reduces repulsion by up to 90%. The stainless steel flaking edges touch the deep bottom and remove all loose hair. The brush's small teeth also catch dead hair without damaging the coat.
Furminator tool is ergonomically designed; the handle makes it easy and comfortable to brush your dog's coat. It is also known as a professional trimmer that is guaranteed to reduce hair loss than other brushes. It is easy to play and stop the meeting by pressing the eject button, and you can operate it easily when you use it for a long time. It also saves your fingers while playing.
To get the optimal output, use this brush after bathing and drying the dog's body hair. It works very efficiently on the dry coat. You should use a smoother brush to remove all mats from your dog's coat before using this Furminator tool, or the brush will pull on the mats, and your dog will feel a lot of pain.
Furminator is a great dog grooming tool and is highly rated by professional groomers, pet owners, and veterinarians. Finally, everyone likes this hair removal tool to gently remove loose hair.
It can reduce your dog's shedding by up to 90%
Comes in many sizes
Can be used on dogs of all shapes and sizes
It is a bit expensive and may not be ideal for dogs with delicate coats
2. Pet Grooming Gloves From Pat Your Pet
View On AmazonThis differs from the others on the list in that it is a glove that can be considered an alternative to the traditional dog brushes. It's the perfect option if you don't think your dog can get used to a grooming session. That said, it's simple yet effective to remove loose and dead hair from your dog without having to brush for hours.
It glides easily on your hand and can be easily adjusted with an adjustable wrist strap. Plus, it slides easily through your dog's topcoat, removing dead and loose hair while remaining comfortable.
It offers a unique alternative to traditional brushes
Glides easily in your hand
Allows you to brush your dog in a more natural way
Not effective for dogs with thick coats
3. Pawspamper Undercoat Rake For Small To Medium Dogs
View On AmazonThe PawsPamer Undercoat rake makes grooming double-coated small dogs a breeze. You no longer have to worry about the rake cutting through the healthy top coat or hurting your pet's armpits or flank, where the skin is usually thin.
The rounded stainless steel blade edges are soft and extremely effective. So much so that your dog starts brushing with it. Literally!
The PawsPamper Undercoat rake is a solidly designed tool. Everything from the full tang, wooden handle to the heavy-duty stainless steel blades speak of premium craftsmanship. It allows you to make countless passes without straining your wrists, which is a plus.
It is comfortable to grip and use, and it easily withstands the wear and tear associated with frequent use for multiple pets.
Choose from 10, 12, or 20 blades depending on how heavy the undercoat is for your pet. For smaller varieties, the 12 blade works best. But if your pet weighs over 40 lbs. Go for the 20 blades.
The best thing about using the Pawspamper Undercoat rake is that you don't have to work hard on the coat. Even if it runs smoothly, it is enough to remove tons of hair from the undercoat.
And it even helps to untangle the knots. Most undercoat rakes on the market just suck on this, and you need to purchase a slicker brush separately to remove knots.
Not with this one. It just slides through, and your pet doesn't even feel it.
A cheaper alternative to the Furminator
Sturdy construction
Easy to grip wooden handle
Helps to untangle the knots in the undercoat
Available in versions 10,12 and 20 blades
Comfortable for pet
The width of the comb head is slightly narrow, which can increase the time it takes to completely remove the coat. Not a biggie.
4. Kong Zoom Groom
View On AmazonKONG Zoom is another absolute loose hair care tool that helps to stimulate natural oil on your dog's skin and coat. It is made in the USA and comes with rubber bristles to massage your dog's body while brushing. There are two available sizes; one is small, and the other is normal. Small size is suitable for puppies, and standard size is for the boxer and similar breeds.
Typically, the KONG brush is recommended for all types of dogs and coats, but practically it doesn't work well for loose hair. Usually, loose bristles stick and pull on the strands, which hurts your pet a lot. The rubber bristles of this brush are more comfortable than metal bristles and soft enough to apply to sensitive areas such as legs, stomach, and ears.
In this case, the additional function is used as a shampoo brush while bathing. It helps clean your dog's skin and get rid of all hidden dirt and debris. Many dog breeds exhibit anxiety when they take a bath, but after getting the massage action of rubber hair, they become calm.
Regular massage with KONG ZoomGroom efficiently reduces your dog's shedding, and many pet owners agreed to purchase this brush to get its efficient performance.
Two sizes are available for small and regular dog breeds
Perfect for hair removal
Efficient quality performance
Made in the USA
Does not work well for long-haired dogs
5. Oster 2-in-1 grooming brush
View On AmazonThe Oster 2-in-1 Combo Brush is the only brush you need for everyday grooming because one side removes dead hair, and the other gets rid of dirt and dander.
Dogs with short, smooth coats do best with a traditional bristle brush with soft to medium bristles spaced close together. For dogs with medium-length and longer hair, a wire-pin brush may be a better option. If your dog's coat falls somewhere in the middle, or if you're looking for a versatile grooming tool, a combo brush might be the best option. Our top pick for the best combo brush that has a bristle brush on one side and a wire-pin brush on the other is the Oster 2-in-1 Combo Brush.
Generously sized, the Oster 2-in-1 Combo Brush works well for even the largest dogs with the thickest coats. One side of the brush is covered in widely-spaced wire pins to detangle your dog's coat and remove dead hair while the other side features patented quill-like bristles that remove dirt and dander while also stimulating the production of natural oils in your dog's skin. As a bonus, the handle is ridged for comfort and ease of use.
In a thorough review from Bulldogology, the Oster 2-in-1 Combo Brush is described as a product that "won't hurt your budget and can take care of most of your grooming needs." It may not be perfect, but it is very versatile and easy to use. Petshop includes the brush in its top 10 list of the best pet grooming brushes.
With almost 800 reviews and a steady 4.2-star rating on Amazon, the Oster 2-in-1 Combo Brush is a popular choice for dog owners everywhere. Buyers love the solid build and convenience of the dual sides, though some say that it can be difficult to clean the hair out of the brush.
Double-sided fit for most coats
Big enough for even large breed dogs
Wire pin floss removes hair, brush floss removes dirt and dander
Stimulates natural oil production in the skin
Ribbed handle for comfort
Very cheap
Can be too large for very small breeds
May not be ideal for dogs with a very curly coat or thick undercoat
Can be somewhat tricky to clean
6. Hertzko Self Cleaning Slicker Brush
View On AmazonThe slicker brush is one of the most popular dog brushes out there, but we think the Hertzko Self Cleaning Slicker Brush is a lot better than the rest. Ideal for dogs with medium or long hair, this brush keeps the coat soft and removes mats. This brush has finely curved wires to safely but effectively remove the dead coat and gently reaches the undercoat to grab hair before it lands on your couch. Made from durable plastic, the Hertzko is 5.8) x 3) x 10) and weighs 6.4 grams. The best part? This brush has a self-cleaning button that immediately releases the dead coat without pulling it out.
Reviewers love that it doesn't scrape their dog's skin or pull it too hard on their fur, and they appreciate how easy and hygienic it is to throw away the loose hair once grooming is done.
Made of durable material and comes with an ergonomic handle
Easy to clean with just the push of a button
Can go deep into your dog's undercoat without scratching his skin
Not the best choice if your dog has a thin coat
7. Dakpets Deshedding Brush-Dog Hair
View On AmazonLast but not least, we have the DakPets Deshedding Brush.
This is a versatile dog shedding tool, which can reduce pet hair loss by as much as 95%. If your home is a dog hair-covered mess, coming in the fall or spring, this tool can help you a lot.
To top it off, it comes with a lifetime replacement warranty. Any time you break the brush or get damaged for some reason, you can return it for replacement. Is not that great?
The 100mm-4-inch steel blades on this sanding dog brush go straight into the undercoat, leaving the top protective coat intact and healthy.
The blunt edges on the blades and narrow width also make it perfect for smaller breeds and cats.
That said, we have spoken to customers who have used this for their long-haired, large breeds such as St. Bernard and Golden Retriever. They will remain enthusiastic about it.
The contoured handles make it easy to grip, and once you are done brushing your dog, you can hang it up with the eyelet design.
The blade can be removed when it is full of fur for easy cleaning.
The DakPets hair removal brush is available in blue, pink, and yellow. This allows you to match the color of the brush to, for example, the collar.
It also has a very attractive price tag. It makes it easier to buy multiple copies if you have more than one pet in the house.
Feature-rich grooming tool
Reduces loss by as much as 95%
Narrow blade width
Perfect for small breeds and cats
Available in three colors
Quick-release blade function
100% lifetime replacement warranty
Some customers have said it doesn't work very well with long-haired cats. But we've spoken to hundreds of others who claim it works like a charm. So we attribute that more than anything to the grooming technique.
8. PAT YOUR PET PET GROOMING TOOL
Another quality product from Pat Your Pet, this is a 2-in-1 double head grooming tool with nine teeth and 17 teeth respectively, designed to tackle tangles and mats and give your dog a well-groomed appearance after brushing
Although the teeth are made of metal, they are absolutely safe for your pet. The rounded outer teeth will gently massage your pet's skin to give him that comfortable feeling while brushing, while the inner teeth can easily cut through tangles and mats.
Comes with an ergonomic and non-slip handle
Features a 2-in-1 dual-head design for brushing and grooming
The stainless steel teeth are very durable and easy to clean
Some customers complained about the tools pulling their dog's skin
9. Oster Professional Turbo A5 Heavy Duty Animal Grooming Clippers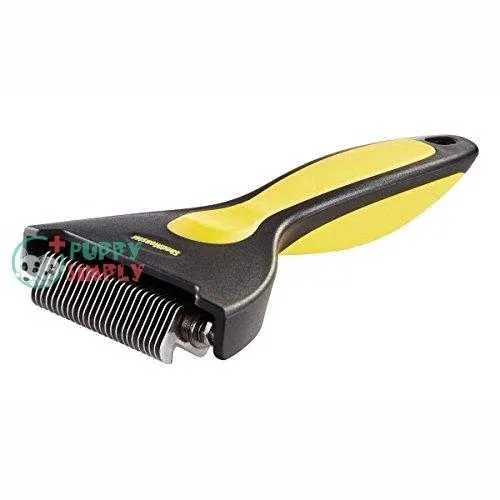 View On AmazonIf you need a special grooming tool to reach deep into the coat and cut all long hair, the Oster Shedmonster Lunge Tool is ideal for you. We know that excessive shedding is not always healthy for dogs, but sometimes it becomes mandatory to lose a lot.
Careful grooming does not affect the dog's skin or coat and is not even too helpful to keep them happy and healthy.
Oster Shedmonster is designed with stainless steel, and its curved teeth are equipped to infiltrate deep into the coat.
The teeth of this tool appear scary, but the edges are smooth and rounded, which helps to gently massage the dog's skin.
According to Oster Shedmonster Reviews, it is made with an ergonomic non-slip handle that is sturdier than other cleaning tools.
It is a special trimming aid that provides 90% less loss. It certainly gives a great result if used regularly in both long-haired and short-haired dogs. Many dog owners enjoyed having this brush groomed and recommended as the best grooming tool for their pets
[Bpros]
Designed with stainless steel
Covered with the non-slip ergonomic handle
Smooth edges provide a massage effect
Dog owners enjoyed it
[/Bpros][Bcons]
There were some complaints that the shorter brush is not effective in removing as much hair as the manufacturer claims
[/Bcons][/Bpros_cons].
10. Bodhi Dog Grooming Brush
View On AmazonWhether your dog loves it or hates it, baths help keep your dog's skin and coat healthy, shiny, and smelly.
The Bodhi Dog Curry Comb is a great bathing accessory. A curry brush helps remove dirt and dander from your dog so you can thoroughly and safely scrub his skin both in the bath and outdoors.
It is made of rubber and has a handle to easily scrub your dog even when trying to escape from the bath. Since it is not made to take off the dead coat, it works for all skin and coat types, even those with sensitive or delicate coats.
It measures 3.5) x 5.125) and weighs only 4 grams. Plus, every purchase comes with a 100% money-back guarantee if you're not completely happy – but even pups despising bath time will enjoy the gentle massage the brush offers.
Ideal for use during bath time
Can also be used to address your dog's constant loss issues
Offers a 100% money-back guarantee
Cleaning is difficult and takes some time
Common types of the dog hair coat
The first thing to understand is that every dog has a coat that is a little different. For brushing, however, dog coats can be divided into six basic categories.
We will take a closer look at the six categories to help you choose the best dog brush for shedding, the best dog brush, or the best dog brush that will give them comfort and positive experience.
Short Coats: Short, smooth coats commonly found in Hound, Chihuahua, and Retriever dog breeds. It is suitable to use a close-fitting soft brush.
Wiry coats: On the other hand, a short and stiff coat requires a different technique. You'll find short, coarse coats on dogs like Terriers, as well as a few other breeds, and the way you brush this coat is to go with the grain with a smoother brush or a really firm brush. For this type of coat, choose a brush with the bristles very close together.
Long Flowing Coats: Normally Golden Retriever, Spaniel, and Setters contain long flowing coats. To get a smooth and comfortable brushing experience, you should use a medium-sized soft brush with medium to wide bristles—woolly undercoats. Using a pin brush or wide bristled brush removes tangles and leaves a shiny coat.
Medium-sized coats: Medium-sized coats are also brushed with the grain, and the best brush to wear on these coats is a wire pin brush or a soft long, bristled brush that is spaced further apart. You can use a smoother brush if you want on these types of coats if the dog's coat is matte or tousled.
Thin Coats: Of course, Yorkies and Maltese dog breeds come with thin coats. Using soft, smooth, and wire pin brushes is perfect for managing their coats well. Slicker brushes are also useful for removing tangles and mats.
FAQs About Dog Brushes
How often should you brush your dog?
According to VCA Hospitals, dogs should be brushed regularly. Long-haired or curly breeds (such as collies or poodles) should be brushed daily to avoid tangles and matting. Short-haired breeds can get away with less frequent grooming, but the more often you brush them, the less shedding you will have.
Regular brushing also gives you the chance to inspect your dog's coat, looking for insects, twigs, or knots that may have developed while playing during the day.
Here are some simple steps to make sure you brush your dog correctly:
Brush down and out, away from the dog's skin (dogs don't like it if you brush their fur back).
Be gentle! You don't have to frighten your dog or damage its coat by pulling or pressing too hard.
Use coat conditioner for terrible tangles. You may need to leave it on for a while and rub the tangles with a comb – or at worst take your pet to a professional.
If you are careful and make grooming a positive experience, your pup may even want to be brushed.
What kind of brush do dog groomers use?
There are different types of dog brushes that are useful for different distant and dog coats. But you need to choose the right one and make sure your dog has a healthy and shiny coat. Within four basic types of dog brushes, including smooth bristles, pin brushes, bristles, and rubber brushes, slicker brush, it is your responsibility to sort the correct ones based on your dog's size, age, and breed.
Smooth brushes are suitable for medium to long-haired or curly dogs. Brush brushes are for short-haired and smooth-coated dogs. Pin brushes are used to remove loose hair from the dog's body, and rubber brushes are ideal for shedding hair. So first, determine the brush type to enjoy a high-quality brushing.
Can you use a regular brush on a dog?
Brushing makes my dog beautiful, and I brush regularly to check my dog's coat. Is it dry or greasy, confused, or dull? Regular brushing also removes excess hair from the dog's body and distributes the natural oils in the dog's coat and skin. Therefore, you just need to understand what type of coat your dog has and what type of brush to use.
Conclusion
The bottom line is that there are many options when it comes to the best dog brushes. Whether your dog is shed all over the house or you just want to build a better relationship with your dog, there are plenty of brushes to choose from.
But not all of them will suit your specific dog breed or coat type they have.
It is also worth noting that dogs shed during warm weather and collect their fur in cold weather. Some dogs do this more than others, but all dogs shed to some degree.
You may need different brushes or combs for different times of the year, but the information listed here should give you some great ideas on how to choose the best one.
References
gooddogsco.com
dogguidereviews.com
dogproductpicker.com
businessinsider.com
rover.com