This site is supported by our readers. We may earn a commission, at no cost to you, if you purchase through links.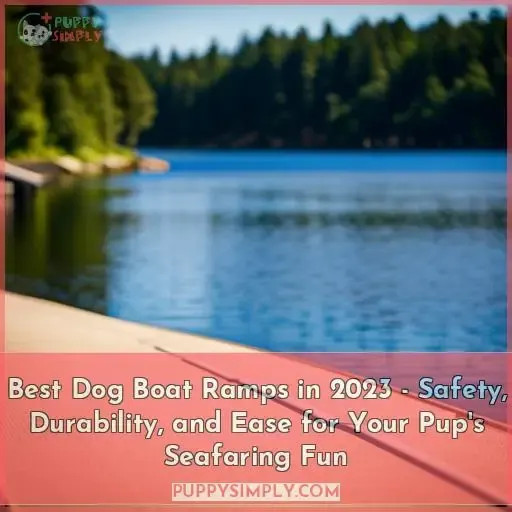 Hey friend! Are you looking to bring your furry first mate along on your next aquatic adventure? We get it – there's nothing better than sharing experiences with your loyal companion.
Don't worry, we've got you covered! We scouted the best dog boat ramps to make boarding hassle-free. With the right ramp, your pup can walk on and off your vessel with ease and confidence.
We'll discuss critical factors like safety, durability, size, and material to find the ideal match.
Investing in a quality ramp ensures many joyful, memory-filled sails ahead for you both.
Key Takeaways
Durability of materials is important for withstanding marine environments. Ramps should be made with weather-resistant, non-corrosive materials.
Proper sizing of the ramp is crucial. It needs to fit the specific boat and suit the size of the dog using it.
Look for key safety features like non-slip surfaces, stability attachments, weight limits, etc.
Proper training of the dog is essential so they can use the ramp safely and comfortably to prevent injury.
10 Best Dog Boat Ramps
Introducing the 10 best dog boat ramps in 2023! Give your four-legged friend easy and safe access to boats and docks with ramps like Pet Step's folding pet ramp, Great Day's Load A Pup ramp, and Drifter Marine's dog boat ladder.
You'll also find sturdy and portable options like Foldable Dog's multi-use hunting ramp, Paws Aboard's adjustable ladder ramp, and Solstice Inflatable's pool steps for large dogs. The ramps provide effortless boarding for dogs of all sizes and allow you to take your canine companion boating and fishing worry-free.
These thoughtfully designed products ensure secure footing, stability, buoyancy, and traction for even the most skittish of pups.
1. Pet Step Folding Pet Ramp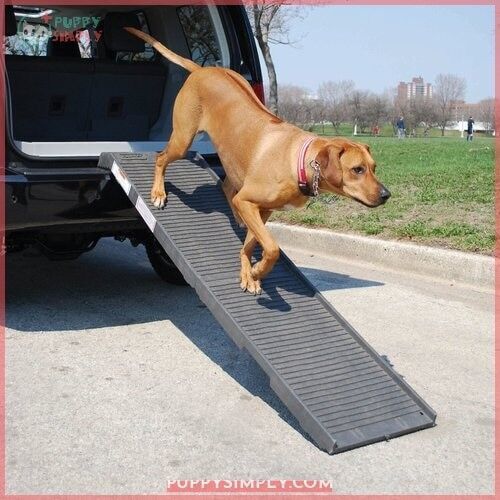 View On Chewy
As you step onto the sturdy plastic plank, it supports you like a faithful hound leading you safely aboard the vessel.
The Pet Step Folding Pet Ramp provides a sturdy yet gentle slope for your best friend to step up into your boat. Its soft, rubbery surface grips your dog's paws, preventing slips on the ramp's wet or dry surface.
With a 500 pound weight capacity, this heavy duty ramp built from advanced plastic and fiberglass gives dogs of all sizes secure footing.
The ramp's 36 inch length when folded makes it portable enough to bring boating, while its 17 inch width accommodates pets of all proportions. Let this versatile plank provide a helping paw for your aging or mobility-challenged pup.
Sturdy and stable for large dogs
Helps senior or injured dogs
Long-lasting durability
Facilitates easy vehicle access
Bulky for storage
Tricky folding mechanism
Limited grip on some areas
Caution needed when closing
2. Great Day Load a Pup Pet Loading Platform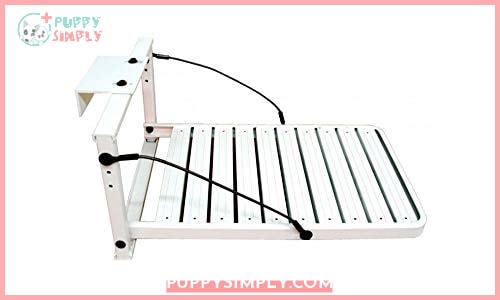 View On Amazon
You'll enjoy how easily the Great Day Load a Pup Pet Loading Platform lets you get your dog onto your boat. Designed for pontoons and cruisers, this USA-made ramp provides secure and effortless boarding for pets up to 90 pounds.
Just strap Fido in his life jacket, secure the platform to your boat, and watch your pup safely walk aboard.
Secure design for stability
Non-slip surface for traction
Easy to install on pontoon boats
May not fit all cruiser boats
Some hardware's not corrosion-resistant
Sharp welds could be hazardous
3. Foldable Dog Ramp Stand for Hunting and Training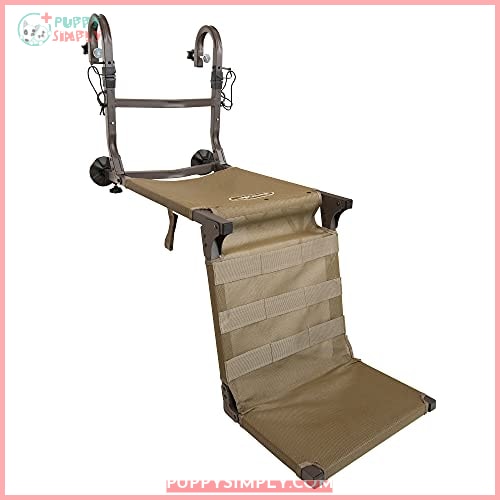 View On Amazon
Saddle up your pooch on the Momarsh foldable ramp for easy boarding your pontoon. This lightweight aluminum ramp provides adjustable access for dogs up to 90 pounds, letting them walk up and down unassisted.
Simply attach the pivoting feet and clamps to your boat's sidewall or a tree stand. The grippy two-step platform gives traction as your dog steps up, keeping their paws stable.
Take it on hunting trips or for training sessions to give your buddy secure footing.
Lightweight and portable
Adjustable setup
Non-slip steps
Durability concerns
Compatibility issues with some boats
Difficulty getting replacement parts
4. Original PetSTEP Folding Ramp Graphite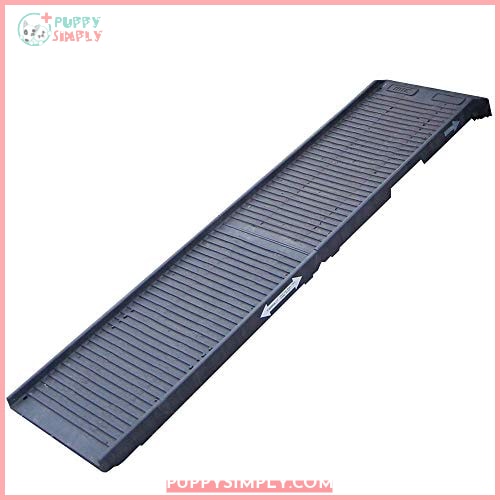 View On Amazon
The Original PetSTEP folding ramp is lightweight yet sturdy, making it easy to stow in your vehicle to provide your dog with painless boat access. Made of durable plastic with a non-slip surface, it offers good traction whether wet or dry.
The 36 inch long ramp supports pets up to 500 lbs and folds in half to just 5 inches thick for compact storage and portability.
While handy, some users report the folding mechanism can pinch fingers and requires leveling on uneven ground. But it's an excellent choice for aiding older or hesitant dogs who prefer it to steps when boarding.
Lightweight and portable
Non-slip surface for traction
Supports dogs up to 500 lbs
Easy to clean plastic
Folding can pinch fingers
Requires leveling on uneven ground
Not for steep truck tailgates
5. Drifter Marine Dog Boat Ladder With Hooks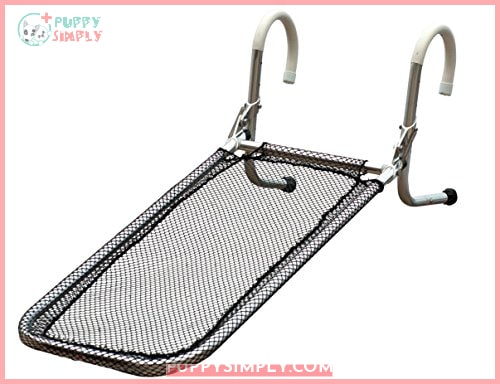 View On Amazon
Get up close and personal with the Drifter Marine dog boat ladder's rubber mesh ramp. This ladder aims to provide an easy way for your pup to hop aboard, with folding arms and platform for convenient storage.
Made in the USA from anodized aluminum, it boasts a sturdy build. However, compatibility depends on your unique boat setup.
While convenient when positioned properly, security and sturdiness vary. Test for your dog's safety.
Foldable and portable
Made in USA from durable anodized aluminum
Rubber mesh for traction
May not fit all boats; modification often needed
Attachment security varies
Prone to damage in water
Some dogs slip off the ramp
6. Avery Dog Ramp for Boat Access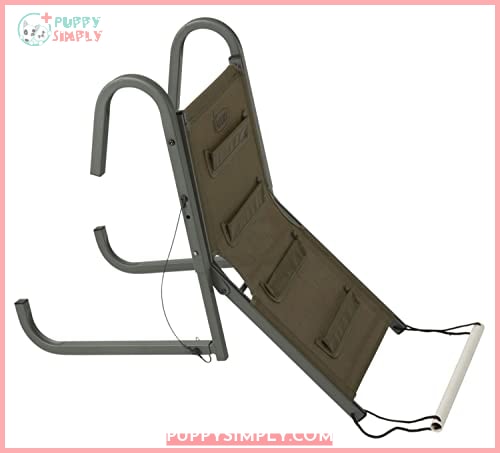 View On Amazon
Make boarding your boat hassle-free for your dog with the Avery Dog Ramp. This 24 long folding ramp features grip steps and a sturdy yet lightweight design to provide a safe, stable walking surface for pets up to 150 lbs.
Easily folds down to 14 for compact storage and portability. The skid-resistant surface helps give dogs traction and confidence as they access your boat or dock.
Portable and lightweight
Grip steps for traction
Folds for easy storage
Sturdy construction
May require customization
Unclear assembly instructions
Stability concerns for some
30 day return window
7. Paws Aboard Dog Boat Ladder Ramp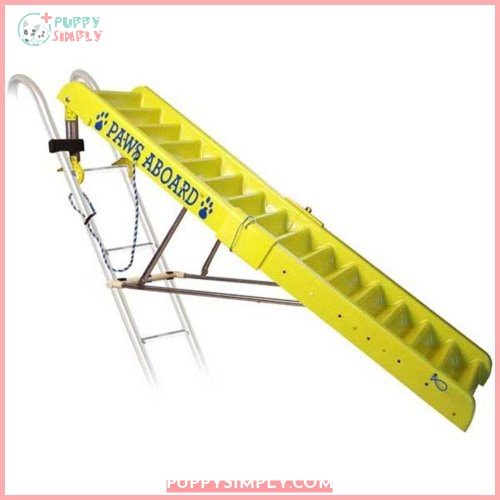 View On Amazon
The Paws Aboard Dog Boat Ladder Ramp's adjustable design aims to help dogs of varying sizes transition between a boat and the water, but mixed reviews highlight potential compatibility issues depending on your setup.
The portable ramp attaches to most boat ladders to provide your dog traction and stability for getting in and out of the water.
However, some users report needing to modify or customize the ramp for optimal use, so measure carefully before purchasing.
Portable and lightweight
Adjustable for different ladder widths
Provides traction and stability
May require modification
Not suitable for all boats or larger dogs
Mixed reviews on ease of setup
8. Pontoon Boat Ramp Harbor Mate Six Foot Long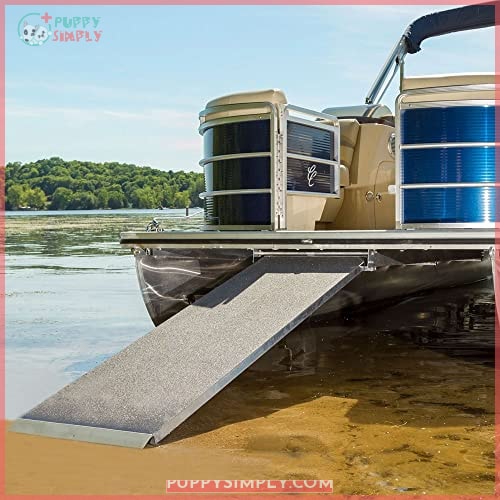 View On Amazon
Enjoy safe and easy access onto your pontoon with the Pontoon Boat Ramp Harbor Mate Six Foot Long. Its traction surface provides a secure footing for you and your pup. Installation may require two people, but once mounted, the six foot aluminum ramp allows people and pets to easily embark without the stress of jumping or climbing from the dock.
Made in the USA, it attaches securely and features a durable construction to accommodate loads up to 600 pounds.
Traction surface prevents slipping
Universal mounting brackets
Sturdy aluminum construction
Supports up to 600 lbs capacity
Heavy, may require two people to install
Mounting difficulties noted by some users
Packaging concerns in shipping
The pros highlight the safety, compatibility, durability and strength of the ramp. The cons mention aspects to consider regarding installation and delivery. Let me know if you'd like me to elaborate on any part of this summary.
9. Pet Loader for Water Dogs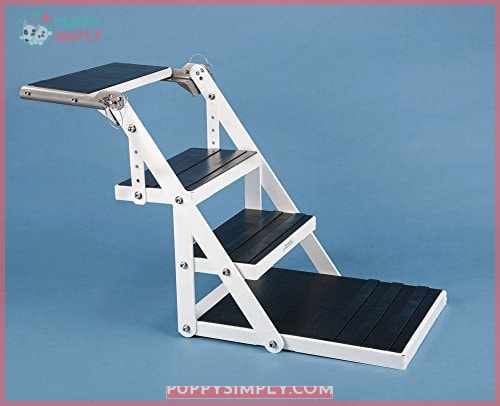 View On Amazon
With its stainless steel and aluminum design, Pet Loader's unique stairs let your dog easily get in and out of the water without leapin' from your pontoon.
The Pet Loader H2O XL dog stairs provide a super simple way for your furry friend to join you on the water. Just attach the sturdy stainless steel and aluminum stairs to your pontoon, boat, dock, or pool deck and your pooch can safely get in and out on their own.
No more hoistin' your water-lovin' hound on and off the boat. The marine-grade materials ensure lastin' durability in fresh or saltwater environments. The stairs flip up for compact storage when not in service. Made entirely in the good ol' USA.
You'll appreciate how intuitive the Pet Loader is for dogs to use. The stair steps allow paws secure footin' without slippery splashing. Assembly, installation, and detachment for storage are a cinch even when out on the lake or river.
Let your agin' or arthritic dog ease into the water safely. Give young pups water entry confidence.
Easy to install and remove
Sturdy and well-made
Allows independent entry/exit for dogs
Good for agin' or arthritic dogs
Expensive
Extra large size may be too bulky for some boats
May need step adjustment for optimal fit
10. Inflatable Dog Pool Ramp Steps Ladder for Large Dogs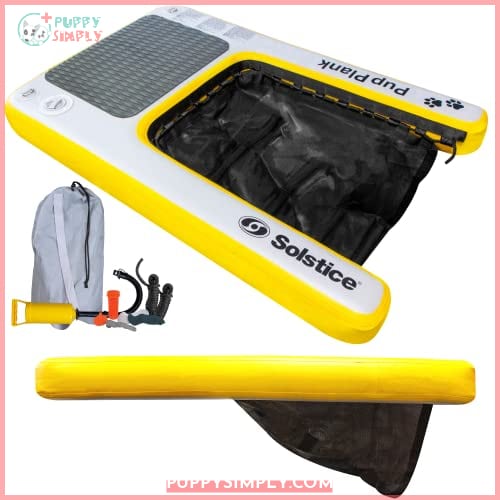 View On Amazon
Make pool entry easy as pie for your big pup with this quality inflatable pet ramp from Solstice. With its heavy-duty dropstitch construction, the extra-large design can handle dogs up to 200 pounds for safe navigation into and out of pools, boats, docks and more.
The included pump and tie-down ropes make setup a breeze while the repair kit ensures years of summertime fun. User reviews confirm it stands up to daily use and really assists less mobile pups.
Stable and durable construction
Supports dogs up to 200 lbs
Portable with included accessories
Easy to set up and deflate
Helps dogs with mobility issues
Pump quality could be improved
Top platform durability concerns
Accessory quality inconsistent
Choosing the Right Dog Boat Ramp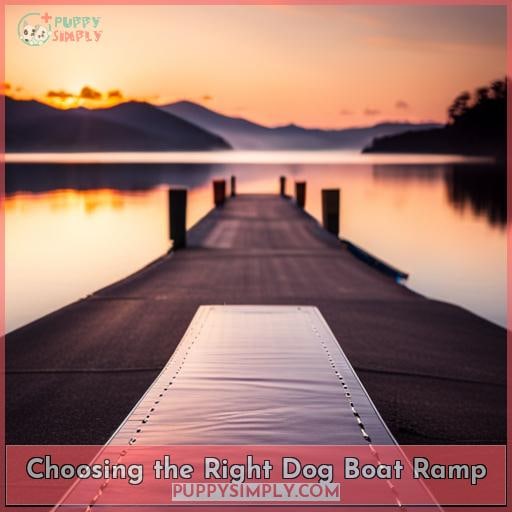 When choosing the right dog boat ramp, material durability and proper sizing are crucial. You'll also want safety features to prevent slips and injuries for your pup. The ramp should be made of a durable, non-slip material to provide traction and prevent injuries.
Consider the size and weight of your dog when selecting an appropriately sized ramp—it needs to be long enough for your pup to safely walk up and down. Look for ramps with side rails, anti-slip surfaces, and a gentle incline to make boarding easier and safer.
Ramps that fold for compact storage are ideal for boats. With the right ramp, you and your dog can enjoy fun times on the water.
Material Durability Important
Material durability is important when choosing pet boat ramps. Opt for ramps made from durable materials like stainless steel or tough plastics that can withstand water exposure and frequent use. Compare options such as aluminum, plastic composites, or marine-grade woods when selecting materials.
Durability testing confirms how well ramps will hold up over time. Regular maintenance extends a ramp's lifespan. Though costlier, stainless steel's anti-rust properties make it one of the most durable choices for withstanding the marine environment and active dogs.
Proper Size Needed
Check the ramp dimensions to ensure it will work for your dog's size and boarding area. Choose a ramp that fits the space between your boat and dock or shoreline. Select the appropriate length to ensure your dog can easily walk up and down without overextending its body.
Consider the ramp's weight capacity compared to your dog's weight. Heavier dogs need sturdy ramps built with metallic materials to support their weight, while smaller breeds can use lighter plastic or fabric options.
Safety Features Necessary
You'd be wise to look for non-slip surfaces, adjustable height, and safety straps when choosing the safest dog boat ramp. Focus on models with textured treading for traction. Seek rubber mats or carpeting to prevent slips.
Installing and Using Dog Boat Ramps

Once secured, have your pup get comfortable using the ramp at the dock before venturing out on the water.
Practice with your dog walking up and down the ramp to build confidence. Reward and praise successful attempts. Introduce distractions gradually to mimic the boat environment. Get your dog accustomed to the ramp's motion on water.
Ensure your dog is wearing a fitted life vest for safety. Supervise your dog closely until fully trained. Check that the ramp is securely fastened before each use and watch for hazards like sharp edges.
Training your dog on a stable dock first reinforces good ramp habits for safe boarding.
Training Dogs to Use Boat Ramps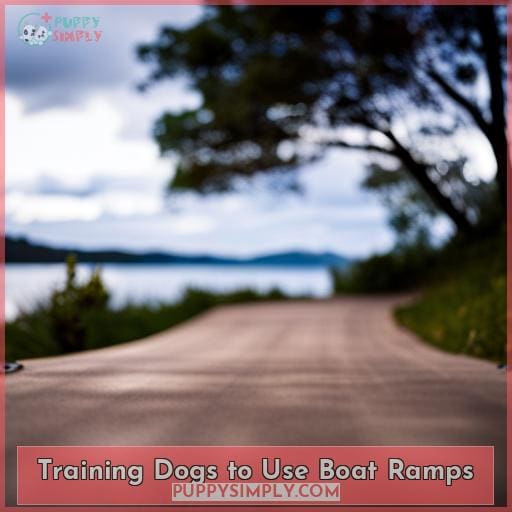 Getting your dog comfortable using a boat ramp takes time and positive reinforcement. After introducing the ramp while docked, begin acclimating your dog to ramp use on the water. Ensure your dog's wearing a properly fitted life vest for safety. Introduce water access via the ramp during calm conditions to build confidence.
Provide praise and treats for any interaction with the ramp, no matter how small.
Increase time spent on the ramp gradually. Remain patient and keep sessions low-pressure. With practice, your dog'll gain trust in the ramp for safe boarding. Consistency and positivity are key when training dogs to embrace ramps as their entry point for water fun.
| Stage | Goal | Tips |
| --- | --- | --- |
| 1 | Introduction | Treats, praise, no pressure |
| 2 | Building confidence | Life vest, ideal conditions |
| 3 | Increasing time on ramp | Patience, small steps |
| 4 | Trust and reliability | Consistency, positivity |
Benefits of Dog Boat Ramps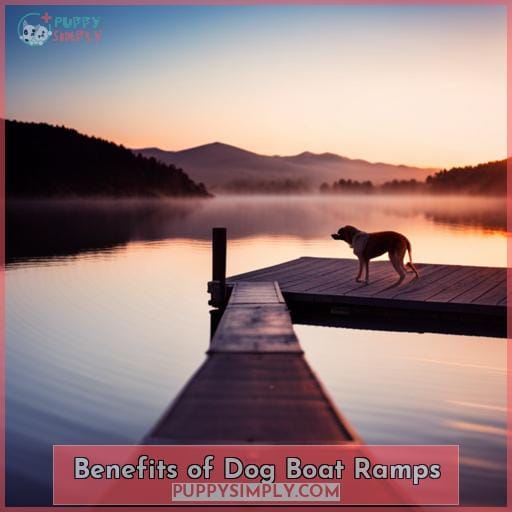 When boating with your furry friend, using a dog boat ramp provides essential benefits that deserve consideration. Ramps enhance your dog's safe water access, support senior dogs with mobility issues, and help prevent injury risks that could occur from jumping or falling.
Enhances Safety Access
Having a ramp enhances boating safety access and fun for dogs, so don't get in over your head.
Ensure a waterproof finish to prevent slipping.
Check for a tacky, non-slip surface like rubber.
Look for lightweight, easy to handle designs.
Make sure it fits your pet and boat type.
A portable dog boat ramp provides safe water access for our canine companions. With the proper fit, material, traction and thoughtful design, these boarding solutions allow our furry friends to share in the joy of messing about in boats.
– Supports Senior Dogs
Pet ramps help preserve your senior dog's mobility as arthritis sets in. The non-slip surface provides stable footing for aging, arthritic pets when boarding. Allowing your elderly dog to avoid the stress of jumping preserves fragile joints.
Thoughtful ramp use assists older canines and enhances their safety. With versatile placement options, ramps grant your senior dog access to more experiences. Support your aging pup's joint health and comfort by providing a gentle way to reach the fun.
– Prevents Injury Risks
Dog boat ramps can help prevent exhaustion and water-related injuries. Studies show that over 20% of boating accidents involve dogs falling into the water. Sturdy ramps prevent heavy lifting that could cause strains. Their durable construction provides stable water access.
Slip-resistant surfaces on the ramps promote canine safety. The thoughtful benefits of ramps allow for secure water entry. Proper boarding techniques with ramps can reduce injury risks for your best friend.
Conclusion
Bringing your furry first mate along for a day on the water is twice the fun, but getting your dog on and off the boat safely can be a steep challenge. Like a sturdy old lighthouse guiding ships to harbor, the right dog boat ramp offers a shining beacon of stability and security so your pup can hop aboard with ease.
Choosing the best dog boat ramp for your pooch prevents the heartache of potential injuries. Rely on durable, purpose-built pet ramps and ladders crafted to truly support your four-legged friend, because every sea dog deserves smooth sailing.