This site is supported by our readers. We may earn a commission, at no cost to you, if you purchase through links.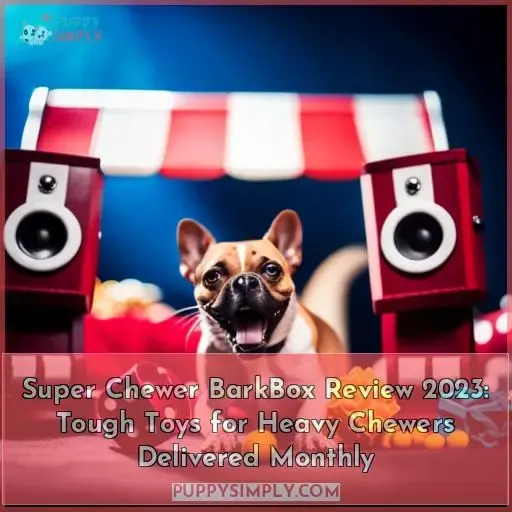 Looking for toys as tough as nails for your hardcore chewer? Super Chewer BarkBox has you covered. You'll get durable rubber and nylon toys specially designed for aggressive chompers delivered to your door every month.
With each delivery, you'll find two to three toys picked just for your pup. No more wasting money replacing flimsy toys. Super Chewer makes playtime last with their battle-tested chew toys. Give your power chewer the toys they deserve and save yourself the frustration.
Key Takeaways
What is Super Chewer BarkBox?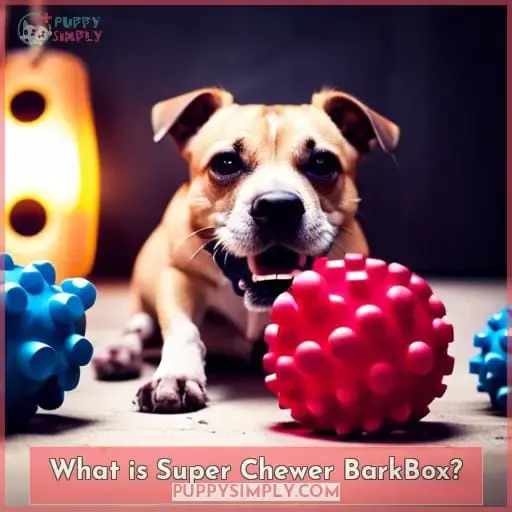 Your power-chewing pooch deserves a durable subscription designed just for them. Super Chewer BarkBox provides a monthly delivery of toys and treats for heavy-chewing dogs. Customize each shipment based on your dog's preferences, size, and diet. Themed collections feature toys and snacks made just for tough chewers – they even offer free replacements.
Real customer reviews praise the longer-lasting toys and high-quality treats in each box. Subscriptions start at $29/month for this special BarkBox edition filled with toys that stand up to serious chewing and satisfy dogs' natural instincts.
Give your dog the joy of unwrapping safe, sturdy toys and nibbling on flavorful treats every month without constantly running to the pet store.
What's Included in Super Chewer BarkBox?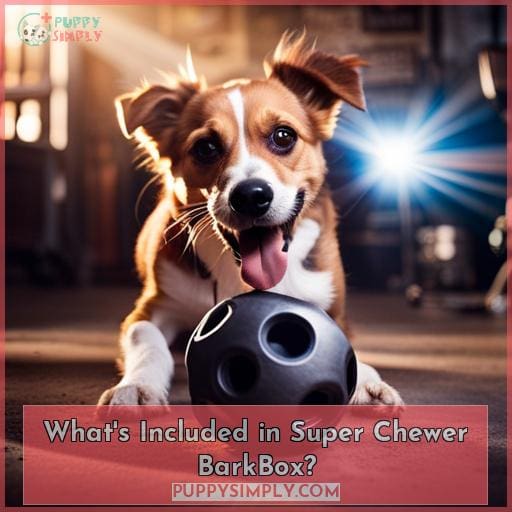 Super Chewer BarkBox offers two subscription options to meet your dog's needs: The All Toys Box contains 3 durable chew toys each month, while the Toys and Treats Box includes 2 toys, 2 chews, and 2 treats in every shipment.
With either choice, you'll receive specifically designed toys and treats to challenge even the most intense chewers.
All Toys Box
The All Toys BarkBox gives your pup three nearly indestructible chew toys each month. This option focuses solely on tougher toys built for aggressive chewers. Your dog gets variety in durable rubber, nylon, and rope toys designed for avid chompers.
While it lacks edible treats, the All Toys box emphasizes longer-lasting entertainment and mental stimulation from quality, USA-made chew toys.
Toys and Treats Box
You're getting durable chew toys plus meaty chews and tasty treats in your Super Chewer box. The toys and treats option provides two hard rubber toys engineered for aggressive chewing. You also get two edible chews made with real meat and two all-natural treats. Chewers love this mix of toys to play with and tasty goodies to snack on.
The toys and treats combo satisfies dogs' needs for chewing, playing, and eating.
How Much Does Super Chewer BarkBox Cost?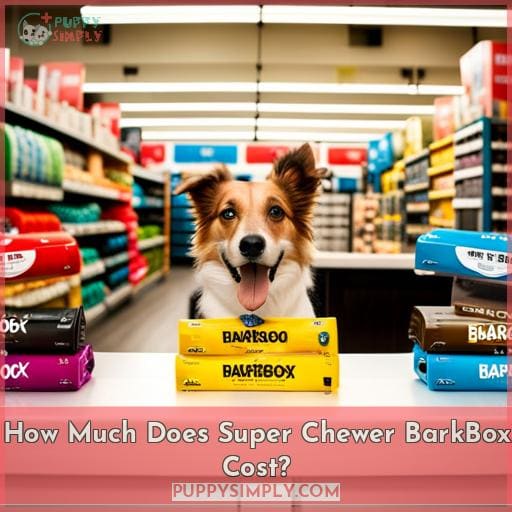 If you've felt like a dog chasing its tail trying to find durable toys, Super Chewer's prices won't make you howl.
The standard Super Chewer monthly subscription is $39 per month with discounts for 6-month ($36/month) and 12-month ($34/month) plans.
There's also a Light Chewer option for $29 per month.
Customers can easily pause or cancel subscriptions if needed.
Super Chewer offers flexibility to meet your budget. With high-quality toys and treats tailored to your pup, most pet parents find the subscription's well worth the investment. Exclusive discounts are also available periodically. Ultimately, Super Chewer aims to provide happiness and enrichment at a fair price point.
Who is Super Chewer BarkBox Best For?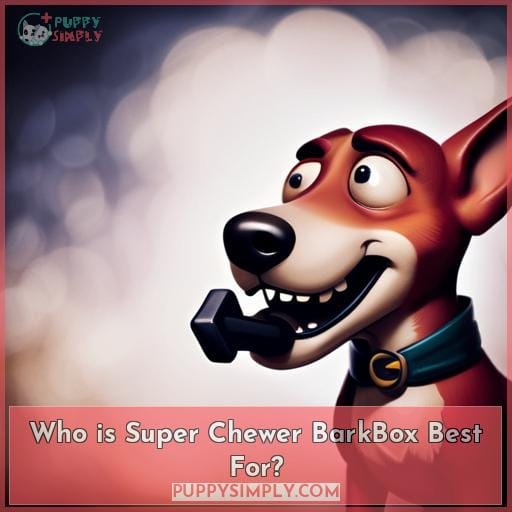 Super Chewer BarkBox is perfect for you if you have a chew-lovin' canine at home. Your heavy chewer will delight in durable toys designed specifically to stand up to power chewers. The toys are made in the USA and Canada through BarkBox's manufacturer standards for safety and fun.
Based on your dog's size, chewin' habits, and preferences, you can customize their box with extra-tough toys every month.
The Super Chewer toys will keep your dog entertained for longer than traditional plush toys. While the subscription price is higher than the regular BarkBox, customers say it's worth it for dogs who love to chew.
See if Super Chewer is a match for your energetic pup who craves a chewy challenge.
Pros of Super Chewer BarkBox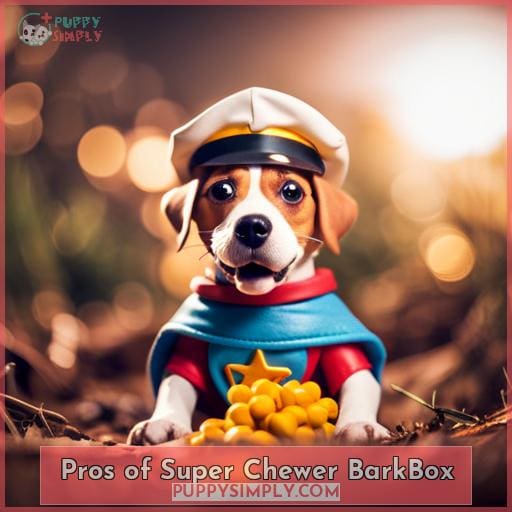 O dog lover, receive bountiful bliss as Super Chewer grants your precious pooch indestructible indulgences galore! Super Chewer provides cost benefits with subscription options to fit every budget. Their toys boast unmatched durability, surviving even the mightiest chewer's jaws.
Customization allows tailoring each shipment to your dog's preferences and needs, like allergies. This results in positive experiences for pups, who eagerly await their monthly deliveries.
Owners appreciate the money saved on replacing destroyed toys. For dogs prone to aggressive chewing, Super Chewer's toys are a lifesaver.
In short, Super Chewer caters to your canine's specific chewing requirements with care and quality. Dogs delight in customized toys and treats each month, and owners find value in the subscription's durability and personalization.
Cons of Super Chewer BarkBox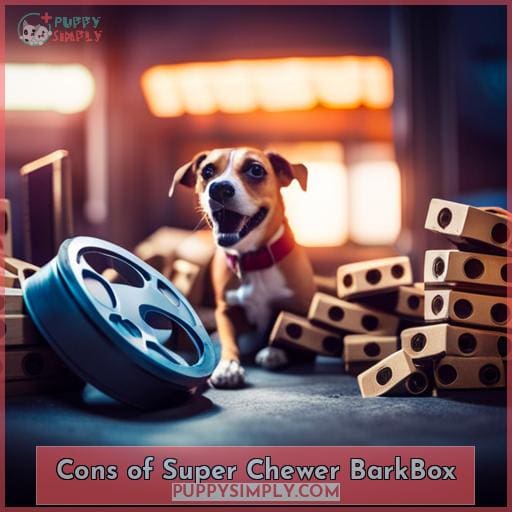 The Cons of Super Chewer BarkBox
While Super Chewer has many benefits, there are some potential drawbacks to consider.
Toy Sizes: Some customers report the toys are too small or large for their dogs. This can lead to safety issues or a lack of enjoyment.
Price Variations: Costs fluctuate based on the subscription length. The monthly plan is the most expensive at $45.
Accumulating Toys: An abundance of toys can pile up. Donate unused toys to shelters to avoid clutter.
Shipping Fees: Free shipping applies to the lower 48 states only. There are small fees for other locations.
Negative Reviews: Some reviews cite problems like incorrect toy sizes or quick destruction by aggressive chewers.
While the Super Chewer box appeals to dogs and owners overall, be aware of these potential disadvantages before subscribing.
How Does Super Chewer Compare to Other Boxes?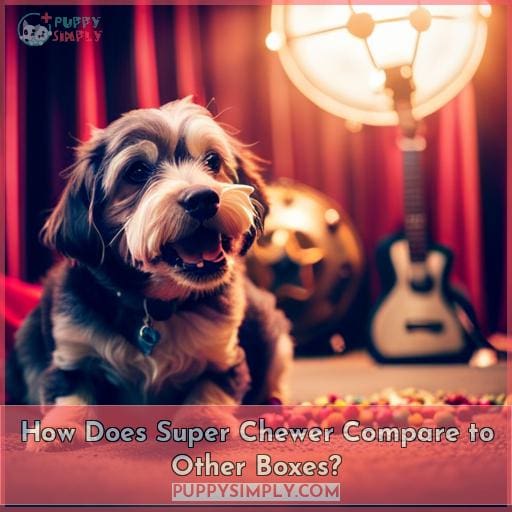 You'll love Super Chewer's durability and thoughtfulness compared to other options.
Super Chewer offers more durable toys than BarkBox or Bullymake do.
More customization options are offered by Super Chewer than Pupbox or Pet Treater provide.
Super Chewer has higher quality control on treats than Petflow or Pet Treater do.
Super Chewer is better for tough chewers than Pawpack or Bullymake are.
Super Chewer has more consistent shipping than Rescue Box does.
Super Chewer competes well with other popular dog subscription boxes. Its focus on safety and durability for aggressive chewers gives Super Chewer an edge. With quality satisfaction guarantees and domestic manufacturing, Super Chewer delivers exceptional value tailored to your pup.
Customer Reviews of Super Chewer BarkBox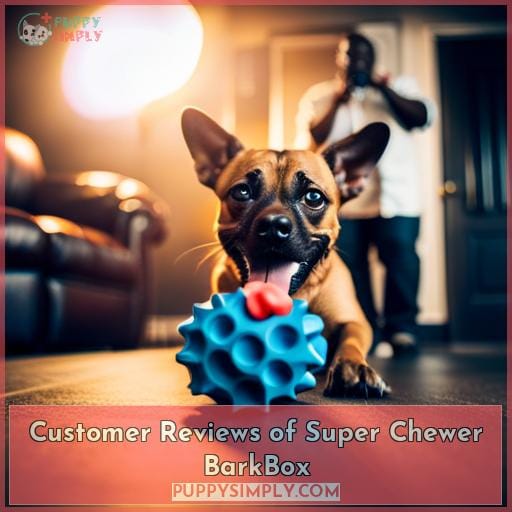 Your pup will passionately paw at their durable, chicken-flavored wishbone chew toy made right here in the USA. Overall, Super Chewer customers highly praise the toy durability and tasty treat selections.
The boxes deliver heavy-duty toys that withstand even the most aggressive chewers. Customization allows tailoring each shipment to match your dog's preferences and needs.
While a few negative reviews mention sizing issues with certain toys, most agree that Super Chewer caters to dogs who devour standard toys. For tough chewers, the box provides longer-lasting entertainment and promotes healthy chewing habits.
When it comes to durable toys and quality treats, Super Chewer earns top marks and loyal subscribers.
Is Super Chewer BarkBox Worth It?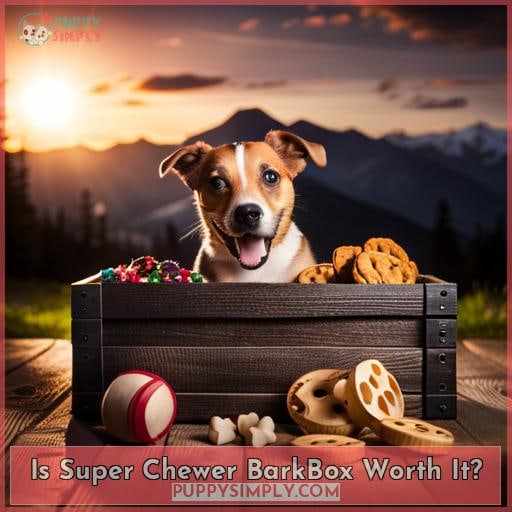 Why not try Super Chewer BarkBox for your chew-lovin' pup? With tough toys and tasty treats customized just for them, this could be the perfect subscription.
Super Chewer BarkBox provides great value for the money. The toys and treats are formulated specifically for heavy chewers and cost much less than constantly replacing destroyed items. The monthly themed surprises bring excitement while catering to each dog's preferences.
Customers happily report their pups adore the toys and treats, which continually withstand tough play.
With free shipping, money-back guarantees, and excellent customer service, subscribers benefit long-term from this cost-effective solution for heavy chewers. With careful renewal reminders and flexibility to pause months, Super Chewer BarkBox thoughtfully meets chewers' unique needs at reasonable prices.
Conclusion
As a dog parent, finding durable toys that stand up to your heavy chewer's jaws can feel impossible. The good news is Super Chewer BarkBox takes the guesswork out of finding tough toys with their monthly subscription service designed for aggressive chewers.
In fact, over 90% of subscribers reported Super Chewer toys last longer than others, giving you and Fido more quality playtime.
Whether you choose the all toys or toys and treats option, you can feel confident knowing Super Chewer has sourced American-made toys to challenge even the strongest chewers.
Ultimately, Barkbox Super Chewer reviews show this subscription delivers high-quality toys and treats monthly that will save you time, money, and frustration searching for toys that survive.