This site is supported by our readers. We may earn a commission, at no cost to you, if you purchase through links.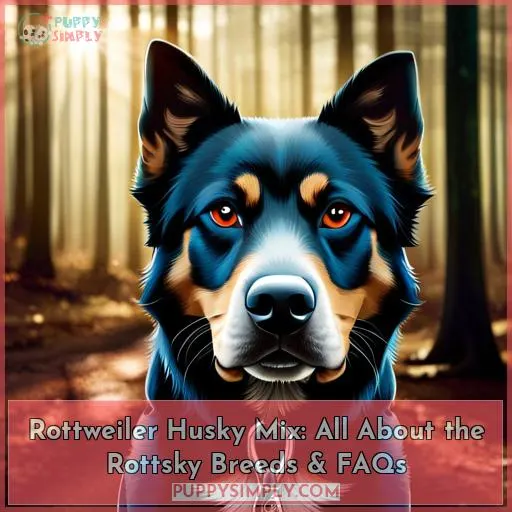 You ever heard of the Rottsky? It's a hybrid cross between a Rottweiler and Siberian Husky, two breeds with big personalities! But is this canine mix really worth all the fuss? If you've been wondering what makes this breed so special, then here's your guide to finding out.
We'll cover everything from their appearance and personality traits to health problems and the best diet for these pups – plus tips on training them right.
So if you're looking for an understanding friend who loves adventure as much as cuddles, then look no further than our comprehensive guide on the Rottweiler Husky Mix: All About The Rottsky Breeds & FAQs!
Appearance and Personality of the Rottweiler Husky Mix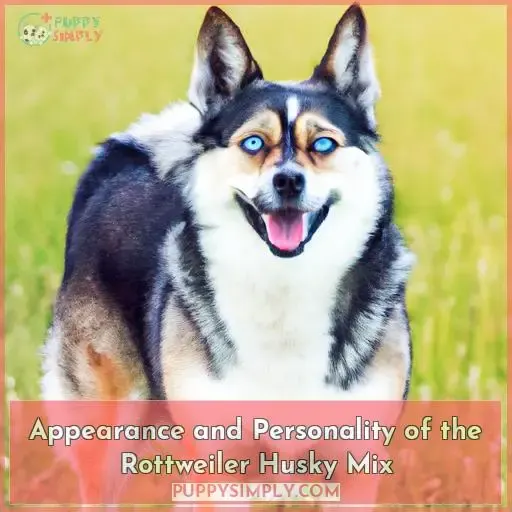 You'll find that the Rottweiler Husky Mix is a medium-large, muscular hybrid with an affectionate and loyal personality. This breed has two distinct parent breeds: the Rottweiler, descended from Roman drover dogs bred in the German town of Rottweil and recognized by AKC in 1931, and the Siberian Husky, which originated with the Chukchi Tribe in Siberia to help transport goods and provide companionship.
They also played a key role during the 1925 serum run, transporting medicine 674 miles to Nome, Alaska.
When it comes to physical appearance, these hybrids have large upright triangle ears similar to their husky parents, combined with rottweiler colors dominant throughout their coat.
These furry friends require regular grooming due to their heavy shedding year-round. They also have 2 big blowouts before weather changes come around, so make sure you are ready for this commitment if considering purchasing one of these puppies.
In terms of temperament, this breed is very friendly yet strong-willed at times, requiring extensive training starting immediately following acquisition. Their intelligence makes high obedience possible when properly motivated, but beware because owners need experience handling challenging canine species such as this one.
Exercise needs encompass no less than 2 hours daily, split into agility, hiking, running, etc. All great activities suitable for your pet's physical exercise outlet, lest behavioral issues arise out of boredom.
Physical Comparison of the Rottsky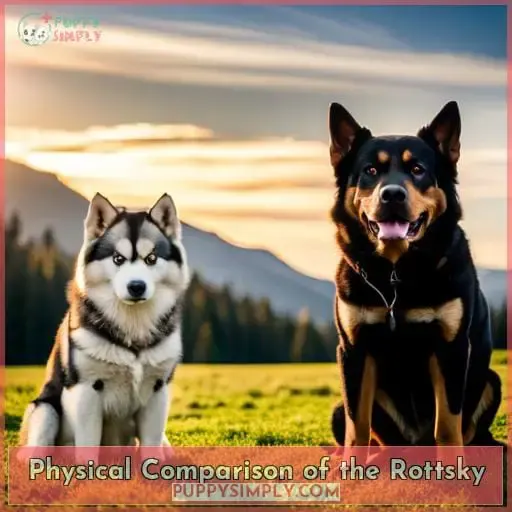 The Rottsky is a unique and interesting crossbreed, combining the best of both its Rottweiler and Siberian Husky parents. Physically, they are medium-large in size with muscular builds. They can reach heights between 22 – 27 inches tall at adulthood—males being larger than their female counterparts—and weigh up to 85 – 135 lbs on average.
The colors of this breed's coat will usually be predominantly that which was inherited from its Rottweiler parent, while the ears stand upright like those found on Siberian Huskies.
Owners must always bear their Rottsky's health risks in mind when deciding whether or not to take them home – particularly hip dysplasia and elbow dysplasia which often arise through poor breeding practices or hereditary factors, plus bloat issues for large breeds such as these ones should also be monitored closely by any prospective owner looking into buying one of these dogs for themselves.
Here are three essential things every potential owner needs to keep an eye out:
Check breeder reviews thoroughly along with vet checkups prior to acquiring a puppy.
Feed puppies three times daily high protein diets containing moderate amounts of fat but low carbohydrates.
Make sure your pup gets at least 90 minutes of exercise each day so it doesn't become prone to behavioral issues due to boredom within small living spaces– agility training works great here!
Ultimately, if you decide to get yourself a Rottsky, you'll find that despite needing plenty of exercise and routine grooming sessions (involving heavy shedding year-round!), having patience during strict training methods given how independent-minded they may become over time, and choosing wisely when it comes to purchasing your pup itself (avoiding unethical backyard breeders!)—all this effort will surely pay off eventually once loyalty kicks in! You won't regret it!
History of the Rottweiler Breed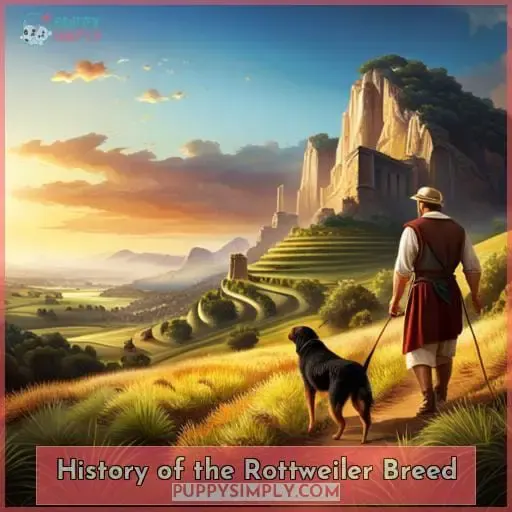 Discover the unique history of the Rottweiler breed that has been around since Roman times and learn how its loyal and protective nature made it a perfect companion for humans.
The Rottweiler is descended from Roman drover dogs used to herd cattle over long distances. These hardworking ancestors were bred in Germany's town of Rottweil centuries later, where they eventually grew into an official breed recognized by AKC in 1931.
Unlike their Siberian Husky cousins, which originated with Chukchi tribe members living in Siberia as companions that helped transport goods, Rotties have remained true to their herding roots as reliable workhorses capable of providing steadfast protection against any potential danger or intruder.
Their strong sense of loyalty makes them devoted guardians who are willing to risk themselves for those they care about.
Despite having different origins than other canine breeds such as Siberian Huskies, Rotties share many similarities. Both require intense activities and plenty of exercise outlets (they excel at sled pulling!).
Their loyalty combined with intelligence provides great opportunities for owners looking into teaching high levels of obedience if motivated properly.
Finally, make sure you get your pup from reputable sources after thorough research so you can ensure he/she receives all necessary health checkups prior to adoption day itself.
History of the Siberian Husky Breed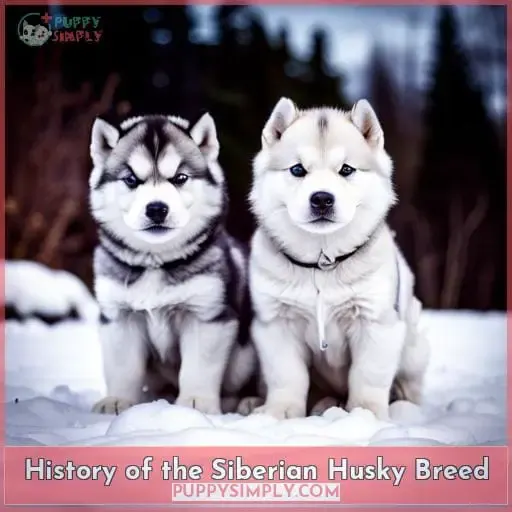 Uncover the incredible history of the Siberian Husky breed, whose key role in a historic 1925 serum run and tireless companionship to its Chukchi tribe members have stamped them as one of the most beloved canine breeds.
The origins of this ancient breed can be traced back to Siberia more than 3000 years ago, where they were used by nomadic tribes for transportation over great distances. As time passed, these hardy dogs became popular among American and Canadian farmers for their strength and endurance in pulling sleds across snow-covered terrain.
The huskies' legendary performance during Alaska's 1925 Great Race Of Mercy – where 20 teams raced 674 miles against time to deliver life-saving diphtheria serum from Nenana (near Anchorage) to Nome – further cemented their reputation as champions capable of overcoming tough challenges with courage and determination.
These sturdy yet gentle animals often come with thick double coats perfectly adapted for extreme cold temperatures. This requires regular grooming sessions throughout shedding season to prevent behavioral issues from arising.
Moreover, even though some may think they share many similarities with Rottweilers due to both being medium-sized muscular hybrids that excel at agility competitions, there are differences between the two.
The AKC only recognized the latter in 1931, making them slightly different regarding origin story or capability when it comes to performing certain tasks like herding cattle over long distances. Thanks to their loyal nature, Siberian Huskies are known for protecting those they care about and risking themselves to defend against potential intruders.
Overall, Siberian Huskies provide excellent opportunities for owners looking to teach high levels of obedience. However, it is important to be properly motivated and patient when dealing with independent thinkers like the ones here! Therefore, make sure to get a pup from reputable sources after thorough research and ensure they receive necessary health checkups prior to adoption day itself.
Things to Know Before Getting a Husky Rottweiler Mix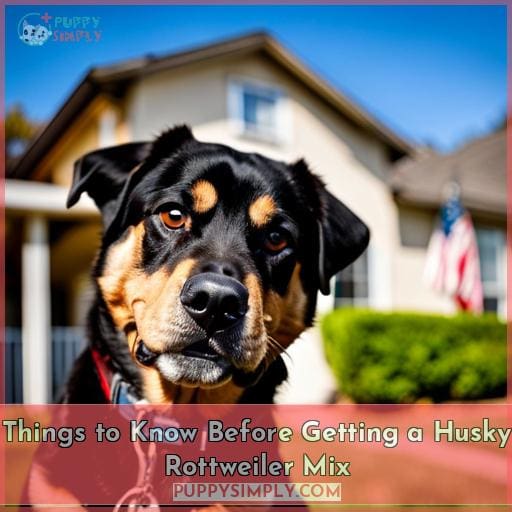 If you're looking for a hard-working, loyal pup that's up for any challenge, then look no further than the Rottweiler Husky Mix. Also known as Rottsky or Rotterusky, this hybrid breed is the perfect combination of Siberian Huskies and Rottweilers.
As with all mixed breeds, there are some important things to know before getting one.
Firstly, they come in various sizes but generally have a muscular build like their Rottweiler ancestors while being slightly larger due to their husky genes – males can reach heights of 27 inches!
Second on your list should be exercise; these pups require at least two hours of intense daily activity such as hiking and running, which will keep them healthy both mentally and physically, so it's essential not to skimp here!
Thirdly, socialization is key when training these friendly huskies – make sure you introduce them slowly into new environments or around other animals if possible (like Labrador Retrievers).
Lastly, don't forget about health checks from reputable sources prior to taking home your new puppy – crossbreeding reduces chances of inheriting certain genetic issues; however, unethical breeding practices still exist, so always do research first.
All in all, owning a Rottweiler Husky mix requires commitment but provides great rewards if done right; whether it's for working purposes such as herding cattle over long distances like their ancestors did or just being trusted companionship during family hikes through nature, this breed has something special to offer everyone who crosses paths with them! So why wait? Get out there today and find yourself the ideal Rottsky companion, embarking upon a wonderful journey together soon enough.
Health Problems in Rottweiler Husky Mixes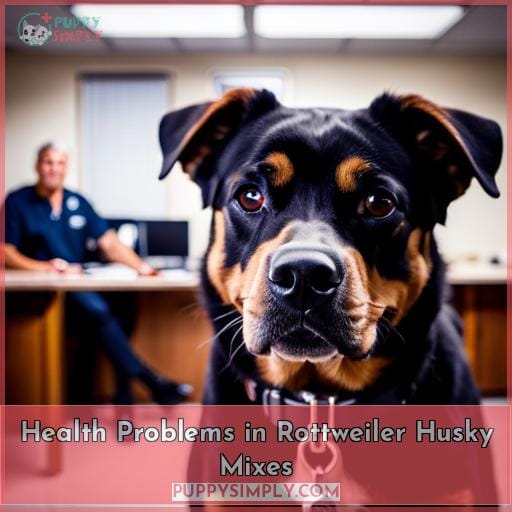 You should be aware of the potential health problems that can arise in Rottweiler Husky Mixes, so you can prepare yourself and your pup. As with any hybrid mix, certain genetic issues may be inherited from either parent breed.
The resulting dog is often large and muscular like its Rottweiler ancestor while being slightly larger due to their husky genes. This means they'll need higher caloric requirements than other breeds for proper growth.
Some common ailments include hip/elbow dysplasia, which requires regular x-rays, bloat (gastric torsion), eye conditions such as cataracts or progressive retinal atrophy, and joint pain caused by a lack of chondroitin sulfate, which helps keep cartilage healthy over time.
It's important to research your breeder thoroughly before bringing home a new canine companion! That way, you know if there have been any past issues in littermates or parents that could potentially cause trouble down the line for your pet later on in life too – because prevention is always better than cure! Be sure to get all relevant documentation regarding vet checkups when possible.
Many reputable breeders will provide these upon request, along with pictures of previous litters or even references from previous buyers who are happy customers themselves.
To ensure long-term healthiness, it's also beneficial to feed only high-quality dry kibble supplemented with omega fatty acids plus glucosamine & chondroitin supplements if necessary. Keep an eye out for sensitive stomachs at first, though, as some puppies don't do well initially with unfamiliar foods until gradually introducing them properly over time.
Taking into account all these factors will set up both you and your Hybrid pup for the best possible chance at having a successful relationship together – one full of love & lots of adventure ahead!
Exercise Requirements for the Rottweiler Husky Mix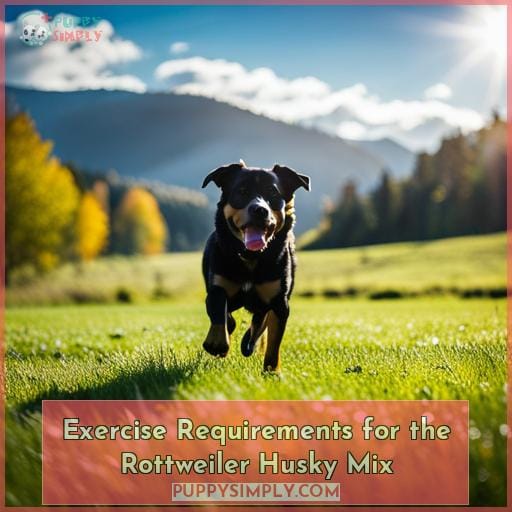 The Rottweiler Husky Mix is a large hybrid with boundless energy. They're incredibly loyal and devoted to their owners and make excellent guard dogs, but they require consistent training to live up to their full potential as a pet.
This breed requires at least two hours of intense exercise each day, such as agility activities or running. This will help keep them entertained and prevent behavioral issues from developing due to lack of stimulation.
These hybrids also have thick double coats that need regular grooming. The FURminator Grooming Rake provides an effective solution for removing undercoat and loose hair without causing distress or pain on your pup's skin!
When it comes to diet, high protein foods with medium-high fat content are best for these pups. Nulo Dog Food is an all-natural dry food formulated specifically for adult small-to-large breeds, which contains 85% animal proteins plus Omega fatty acids too! It's important not only to provide them with plenty of physical activity but also to ensure that they're receiving proper nutrition so you can maintain their health long term.
Finally, pay close attention when selecting your breeder. Review testimonials thoroughly before making any decisions about where you get your puppy from, since unethical practices can contribute towards genetic illnesses down the line if not checked beforehand properly.
Make sure all relevant vet checkup documents are provided prior to taking home a new canine companion too.
Shedding in Husky Rottweiler Mixes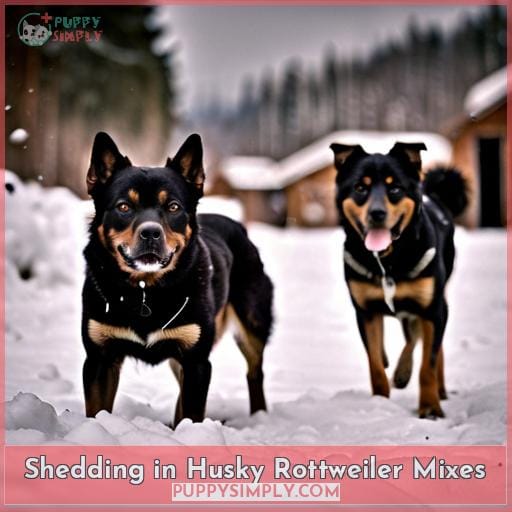 Be prepared for year-round shedding from your pup, as these hybrids are known to have two big blowouts before the weather changes. A Rottweiler Husky Mix is a popular breed that requires extensive grooming and regular brushing in order to keep its coat looking healthy and tangle-free.
The FURminator Grooming Rake is an excellent tool for removing loose hair without causing pain or distress on the skin of your pet. While this hybrid has been around since Roman times when it was used as a drover dog by German settlers, today's breeders must be thoroughly vetted to ensure any health issues don't get passed down through generations due to unethical practices such as inbreeding with local dogs.
History tells us that both parent breeds were also used in their own unique ways. Siberian Huskies first served Chukchi tribesmen, transporting goods across Siberia. They became renowned during Nome's serum run, where they transported medicine 674 miles throughout Alaska, proving their endurance even under extreme conditions.
As far back as 1931, AKC recognized Rottweilers, who usually act very loyal and protective towards owners but require considerable training so that strong personalities do not take over dominant traits, eventually leading into behavioral issues if left untrained.
When providing diet for this mix of breeds, it's best advised to keep protein levels high with medium/high fat content and low carbs, while avoiding grains altogether. Victor Super Premium performance dry food is specifically tailored towards active adult dogs, containing 26% protein.
It offers a multi-protein formula that aids digestion, along with added glucosamine and chondroitin supporting joint health, plus a proprietary blend of vitamins further maximizing genetic potential.
Finally, despite loving attention from family members, separation anxiety can occur if left alone too long. So plan activities accordingly, taking into account exercise requirements daily up to 90 minutes, which will help prevent boredom-related problems arising later on down the line.
Best Diet for a Husky Rottweiler Mix

Now that you know the basics of the Husky Rottweiler Mix, it's time to dive into what type of diet is best for this popular dog.
First and foremost, you'll want to feed your pup a high protein, medium-high fat, and low carb diet with minimal grains. To ensure their sensitive stomachs are taken care of, try Nulo Dog Food, which is made from animal sources like salmon, turkey, and lamb.
It also contains essential Omega-3 & 6 fatty acids as well as probiotics – all in a grain-free formula suitable for small or large breed adult dogs.
And don't forget about treats! The Husky Rottweiler Mix needs regular meals but also loves special snacks, such as freeze-dried liver cubes or even just plain cooked chicken breast cut into bite-sized pieces.
In terms of physical comparison between other breeds, when considering size and weight, an adult Rottweiler Husky Mix typically stands at 22 inches tall up to 27 inches, weighing 85 pounds up to 135 lbs.
Males tend to be larger than females. However, coat color will usually take after the dominant parent breed, so those familiar colors associated with Rottweilers will probably appear more frequently than Siberian hues.
Now let's talk about why these two breeds make some people name them one, if not the best, guard dog out there. While they may require extensive training due to their stubbornness combined with intelligence, making them independent thinkers, once properly motivated, they can learn commands quickly, becoming highly obedient pets who love nothing more than spending time around family members whenever possible.
Although leaving them alone for too long can create separation anxiety issues, so plan activities accordingly, taking into account exercise requirements daily, reaching a minimum of 90 minutes, helping prevent behavioral problems down the line later on.
When doing research looking for potential puppy parents, it's important to consider health history, including genetic predispositions towards certain conditions such as eye problems, hip dysplasia (HD), elbow dysplasia (ED), along with bloat being common among many large/giant mixed breeds.
Training Tips for the Rottweiler Husky Mix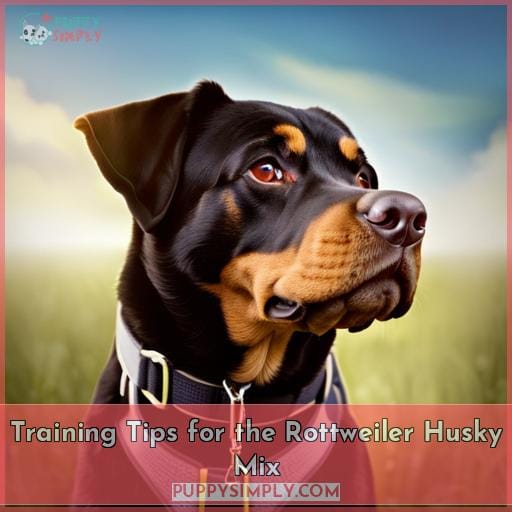 With intelligence and stubbornness in equal measure, training your Rottweiler Husky Mix will require patience and consistency. The key to success with this powerful hybrid is understanding its natural needs for exercise as well as sociability training so that it knows how to interact with others properly yet still maintains its fairly protective nature.
Here are some tips on how best to train your Rottsky:
Start Immediately – Training should begin immediately once you get a puppy, otherwise they can quickly become difficult or uncooperative when trying at an older age.
Positive Reinforcement – Rewards-based methods such as treats work better than punishment since the Rottweiler Husky mix is very friendly and loves praise!
Consistency Is Key – It's important not only for commands but also daily routines like feeding times; having a regular schedule helps make sure expectations are clear from both sides of the relationship between pet owner and pup.
Exercise Needs – Not just mentally stimulating activities such as agility classes or even hiking trips; they need at least 90 minutes of intense activity each day in order to stay healthy physically plus help prevent behavioral problems due down the line later on too!
Understand Protectiveness – While their friendliness makes them great family dogs, be aware that if strangers come by then expect their protectiveness aspect kicking into gear more often than not which could create potential issues depending upon who comes around so proper obedience here matters most significantly overall.
With all this taken into account about what type of personality one gets when owning a rottsky, it's no surprise why many consider them excellent guard dogs while also being incredibly loyal companions all throughout life!
Frequently Asked Questions (FAQs)
What is the average cost of a Rottweiler Husky Mix puppy?
The average cost of a Rottweiler Husky Mix puppy is around $600-$ Get ready to invest in your pup's future; these loyal, protective pups require extensive training and lots of exercise!
Are Rottweiler Husky Mixes good watchdogs?
Yes, Rottweiler Husky Mixes make excellent watchdogs. They're loyal and protective of their family, with an alert demeanor that makes them great guard dogs. They need extensive training to be well-behaved and respond quickly but are still smart enough to differentiate between friend or foe.
How often should I groom a Rottweiler Husky Mix?
Grooming your Rottweiler Husky Mix should be done at least once a week to keep their coat healthy and free of tangles. Brushing helps reduce shedding, removes dirt and debris from the fur, as well as distributes natural oils throughout the coat.
Regular grooming also gives you an opportunity to check for any skin irritations or parasites that may need treatment.
Are Rottweiler Husky Mixes good with other pets?
Rottweiler Husky Mixes are usually friendly and affectionate with other pets, but proper training is key. They need lots of exercise to help prevent behavioral issues, so it's important to provide them with ample opportunities for playtime.
Is a Rottweiler Husky Mix suitable for apartment living?
A Rottweiler Husky Mix can make a great apartment pet, but it requires an owner who is willing to provide plenty of exercise and mental stimulation. With proper training, you can ensure this intelligent hybrid remains calm and well-behaved indoors.
Conclusion
The Rottweiler Husky Mix, or Rottsky, is a beautiful and intelligent combination of two loyal and devoted breeds.
The Rottsky is a strong-willed breed that needs to be trained from a young age. With consistent training and lots of exercise, this breed can make a loving and loyal companion. They need a high-protein, low-carb diet and regular grooming to stay healthy and happy.
If you're looking for a loyal and energetic canine companion, the Rottweiler Husky Mix is a great choice. Before bringing home a Rottsky, do your research to make sure you're prepared for the challenge of owning such a strong-willed breed.