This site is supported by our readers. We may earn a commission, at no cost to you, if you purchase through links.
Whether you're a new pet parent or an experienced one, it can be hard to keep up with the never-ending mess that your pup leaves behind. From muddy paw prints on floors, carpets, and furniture to salt residue from winter walks – cleaning your dog's paws is essential for their health as well as yours.
Unfortunately, many of us are not aware of how important it is to clean our canine companion's feet after each walk – but don't worry! In this article, we will provide seven tried-and-true tips for effortlessly cleaning those dirty doggie paws so you can both enjoy life free from mud and dirt.
So grab some wipes or booties and let's get started on learning how best to maintain clean dogs' paws!
Key Takeaways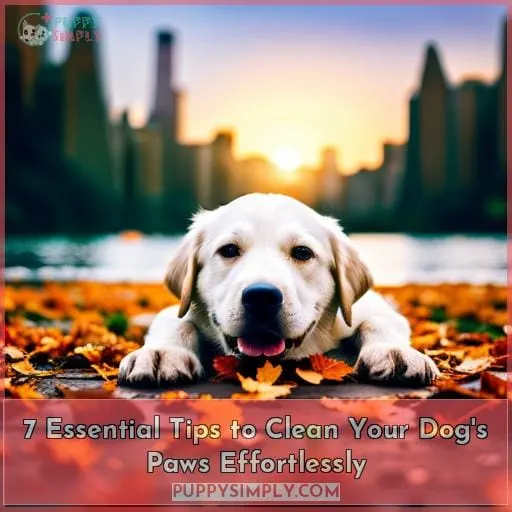 Regularly clean your dog's paws to maintain their health and prevent discomfort.
Use appropriate tools such as paw cleaners, plunger washers, wipes, and grooming towels for effective paw cleaning.
Protect your dog's paws from harsh weather conditions and rough terrain with paw balm, wax, or booties.
Regularly check between your dog's toes for any debris, cuts, scrapes, or dryness and provide appropriate treatments.
Clean Dog Paws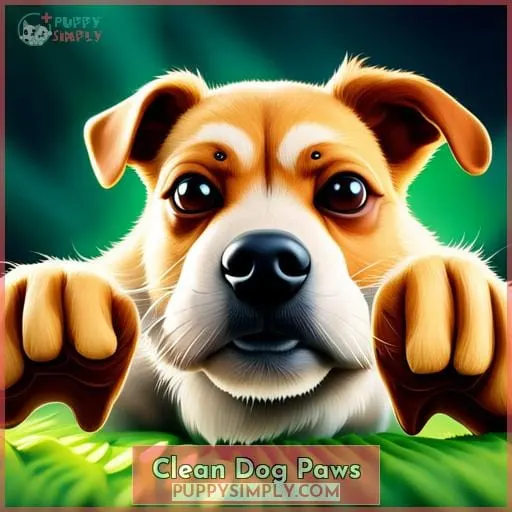 Keeping your pup's feet free of mud, dirt, and other debris is important to their health and comfort—so why not give them a little pampering with the help of one of these paw-cleaning tools?
The Dexas MudBuster Dog Paw Cleaner gently removes dirt and mud from your pup's paws.
For medium-sized breeds weighing 15-75 pounds, try the Medium Dog Paw Plunger Washer.
If you have multiple pets or need something more durable than a towel around the house, then take a look at Petkin Orange Paw Wipes Plus.
You may also want to invest in dog booties if they are suited for icy conditions outside.
Finally, consider using protective wax such as Petkin's specially formulated paw balm.
A clean pup is always happy—make sure yours stays healthy by following proper hygiene techniques today!
Dog Booties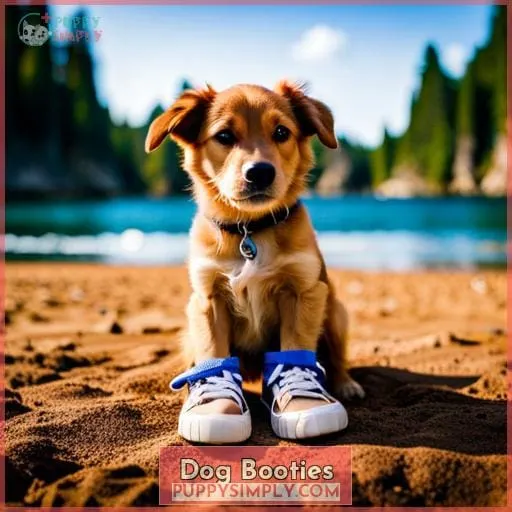 Protect your furry friend's paws from icy conditions outside with the help of dog booties! Dog booties are a great way to keep their feet safe and warm during winter weather.
When shopping for a pair, make sure they have an adjustable closure that ensures a proper fit. You also want to look for waterproof or non-slip materials, depending on what kind of terrain you plan on walking through.
Additionally, it may take some time for your pup to get used to wearing them, so be patient when introducing them! Lastly, if you're looking for extra protection tips such as using paw balm or protective waxes, then visit AKC's All Purpose Grooming Tool Kit, which provides useful information about keeping your pet healthy and happy during the cold months ahead.
With the right set of dog booties and other paw care essentials in tow, you can protect those precious paws no matter where life takes you both!
Dog Wipes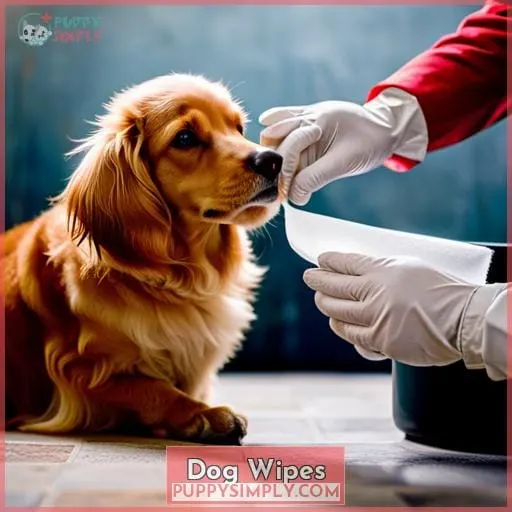 For a quick and easy way to keep your pup's paws free of dirt, mud, sand, or salt, reach for some Petkin Orange Paw Wipes Plus – they'll do the trick in no time! These super-absorbent wipes are moistened with aloe, lanolin, vitamin E, and paw balm to soothe and protect rough, cracked paws.
Here are other essential items you should have for paw care:
Soggy Doggy Super Shammy Towel – This microfiber dog towel quickly dries dogs while removing dirt & water.
Dog Booties – Keep their feet safe & warm during winter weather with adjustable closures that ensure a proper fit.
Grooming Tool Kit – AKC offers an All-Purpose Grooming Tool kit full of useful information about keeping your pet healthy & happy all year round.
Paw Balm/Protective Wax – Helps prevent future problems caused by dry, cold air or icy conditions leading to cuts, scrapes, etc.
With these essentials on hand, you can provide quality paw care anytime, anywhere for the safety, control, liberation of both yourself and your furry friend alike!
Bathing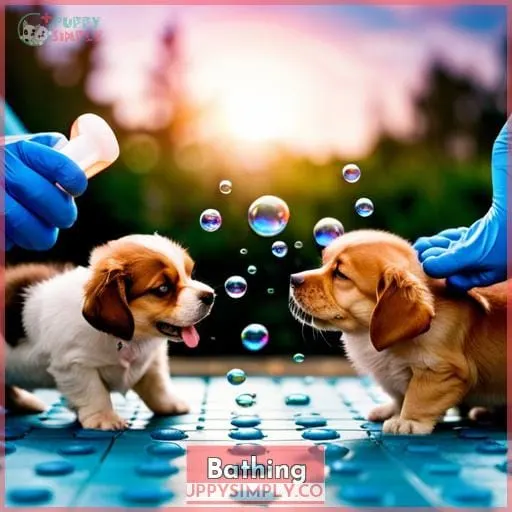 Bathing your pup's paws is an important part of their grooming routine. For small dogs, you can easily bathe them over a sink with warm water and gentle soap. If you have a larger breed, it's best to use a tub and a detachable showerhead for more thorough cleaning.
Make sure to check between the toes for any debris or irritation that needs to be addressed as well while drying off your pup with an absorbent towel after bathing.
Small Dogs
Bathing your small pup can be as easy as a quick swish in the sink, but don't forget to dry them off with a Soggy Doggy Super Shammy Towel and check between their toes for debris.
To keep little paws protected from cold weather, icy surfaces, or hot pavement, consider investing in some dog booties or paw waxes/balms.
For extra cleanliness and protection during pet travel, carry around some Petkin Orange Paw Wipes Plus, which are veterinarian approved and safe for cats and dogs alike.
Keep your furry friend safe by taking these precautions when it comes to paw cleaning – they'll thank you later!
Large Dogs
If you have a large pup, make sure to keep their paws safe and clean with the Paw Boss Dog Wash by SKI or the Medium Dog Paw Plunger Washer.
Brushing your dog's paws regularly helps remove any dirt that can cause irritation, while paw protection cream or balm can help protect their paw pads from harsh weather conditions like ice and snow.
Large dogs often need extra surface area cleaned since they're more prone to foot licking due to boredom. The flexible finger-like cleaning pad of the Paw Boss allows for easy removal of mud and debris from larger breeds' feet.
Additionally, ensure that there is no debris stuck between toes as it has a long history of causing discomfort in pups – use warm water if necessary!
Keep your big buddy happy with these simple yet effective steps towards great paw hygiene!
Check Between Dog Toes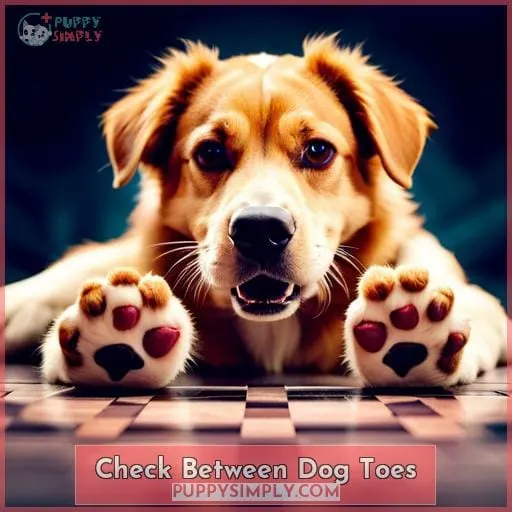 Checking between your pup's toes is essential to their health and wellbeing, so make sure to take a few moments during the grooming routine for an extra thorough examination.
Look out for any cuts, scrapes, or dryness that could benefit from paw balm or protective wax applications. Additionally, it's important to check if they've been exposed to road salt, which can cause irritation and potential infection if left untreated.
Dog booties are great at preventing this, as well as keeping paws warm in cold weather conditions! If you're looking for something more convenient than bathing, try using washing cups such as the Paw Boss or Petkin Orange Paw Wipes Plus, which provide pet-friendly cleaning with a 99% bacteria/fungi removal rate.
To keep things clean on the go, don't forget your Soggy Doggy Super Shammy Towel!
As always, seek advice from a trusted pet expert before making decisions about how best to care for your pup's paws.
Keep a Grooming Towel Handy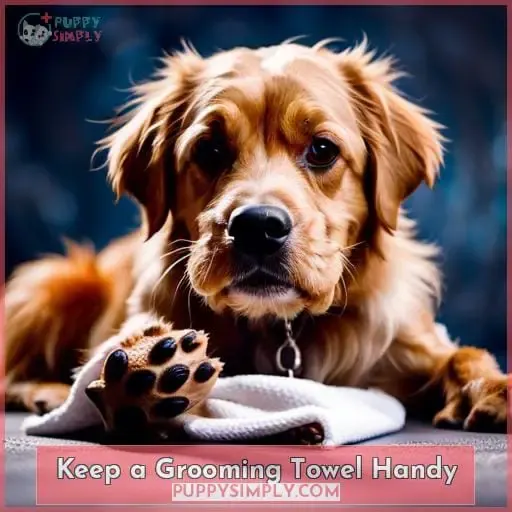 When it comes to caring for your pup's paws, having a grooming towel handy is essential. Not only can it help dry wet paws quickly after a walk in the rain or snow, but its everyday use provides numerous paw protection benefits.
The friction of wiping down their paws with a clean cloth every time they come back inside helps remove dirt and debris that may have been picked up on their adventures outside. It also helps reduce irritation from dry air or salt, which can cause cracking and chafing if left unchecked.
Make sure to check between your pup's toes too – using warm water and massage, you should be able to easily remove any snowballs that might have accumulated! Applying paw balm or protective wax will provide an extra layer of defense during those cold winter months when there's a fresh fall of snow around each corner.
With just a little bit more effort put into cleaning off their muddy feet each day, you'll make sure your pooch stays safe while enjoying all the fun activities they love doing outdoors!
Snowball Removal From Paws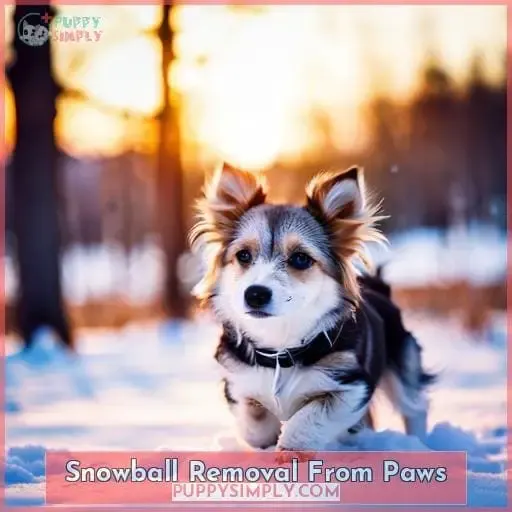 Gently massage your pup's paws with warm water to quickly remove any pesky snowballs! When it comes to paw care, checking for snowballs is one of the most important steps. Not only can they be unpleasant and uncomfortable, but they also have the potential to cause scrapes or cuts if they're not removed properly.
To provide extra protection against icy surfaces and cold air, make sure you have a whole line of awesome absorbent materials on hand, like soggy doggy products or dog booties.
For added convenience when traveling, keep some pet wipes in your bag so you can easily clean off muddy feet before entering anyone's home. Regularly check between your pup's toes too, especially after walks in snowy conditions, for debris that may be stuck there causing irritation or discomfort.
Finally, investing in quality grooming towels is an easy way to dry wet paws at home without having them drip onto carpets and furniture!
Paw Cleaning Kits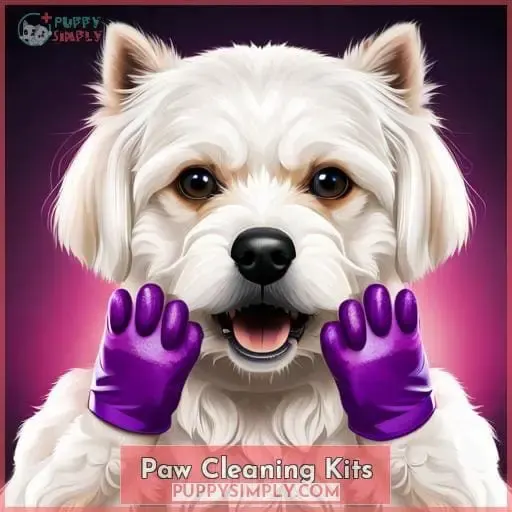 Keeping your pup's paws clean and spotless is an important part of pet care, and there are plenty of paw cleaning tools available to make it easier. From Dexas MudBuster Dog Paw Cleaners to Medium Dog Plunger Washers, you can find the perfect tool for keeping their paws free from mud, dirt, salt, and other contaminants.
Best Dog Paw Washers
Keep your pup's paws in tip-top shape with a paw washer that'll make quick work of dirt and mud! The Dexas MudBuster is great for medium to large dogs, featuring gentle silicone bristles and an oblong shape for easy insertion.
For portability, the Paw Plunger comes with a handle and soft bristles to wash away contaminants fast.
The Paw Boss Dog Wash has clean/dirty water reservoirs so you can wash multiple paws at once.
Soggy Doggy's Super Shammy Towel absorbs 7x more than its weight, while Petkin Orange Wipes Plus provide protection from ice, snow, or hot pavement.
All of these are ideal after heavy rain or natural vegetation exposure – enjoy clean dog paws every time!
More Tools for Spotless Paws
For spotless paws, consider outfitting your pup with protective gear like dog booties, as well as convenient wipes and a grooming towel. Paw balm or wax can help protect from icy conditions and dry/cold air that might crack pads.
Check between toes for debris and use warm water to remove snowballs on the paws.
Monitor Your Dog to Prevent Digging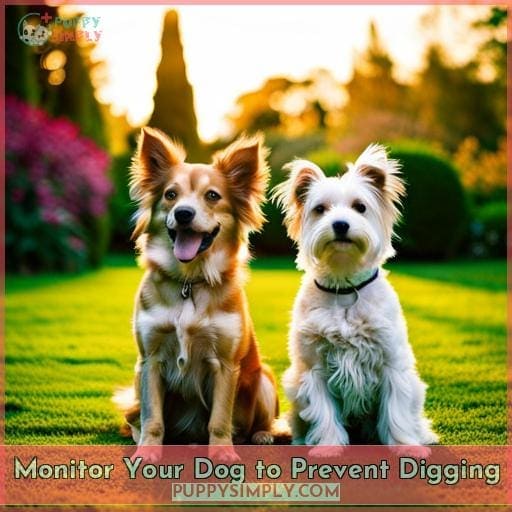 Take a few moments to monitor your pup's behavior when outdoors, as digging can be hazardous and could lead to paw injuries. Preventive care is essential for keeping your dog safe from potential hazards while exploring the great outdoors.
Proper training with positive reinforcement techniques will help keep them away from areas that are off-limits or too dangerous.
It's also important to provide proper vet visits in order for any underlying health issues or medical conditions to be addressed promptly if needed. Keeping their paws healthy should also not be overlooked – especially if you have a longer-haired breed of dog, as they may need extra protection such as wearing a pair of booties during colder months.
The great benefit of the Paw Boss Dog Wash by SKI is its built-in clean/dirty water reservoir that lets you wash up 4–8 paws at once.
Regular paw inspections are always recommended since small cuts and scrapes tend to occur more often than we'd like. This way, any minor issues can quickly get resolved before becoming bigger problems down the line.
Frequently Asked Questions (FAQs)
What type of paw balm or wax should I use to protect my dog's paws?
Protect your pup's paws with a balm or wax that is specifically formulated for dogs. Look for ingredients such as lanolin, vitamin E, and aloe to soothe and nourish the paw pads. Avoid products containing alcohol, parabens, or fragrances, which can be harsh on delicate skin.
How often should I check my dog's paws for cuts, scrapes, dryness, or cracking?
Regularly inspect your pup's paws for cuts, scrapes, dryness, and cracking. Check between toes too. Inspect after walks or playtime outside to ensure no debris is stuck in paw pads. Look out for snowballs as well – they can cause irritation if left untreated! Keep a grooming towel handy to wipe away moisture and apply protective balm or wax when needed.
Are dog booties easy for dogs to adjust to?
Dog booties may take some time for your pup to adjust to, but they can help protect them from ice and snow.
How do I remove snowballs from my dog's paws?
To remove snowballs from your dog's paws, use warm water and gently massage the area until the snowball melts away.
Is it necessary to use a grooming kit for paw cleaning?
No, a grooming kit isn't necessary for paw cleaning. However, it can make the process easier and more effective by providing tools that help you remove dirt, mud, and debris from your pup's paws quickly.
Conclusion
You've now got the tools to keep your pup's paws clean and healthy. Taking the time to monitor your pup's paws regularly is key to preventing any future problems.
Just remember, if you ever take your pup out for a long walk or hike, it's always a good idea to bring along a grooming towel and some dog wipes. They can make a world of difference when it comes to keeping your pup's paws clean.
A helpful tip is to think of your pup's paws as your own hands. If you wouldn't want to walk barefoot in the snow or on hot pavement, why should they? With the right care, your pup's paws will remain in tip-top shape.