This site is supported by our readers. We may earn a commission, at no cost to you, if you purchase through links.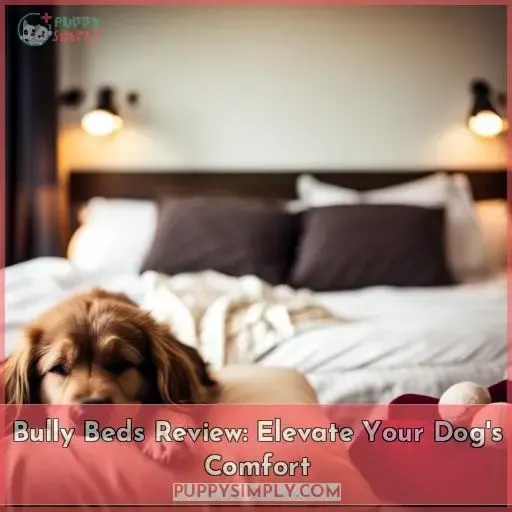 Looking for the perfect dog bed but not sure where to start? We get it. With so many options out there, it can feel overwhelming trying to find one that checks all your boxes.
But we're here to help make your search easier.
Let's take a look at Bully Beds. They make orthopedic beds specifically designed for larger breed dogs. What's great is that they're not only comfortable and supportive, but also durable and chew-resistant, so they'll stand up to even the most destructive pups.
When it comes to orthopedic support and comfort, Bully Beds are tough to beat. And because they use high quality, hypoallergenic materials, even dogs with allergies or sensitivities can relax on these beds.
So if you have a big dog in need of serious joint support and comfort, Bully Beds are worth a close look. Read on to learn more about their features so you can decide if they're a good fit for your furry friend.
Key Takeaways
Bully Beds use 7 inches of orthopedic foam for support and joint relief.
The beds come in four sizes to fit breeds from small to extra large.
Bully Beds have a 20-year guarantee against flattening.
They offer similar orthopedic support as Big Barker at a more budget-friendly price.
Overview of Bully Beds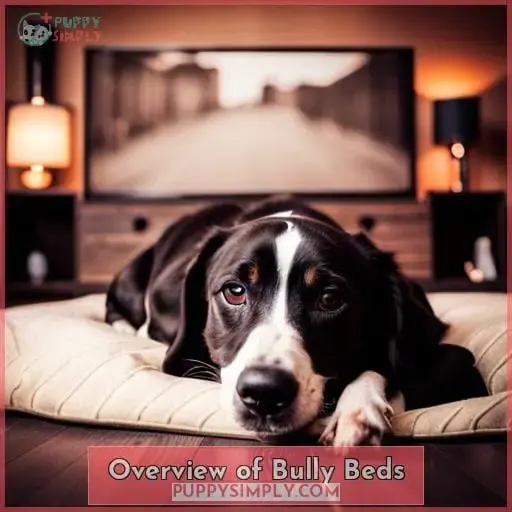 Looking for a quality dog bed for your beloved canine companion? Check out Bully Beds for excellent orthopedic support and durability, although the size range may be too large for small dogs. Well-constructed with thick memory foam and a machine-washable cover, these beds provide optimal joint relief and restful sleep while withstanding normal wear and tear over time.
Pros
You'll love the variety, removable cover, orthopedic foam, and chew-resistant features of Bully Beds – perfect for bigger dogs who need spacious and luxurious joint support. Comfort benefits include high-density memory foam that helps cushion joints while providing firm orthopedic support.
Plus, its durable outer cover is machine washable, making cleaning a breeze! The waterproof options ensure your pup stays dry at all times too.
User testimonials attest to how much pups love these beds, with many owners saying it's like sleeping on clouds – what more could you want?
Cons
Listen here, you simply can't go wrong choosing these top-notch orthopedic beds for your best furry friend. Some users report durability concerns with the memory foam losing its shape over time. Do your research to compare prices and real user experiences. Analyze the quality and weigh alternatives before deciding if it's worth it for you.
Features of Bully Beds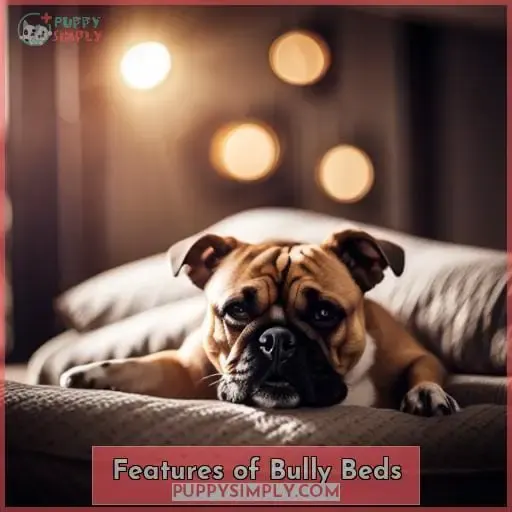 When shopping for an orthopedic dog bed, consider Bully Beds. They are available in four sizes for larger breeds, with a 7 inch thick orthopedic foam mattress, soft and durable outer cover, 100% waterproof inner cover, and a 20-year guarantee against flattening.
Sizes
As snug as a bug in a rug, you curl up in your new Bully Bed, tail wagging with joy over how perfectly it cradles your tired, aching joints.
Small (36 x 24)
Medium (42 x 28)
Large (48 x 30)
Extra Large (54 x 37)
The range of sizing options ensures each beloved canine gets a custom fit.
Materials
Bully Beds' orthopedic foam mattresses provide unbeatable comfort and support for your pup. The high-density memory foam cradles your dog's body, relieving pressure points and joint pain. Waterproof liners keep accidents contained while machine-washable covers make cleanup easy.
Though durable, take care not to let your dog's nails tear the bed. Measuring your pet and choosing the proper size ensures a cozy fit.
Special Features
Your orthopedic pup deserves the plush comfort of memory foam. Bully Beds boast 7 inches of therapeutic, high-density foam cushioning for ultimate joint support and comfort. The durable, 100% waterproof inner liner protects against accidents while the soft microsuede cover is machine washable for easy cleaning.
Thoughtful design features like reinforced seams and a chew-resistant zipper ensure these beds will stand the test of time. With special orthopedic support, waterproofing, and washable fabrics, Bully Beds offer unbeatable comfort for large dogs.
Comparison to Big Barker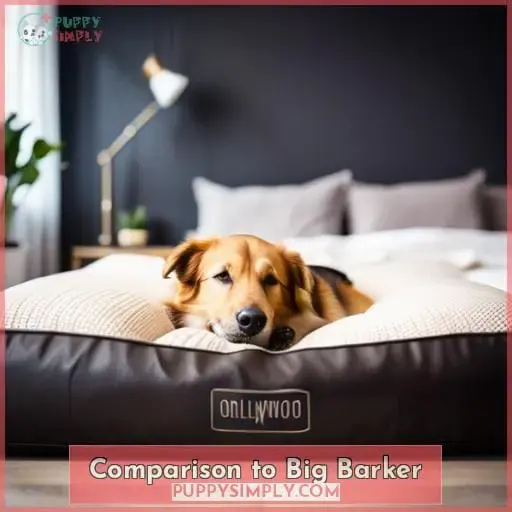 When comparing Bully Beds and Big Barker dog beds, you'll notice several similarities and differences. Both brands offer orthopedic foam and waterproof options, but the beds differ in warranty duration, price of replacement covers, and availability of waterproof liners.
While Big Barker provides a 10-year warranty and Bully Beds offers 5 years, Big Barker's replacement covers cost more than Bully Beds'. Additionally, Big Barker has waterproof liners available for all of their beds, whereas Bully Beds only offers liners on certain models.
In summary, while both companies provide orthopedic support and waterproofing, factors like long-term warranty coverage, replacement part pricing, and product options make their offerings unique. Carefully examining these details will help you determine which brand best suits your dog's needs and your budget.
Similarities
Both beds provide 7 of orthopedic foam and have warranties against flattening. Both Bully Beds and Big Barker are highly rated for their comfort, durability, spaciousness, chew-resistant materials, and easy-to-clean covers – even waterproof options!
However, there are some differences. The warranty duration is 20 years with Bully Bed compared to 10 years with Big Barkers. Replacement cover prices also vary. Additionally, BullyBeds come with a 100% waterproof inner liner, whereas it's an optional extra for the latter bedding option.
Lastly, both companies source their products from different locations – China for Bully Beds and the USA for Big Barkers.
Differences
You may notice distinct differences between Bully Beds and Big Barker, such as the warranty duration and replacement cover prices.
Warranty duration – Big Barker offers 10 years versus Bully Beds' 20 years.
Replacement cover pricing – Big Barker's are more expensive.
Waterproof liners – Included with Bully Beds but a separate purchase for Big Barker.
Manufacturing origins – Big Barker beds are made in the USA, while Bully Beds are made in China.
The two brands have comparable orthopedic support but vary on warranty length, prices, and availability of waterproof liners.
Buying Considerations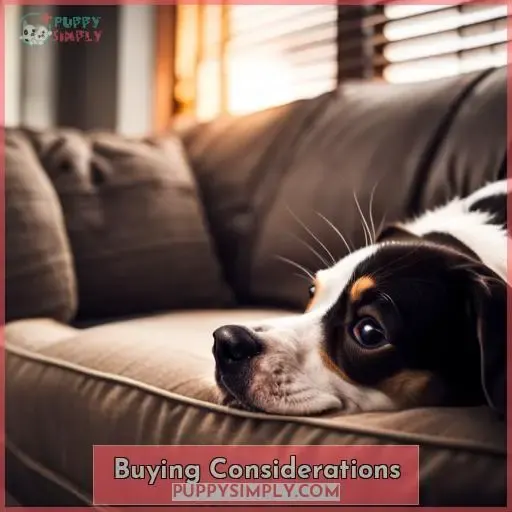 When shopping for an orthopedic dog bed, consider the sizing, materials, and special features that address your dog's needs. For elderly or arthritic dogs, you should prioritize joint support from high-density memory foam in a bed such as the Bully Beds orthopedic dog bed.
If your dog is older or has arthritis, focus on orthopedic beds made with high-density memory foam that will support your dog's joints and help relieve pressure points. The Bully Beds orthopedic dog bed is an example of a high quality memory foam dog bed designed to cradle your dog's body and provide optimal comfort.
Be sure to pick the correct size bed for your dog based on their weight and sleeping position. Also consider any special needs like easing joint pain or keeping your dog cool.
Price
The reasonable prices make Bully Beds accessible to most budgets. Here is a comparison of pricing:
Size
Bully Bed
Big Barker
Small
$149
$239
Medium
$169
$259
Large
$199
$329
Extra Large
$219
$359
Overall, Bully Beds are more budget-friendly. The lower prices make them accessible to more dog owners looking for an orthopedic dog bed.
Where to Buy
Ahhh, y'all better snatch up them Bully Beds before the warranty gets shorter than my attention span!
Consider buying your Bully Bed from these retailers:
Direct from bullybeds.com
Chewy.com
Wayfair
Amazon
Petco
Comparison shop for the best deal on your new orthopedic dog bed, but don't forget to check reviews and shipping details before you buy. The 20-year no-flat guarantee from this family-owned biz means your pup will be kicking back in premium comfort for years to come.
Ideal Dog for Bully Beds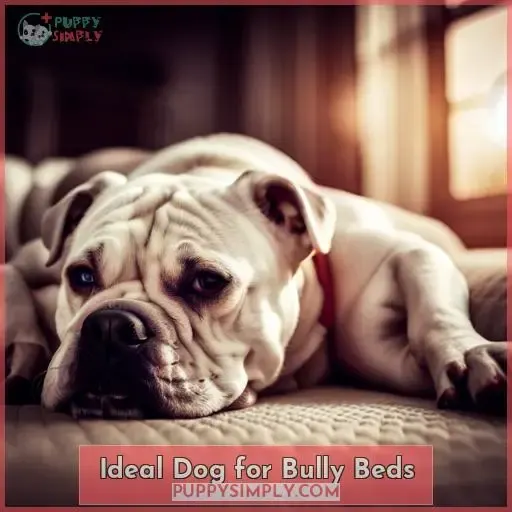 Rather than fretting over which bed to get, consider if your elderly or arthritic dog would find comfort snoozing on Bully Beds' thick orthopedic foam. Your giant breed dog, like German Shepherds or Great Danes, could benefit from the extra cushioning for their aging joints and hip dysplasia.
Similarly, Pharaoh Hounds who're prone to elbow and shoulder issues may relax easier on the memory foam. With four sizes available, Bully Beds can accommodate bigger companions that need ample space to sprawl out.
The beds even have a waterproof inner liner to protect against accidents for senior dogs.
Overall, the therapeutic foam caters to larger dogs over 55 lbs, especially those experiencing mobility difficulties or joint problems that need soothing comfort. The thick orthopedic cushions cradle your elderly companion, providing them relief and quality rest.
Bully Beds Vs Other Beds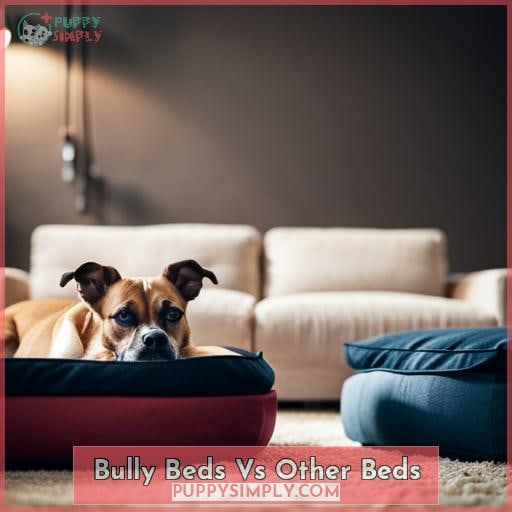 You want a dog bed that provides excellent support, durability, and easy washability. The Bully Bed offers 7 inches of high-density foam for optimal comfort and joint relief. It has a chew-resistant outer cover that holds up to repeated use, and a removable cover that can be machine washed for convenience.
The high-density foam cushions joints while resisting flattening over time. The outer cover is made of durable fabrics that withstand scratching, biting, and digging. Having a removable cover makes cleaning pet messes a breeze – just unzip and throw in the washing machine.
With thick orthopedic foam, rugged outer materials, and machine-washable covers, the Bully Bed provides comfort, support, and practicality for dogs.
Support
Feel the superior support of Bully Beds' thick orthopedic foam mattress and rest assured knowing your pup's joints are cushioned for maximum comfort. With its non-slip base and CertiPUR-US certified foam, it provides joint stability suitable for large breeds or those with hip dysplasia.
Durability is also a key feature with its 20-year guarantee against flattening, making sure you get your money's worth in user satisfaction.
Durability
You'll love how the durable anti-tear outer cover withstands your pup's sharpest nails and teeth. The robust construction provides longevity benefits for years of cozy comfort. Carefully designed for strength and wear resistance, it extends the lifespan of the orthopedic foam mattress within.
When evaluating dog beds, durability factors matter since you want one built to last. Focus on finding a high-quality bed like Bully Beds with sturdy construction for your best friend.
Washability
You must hand-wash the removable covers of each bed to keep them looking neat.
Use a gentle detergent and cold water when washing the covers.
Air dry the covers to preserve their shape and integrity.
Spot clean accidents immediately to avoid staining.
The washable covers make maintenance simple, so you can keep your dog's bed looking great for years.
Ownership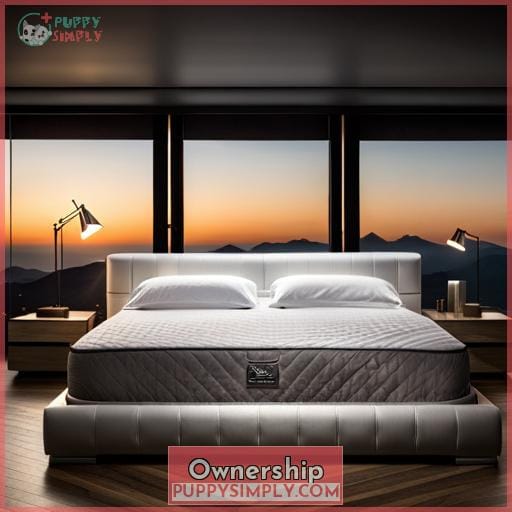 Gotta inspect the ownership and manufacturing details before making that dog bed purchase. When selecting a dog bed, focus on your pup's comfort and joint support above all else.
Comparing brands like Bully Beds and Big Barker reveals differences in where they're made. Bully Beds sources their foam and materials from China. Meanwhile, Big Barker proudly manufactures their beds in the USA.
There's an inherent sense of quality and care from an American, family-owned brand. They oversee the whole process, ensuring your dog gets the therapeutic, orthopedic support they need.
While imported beds can offer value, homegrown ones connect us. With reputable brands, ownership benefits dogs through personalized customer service and durable, trustworthy craftsmanship.
Give your anxious friend the safety, intimacy, and belonging they deserve.
Manufacturing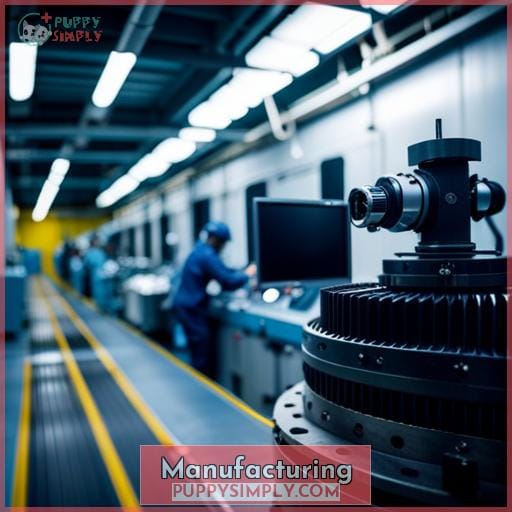 Consider where your dog bed is made. Bully Beds are made in China, while Big Barker is made in the USA.
Chinese factories often have lower costs but higher risks. Overseas quality control can be more challenging. Shipping complications may arise from remote manufacturing. Communication barriers can also be a concern with foreign operations.
Weigh your options carefully. Chinese manufacturing offers advantages like lower costs, but it can also bring quality control challenges and communication barriers.
When selecting the best bed for your beloved pup, consider factors like Big Barker's USA production versus imports.
Conclusion
Picture your beloved four-legged friend nestled comfortably in a supportive Bully Bed after a long day of play. With top-notch features like orthopedic foam and durable, chew-resistant covers, Bully's beds provide the ultimate in canine comfort and joint support.
Though pricier, comparable options like Big Barker deliver similar benefits. However, Bully Beds' budget-friendly prices, smaller range of sizes, and included waterproof liners make them our top pick for pampering pups.