This site is supported by our readers. We may earn a commission, at no cost to you, if you purchase through links.
Tired of cleaning up water puddles after your messy dog? No more spills with the 9 best water bowls for dogs! You can find a bowl that suits both you and your pup's needs. From heavy stainless steel to angled lids, these no-spill bowls are designed to make it easier on pet owners while keeping their four-legged friends hydrated all day long.
With prices ranging from affordable to pricey, there's something here for everyone looking for ways to keep messes at bay – no matter what kind of slobbering pooch they have in the house! We've put together this list so you won't have to waste any time searching around trying out different models.
Discover which one is the right fit today and say goodbye to those wet socks forever.
Key Takeaways
Torus Pet Filtered Water Bowl: Contains spills, filters water, portable, replaceable filter, durable, pricey
Road Refresher Bowl: Floating plate allows access to water, secure lid prevents messes, easy to fill and clean, small capacity
Neater Pets Feeder Deluxe: Stainless steel, raised walls contain spills, improves digestion and joint health, removable and dishwasher safe
Loving Pets Bella Mat: Raised edges prevent spills, slip-resistant, captures water, withstands weather, easy to clean
Torus Pet Filtered Water Bowl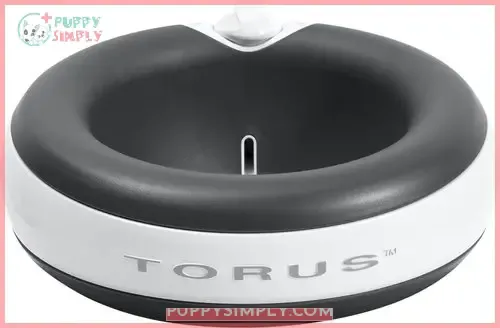 View On Chewy
Try the Torus Pet Filtered Water Bowl to contain spills and waste less water, while still allowing your pet access to filtered, fresh drinking water. This innovative bowl holds up to half a gallon of water and dispenses when your pet wants it without any batteries or electricity.
The Torus Pet Filtered Water Bowl offers several advantages over traditional bowls. Its lock, fill, and drink functions make it ideal for traveling in the car. Its replaceable filter system ensures pets always have clean drinking water.
However, there are some downsides as well. Some owners report issues with durability after dropping it on hard surfaces, which could be an issue when traveling frequently. Furthermore, the price tag may be off-putting, as these bowls tend to be more expensive than regular dog dishes due largely in part to their features like UV protection, etcetera, that aren't found elsewhere.
Lastly, although designed specifically for messy drinkers, there's still potential for splashes if not used correctly or left too long between refills, meaning extra cleaning might need to be done from time to time.
Lock/Fill/Drink functions ideal for travel in the car
Replaceable filter system ensures clean drinking water
Contains spills if tipped over
Can handle all sizes of pets
Durability issues reported after dropping
Pricey compared to other options
Potentially messy even when used correctly
Road Refresher Water Bowl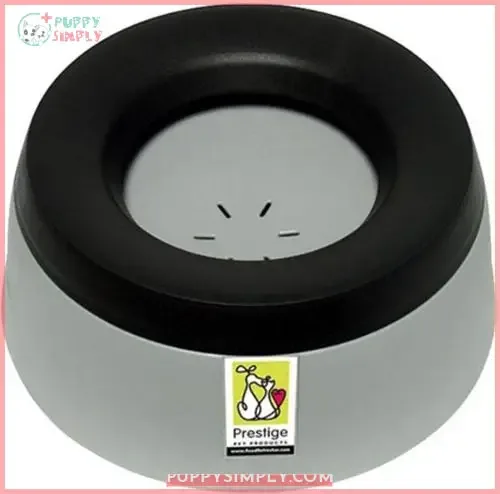 View On Chewy
The Torus Pet Filtered Water Bowl is a great choice for pet owners looking to keep their floors clean and spills contained. But if you're looking for an even better solution, then the Road Refresher No-Spill, No-Slobber Water Bowl might be just what you need.
This patented bowl features a floating plate that allows water to float up and become easily accessible to your pup or kitty.
For larger pets or multiple animals in one household, this might not be enough though. It only holds 44 ounces of water at maximum capacity, which is still plenty of liquid refreshment between refills depending on how often your furry friend takes sips throughout the day.
It also has anti-skid feet, which helps hold it firmly in place when they do come around for those much-needed drinks.
One thing that could use improvement, however, is its size opening. It may be too small for some dogs, making them unable to properly drink without spilling most over themselves, creating extra work after every sip taken by our four-legged friends!
Prevents spills & wet floors
Secure lid prevents messes during travel
Easy filling & dishwasher safe
Not large enough capacity
Opening size may not fit all dogs
Non-skid bottom would help improve stability
Neater Pets Feeder Deluxe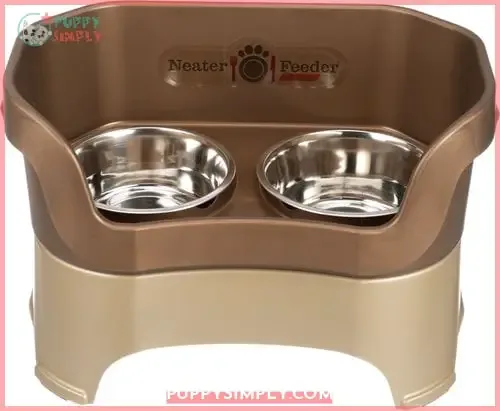 View On Chewy
Make mealtime mess-free with the Neater Pets Feeder Deluxe – a spill-proof and stylish bowl designed to help keep your floors clean. Crafted from stainless steel, this metal frame feeder comes in three sizes – small, medium, and large – to accommodate different breeds of dogs or cats.
The raised walls contain spills while spilled food stays on top and water drains below for easy cleanup. Its elevated design helps improve digestion as well as joint health by reducing neck strain during eating time.
This feeder is removable and dishwasher safe, making it easy to keep clean. Plus, its non-skid material ensures that the bowl will stay put no matter how much your pet slurps or gobbles their meals up.
Raised walls contain spills
Spilled food stays on top & water drains below
Elevated design improves digestion & joint health
Deters pests from getting into food
Removable & Dishwasher Safe Bowls
Non-Skid Material keeps bowls in place
Needs Mat under left side to capture extra spills
Forced Dogs/Cats eat standing up vs laying down
Loving Pets Bella Pet Mat Dogs Small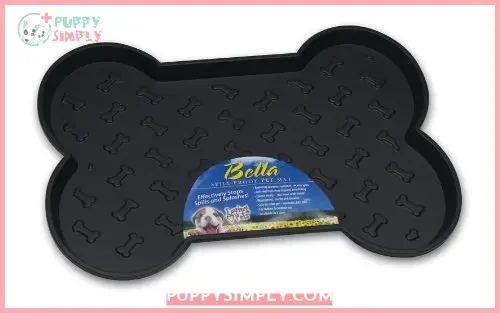 View On Amazon
You can keep spills and splashes to a minimum with the Loving Pets Bella Pet Mat, which features raised edges and an anti-skid design. This stainless steel mat has a bone-shaped design that's easy to clean, non-toxic, BPA-free, and slip-resistant.
Its raised edges help capture any water spilled by your pet, while its anti-skid feet prevent slipping or sliding around during use.
The mat also holds bowls up to 6 inches wide for added convenience when feeding multiple pets or one big messy drinker!
The Loving Pets Bella Pet Mat is perfect for indoor or outdoor use as it's designed to withstand all weather conditions without cracking over time like other mats may do.
Raised walls prevent spills & splashes
Slip-resistant surface
Anti-skid feet prevent slipping & sliding around during use
For indoor/outdoor use – won't crack over time
Heyrex Torus Pet Water Bowl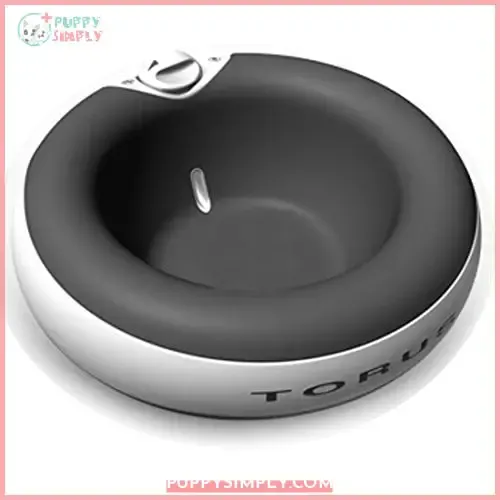 View On Amazon
If you're looking for a water bowl that can help contain spills and reduce messes, the Heyrex Torus Pet Water Bowl is an ideal choice. This king-size bowl holds up to 2 liters of filtered water, which stays cool and fresh thanks to its gravity-fed design.
No batteries or electricity are required, making it perfect for travel and camping trips with your furry friends.
Plus, it's easy to clean with detachable parts so there's no need to replace often like regular bowls do.
This pet bowl is good for both cats and dogs alike who may tend towards being messy drinkers – plus it doesn't require refilling as often either! It has solid construction too; so even if your pup gets overly enthusiastic while drinking their favorite beverage, it won't tip over like smaller bowls might do in this situation – keeping everyone safe from any unexpected accidents along the way!
Holds up to 2 liters of filtered water
Gravity-fed design keeps cool & fresh
Travel friendly & requires no batteries/electricity
Low level prevents splashes & spills
Easy to clean with detachable parts
Solid construction won't tip over
Not suitable for very large breeds
Neater Feeder Deluxe Medium Dog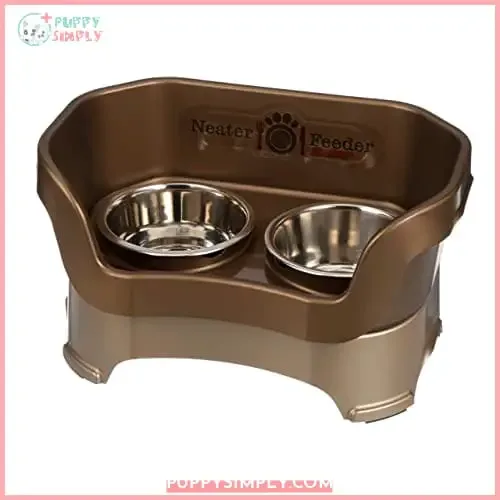 View On Amazon
The Neater Feeder Deluxe Medium Dog is a perfect pick for pet parents who want to keep their floors clean from splashes and spills without sacrificing comfort. Its kick-proof spill bowl design keeps food on top while water drains below, plus it comes with three bowls – two of which are elevated at the ideal height for medium dogs (15-40 lbs).
The feeder's contoured shape makes it easy for your pup to access food, and its secure lid prevents messes. Plus, if you have a taller dog, this feeder can be used in conjunction with Neater Feeders Leg Extensions (sold separately).
This premium quality product is made from durable material that won't break or tip over easily. It also helps reduce joint strain due to its raised feeding position, which improves digestion as well as overall health.
Kick-proof spill bowl design
Elevated feeding position
Contoured shape provides easy access
Secure lid prevents messes
Durable materials
Can add leg extensions
Not suitable for extra small/large dogs
Additional cost of leg extensions
Ray Allen Buddy Bowl Dog Water Bowl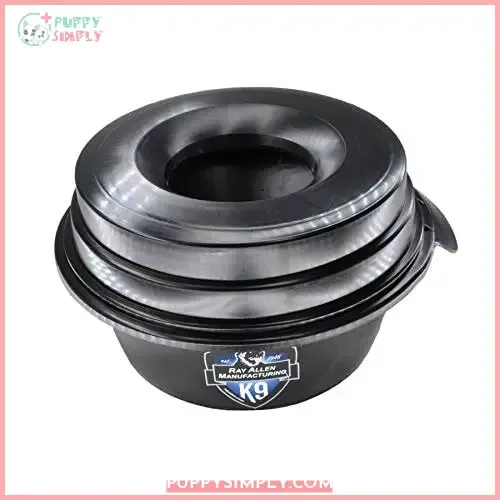 View On Amazon
Experience the convenience of Ray Allen's Buddy Bowl, designed to slow down drinking and minimize messes from active slurpers. This spill-proof bowl is FDA approved, so it can be trusted for quality and safety.
Made in the USA with a classic black design, this durable bowl has dimensions of 9.
The travel-friendly shape allows you to take your pet anywhere without worrying about spills or messes from sloppy drinkers.
The smart valve technology helps reduce water splashing by 85% or more, making it easier than ever before to clean up after your pet's hydration time! It also features an adjustable disk that allows customized access, as well as detachable parts for easy washing.
No need to worry about wet floors anymore! However, frequent washing is still recommended as scents may build upon its surface if not washed regularly enough over time, especially when used outdoors often.
Spill/splash proof
Slows dog drinking
Travel friendly
Durable
Easy clean up
Must wash frequently
Some dripping if flipped completely over
Not 100% spill-proof if left upside down
Difficult disassembly for thorough cleaning
Slopper Stopper Bowls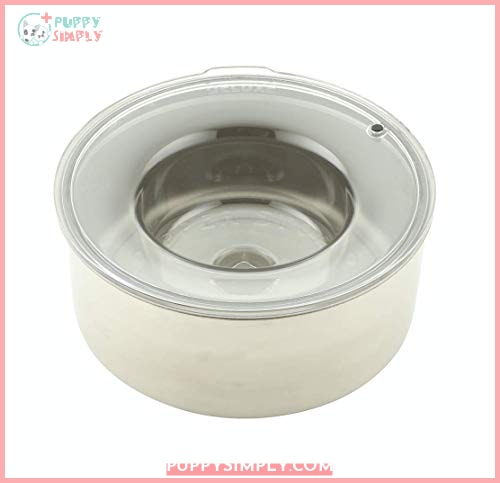 View On Amazon
You'll love the Slopper Stopper Bowls, which reduce water mess by 85% or more and keep your pup's ears, beard, feet, and snout dry while drinking. This stainless steel dog water bowl with a lid comes in five sizes based on a dog's weight to ensure an optimal fit for all pooches.
Smart valve technology helps control the flow rate, so pets can drink slowly without choking or splashing around too much. Plus, there is no need for batteries or electricity as this gravity-fed system works just fine! Customers report satisfied results – no more wet floors from excessive drooling – making it well worth its price tag.
Reduces water mess by 85% or more
Interchangeable lids fit all 5 bowl sizes
No batteries/electricity needed
Durable & non-slip
Expensive
Lid opening may be small for extra-large dogs
Floating Disk Dog Bowl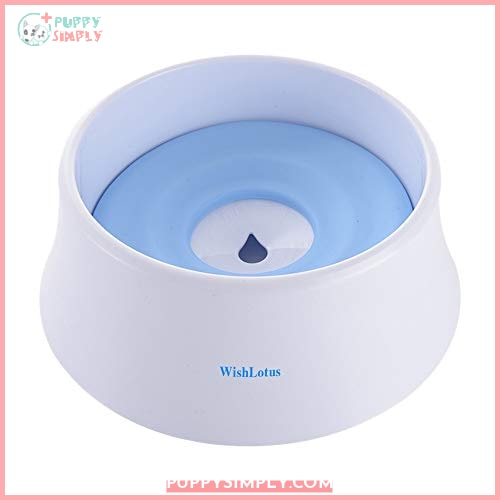 View On Amazon
Keep your pup's mouth fur clean and spotless with this innovative floating disk dog bowl! This clever design allows water levels to adjust as your pet drinks, sinking when their tongue touches it for easy access and rising again when they leave to prevent wet messes.
The detachable silicone and plastic parts make cleaning a breeze, while the eco-friendly, non-toxic material ensures durability that lasts.
Floating disk design allows water level to adjust as pet drinks
Disk sinks when pet's tongue touches it, allowing easy access to water
Detachable silicone and plastic parts for quick cleaning
Disk may need occasional wiping if condensation builds up
Adjustable disk provides customized access but can be difficult for smaller animals
Larger capacity good only if there are multiple animals sharing
Frequently Asked Questions (FAQs)
How often should I replace the filter in the Torus Pet Filtered Water Bowl?
Replace the filter in your Torus Pet Filtered Water Bowl every two to three months for optimal results.
Does the Road Refresher Water Bowl come in different sizes?
Yes, the Road Refresher Water Bowl comes in four sizes – small, medium, large, and extra-large. The patented floating plate design ensures easy access to water for your pet and prevents spills while you're on the go.
Is the Neater Pets Feeder Deluxe suitable for cats?
Yes, the Neater Pets Feeder Deluxe is suitable for cats. Its elevated design and secure lid prevent spills, while its raised walls contain messes. It's easy to fill and dishwasher safe too, plus it has a non-skid surface that won't damage floors.
Does the Loving Pets Bella Pet Mat Dogs Small prevent skidding?
Yes, the Loving Pets Bella Pet Mat for Dogs Small prevents skidding with its non-skid feet and secure design. Your pup's bowl will stay put thanks to this bone-shaped mat that's perfect for containing spills – anachronism included! Plus, it won't scratch your floors and is easy to clean.
Is the Heyrex Torus Pet Water Bowl dishwasher safe?
Yes, the Heyrex Torus Pet Water Bowl is dishwasher safe. Its stainless steel design makes it easy to care for and maintain – simply put it in the dishwasher after use! The travel-friendly bowl holds up to two liters of water and features a gravity-fed system that requires no batteries or electricity.
Conclusion
To sum it up, there's no need to worry about messes and spills with the right water bowl for your messy pup!
With options like the Torus Pet Filtered Water Bowl, Road Refresher Water Bowl, Neater Pets Feeder Deluxe, Loving Pets Bella Pet Mat Dogs Small, Heyrex Torus Pet Water Bowl, Neater Feeder Deluxe Medium Dog, Ray Allen Buddy Bowl Dog Water Bowl, Slopper Stopper Bowls, and Floating Disk Dog Bowl, you can rest easy knowing your floor will stay dry no matter how active your pup's drinking habits might be.
As the old adage goes, An ounce of prevention is worth a pound of cure, so make sure you get the best water bowl for your messy dog and enjoy a mess-free home.