This site is supported by our readers. We may earn a commission, at no cost to you, if you purchase through links.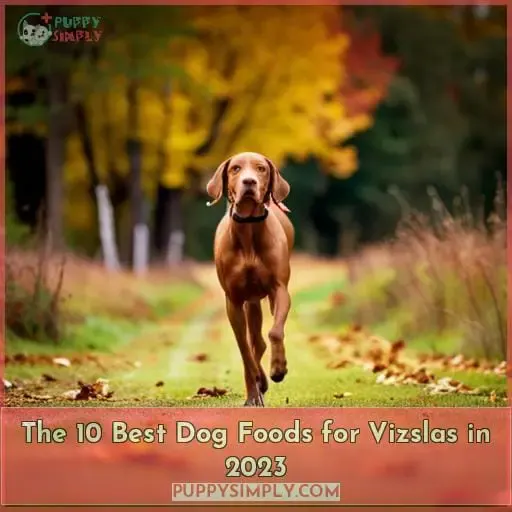 If you're bringing home a new Vizsla puppy soon, you likely want to find the perfect dog food to keep them healthy and energetic. With so many options out there, choosing can feel overwhelming. But don't worry, I can help make it easier.
After extensive research and hands-on testing, I've discovered the top 10 best dog foods for Vizslas in 2023. These foods provide the balanced nutrition high-energy Vizslas need while accounting for their breed-specific health considerations.
Whether you have a Vizsla puppy, adult or senior dog, my reviews break down what to look for. I'll explain how to select the right food based on age, activity level and health needs.
And I'll share tips to smoothly transition to a new food. Follow my advice to feel confident you're giving your Vizsla the very best nutrition to thrive.
Key Takeaways
Consider age, activity level, and health conditions when choosing dog food for Vizslas.
Prioritize real meat as the first ingredient for puppy nutrition.
Look for dog food with an AAFCO statement for adult Vizslas.
Senior Vizslas may benefit from joint support ingredients like glucosamine.
What is the Best Food for Vizslas?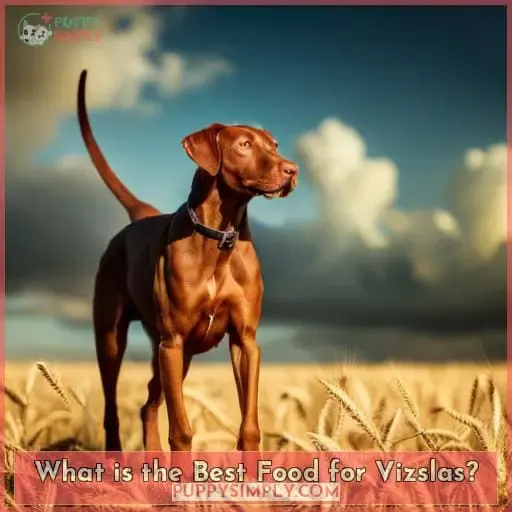 If you're wanting the best diet for your energetic Vizsla pup, it's important to consider their age, activity level, and any health conditions when selecting food. A growing puppy's optimal nutritional needs differ from those of an adult or senior dog, while their daily exercise routine impacts calorie requirements.
Any underlying health issues may also necessitate specialized nutrition, so consulting your vet for tailored recommendations can help keep your Vizsla healthy and happy.
Food & Vizsla Age
You'll want to choose the healthiest grub for your Vizsla based on whether they're a pup, adult, or senior pooch. Puppy nutrition should include real meat as the first ingredient and avoid fillers like corn, wheat, and soy.
For adults, look for an AAFCO statement to ensure nutritional standards are met. Meanwhile, seniors may need dietary adjustments with added joint support ingredients such as glucosamine and chondroitin.
Food & Vizsla Activity Level
Considering your Vizsla's activity level is essential when selecting the ideal food for them. To ensure optimal health, look for dog food with quality ingredients that are tailored to their needs and energy levels.
For active Vizslas, consider:
Homemade Recipes – Make sure they contain all the necessary vitamins and minerals required by an active pup.
Allergy-Friendly Foods – Avoid potential allergens like corn or wheat in pet food formulas.
High Nutritional Content – Look for higher quality sources of protein such as deboned meat or fish meal along with fruits and vegetables to provide dietary fiber while avoiding fillers like grains or soybean meal products.
The right diet will help maintain a healthy weight while providing sustained energy throughout the day!
Food & Vizsla Health
Understanding your Vizsla's health needs and selecting the right food can help keep them happy and energetic. When choosing a diet for your pup, look for breed-specific nutrition tailored to their activity level, age, weight management goals, allergies/sensitivities, or any other health conditions.
Provide nutrient essentials like proteins from real meat sources as well as fruits & veggies in homemade options or commercial products with an AAFCO statement to ensure they meet nutritional standards.
Start off with small portions of new foods before switching entirely; this will give you time to assess how it affects them without overloading their system too quickly.
Vizsla-Specific Dog Food Qualities to Look For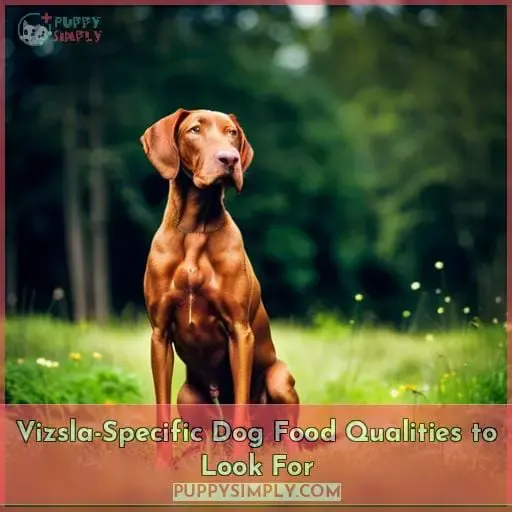 When selecting food for your Vizsla, look for quality ingredients that meet their unique needs. Look for foods with high-quality protein sources and human-grade ingredients as the first few listed on the label to ensure a nutritious diet.
It is also important to consider grain-free options if your pup has any allergies or sensitivities, as well as raw food benefits such as improved digestion and nutrient absorption.
Here are some qualities you should look out for when choosing dog food:
High in Protein: Choose dog foods with real meat as at least two of the top five listed ingredients.
Human Grade Ingredients: Select brands made with human-grade ingredient standards, including fruits & vegetables, vitamins & minerals, and no fillers like corn, wheat, or soy.
Grain-Free Options: If your pup suffers from allergies, opt for grain-free recipes that contain alternative starches like sweet potato instead of grains, which can be difficult to digest.
Raw Food Benefits: Consider introducing raw elements into meals through freeze-dried kibble mixes containing fresh meats, organs, and bones, which promote better digestion.
In addition, it's essential to consult an experienced vet who knows about Vizslas' specific dietary needs before making changes in what they eat. Ensure all products have been approved by AAFCO (Association Of American Feed Control Officials) to make sure they meet nutritional standards set by experts.
Best Vizsla Dog Food
When it comes to finding the best Vizsla dog food, there's no shortage of options. From Instinct Raw Bites Beef Dog Food and Royal Canin Veterinary HP Dry Dog Food, to Blue Buffalo Adult Dog Food and Orijen Senior Dog Food – each offering something unique for your pup.
Hills Science Diet Sensitive Stomach Skin, Merrick Grain Free Puppy Beef Sweet Potato, Stella Chewys FreezeDried Raw Puppy Dinner Patties, Wellness Complete Health Dry Puppy Foods—the list goes on!
ACANA Red Meat Grains and NUTRO Ultra Adult are just a few more high-quality options that can help provide balanced nutrition for your furry friend.
Instinct Raw Bites Beef Dog Food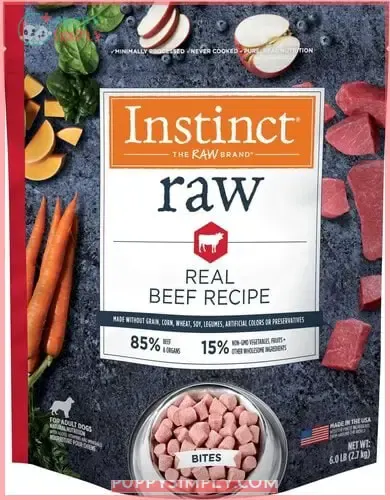 View On Chewy
If you're looking for a high-protein, minimally processed food to give your Vizsla the energy they need, Instinct Raw Bites Beef Dog Food may be just what you're after. It's made of raw natural bites with real beef as the first ingredient and non-GMO fruits and vegetables.
Plus, it contains essential vitamins and minerals that are important for healthy skin and coat maintenance in adult dogs.
This food is free from fillers or artificial ingredients, so there are no worries about adverse reactions when feeding your pup this meal option either! Instinct Raw Bites have been frozen at their peak freshness to preserve nutrients while also being cold pressed into individual servings, which makes it convenient enough to feed without any cooking involved – perfect if you're short on time!
With its grain-free formula that helps promote lean muscles as well as dental health along with improved digestion plus more energy levels all round – this dog food could really be worth considering if these points sound like something your pooch needs in their diet plan.
Contains high-quality protein sources such as real beef
Non-GMO fruits & vegetables provide added nutrition
Essential vitamins & minerals included
Grain-free formula promotes better digestion
Cold-pressed kibble makes serving easy
Some customers faced digestive issues
Not suitable for all dogs
Large bags require freezer space
Royal Canin Veterinary HP Dry Dog Food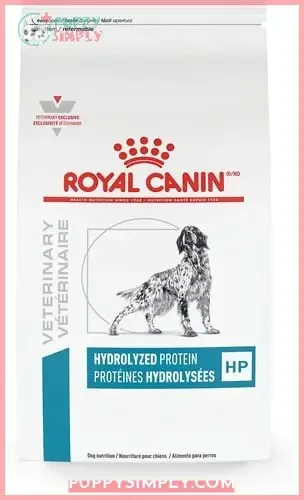 View On Chewy
Royal Canin Veterinary HP Dry Dog Food is designed to support gastrointestinal and dermatological health in adult dogs with food sensitivities. This 25.3-pound bag of kibble features hydrolyzed soy proteins for easy digestion, as well as EPA and DHA fatty acids which nourish the skin, regulate intestinal transit, and maintain a healthy digestive flora.
Many pet owners have reported positive results after feeding their pets this food. These include improved skin condition and coat on German Shepherds that were previously suffering from severe itching issues, successful long-term use for Maltese mixes, reduced symptoms from IBD, and increased energy levels in all breeds of dogs.
However, some customers have found drawbacks when using Royal Canin Veterinary HP Dry Dog Food. One main complaint is the greasy feeling on the kibble granules. Additionally, some find it expensive compared to other brands.
There have also been reports of shipping packaging quality issues and items arriving damaged due to mishandling by delivery companies.
Ultimately, though, it can be worth considering if your pup has digestive troubles or needs help with sensitive skin conditions!
Supports gastrointestinal & dermatological health
Enhances natural protective barrier
Enriched w/ EPA & DHA fatty acids
Regulates intestinal transit & supports balanced digestive flora
Expensive product
Greasy feeling on the kibble granules
Picky eater dog not enthusiastic about it
Shipping packaging quality issues
Blue Buffalo Adult Dog Food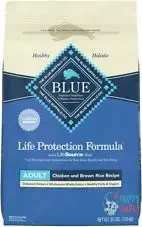 View On Chewy
Try Blue Buffalo Adult Dog Food, with real meat and whole grains for holistic health plus added LifeSource Bits. It's perfectly tailored to meet the nutritional needs of adult dogs. This food is free from artificial preservatives, flavors, or colors.
Its trio of proteins – chicken, lamb, and salmon – are sourced from trusted farmers in the USA. Its pre- and probiotics aid healthy digestion. The addition of glucosamine helps support joint mobility, while omega fatty acids nourish skin and coat condition.
For those who've accidentally purchased adult dog food instead of puppy formula, don't worry. It can still be mixed with other foods to entice your pup into eating it without any adverse effects on their health! And if you're considering switching over from Purina Pro Plan, then take heart.
Many owners have reported fewer odors during pooping time after making the switch, plus improved coat conditions that they attribute directly to this diet changeover! However, recent batches do seem hit or miss according to some users, so read reviews carefully before purchase.
Some have experienced bad smells coming off their pups' coats, along with runny poop caused by black pieces present within every meal bag, which unfortunately has led unhappy customers seeking returns.
High-quality ingredients sourced from trusted suppliers in the US only
Pre probiotics help digestive system & nutrient absorption
Glucosamine aids joint mobility
Omega fatty acid supports skin/coat condition
Recent batches received mixed reactions
Orijen Senior Dog Food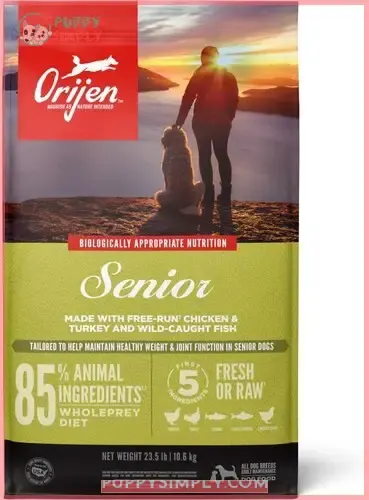 View On Chewy
Formulated for senior dogs, Orijen Senior Dog Food contains up to 85% animal ingredients and ORIJEN WholePrey components to support healthy weight and joint function. This grain-free recipe includes fresh or raw chicken, turkey, salmon, whole herring, and chicken liver as key ingredients.
It also provides chondroitin and glucosamine for joint health, as well as probiotics for digestion, plus omega fatty acids for skin & coat care.
Made in the USA with global ingredient sourcing of high-quality foods from trusted farmers & suppliers, this is a popular choice among pet owners looking to provide their furry friends with nutrition that is tail-waggingly delicious!
High-quality ingredients sourced globally from trusted suppliers
Contains up to 85% animal proteins, including real deboned meat
Includes prebiotic fiber, which supports digestive balance
Formulated specifically tailored towards older pups' needs, such as joint health
Rich in Omega 3 & 6 fatty acids, promoting healthier skin & coat
Potential transition period needed when switching over foods
Some have reported heavy metal content found in fish used
Recent changes made by Mars Petcare may cause gastrointestinal issues
Hills Science Diet Dog Food Sensitive Stomach Skin
View On Chewy
Discover Hill's Science Diet Dog Food Sensitive Stomach Skin, a nutritious blend of real chicken and prebiotic fiber designed to help your Vizsla stay healthy. Formulated with beet pulp, this digestible food is enriched with essential vitamins E and omega-6 fatty acids that nourish the skin for a glossy coat.
Natural ingredients like selenium yeast further support overall health as well as immunity in adult dogs of all breeds.
Plus, customers have reported seeing an improvement in their pet's regularity after switching to this brand!
Contains Real Chicken & Prebiotic Fiber
Enriched With Essential Vitamins & Omega 6 Fatty Acids For Healthy Skin And Coat
Specially Crafted To Provide Complete Nutrition Without Artificial Preservatives Or Colors
Recent Batch Change Caused Digestive Issues In Some Dogs
Miniature Schnauzers Reportedly Reluctant To Eat This Brand
Lab Developed Ear Infection After Switching
Merrick Grain Free Puppy Beef Sweet Potato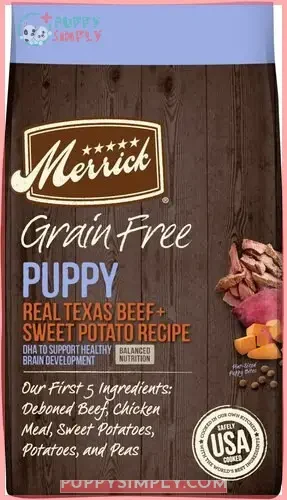 View On Chewy
Fuel your Vizsla pup's energy with Merrick Grain Free Puppy Beef Sweet Potato, packed with real deboned beef and sweet potato for optimal nutrition. This grain-free food supports strong muscles, teeth, and gums, digestion, and immunity.
With 70% of its protein from animal sources such as fresh or raw chicken, plus omega fatty acids for healthy skin & coat, this wholesome meal will give your pup the nourishment it needs to thrive.
Plus, there are no artificial colors, flavors, or preservatives, so you can feed them peace of mind knowing they're getting quality ingredients without any nasties included either!
55% proteins & healthy fats good for puppies' growing bodies
Contains DHA, helping promote brain development
Some customers reported foul-smelling stools in dogs after using this food
Quality praised, but some customers said they wouldn't buy again
Stella Chewys Puppy FreezeDried Raw Dog Food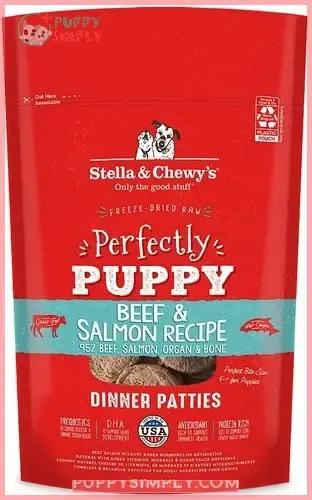 View On Chewy
Treat your pup to Stella Chewy's Puppy Freeze-Dried Raw Dog Food, a grain-free meal packed with 95% cage-free poultry, organs, and ground bone for balanced nutrition. This food includes additional nutrients such as vitamins and minerals, plus chia seeds for skin and coat health, New Zealand green mussels for joint support, probiotics to aid digestion, and antioxidants that promote immunity in growing puppies.
The small kibble size is suitable even for the smallest of puppy mouths! Not only does this meal provide all these amazing benefits, but it also contains zero grains, hormones, or antibiotics – making it an ideal choice if you're looking to ensure your pet's optimal health from day one! Furthermore, being gluten-free means that there's no need to worry about any digestive issues caused by wheat products either.
What more could you want?
Contains 95% cage-free poultry & organ meats plus ground bone
Includes added vitamins & minerals
Small kibble size suitable even for tiny mouths
No grains/hormones/antibiotics
Gluten-free, so a great option for those with sensitivities
Some dogs experienced initial digestive issues when transitioning
Mixed reactions among customers (some threw up or refused)
Wellness Complete Puppy Chicken Oatmeal Salmon
View On Chewy
Experience the nutritional support your pup needs with Wellness Complete Puppy Chicken Oatmeal Salmon, featuring a trio of premium proteins that are balanced with wholesome grains and omega fatty acids for healthy skin and coat.
This dry food is specifically formulated to meet the needs of puppies without GMOs, meat by-products, fillers, or artificial preservatives. It's made in the USA using globally sourced ingredients like essential vitamins, antioxidants, glucosamine, and probiotics for whole-body support.
Some users have reported issues transitioning their puppy to this food, while others noticed an improvement in overall health, including increased energy levels, as well as healthier skin and coats after switching to this brand.
Additionally, it has been recommended by some breeders due to its natural ingredients, making it suitable for all breeds – though keep in mind that smaller breeds may find the kibble size too large upon the first transition attempt!
For those having difficulty getting your canine companion accustomed, there are ways around such as adding bone broth or human-grade foods into the mix until they become more comfortable eating on their own terms – however, be mindful not all pups will take kindly, so proceed cautiously!
Formulated without GMOs
Made with globally sourced quality ingredients
Natural formula provides complete nutrition suited for puppies of all sizes & ages
Mixed reviews from customers about transitioning difficulties
Some dogs do not prefer the taste
Kibble size might be large
ACANA Red Meat Grains Dog Food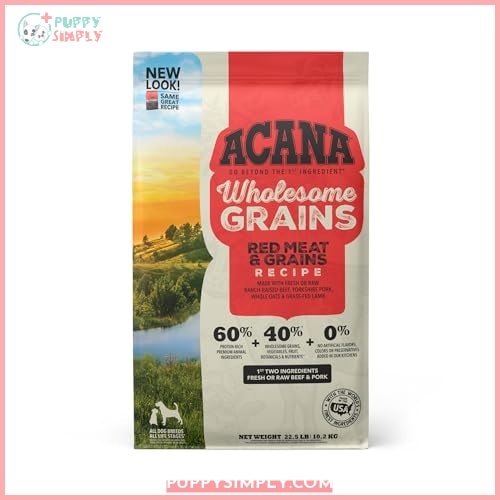 View On Amazon
Discover the delicious and nutritious ACANA Red Meat Grains Dog Food, a perfect blend of high-quality animal ingredients and wholesome grains to provide your pup with complete nutrition. This 22.5 lb bag is made in the USA using quality ingredients from around the world, including farm-raised beef, Yorkshire pork, and raw lamb.
It also contains prebiotics for digestive support and Omega 3 & 6 fatty acids for a healthy skin and coat.
The grain blend in ACANA Red Meat Grains Dog Food includes oats, sorghum, and millet to ensure adequate fiber intake while providing balanced nutrition. This dog food does not contain any artificial preservatives or flavors, making it a natural choice for your furry friend.
For owners who have difficulty finding food their picky eaters will enjoy, ACANA can be an excellent option. Many pet parents across all breeds and sizes have found it to be successful. Additionally, dogs aged 12 years old have benefited from this food as their skin allergies improved after switching diets.
While there may be some downsides, such as occasionally experiencing initial digestive issues when transitioning onto this diet or gaining too much weight if overfed, these cons are usually overshadowed by its numerous advantages.
Contains 60% high-quality animal proteins & 40% wholesome grains, fruits, vegetables, & nutrients
Prebiotic fibers added for digestion support
Naturally occurring Omega 3 & 6 Fatty Acids help maintain healthy skin/coat
No artificial colors, flavors, or preservatives
Supports gastrointestinal and dermatological health
Expensive compared to other brands on the market
Initial Digestive Issues reported during the transition period
May cause Weight Gain if fed in excess
NUTRO Ultra Adult Dog Food
View On Amazon
Unlock the potential of NUTRO Ultra Adult Dog Food to provide holistic nutrition for your adult Vizsla, with its trio of proteins and no artificial preservatives or flavors. Crafted specifically for mature dogs, this 30 lb bag promises complete and balanced nutrition without sacrificing taste.
It contains a blend of high-quality chicken, lamb, and salmon as well as wholesome grains, fruits, and vegetables – everything you need to keep Fido healthy! With rigorous testing in place for quality assurance standards by trusted suppliers from around the world, plus prebiotics & probiotics, it's a safe bet that your pup will be getting nothing less than premium nourishment every bowlful.
Nutro Ultra is also suitable for those with sensitive stomachs, making it one easy way to ensure optimal health all year round!
Trio protein sources: chicken, lamb & salmon
No artificial colors, flavors, or preservatives
High-quality ingredients sourced from reliable farmers and suppliers
Prebiotic fiber supports digestive system health
Supports immune system function through antioxidants
Suitable option even if dog has sensitivities
Initial transition may cause some upset tummies
Limited international shipping availability
May contain trace amounts of cross-contamination during manufacturing
Vizsla Food Calorie Requirements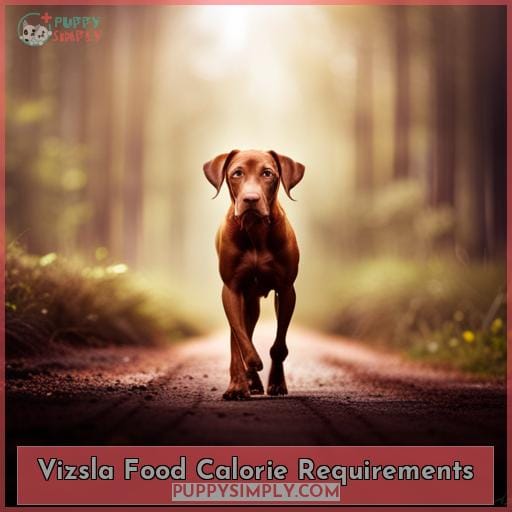 Knowing the exact caloric needs of your Vizsla is essential for ensuring their optimal health and wellbeing. Puppy nutrition should be a top priority, as puppies need higher calorie diets to support their growth and development.
Feeding guidelines will depend on age, activity level, size, breed type, and overall health status, so it's important to adjust accordingly to meet specific requirements.
When calculating caloric intake for your pup, make sure you factor in nutrient requirements such as proteins, carbohydrates, vitamins, and minerals for balanced growth at each stage.
Puppies require food with higher calories than adult dogs.
Transition from puppy food when they are 9 – 12 months old.
Consider grain-free or limited ingredient options if allergies/sensitive stomachs are an issue.
Monitor body condition regularly while adjusting feeding amounts and frequencies accordingly.
A quality dog food tailored specifically towards Vizslas can provide all the necessary nutrients needed throughout life stages without having any negative effects on long-term health. Factors like the amount of exercise required also play an important role in determining how many calories should be consumed daily by assessing the calorie burn rate throughout daily activities such as walking or playing fetch outdoors.
In addition, pet insurance policies help cover unexpected expenses related to diet changes due to illness that could result from improper nutritional choices made earlier in life, which can lead to costly vet bills down the road.
How to Switch Vizsla Dog Food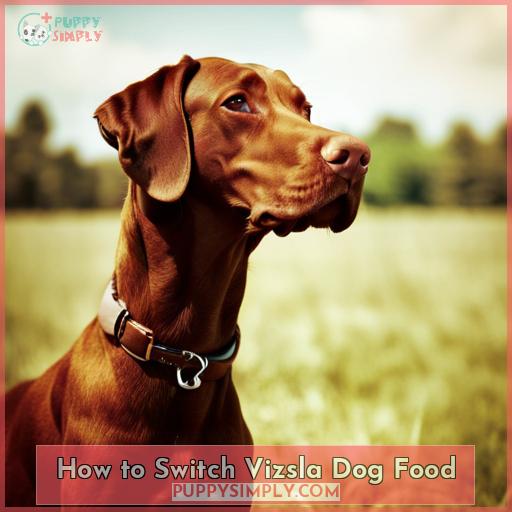 Switching your Vizsla's dog food can be a tricky task, so it pays to plan ahead like an Olympic athlete training for the big game.
Start by researching different brands of dog food and selecting one that meets your pup's dietary needs and preferences.
Introduce small amounts of new food slowly while gradually reducing their old diet until they have completely switched over.
Keep an eye out for any signs of digestive upset or allergies when transitioning to a new diet, such as vomiting or diarrhea, which could indicate something is wrong with the change in brand or ingredients used in their recipe.
When switching Vizslas' diets, consider factors such as age-appropriate nutrition requirements based on breed size; nutritional value; presence/absence of allergens like grains and beef; protein content; calories per serving ratio; ease (or difficulty) with transitioning process, etc.
Remember—the best thing you can do is take your time introducing them to a new meal plan! With patience and research into what works best for each individual pup's health needs, you'll soon find yourself enjoying delicious meals together without worrying about potential side effects from changing diets too quickly.
Health Dietary Changes in Vizslas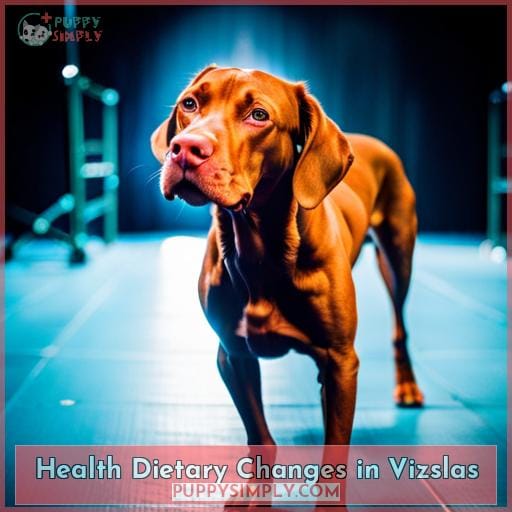 Dietary changes can be the key to keeping your Vizsla in top shape. Making adjustments based on their age, activity level, weight management needs, and common health issues is essential for maintaining a healthy lifestyle.
When it comes to food formulated specifically for puppies, you'll want to make sure they get enough calories while avoiding overfeeding certain nutrients like calcium, which could cause potential health problems down the line.
Allergen considerations are also important when selecting hypoallergenic dog food for Vizslas with allergies or sensitivities. Look out for grain-free options as well as those made with human-grade ingredients.
For adult dogs that need assistance managing their weight, there are high-calorie dog foods available that contain nutrient-rich ingredients without all of the fats and fillers found in regular kibble diets.
Knowing what dietary adjustments should be taken depending on your pup's unique nutritional needs is an important part of being a responsible pet owner.
More Vizsla Food Guides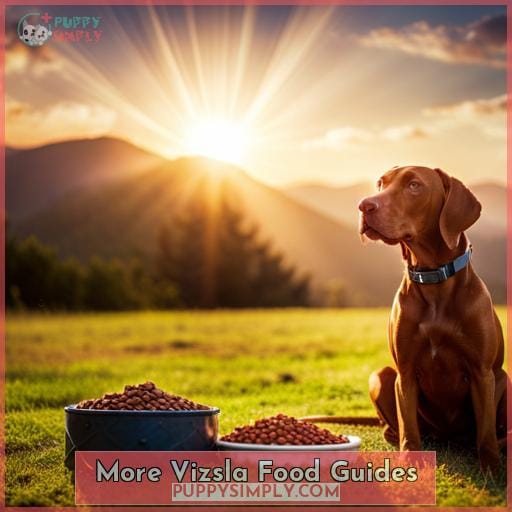 Discover dozens of dynamic dietary guides for your Vizsla to keep them vibrant and vivacious. From homemade recipes tailored to your pup's unique needs, to nutritional supplements and feeding schedules, there are many resources available when it comes to ensuring the best diet for Vizslas in 2023.
When deciding what is the best dog food for a senior Vizsla or an adult with high activity levels, finding nutritionally balanced meals can be challenging. It is important to take into account calorie requirements per pound of body weight, as well as specific breed needs, when creating meal plans.
Consider exploring different types of wet and dry foods that contain quality ingredients like real meat, and avoid fillers such as corn, wheat, soy, by-product meals, grains, artificial colors, flavors, and preservatives.
Lastly, research various sources, from vet recommendations to online reviews and customer feedback. Carefully read ingredient lists, compare prices, look into pet insurance policies, and consider any allergies, sensitivities, health conditions, or other special considerations before making final decisions about which dog food will give you peace of mind while providing optimal nourishment, energy, growth, development, and overall well-being –– all key elements in maintaining a happy, healthy lifestyle for your beloved Vizsla companion.
Conclusion
Finding the best dog food for your Vizsla can be a daunting task. With so many brands and options on the market, it's important to consider your pup's age, activity level, and health needs when choosing the right food.
Our guide provides key qualities to look for in Vizsla dog food, general tips for choosing the best food, and top picks for Vizsla dog food in 2023. From the best overall to senior, raw, sensitive stomach, allergies, grain-free, and wet options, there's something for every Vizsla.
Furthermore, with the right nutrition, your pup will be happy and healthy for years to come. So, don't be overwhelmed by the options. With the right knowledge and understanding of your Vizsla's needs, you can confidently choose the best dog food for your furry friend.