This site is supported by our readers. We may earn a commission, at no cost to you, if you purchase through links.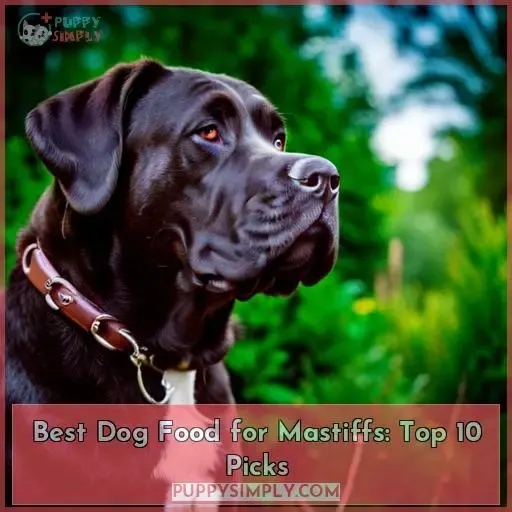 Are you the proud owner of a Mastiff? If so, then you know that providing your pup with the best nutrition is essential for their health and wellbeing. With this in mind, we bring to light ten of our top picks for dog food specifically designed to meet the needs of your large breed pal.
From Blue Buffalo Large Breed Adult Dog Food to Holistic Select Large Giant Breed Dog Food – we've got all bases covered when it comes to finding an appropriate diet tailored just for them!
But before making any decisions on what type or brand will be suitable for your pup's nutritional requirements, let us delve into understanding exactly what they need in order to flourish as a healthy and happy mastiff.
Key Takeaways
Choose high-protein dog food with real meat as the first ingredient to support muscle growth.
Select dog food with glucosamine and antioxidants to promote joint health.
Look for probiotics and fiber to aid digestion and help prevent bloat.
Consult your veterinarian for personalized diet recommendations tailored to your dog.
Top 10 Best Dog Food for Mastiffs
When it comes to finding the best dog food for Mastiffs, there are several great options available. Blue Buffalo Large Breed Adult, Holistic Select Large Giant Breed Dog Food, Royal Canin Large Puppy Dog Food, and Diamond Naturals Large Breed Dog Food all offer tailored nutrition specifically designed for large breed dogs.
Each of these products includes key ingredients like omega fatty acids and glucosamine, as well as high-quality protein sources, to ensure your beloved pup stays healthy throughout their life.
1. Blue Buffalo Large Breed Adult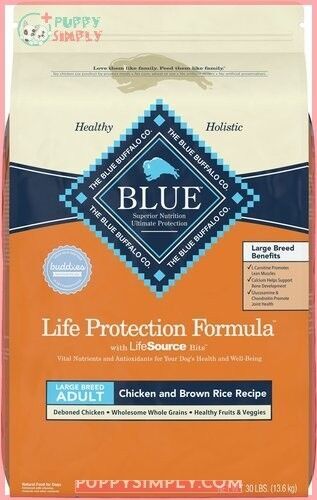 View On Chewy
For active large breed adult dogs, Blue Buffalo Large Breed Adult offers a life protection formula with real meat, whole grains, and added LifeSource Bits to support joint health and mobility. This 30-pound bag contains deboned chicken for protein and a glucosamine/chondroitin blend for joint health, plus omega 3 & 6 fatty acids for skin & coat care.
It's free of corn, wheat, soy, as well as chicken (or poultry) by-product meals, which makes it an ideal choice if you have dietary concerns like allergies or sensitivities in your pup.
Dogs have had no issues with digestion.
Fast shipping and great customer service.
Recommended by customers.
Dogs love the taste.
Concerns about a dog's health after switching to Blue Buffalo.
Some dogs refusing to eat it.
Changes in formula questioned after negative experiences.
One mention of liver problems (not confirmed as related to the food).
2. Holistic Select Large Giant Breed Dog Food
View On Chewy
Experience the nutritional benefits of Holistic Select Large Giant Breed Dog Food for your large and giant breed pup. This specially formulated kibble contains chicken and oatmeal as key ingredients, along with Omega-3 fatty acids to support a healthy skin and coat.
It also includes antioxidants, glucosamine, probiotics, and taurine for a healthy heart.
For picky eaters or dogs with sensitive stomachs, it is an ideal choice – most owners report that their pups readily enjoy this food! The kibble size is specifically designed for larger dogs with bigger mouths, but some may find them too small.
And while it can help prevent digestive issues like soft stools when transitioning from another brand initially, there have been reports of shedding or dandruff in some pooches afterwards due to its high protein content.
Supports overall digestive health & preferred over other brands by many owners
Contains Omega-3 fatty acids & Whole Foods ingredients
Includes antioxidants, glucosamine, probiotics, & taurine for a healthy heart
May lead to soft stools initially
Kibble size might be smaller than expected for larger breeds
Some dogs experienced shedding/dandruff
3. Royal Canin Large Puppy Dog Food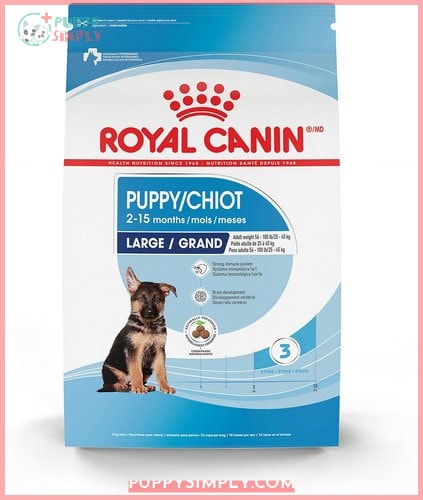 View On Chewy
You'll be sure to give your giant pup the royal treatment with Royal Canin Large Puppy Dog Food, packed full of delicious nutrients designed for their majestic growth. This puppy formula provides complete nutrition optimized for controlled bone and joint development in large breeds expected to reach 56-100 lbs as adults.
An exclusive antioxidant blend of vitamins E and C, added DHA from omega-3s, and prebiotics promote your pup's immune health, brain growth, and balanced digestion. With premium proteins and tailored minerals, including the right calcium and phosphorus levels, this 30-lb bag sets up your oversized puppy for lifelong health.
However, some pups struggle with the larger kibble size or experience diarrhea, and buyers have expressed frustration with price increases.
Supports bone, joint, and brain development
Aids digestion with prebiotics and proteins
Vet recommended for large breeds
Larger kibble size may cause issues
Complaints of price increases
Some reports of diarrhea
4. Diamond Naturals Large Breed Dog Food
View On Chewy
Try Diamond Naturals Large Breed Dog Food, with real cage-free chicken as the first ingredient and added glucosamine & chondroitin for joint health, to keep your giant pup healthy and happy. This affordable dry food is specially formulated for large breeds with quality proteins, fatty acids, antioxidants, and probiotics.
Made in the USA without corn, wheat, or soy, it aims to provide complete nutrition tailored to your big dog's needs.
Real meat as first ingredient
Added joint supplements
Budget-friendly price point
Formulated for large breeds
Free of common allergens
Some dogs had adverse reactions
Potential delivery issues
Concerns over ingredient quality
Palatability issues for picky eaters
Vomiting and diarrhea reported
5. CANIDAE Dog Food Multi Protein
View On Chewy
With CANIDAE Dog Food Multi Protein, you get optimal nutrition from quality proteins without common allergens. This formula was designed by vets for dogs of all ages, breeds, and sizes. It contains premium protein from chicken, turkey, lamb, and fish meals to support lean muscle development and a healthy metabolism.
The allergen-free recipe avoids problematic ingredients like corn, wheat, and soy. It provides a nutritionally dense profile with the addition of probiotics, antioxidants, and omega fatty acids to promote immunity, digestion, skin, and coat health.
While some owners dislike the price increases in recent years or report their dog rejecting the food, many have successfully transitioned to this formula and seen benefits including improved energy levels, less shedding, and better stool quality.
For multi-dog households, this grain-inclusive option simplifies mealtime.
Veterinarian-formulated
Quality protein sources
Allergen-free ingredients
Added vitamins and minerals
Price increases over the years
Some dogs reject the food
Delivery issues reported
6. Iams Adult Large Breed Chicken
View On Chewy
Iams Adult Large Breed Chicken offers a midline price point and real farm-raised chicken as the first ingredient for muscle maintenance in your active large breed pup. Protein, fat, carbohydrates, and calories are balanced to provide complete nutrition tailored for larger breeds.
Prebiotics support digestive health, while glucosamine helps promote healthy joints and mobility. Vitamins, minerals, omega fatty acids, plus added antioxidants help maintain an overall healthy immune system too.
Made in the USA with premium proteins, this 30-pound bag of grain-inclusive kibble is well-liked by many dogs, even picky eaters who need extra flavor or mix water to improve palatability may find it appetizing enough!
However, some pups have experienced gas, bloating, smelly coat, or weight gain after consumption of this product.
Good midline price point
Dogs like it, including picky eaters (with added toppings/water)
Supports bone & joint health; digestion & immune health
Some dogs experienced gas, bloat, smelly coats/weight gain
Reports of excess weights during shipping
Diarrhea reported after consumption
7. Dr Tims Kinesis Formula Dog Food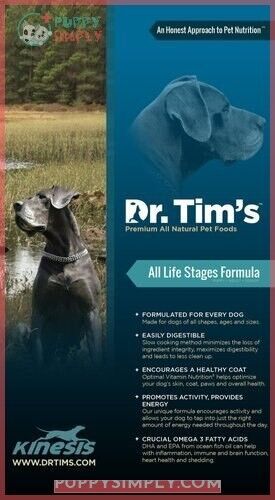 View On Chewy
For active large breeds, Dr. Tim's Kinesis Formula Dog Food provides an array of beneficial nutrients like taurine and probiotics to support heart health and immunity. The 88% animal-derived proteins, along with a blend of carbs, fats, and fiber, offer complete nutrition for all life stages.
Omega-3 fatty acids promote mental clarity, while salmon meal helps boost energy levels. Probiotics aid digestion, while prebiotic fibers support gut health. Vitamins A & E, plus zinc, help maintain healthy skin.
In addition to the omega fatty acids, which nourish fur coats, this formula also includes joint mobility benefits from glucosamine chondroitin complex and DL methionine, which aids cardiac function.
Balanced blend of proteins from animal sources
Contains Taurine & DL Methionine supporting heart health
Prebiotic fibers & probiotics aid digestion
Concerns about the company's responsiveness to questions/concerns
Price increases have been reported by some users
May not be affordable for all budgets
8. Fromm Gold Large Breed Adult Dog Food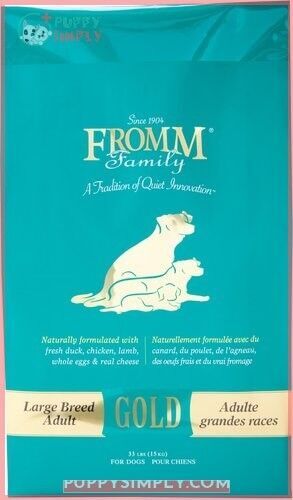 View On Chewy
You'll find Fromm Gold Large Breed Adult Dog Food offers a nutritious blend of proteins and probiotics, plus added vitamins and minerals to help keep your furry companion happy and healthy. This high-quality food is made with real duck, chicken, lamb, eggs, and cheese as the top ingredients.
It also contains salmon oil to promote a shiny coat while providing essential fatty acids for overall health. The addition of prebiotic fiber helps support digestive health in large dogs while the extra vitamins boost immune system function.
High-quality ingredients including real meat sources
Contains prebiotics for digestive support
Added omega 3 & 6 fatty acids for skin & coat health
Formulated specifically for adult large breeds over 50 lbs
Some individual taste preferences may occur
Price can be higher than other brands
9. NutriSource Large Breed Puppy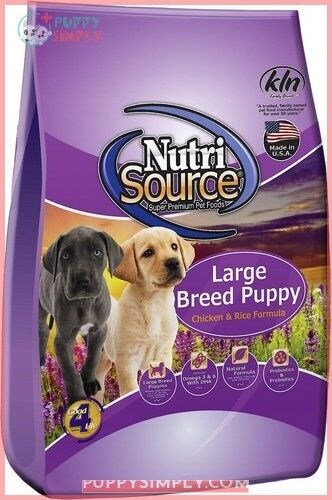 View On Chewy
Tailor NutriSource Large Breed Puppy to your giant breed pup's needs for balanced growth 'til they're full grown. This puppy formula aligns calcium and phosphorus levels to support your oversized pup's developing frame.
Packed with proteins, fats, carbs, and calories essential for muscular and skeletal control, it nourishes pups from weaning through adolescence.
Customers report shiny coats, improved digestion, and strength in colossal pups when following breeder or vet recommendations. Let this specialized recipe promote sturdy bones and joints now to prevent issues down the road.
Formulated specifically for large breed puppies
Balances calcium and phosphorus
Provides complete and balanced nutrition
Vet and breeder recommended
Some packaging issues reported
Need to transition gradually
Higher price point
10. Taste Wild High Prairie Puppy Dog Food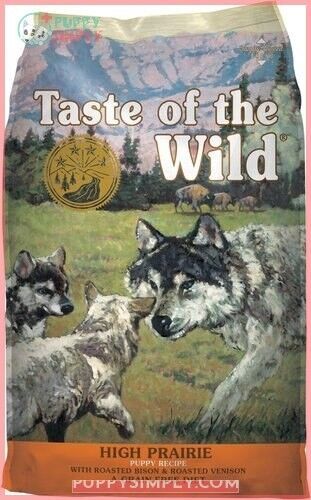 View On Chewy
Novel proteins for allergies
Grain-free formula
Fruits and vegetables
Possible digestive upset
Higher price point
Picky eaters may reject it
How to Choose the Best Dog Food for Mastiffs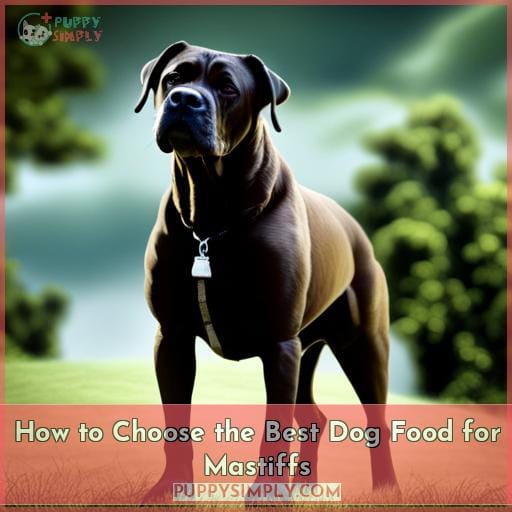 When choosing the best dog food for your Mastiff, it's crucial to understand their unique nutritional needs. As one of the largest breeds, your Mastiff requires adequate protein, fat, fiber, vitamins, and minerals to support their substantial size and joints, while avoiding obesity-related issues.
Look for dog foods formulated specifically for large breeds containing quality ingredients that provide complete, balanced nutrition tailored for the Mastiff breed.
Nutritional needs for Mastiffs
When choosing dog food for your Mastiff, understand their unique nutritional needs first. Mastiffs require a nutrient-rich diet with optimal levels of protein, calcium, glucosamine, and antioxidants for their large frames and joint health.
Be mindful of dietary health precautions like the risk of obesity and bloating. Aim for the most cost-effective choices that deliver complete nutrition on a consistent feeding schedule without overfeeding.
Look for high-quality proteins, probiotics, fatty acids, and whole grains tailored to support their bone, joint, and overall health needs.
Recommended dog food brands
Investigating premium brands that cater to your Mastiff's unique nutritional demands reveals options like Blue Buffalo's specialized large breed formulas. These formulas contain glucosamine and antioxidants for joint and immune health.
Here are some examples of recommended dog food brands:
Ollie Fresh Beef Dog Food Subscription
American Journey Chicken & Sweet Potato Recipe Grain-Free Dog Food
Taste of the Wild High Prairie Grain-Free Dog Food
Blue Buffalo Life Protection Large Breed Puppy Chicken & Rice food
All of these recipes are crafted with quality proteins, Omega fatty acids, probiotics, and essential vitamins and minerals. They are also free of allergens like corn or wheat, making them suitable for sensitive stomachs.
Additionally, these brands offer complete nutrition tailored to the size needs of a Mastiff pup or adult dog.
Mastiff care tips
It's important to be knowledgeable about Mastiff care tips, such as their lifespan, weight, and size. Preventing allergies, including food allergies, is crucial. Make sure that real meat is the first ingredient in a dog food formula, and include whole grains for complex carbohydrates.
Key ingredients like calcium, probiotics, glucosamine, and Omega fatty acids are essential for overall health.
Grooming is essential to keep Mastiffs looking great. They should have at least one long walk or jog daily to maintain an ideal weight. Training should start early using positive reinforcement methods for the best results.
Routine visits to the vet are necessary for their health, along with vaccinations and parasite prevention measures when needed.
Socialization is also very important for Mastiffs. They should interact well with other dogs and humans, regardless of age group or gender preference. Puppies need special attention, while adults require suitable nutrition that supports aging joints.
Ensuring quality meals will go a long way towards keeping your Mastiff healthy throughout their lifespan.
Buyer's Guide: Selecting the Best Dog Food for Mastiffs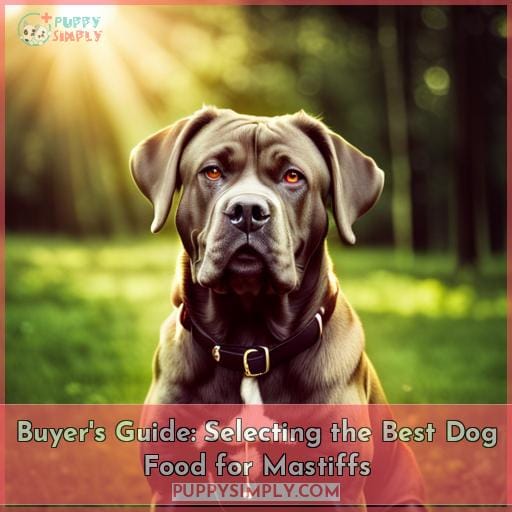 As a pet owner, you understand the importance of giving your Mastiff proper nutrition. When choosing the best dog food for mastiffs, it's vital to think about their unique nutritional requirements like protein, fat and calories; dietary concerns such as joint health and bloat prevention; cost; and ingredients.
Selecting the right food is essential because mastiffs have different needs than other breeds due to their large size. They require more protein to maintain substantial muscle mass and more calories to meet their high energy needs.
However, you must be careful not to overfeed them, as obesity can exacerbate joint problems.
When researching dog foods, look for ones formulated specifically for large breeds with glucosamine and chondroitin for joint health. Avoid foods with excess fillers, artificial preservatives or ingredients that may cause bloat.
Though premium foods cost more, they often offer better nutrition and digestibility, potentially saving on vet bills in the long run. Work within your budget, but make sure to prioritize quality ingredients. Consulting with your vet can help determine the right food and amount to feed your individual mastiff based on their age, activity level and health.
Nutritional needs of Mastiffs
Feeding a diet that contains enough protein, calcium, fiber, and glucosamine for their giant frames helps keep these gentle giants healthy. Nutritional guidelines for Mastiffs prioritize protein to maintain muscle mass, calcium for bone growth, fiber for digestion, glucosamine for joint health, and avoiding ingredients that commonly trigger food allergies.
It's key to tailor the diet to the Mastiff's life stage – Mastiff puppies, for example, require more protein and calcium for development than senior Mastiffs. Catering to the unique nutritional needs of Mastiffs promotes their overall health and longevity.
Recommended dog food brands
You'll want to consider some of the top-rated dog foods for Mastiffs like Ollie, American Journey, Taste of the Wild, Blue Buffalo, Orijen, Purina Pro Plan, and Rachael Ray Nutrish. Carefully analyze ingredients for protein sources, fat content, whole grains, and nutrients that support bone, joint, and digestive health.
Compare prices to find quality foods at different budget levels. Read customer reviews for real-world perspectives on how a particular dog food works for Mastiffs. Establish a feeding schedule providing the right portions to maintain lean muscle mass.
Mastiff care tips
Caring for your Mastiff involves understanding its unique nutritional needs, which can be addressed through high-protein dog food that includes omega fatty acids and glucosamine to keep them healthy and strong, like a rock!
Grooming tips include regular brushing to reduce shedding.
Exercise requirements should involve daily walks or runs tailored for larger breeds.
Socialization advice suggests exposing them to new people and environments from an early age.
Training techniques are important too; reward positive behavior with treats rather than punishment.
Health checkups at the vet must be done regularly as well as low-fat dog food appropriate for their age-recommended weight range being fed in specific amounts throughout the day – the best dog food for mastiffs is key!
Conclusion
Culminating in an informed decision about the best dog food for your Mastiff is essential for their optimal health. A plethora of options are available when selecting the right food for your furry friend.
From high-protein and grain-free to kibble and wet food, weighing the nutritional needs, dietary concerns, and cost of each food is important.
Ultimately, choosing the best dog food for Mastiffs comes down to your individual pup's needs. A premium diet with real meat as the first ingredient, whole grains, omega fatty acids, glucosamine, and probiotics helps to provide complete nutrition for a healthy and active life.