This site is supported by our readers. We may earn a commission, at no cost to you, if you purchase through links.
Are you looking for the best dog food for huskies? Check out our review to find out what you can and can't feed them.
Like all canine family members, Huskies require the right balance and nutrients consistent with their activity level, age, and health status.
Nothing beats watching a Siberian husky run across a snow-covered field. Their grace, athleticism, and handsome aesthetics make them one of the world's most popular dog breeds!
Huskies were originally bred to work in the Arctic wilderness to pull cargo-laden sleds long distances.
In general, they need a high-protein and high-fat diet. And just in case you're wondering what you need to feed them, we've got you covered.
When choosing the best food for Siberian Husky puppy, there is so much information that it becomes challenging to decide.
This article has done the hard work for you. After going through the many dog foods options on the market, we concluded that these 7 brands of husky dog foods are of high quality.
Choosing the Best Dog Food for Siberian Husky
Every dog owner would want to make sure their dog is eating the best dog food possible. But how do you choose the best dog food for a Husky puppy?
The best tips for choosing the optimal dog food brand for your husky are:
Ensure your dog food contains only the premium ingredients from natural sources (total proteins, vegetables, omega fatty acids). The better the ingredients, the healthier your husky will be.
Make sure the dog food is high in calories. Try to choose the rich in fats, high-quality proteins, and carbohydrates. omega fatty acids are essential to maintain the health of a husky's skin and coat, and carbohydrates and proteins help provide them with energy and muscle nutrition.
None Dairy and grain-free: don't choose one with dairy ingredients or grains. Huskies are generally lactose and gluten intolerant and have difficulty digesting both. Try to make sure your dog's food of choice is free of both.It is usually a good idea to buy more miniature packs to see which one your husky likes. After that, you can choose the larger bags, as they are usually cheaper and last a long time.
Best Dog Food for Huskies of 2023
Despite being known for their high energy levels, huskies don't eat as much as other dog breeds because their bodies are so good at burning calories. That said, the quality of your dog's diet is all the more critical.
Here are our top 7 picks of the best dog foods for huskies that all veterinarians recognize and approve of.
1. Taste of the Wild Pacific Stream Dog Food
View On Chewy
First 5 ingredients: Salmon meal, Ocean Fish Meal, Sweet Potatoes, Potatoes, Peas
If one thing sets the Taste of the Wild dog food for huskies apart, it will tend to use only new proteins. Take the Pacific Stream Canine Formula, which contains wild-caught salmon.
It has a higher omega-6 to omega-3 ratio of 8: 1. Compare this to Orijen Original's ideal 4: 1 ratio, and you can see why we are pretty concerned. Nevertheless, we think TOTW managed to balance this out by including three probiotic strains known to enhance immune system function. Also, adding vitamin E and other antioxidants can help offset the unusually higher percentages of omega fatty acids.
If there is any consolation, feed your husky food that is very special for its new proteins. Moreover, it is cheaper than the Orijen, Blue, and Wellness CORE.

Salmon is a high quality protein
Easier for dogs to digest
Includes fruits and vegetables
Zinc helps Huskies prevent dog breed-specific diseases.
Prebiotic support for your Husky
2. Wellness Core Natural Grain-Free Dry Dog Food
View On Chewy
First 5 ingredients: Deboned Turkey, Turkey Meal, Chicken Meal, Peas, Dried Ground Potatoes
What makes the Wellness CORE quite extraordinary is that it is almost similar in nutrient account to the Orijen Original, except that Wellness CORE delights in the trust of hundreds of dog owners. Perhaps this is because it is more than 3 times less expensive than the Orijen Original? Its high protein content, 3rd just to the tandem of Origen Original and also Adult, is perfect for the expanding husky.
This Siberian husky canine food from Wellness comes with 3 pet proteins in its 1st five ingredients as well as is boosted with veggies as well as fruits, however grain-free. Each extra pound of the Wellness CORE contains 80 million colony-forming devices of probiotics. This canine food for huskies also includes chondroitin and glucosamine, compounds that can help advertise much healthier joints of huskies.
Freeze-dried turkey chunks for extra protein
Glucosamine and chondroitin for husky joint strength
Chicken liver is rich in vitamins A and D
Broccoli, carrots, sweet potatoes, and kale for eye health
Rich in omega – 3 and 6 fatty acids keep the coat shiny
More expensive compared to other brands
3. Orijen Original Adult Dog Dry Dog Food
View On Chewy
First 5 ingredients: Chicken, Turkey, Flounder, Whole Mackerel, Chicken Liver
Orijen is a brand that I recommend over and over again. I like their high-quality, varied recipes, which use many fresh and local ingredients.
This recipe contains a whopping 38% protein from various meats, including turkey, chicken meal, bone, mackerel, herring, and sardine. Using ocean fish meal will provide your Husky with a good dose of Omega-3 for her eyes and thyroid, as well as skin and coat health.
The fat content is acceptable at 18%. As I mentioned with The Honest Kitchen, if your Husky is a very active or working dog, you should look to other brands with at least 20% fat.
I love Orijen because they never fall short in their dog food in the nutrition department. They use a lot of fruits and vegetables, all of which are fresh. This recipe features carrots, kale, blueberries, suitable for her eye health, and kelp, giving her a little iodine kick to support her thyroid.
So that's her thyroid gland, her eyes, and now her hips. Orijen doesn't fail there either, as they add glucosamine and chondroitin to the mix to help her joints a bit. To top it all off, there is also a perfect amount of calcium (1.4%) to keep your Husky's bones and joints strong. I highly recommend this food for Huskies with hip problems.
The only downside to this dog food recipe is that it has just a little fewer calories than I recommend for an average Husky who eats 2.5 cups a day. 470 calories per cup. That means she would have to eat just over 2.5 cups a day to get her daily intake, but the difference is only 0.05 cups.
I want to make that Orijen dog food is costly and therefore did not come out in the first place. I think it's a great dog food option for your Husky if you can afford it.
Ingredients:
Chicken, Turkey, Flounder, Whole Mackerel, Chicken Liver, Turkey Giblets (Liver, Heart, Gizzard), Whole Herring, Eggs, Dehydrated Chicken, Dehydrated Turkey, Dehydrated Chicken Liver, Dehydrated Egg, Dehydrated Mackerel, Whole Red Lentils, Whole Pinto Beans, Chicken Fat, Whole Green Lentils, Whole Navy Beans, Natural Flavor.
High-quality ingredients
High-quality, varied protein content
Contains a wide variety of fruits and vegetables
Contains ingredients that support the thyroid, eye, and joint health
Expensive dog food
Just under 480 calories per cup
4. Blue Buffalo Life Protection Formula Lamb & Brown Rice
View On Chewy
First 5 ingredients: Deboned Lamb, Menhaden Fish Meal, Brown Rice, Oatmeal, Barley
Blue Buffalo's entry into this collection of the best Siberian husky dog food brands is the BLUE Life Protection Formula which is fully enriched with the fermentation products of 5 gut-friendly probiotic organisms.
Blue Buffalo also offers an almost ideal. 1: 5 fatty acid ratio. Like all Blue Buffalo products, the Life Protection Formula contains the LifeSource Bits technology that essentially packs all of the nutritious goodness of the ingredients into each kibble. And speaking of ingredients, in this formula, lamb meal and turkey meals are mentioned as the two main ingredients. It's not precisely grain-free, leaves no grains, and opts for healthier whole grains instead.
It's reasonably priced too, with a £ 30 bag costing you less than $ 50. In any case, you will get optimal nutrition for your husky at a price that will not allow you to file for bankruptcy quickly.

High-quality ingredients
Best value of all the options listed here
Over 800 reviews of Chewy (84% are 5 stars)
Assortment of fruits and vegetables
It contains eye health ingredients, help promote the thyroid and coat
Low-calorie content for average Huskies
5. Hill's Science Diet Sensitive Stomach and Skin Recipe
View On Chewy
Top 5 Ingredients: Deboned Turkey, Chicken Meal, Potatoes, Chicken Liver, Salmon Oil
Science Diet is the best food for husky with sensitive stomachs gets most of their animal protein from a fresh chicken meal. Our label analysis of the dry matter shows that the recipe contains 26% protein, 16% fat, and 50% estimated carbohydrates … resulting in a fat-protein ratio of about 61%.
If your Husky constantly suffers from digestive problems, Hill's Science Diet Sensitive Stomach Dog Food is for you. The unique prebiotic fiber helps maintain a healthy microbiome leading to better digestion and minor stomach upset in dogs.
Not only this, but healthy ingredients like real chicken meal, vitamin supplements, and omega fatty acids will provide your husky with all the essential nutrients.
It is made with beet pulp, a nourishing prebiotic fiber.
Easily digestible to support optimal nutrient absorption.
It contains Vitamin E and Omega-6 fatty acids to support healthy skin and a shiny coat.
Natural ingredients, plus added vitamins, minerals, and amino acids.
Veterinarians recommend it.
6. American Journey Salmon & Sweet Potato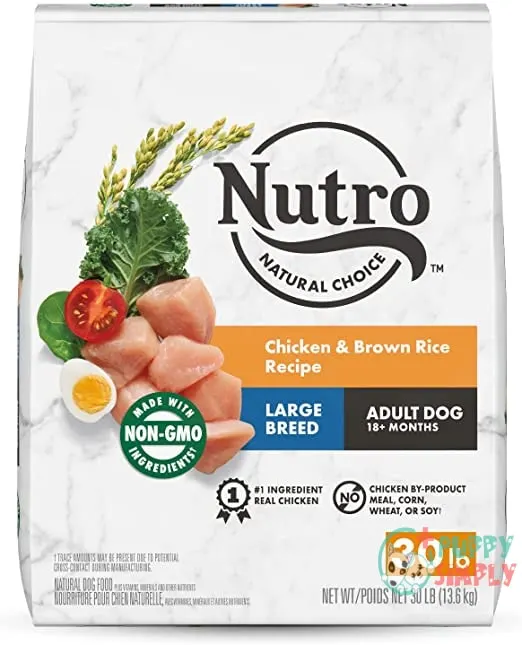 View On AmazonNext off on our checklist mosts likely to American Journey Salmon & Sweet Potato
American Journey is becoming a new crowd favorite, and while it isn't as prominent as a few other brand names like TOTW or Blue Buffalo, it's up there, claiming its position as one of the best.
The Dog Food Advisor is a world-renowned reviewer when it concerns pet food brands. They create comprehensive testimonials of pet food and consider everything before offering their rating. Their scores hold even more weight than anyone else's, and they have offered American Journey Dry Dog Food an impressive 5/5 celebrities. Something that is hardly ever attained.
A&J Salmon and Sweet Potato have an above-average quantity of protein, making it optimal for working huskies or perhaps huskies that are highly active.
Another thing to note is that real-deboned salmon is the No. 1 ingredient. Salmon is an excellent healthy protein resource and naturally consists of vital necessary fatty acids such as Omega- 3, Omega- 6, and DHA.

Deboned Salmon, Chicken Meal, Turkey Meal, Peas, Sweet Potatoes.
Authentic Salmon as Major Protein Supply
Flaxseed Oil, Omega 3, Omega 6, DHA
An Abundance of Veggies & Fruits
Carbohydrates Coming From Premium Sources
Higher-high quality fiber coming from sweet potato and chickpeas
It does not consist of grain, corn, wheat, or soy
Carbohydrates a little bit greater than liked
7. Nutro Max Natural Adult Dry Dog Food
Top 5 Ingredients: Chicken Meal, Wheat grain-free Sorghum, Brewers Rice, Chicken Fat, Flaxseed.
Nutro Max has been providing top-notch family pet food for pets for a long time, and also they have been devoted to this market.
They respect the pets, constantly ensuring that their products are of the best dog food quality. Nutro Max Natural Adult Dry Dog Food is one of their best products today.
This canine food formula has less active ingredients. Some of you might assume that this is ludicrous, yet if you've reviewed the factors above, you will surely recognize that less active ingredients suggest better dog food.
This is because less active ingredients suggest that your canines can conveniently absorb the food, and also, your husky will not deal with digestive system problems.
The primary source of protein in this dog food formula is a genuine hen, and also it originates from authentic fowl. Although you might desire to get a pet food formula with even more meat sources, this is pretty great already, as well as it can assist with the advancement and fortifying of their muscles.
The best aspect of this is that this pet food can enhance the appetite of your husky. One of the troubles when elevating huskies is that they tend to avoid meals. If their cravings rise, they will constantly eat.

Lesser Elements
Muscle Growth
Elevated Appetite
There have been a few recalls concerning the Nutro Max Large dog breed Adult Pet dog Food in the past. Watch out for future adverse effects.
Nutritional Requirements for Alaskan Husky
Since Huskies have a unique lineage, they have a very different diet than other breeds. The Siberian Huskies' ancestors were heavy sled dogs that survived in freezing temperatures and ate only once daily.
This significantly affects the diet of Siberian Huskies. They need a certain amount of nutrients in specific amounts at certain times.
Here are the other nutritional requirements for a Siberian Husky, as recommended by the Association of the AAFCO.
For adult Huskies – minimum 18% protein and 5% fat
For Husky puppies – minimum 22% protein and 8% fat
In addition to these macronutrients, the following micronutrients are also required for a Siberian husky.
Protein and Fat: Huskies have been dragging sleds weighing several tons for centuries. This enormous effort requires a lot of energy and muscle, so a Siberian husky needs a diet rich in proteins and fats. An adult Alaskan husky needs a minimum of 18% protein and 5% fat. Dog food, according to the AAFCO. This recommendation is increased to 22% protein and 8% fat for puppies.
Calcium and phosphorus: Siberian huskies may not have a malamute's build. Yet, they still need strong bones to ensure optimal mobility. This is especially important with husky puppies as their skeletal system is still developing. By the time they reach maturity, they may only need maintenance amounts of these minerals.
Zinc: Some huskies are prone to developing an inherited condition called dermatitis that causes their skin to become red and swollen from a lack of zinc in their blood. If your Alaskan husky is suffering from it, he may need a zinc supplement to help control this condition.
Vitamin E: Valued as a powerful antioxidant, the inclusion of Vitamin E in a Siberian Husky's diet is necessary to promote and maintain the health of its coat. You have to admit that one of the most distinctive features of a husky is its coat.
Probiotics: Huskies need a lot of nutrients daily, but those nutrients are only good when they are fully absorbed into their system. Since this breed only eats in small amounts, they must get some probiotics with every meal to properly break down and digested by their stomach.
Frequently Asked Questions (FAQs)
What food should you not feed your Siberian husky?
Foods harmful to dogs should generally also be avoided in the case of huskies. These include chocolate, grapes and raisins, garlic, and cooked bones or fat residues. Aside from that, huskies are specifically intolerant of dairy and grains, so avoid feeding them both as well.
What is the best diet for a Siberian husky?
While feeding your husky commercial dry or wet food is cheaper, lasts longer, and is easier to store, many husky parents have changed their dog's food to include more nutritious and healthier raw foods such as chicken meal, beef, lamb meal, ocean fish meal, fruit (no grapes, plums or raisins) and vegetables.
How many times should you feed a husky?
While this will depend on your dog and his preference, the general guideline for feeding your Husky is twice a day. Some huskies prefer to eat more than two meals a day, others less. One thing to be sure of is to keep the daily intake the same to avoid problems.
How Many Calories Does Husky Dog Need?
Huskies are medium-sized dogs with an athletic build (which isn't surprising – they're the athletes of the canine world!), And they tend to be energetic.
The maximum weight of the Siberian Husky is 23 kg, so this is the weight I used to calculate how many calories your Husky needs in its food.
This number is probably lower for female Huskies, as they often do. weigh less than men.
1000 calories – seniors / neutered / inactive huskies
1200 calories – typical adult huskies
1700 calories – active / working adult huskies
Is Blue Buffalo Good for Huskies?
It's affordable dog food for husky, so if you're on a budget but still looking for high-quality dog food for your Husky, Blue Buffalo Wilderness is a great option.
It is relatively low in fat, at 15%, so it is better for huskies that are less active or slightly overweight.
What are the best ingredients for huskies?
Huskies need some extra fats, carbohydrates, and vitamins for optimal health. Some great fats and omega fats are flaxseed oil, fish oil, and canola oil. Carbohydrates from vegetables such as potatoes are also usually more suitable for huskies. Also, fruits and vegetables, such as blueberries, contain many essential nutrients for huskies.
When should I switch my husky puppy to adult dog food?
It is important not to switch your husky puppy to an adult diet too early.
That's because adult dog food can have the wrong nutrient balance … making it unsafe for a growing puppy.
Since a husky is considered a medium breed dog.
It is best to switch your puppy to adult food when it is about 12 to 14 months old.
If you are unsure of your puppy's age …
It is safer to keep your dog on puppy food for too long. .. than switch to premature adult nutrition.
How much food should I feed my husky to maintain an ideal weight?
A groundbreaking study found that dogs fed an amount of food to keep them in an ideal body condition lived almost two years longer … than other dogs.
So, to make your husky live longer by
Start with the feeding instructions printed on the package. Then adjust that amount up or down … to keep your husky in ideal body condition.
Conclusion
Huskies are medium-sized dogs that weigh an average of 60 pounds. To keep them looking healthy and active, you should only buy dog food tailored to their needs.
So there you have it! The best dog food for huskies, usually all packed in one item! The kibble discussed above are great all-rounders, and I highly recommend them as one of my first picks.
Consider foods rich in protein – this helps to maintain lean muscle mass. The Association of American Feed Control Officials (AAFCO) suggests feeding him up to 18% of the protein in their diet.
References
k9ofmine.com
dogfoodadvisor.com
mypetneedsthat.com
animalso.com
dogloversdigest.com