This site is supported by our readers. We may earn a commission, at no cost to you, if you purchase through links.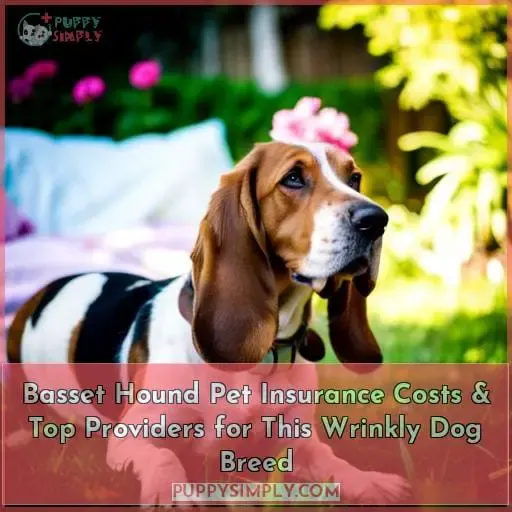 You love your wrinkly-faced Basset Hound. Those long, floppy ears. Those sad, soulful eyes.
But with their genetic health risks, pet insurance is a smart way to protect your bank account from sudden vet bills. We'll compare your options for Basset Hound insurance so you can find the right fit.
With an estimated $800 to $1,200 in annual premiums, Basset Hound insurance can save you thousands over your doggo's lifetime if they need cruciate ligament surgery, back problems, eye issues, or other common health conditions for the breed.
We'll look at what's covered, typical costs at each life stage, and top providers like Embrace and Healthy Paws to make sure your Basset gets the care they deserve without breaking your budget.
Key Takeaways
Insurance can provide coverage for vet expenses related to illnesses, accidents, and hereditary conditions.
Research policies thoroughly to ensure the coverage fits your basset hound's needs at an affordable price.
Premium costs can vary significantly based on factors like your basset hound's age, location, coverage type, deductible, and more.
Top recommended providers for basset hounds are Embrace and Healthy Paws based on their comprehensive coverage and positive reputation.
Is Pet Insurance Worth It for Basset Hounds?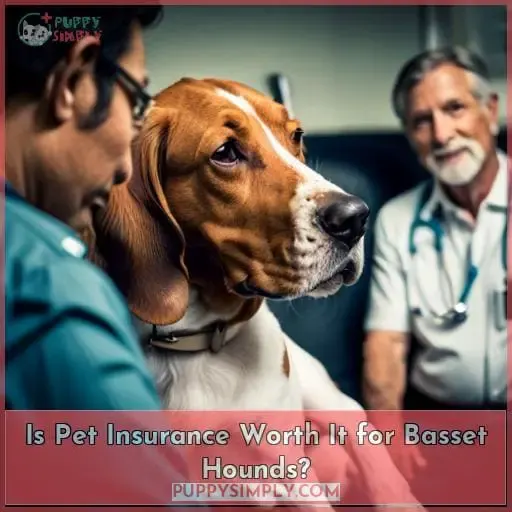 Dear friend, Embrace and other leading providers offer insurance plans covering accidents, illnesses, hereditary conditions, and wellness care for your basset hound. Discovering the right policy to safeguard your pup against the breed's health risks merits thorough research into costs per treatment, reimbursement rates, annual limits, and lifetime payoffs across providers.
The key is uncovering an affordable plan delivering sufficient coverage for common basset maladies like back problems, ear infections, elbow dysplasia, eye issues, hip dysplasia, hypothyroidism, and weight gain.
Vetting policy fine print and querying client support teams aids determining suitable reimbursement levels for surgeries, therapies, diagnostics, prescriptions, specialist care, alternative treatments, and other services your basset may require.
Comparing premiums, reimbursement rates, exclusions, deductibles, co-pays, annual limits, and lifetime maximums assists identifying the optimal balance of comprehensive, cost-effective protection.
An adaptable basset hound insurance plan alleviating financial strains of caring for your beloved companion through accident, illness, surgery, chronic conditions, cancer, old age merits thoughtful selection.
Investing time to understand policy particulars and shop providers grants peace of mind your basset will receive quality treatment when needed most.
Nationwide Vet Coverage
You'll breathe easier knowing Nationwide's vet coverage has your back if your floppy-eared friend faces any health issues down the road. With Nationwide, you get reimbursement for accidents, injuries, illnesses, cancer, and hereditary conditions.
Vet exam fees, surgeries, hospitalization, x-rays, tests, and prescriptions are covered. Premiums range from $32 to $60 per month. When choosing insurance for your basset hound, look for hereditary condition coverage and high reimbursement rates.
Adopting through a shelter often includes the initial vet exam and vaccinations.
Cost Savings on Bills
Folks, it turns out pet insurance won't really save you much on those basset hound bills.
Pet insurance can provide some financial assistance for basset hound medical bills. But with high premiums, copays, and exclusions, the cost savings may be minimal compared to total vet expenses. Adopting a healthy basset from a shelter could avoid pre-existing condition limits.
You should thoroughly research policy details before committing to protect your pup.
How Much Does Basset Hound Insurance Cost?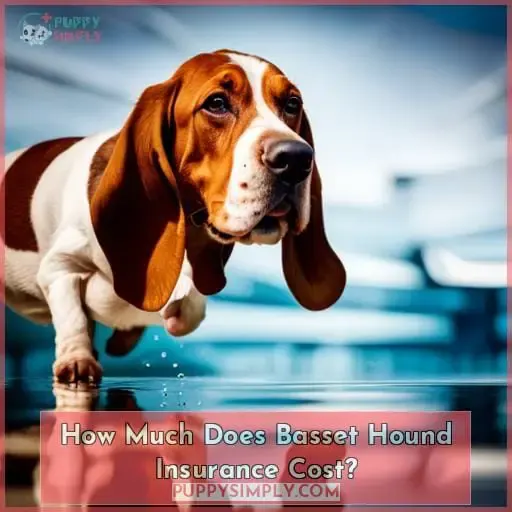 Pet insurance can provide invaluable coverage for your Basset Hound's health, and estimated monthly costs generally fall between $30 and $60. Puppy policies start around $35 per month, while adult dog premiums range from $40 to $57, depending on your pet's age, breed, location, and selected deductible.
Basset Hound insurance rates will vary based on factors like your dog's gender and where you live. Premiums also differ by insurer. Comparing quotes from providers like Embrace, ASPCA, and Nationwide can help you find the most affordable coverage.
Puppy Insurance Costs
Having the right coverage from the start protects your precious pup against unexpected accidents and illnesses. Insuring your basset hound puppy can cost $30-50 monthly. Although pricy, it covers hereditary conditions like hip dysplasia, preventing substantial future veterinary bills.
Investing in comprehensive puppy insurance provides peace of mind by covering breed-specific risks like back issues. Choose a lifetime policy with predictable premiums, covering annual veterinary costs up to $7,500.
Embrace's policy includes hereditary conditions without limits, proving very worthwhile for the monthly expense.
Adult Dog Premium Estimates
Once fully grown, expect to pay around $50 monthly to insure your beloved basset hound. Carefully compare premiums between providers, as disease risks vary. Embrace and PetsBest offer competitive rates, with both reimbursing 70-90% on claims like cancer or back troubles after the deductible is met.
Prices depend on your location, the selected annual coverage maximum, and deductible. Selecting lifetime coverage and a lower deductible raises your monthly cost, but means more care will be covered if genetic disorders strike your precious pup.
What is Covered by Basset Hound Insurance?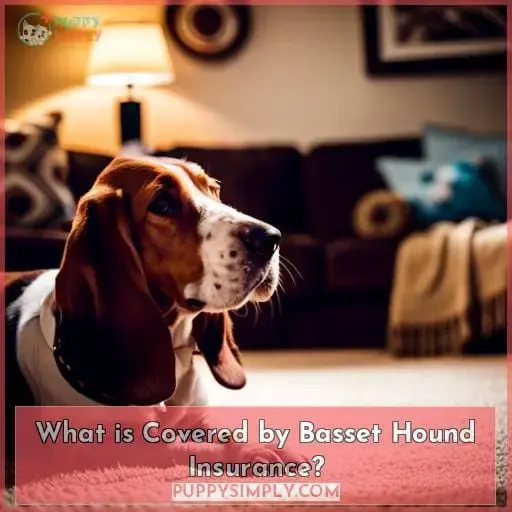 When considering pet insurance for your basset hound, you'll want a policy that covers their unique breed risks. Basset hounds are prone to issues like intervertebral disk disease, ear infections, glaucoma, and elbow dysplasia, so your policy should cover these pre-existing conditions and related treatments.
Accidents & Illnesses
You're protected when the unexpected happens with Basset Hound insurance covering accidents and illnesses. From swallowed socks to hip dysplasia, your friend is prone to health risks. Choose a plan covering accidents, injuries, hereditary conditions, surgeries, prescriptions.
Nothing hurts more than an ailing buddy without coverage. Evaluate options for comprehensive care of your Basset's unique needs. Then relax, knowing treatment is covered no matter what comes. Your pal deserves a full life of playtime and joy.
Hereditary Conditions
How amazingly perfect your basset hound seems now, until those pesky hereditary conditions kick in.
Hip dysplasia affects nearly 20% of basset hounds.
Primary open angle glaucoma risks blindness in middle age.
Von Willebrand's disease impairs blood clotting.
Genetic health issues are unavoidable in some basset hounds. Pet insurance helps manage breed-specific risks and cover costly treatments. You should choose comprehensive coverage without exclusions for inherited disorders in order to protect your basset hound through uncertain genetic futures.
Top Pet Insurers for Basset Hounds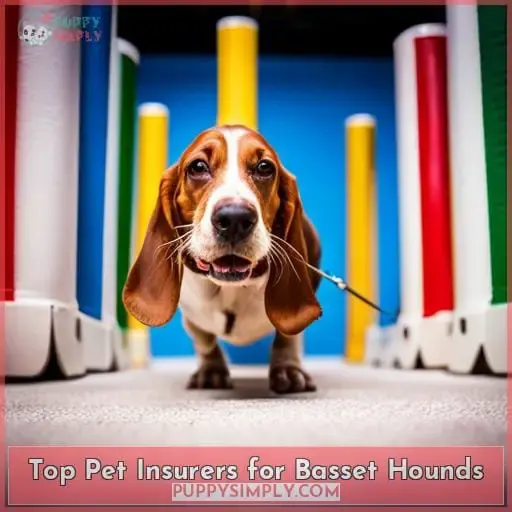 Basset hounds are prone to various health issues that can cost thousands in vet bills. When researching pet insurance for your basset hound, consider Embrace and Healthy Paws as top providers with comprehensive coverage options to help you budget for this breed's common conditions.
The two providers offer robust wellness packages and hereditary condition coverage that make them excellent choices for protecting your basset. Embrace also has unlimited annual benefits with customizable reimbursement options to suit your needs.
Healthy Paws has no annual or lifetime limits and a history of reliable claims processing. Doing your homework on pet insurance can give you peace of mind that you are prepared financially as a basset hound owner.
Embrace
Embrace rewards your dedication to your basset hound's health. This insurer excels in comprehensive coverage and flexibility without limitations for hereditary illnesses. Embrace insurance even includes routine care – no need for expensive upgrades. Have confidence caring for your basset's unique risks like hip dysplasia thanks to a custom Embrace policy.
Relax knowing you've chosen a top provider for protecting your basset's lifelong well-being.
Healthy Paws
Get proactive protection from Healthy Paws for your sweet basset.
Comparing Plans: Review coverage levels and pricing options.
Claim Process: Fast reimbursements directly to your vet.
Coverage Details: Hereditary conditions, cancer, X-rays, MRIs, surgeries.
Healthy Paws offers comprehensive basset hound pet insurance to manage breed-specific risks like back injuries and ear infections. Customizable plans help offset costly treatments. With excellent customer reviews and streamlined claims, Healthy Paws provides worry-free coverage for your floppy-eared friend.
Where to Get a Basset Hound

Looking to add a basset hound to your family? Carefully researching local shelters, rescues, and reputable breeders can help you find your new best buddy when getting a basset hound puppy or rescue. Shelters and rescue groups may match you with an adult basset in need of a forever home.
Responsible breeders health test their dogs and sell puppies bred for ideal temperaments.
Reputable Breeders
Research breeders to avoid puppy mills and backyard breeders. Meet the parents to assess temperament and health. See the facilities to ensure proper breeding conditions. Ask questions to know their processes and standards.
Get references to hear from other buyers. Review contracts to understand terms and health guarantees.
The right breeder screens for health and temperament, focuses on quality over quantity, invests in the dogs, and stands behind their pups. Do your homework to find an ethical, responsible source for your future basset hound.
Shelters & Rescues
Check local shelters and rescues for this adorable droopy-eared breed to give a deserving dog a forever home.
Adopting a basset hound from a shelter or rescue means opening your heart and home to a pup needing a second chance. Meet your potential furry friend to ensure your lifestyles mesh before finalizing the adoption process.
Shelters gladly facilitate meet-and-greets so prospective owners and dogs can find their perfect match. Consider a mixed breed with basset characteristics if desiring certain genetics like floppy ears or a mellow temperament.
Fostering presents opportunities to support deserving pups until discovering their forever families.
Conclusion
With pet insurance, you have one less thing to worry that furry noggin over. Basset hounds are prone to plenty of health issues that can rack up a hefty vet bill. So do yourself and your bank account a favor by getting Fido insured. It is one less financial bone to gnaw on.
Embrace and Healthy Paws offer top notch basset hound pet insurance to keep your pal protected.