This site is supported by our readers. We may earn a commission, at no cost to you, if you purchase through links.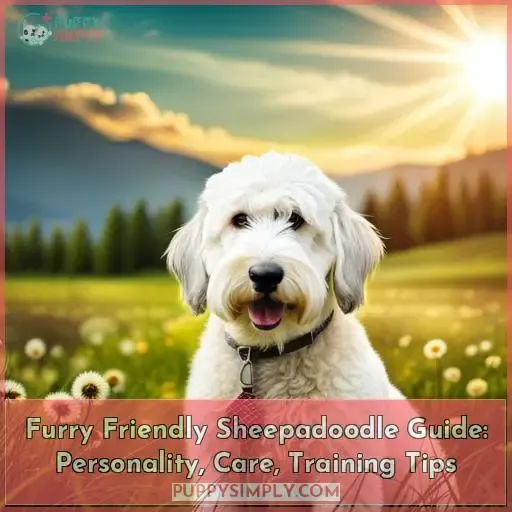 You're considering a Sheepadoodle and want the 101.
This furry teddy bear mix of Old English Sheepdog and Poodle wins hearts with his gentle, goofy personality. But don't be fooled by the st■ animal looks—this is a smart, energetic dog requiring daily exercise, training, and lots of grooming.
Get the Sheepadoodle lowdown on ideal living situations, health risks, costs, training tips, and fulfilling their needs so you can decide if this breed fits your lifestyle.
Key Takeaways
Intelligent and affectionate
High energy and loves to play
Gentle and even-tempered with children
Can get along with cats or dogs with early training and socialization
Sheepadoodle Overview
Let's take a closer look at the Sheepadoodle breed and explore some important aspects of their overview, including their appearance, temperament, living needs, care requirements, health considerations.
Understanding these key points will give you a better understanding of what it's like to own and care for a Sheepadoodle.
Dog Tricks Activities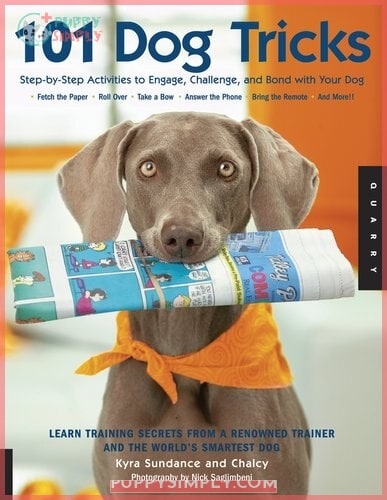 View On Chewy
You can deepen the bond with your Sheepadoodle and take their training up a notch by working through the 101 Dog Tricks book together. This comprehensive guide provides step-by-step instructions and photos for teaching your furry friend a wide range of advanced tricks.
Each trick has a difficulty rating, troubleshooting tips, and ideas for building on skills, making it the perfect resource to start your advanced training journey. The book allows you to spend quality time with your dog while challenging their mind and strengthening your relationship.
Comprehensive tricks guide
Strengthens dog-owner bond
Provides mental stimulation
Some tricks may be unsuitable
Differing training technique opinions
Can get repetitive for dog
Frisco Puffer Coat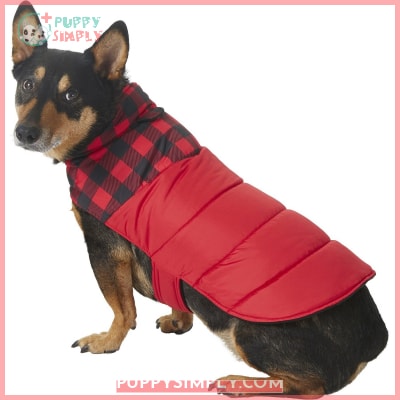 View On Chewy
For versatile fall and winter weather protection, consider the Frisco Puffer Coat which features a water-resistant exterior shell and cozy fleece lining for small breed dogs.
This lightweight insulated jacket has a trendy plaid look and velcro closures for easy on and off over harnesses. Designed for pets 20-29 lbs, it provides warmth without heaviness for comfort in the cold, rain, and wind.
Customers praise it as a well-made water-resistant coat that keeps pups snuggly in wet weather.
Water-resistant and insulated for warmth
Soft fleece lining for comfort
Machine washable for convenience
Velcro closures for easy on/off
Only for small breed dogs
Sizing may run small
Not for heavy chewers
Enhanced Double Door Dog Crate
View On Amazon
You'll want the Enhanced Double Door Dog Crate for your Sheepadoodle since it provides secure containment and a den-like space for intermediate-sized breeds. This crate, measuring 36L x 23W x 25H inches, is suitable for dogs weighing between 40 to70 pounds.
Its enhancements include slide-bolt door latches with patented Paw Block and locking tips, ensuring the safety of your pet.
The durable construction of this crate fulfills your Sheepadoodle's natural instinct to den while providing proper ventilation through its large door openings. It also features rounded corner clips for added safety and an easy-to-clean leak-proof plastic pan.
Secure containment with enhanced latch system
Den-like space satisfying natural instincts
Proper ventilation and low thresholds
May be too small or too big depending on specific dog size
Not suitable if weight exceeds limits suggest considering upgrading
Midwest Double Door ICrate Dog Crate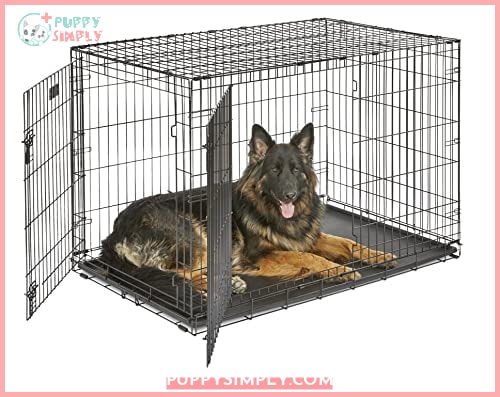 View On Amazon
The Midwest Double Door iCrate Dog Crate provides a spacious and secure den-like space for your extra-large furry friend. This durable crate measures 48 x 29.6 x 31.7 inches, suitable for dog breeds weighing 90 to 110 pounds.
Constructed with quality materials, it features slide-bolt latches with patented Paw Block and locking tips for enhanced security. The crate is easy to assemble, includes a divider panel and leak-proof pan, and folds flat for convenient travel.
This product from trusted manufacturer MidWest Homes for Pets prioritizes your pet's safety with proper ventilation, large door openings, and rounded corner clips.
Spacious interior for extra-large breeds
Durable and secure construction
Enhanced safety features like Paw Block
Easy to assemble and fold flat
Only for very large breeds
Price may be prohibitive for some owners
Less decorative than other crates
Furhaven Orthopedic Dog Bed
View On Amazon
Give your Sheepadoodle the comfortable orthopedic support they need with the Furhaven Orthopedic Dog Bed. This bed is designed with an orthopedic foam base to provide joint relief and align the spine for healthy posture.
The removable and washable cover allows you to keep their bed fresh and clean. L-shaped bolsters support the head, back, and hips, while the foam cradles joints for pain and pressure point relief.
Orthopedic foam provides joint support
Aligns spine and promotes healthy posture
Removable cover is machine washable
L-shaped bolsters support head, back, and hips
May not be chew proof
Requires fluffing to retain shape
Not waterproof
Sheepadoodle Size and Appearance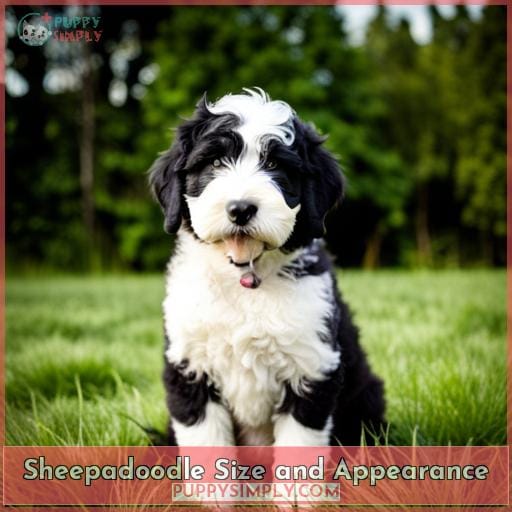 Your Sheepadoodle's size and appearance can vary quite a bit depending on the parents' sizes and coat types.
Height ranges from 16 to 22 inches at the shoulder
Weight typically between 60 to 80 lbs
Coat is a mix of poodle and Old English Sheepdog coats
Common coat colors are black and white, solid black, and gray
Grooming needs include frequent brushing and bathing every 8 to 12 weeks to maintain the coat
The Sheepadoodle's size, coat type, shedding amount, grooming frequency, and overall appearance depend heavily on the specific genetic mix resulting from the Poodle and Old English Sheepdog parents.
Sheepadoodle Temperament and Personality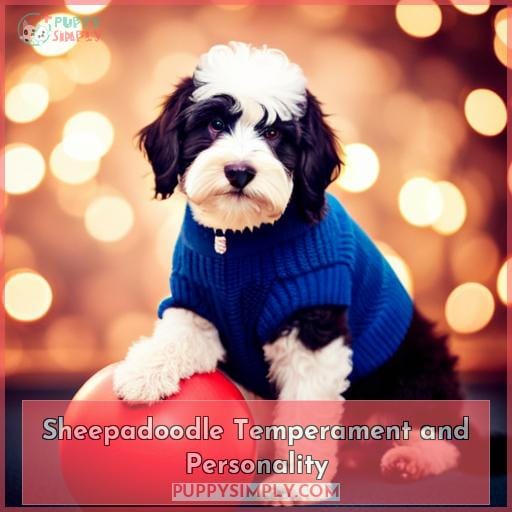 Get to know the lovable and lively personality of a Sheepadoodle.
Intelligent and affectionate, Sheepadoodles have a playful yet gentle temperament. Their affectionate nature makes them loyal and eager to please. These friendly dogs love spending time with their families.
With high intelligence inherited from their Poodle parent, Sheepadoodles are easy to train using positive reinforcement. Since they crave attention and interaction, they don't do well when left alone for long periods.
Sheepadoodles have an energetic spirit and love to play – especially outdoors. But they'll also happily snuggle up on the couch with you at the end of an active day.
Their loving personality and playfulness are part of what makes these hybrid dogs such excellent family companions.
Sheepadoodle Care and Grooming Needs
When it comes to caring for your Sheepadoodle's coat and keeping them looking their best, having the right grooming tools is essential.
Products like Best Bully Sticks 6 Inch natural dental chews and White on White Whitening Shampoo by Chris Christensen can help maintain your dog's dental and coat health between professional grooming appointments.
Keeping up with your Sheepadoodle's grooming needs will ensure they stay happy, healthy, and handsome.
Best Bully Sticks 6 Inch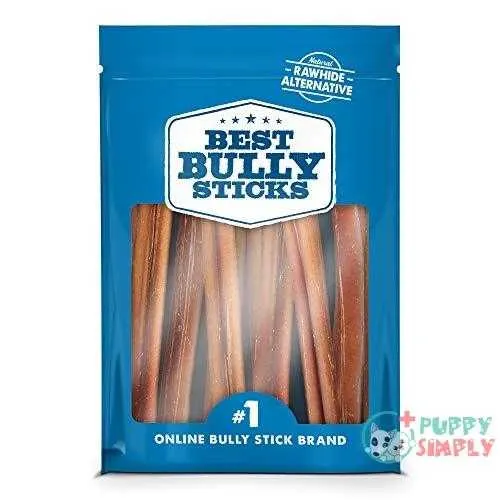 View On Amazon
Pick up this 100% natural, single-ingredient beef chew as an excellent boredom-busting treat that also promotes dental health for your Sheepadoodle.
The Best Bully Sticks 6 Inch is made of 100% beef with no artificial ingredients added. This durable chew scrapes away tartar and plaque while keeping your pup occupied for hours. Ideal for medium to large dogs, it provides a safe chewing alternative to rawhide.
This treat features an alluring natural scent and entices light chewers. As your Sheepadoodle enjoys this long-lasting boredom buster, rest assured it supports their dental hygiene in a natural, healthy way.
100% natural and single ingredient
Promotes dental health
Keeps dogs occupied for hours
Safer alternative to rawhide
Appealing natural scent
Can get messy
Needs supervision
Not suitable for aggressive chewers
White on White Whitening Shampoo
View On Amazon
Refresh your Sheepadoodle's coat and remove stains with Chris Christensen's White on White Whitening Shampoo, an optic intensifying treatment shampoo that neutralizes unwanted discoloration without harsh chemicals.
This shampoo is safe for all coat colors and doesn't contain any bleaching agents, harsh chemicals, or softening agents. It neutralizes unwanted stains that regular cleansing can't remove and lasts up to 4 weeks.
Removes yellow stains and brings a lustrous sheen to darker coat colors.
Safe for all coat colors.
Doesn't contain any bleaching agents, harsh chemicals, or softening agents.
May be too expensive for some pet owners.
May not be available at all pet stores.
May not be effective on all types of stains.
Sheepadoodle Health and Concerns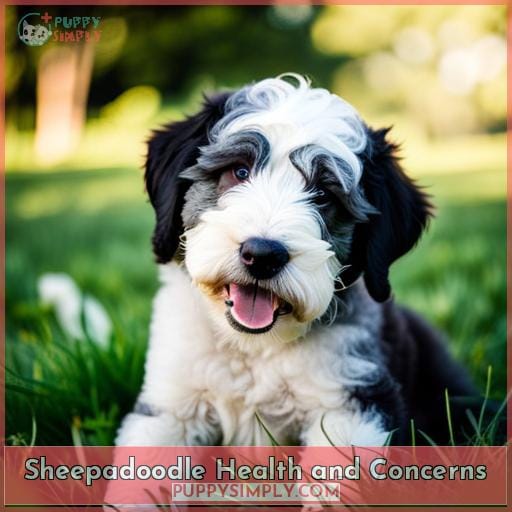 With proper care, Sheepadoodles are generally healthy dogs, but there are some health concerns to be aware of.
Bloat
Hip dysplasia
Sebaceous adenitis
Skin disorders
Addison's disease
Bloat is a life-threatening condition that can occur when the stomach fills with gas and twists, cutting off blood flow to the stomach.
Hip dysplasia is a genetic condition that causes the hip joints to become loose and painful.
Sebaceous adenitis is a skin condition that causes inflammation of the sebaceous glands.
Skin disorders can range from minor irritations to more serious conditions like allergies or infections.
Addison's disease is a hormonal disorder that affects the adrenal glands.
By being aware of these health concerns, you can help your Sheepadoodle live a long and healthy life.
Sheepadoodle Training and Behavior
Sheepadoodles are intelligent and eager to please, making them easy to train.
Positive reinforcement and treats are great ways to motivate your Sheepadoodle, and crate training can help with separation anxiety.
Regular brushing and bathing are essential for maintaining your Sheepadoodle's coat, and dental care is important for preventing plaque and tartar buildup.
Greenies Dog Dental Chews
View On Amazon
Greenies Dog Dental Chews can help keep your Sheepadoodle's teeth clean and healthy, which can improve their overall health and well-being. These chews are made with natural ingredients and are veterinarian recommended, so you can feel good about giving them to your furry friend.
Help remove plaque and tartar
Freshen bad breath
Help prevent gum disease
Made with natural ingredients
VOHC accepted
Can be expensive
Some dogs may not like the taste
May cause stomach upset
Enzadent Toothpaste Kit
View On Amazon
Enzadent Toothpaste Kit is a great way to keep your Sheepadoodle's teeth clean and healthy. This kit includes a finger brush and poultry-flavored toothpaste that's safe to swallow without rinsing.
The non-foaming toothpaste effectively removes food debris and plaque, while the triple enzyme formula tackles harmful bacterial growth and bad breath. With this kit, daily brushing becomes a breeze, promoting better dental hygiene for your cat or dog.
Safe to swallow without rinsing
Non-foaming toothpaste for food debris and plaque removal
Triple enzyme formula for effective cleaning
Daily brushing enhances dental health and hygiene
May not be suitable for all dogs
May cause stomach upset in some dogs
May be difficult to apply to some dogs
Sheepadoodle Exercise Needs and Playtime
Sheepadoodles are a high-energy breed that need plenty of exercise to stay healthy and happy.
A daily walk or run is a must, and they also enjoy playing fetch and other interactive games.
Some fun toys for Sheepadoodles include the Chuckit Fetch Wheel Large and the Nerf Dog Megaton Disc Toy.
Chuckit Fetch Wheel Large
View On Amazon
For active Sheepadoodles, the Chuckit Fetch Wheel Large is a fun and versatile toy that will provide hours of exercise and playtime.
The wheel bounces, flies, and rolls, making it a challenging and exciting toy for your furry friend to chase.
It's also lightweight and buoyant, making it a great option for poolside or lakeside fun.
The Chuckit Fetch Wheel Large is made of durable canvas-style nylon, so you can be sure it will withstand your dog's chewing and tossing.
Versatile toy that can be bounced, flown, and rolled
Lightweight and buoyant for poolside and lakeside fun
Made of durable canvas-style nylon
Open center for easy pick-up by pets
May be too small for large Sheepadoodles
Can be difficult to clean
May not be suitable for dogs with chewing problems
Nerf Dog Megaton Disc Toy
View On Amazon
Get ready to engage in exciting playtime with your Sheepadoodle using the Nerf Dog Megaton Disc Toy! This durable disc toy is perfect for fetch and teaching your dog new tricks.
It's made with NERF-TOUGH materials that are built to withstand rough play, and it floats so your dog can play fetch in the pool or lake.
The bright blue/green color makes it easy for your dog to track, and it's dishwasher safe for easy cleanup.
Durable construction withstands rough play
Floats for water play
Bright blue/green color for easy tracking
Dishwasher safe for easy cleanup
May be too small for large dogs
Not suitable for aggressive chewers
Sheepadoodle Children and Other Pets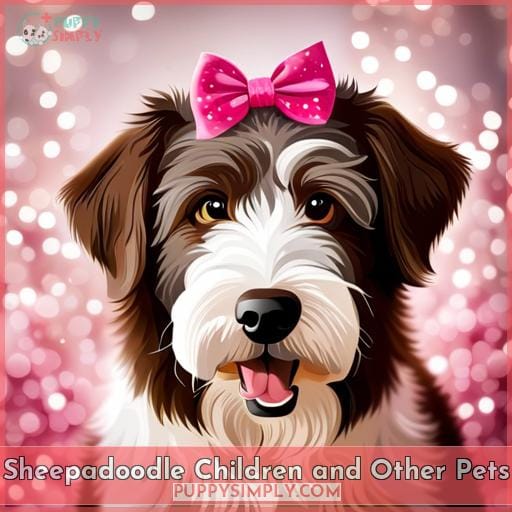 Your Sheepadoodle's herding instinct may lead to playful nipping at children's heels, but they're gentle and even-tempered with kids overall. Teach children how to handle dogs properly and respect your Sheepadoodle's space.
Your Sheepadoodle will get along with cats or dogs through early training and socialization.
Sheepadoodle History and Origins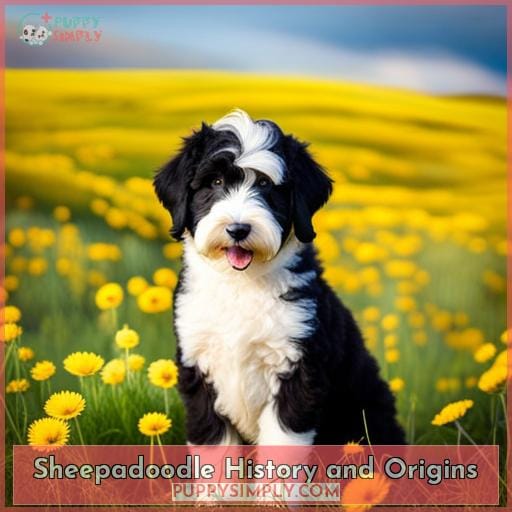 Sheepadoodles gained popularity in the 1980s, often tolerated well among allergy sufferers.
They're a designer breed, a cross between a Poodle and an Old English Sheepdog.
The price of a Sheepadoodle puppy ranges from $2,500 to $5,000.
Sheepadoodle Ownership Considerations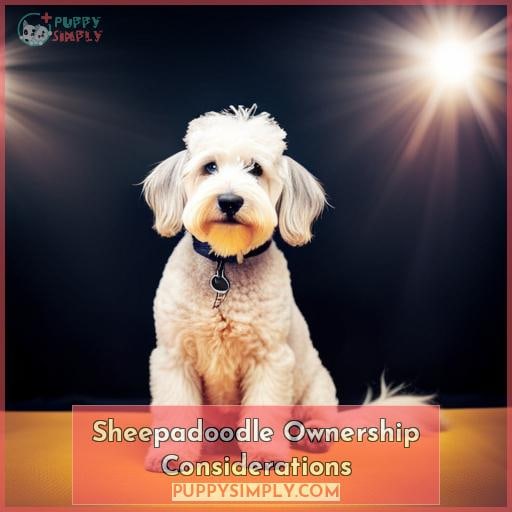 Before bringing a Sheepadoodle into your home, it's important to consider:
The costs of ownership
Grooming requirements
Training challenges
These factors can vary depending on the individual dog, so it's important to do your research and make sure you're prepared for the commitment.
Costs of Ownership
Bringing home a Sheepadoodle comes with a price tag, but the overall cost of ownership is comparable to other large breeds.
The average cost of a Sheepadoodle puppy is $3,000-$4,000.
Potential savings can be found through adoption.
Reputable breeders will health screen their dogs to avoid costly vet bills down the road.
Yearly vet costs can range from $1,000-$2,000, and grooming costs can range from $50-$100 per month.
Grooming Requirements
Regular grooming is an important part of owning a Sheepadoodle. This includes:
Coat care
Brushing
Shedding
Bathing
Ear cleaning
By following these grooming tips, you can help keep your Sheepadoodle looking and feeling its best.
Training Challenges
After grooming your Sheepadoodle, you'll need to train them to behave properly. This includes:
Crate training to help with separation anxiety
Positive reinforcement and treats to discourage nipping
Early socialization with other pets to prevent herding behavior
Frequently Asked Questions (FAQs)
What are the pros and cons of owning a Sheepadoodle?
Owning a Sheepadoodle can bring joy and companionship.
They're intelligent, playful, and adaptable dogs that get along well with children and other pets.
However, they require regular grooming maintenance and have high exercise needs.
What is the difference between a Sheepadoodle and a Bernedoodle?
The Sheepadoodle and the Bernedoodle are like two sides of a coin.
While both have similar qualities, the Sheepadoodle leans more towards playfulness and energy, while the Bernedoodle exudes a calm and gentle demeanor.
How much does a Sheepadoodle cost?
Sheepadoodles cost between $3,000 and $4,000 from reputable breeders.
You can find Sheepadoodles for sale from rescues and shelters, but the price will vary depending on the location and the dog's age, health, and temperament.
Where can I find a Sheepadoodle breeder?
You can find a Sheepadoodle breeder by:
Doing a Google search
Asking your veterinarian for a referral
Checking out breed-specific Sheepadoodle rescue organizations
What are the best ways to train a Sheepadoodle?
To train a Sheepadoodle, you'll need to be:
Patient
Consistent
Use positive reinforcement
Start by teaching your dog basic commands like:
You can also teach your dog more advanced tricks like:
Be sure to reward your dog with treats and praise when they follow your commands.
Conclusion
If you're looking for a furry friend who's gentle, goofy, and smart, the Sheepadoodle may be the perfect breed for you. But be sure to do your research and make sure this breed is a good fit for your lifestyle before bringing one home.