This site is supported by our readers. We may earn a commission, at no cost to you, if you purchase through links.
Are you looking for a unique and beautiful pet? Merle Poodles could be the perfect companion for you! This breed of dog is known for its distinctive coat pattern, which combines patches, dots, spots, and dashes in one.
However, it's not an entirely natural occurrence as the Merle gene has been introduced into the Poodle gene pool by another breed of dog.
The American Kennel Club (AKC) does not recognize this variation as part of their standard poodle classification. Still, it can still be registered with them under other colors such as black & silver or brown & tan.
Key Takeaways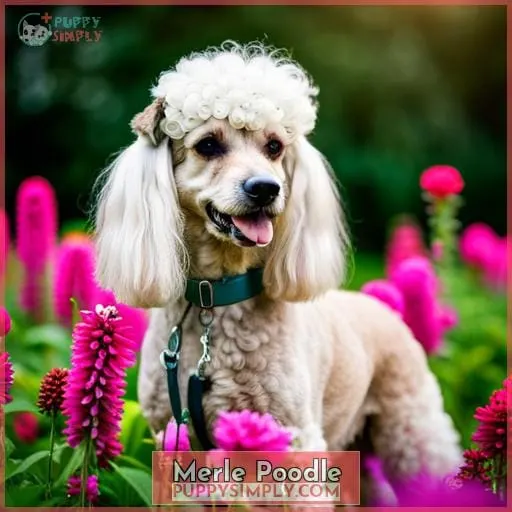 Breeding Merle Poodles comes with potential health risks, including birth defects, so responsible breeding practices and genetic testing are necessary.
Merle Poodles are not recognized by the AKC in breed standards, and breeding two Merle parents together should always be avoided.
Proper care and maintenance are important for Merle Poodles, which can be expensive to breed and own due to potential health problems.
Genetic testing is crucial for buyers to make informed decisions before purchasing a Merle Poodle, and the focus should be on producing healthier, better-tempered Poodles rather than causing drama over color genetics alone
Merle Poodles: a Unique Coat Pattern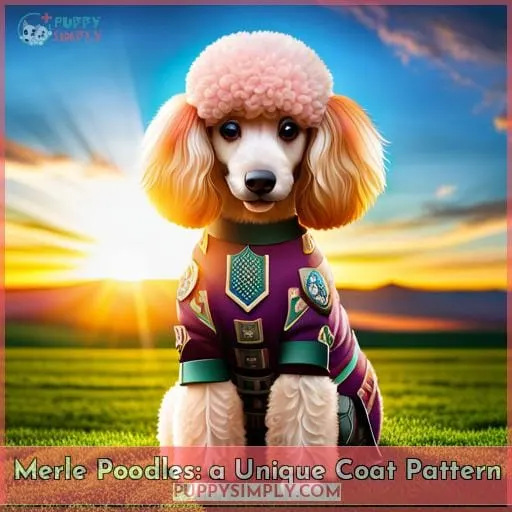 You may have seen a beautiful, unique poodle with patches, dots, and dashes of color – like an artist's canvas come to life – but you should be aware that it carries a gene that can cause serious health issues for the pup.
Merle Poodles are not accepted by the AKC in their breed standards. However, they do exist within the poodle gene pool through breeding with other breeds such as Great Danes or Australian Shepherds. Responsible breeding practices must be undertaken when working with merle-coated dogs due to their potential genetic problems.
For those who wish to own this coat type of dog, there are many benefits, including its uniqueness and beauty, as well as proper care and maintenance, including regular grooming and bathing, along with genetic testing prior to any mating process.
Additionally, double merles should never be bred together as two copies of this gene can cause birth defects such as blindness or deafness in puppies if both parents carry it.
Having said all that, though, ultimately focus should always remain on producing healthier, better-tempered Poodles rather than creating drama over something which is merely cosmetic like color genetics!
Understanding the Merle Gene in Poodles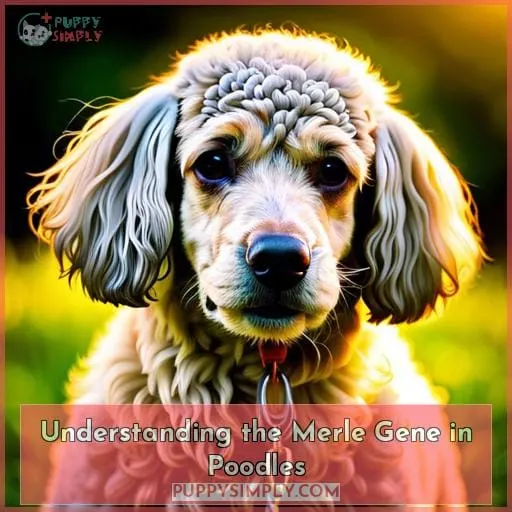 So, you've seen the beautiful merle poodle with its unique and eye-catching coat pattern.
Merle genetics are an incomplete dominant gene found in some breeds, including the poodle. It is thought to have been introduced through breeding with other species like Great Danes or Australian Shepherds, or even naturally mutating within the breed itself.
While it may not be recognized by AKC standards for purebred Poodles, responsible owners must understand all aspects of this mutation before attempting any kind of breeding process.
When considering merging two Merles together, there are risks involved as double merles can lead to blindness and deafness in puppies if both parents carry this gene. Therefore, genetic testing should always be undertaken prior to mating them together.
As well as knowing about these potential issues, recognition of true long hair Merle Poodles should also take into account proper care and maintenance, such as regular grooming.
Merle Poodles Are Not a Natural Occurrence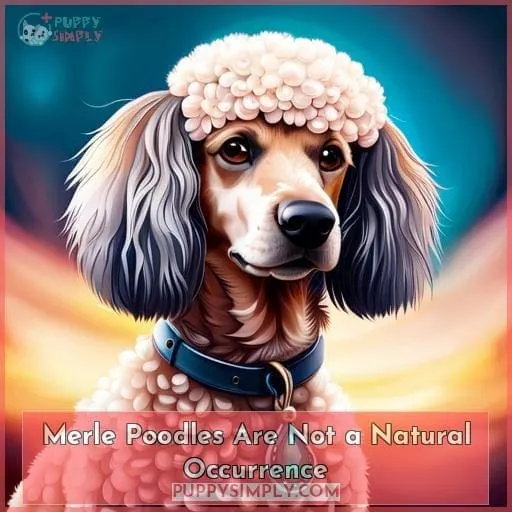 Though beautiful and unique, the merle gene in Poodles is not a natural occurrence but one that has been introduced through another species. The tell-tale sign of a merle dog is its patchy coat colors, such as patches, dots, spots, or dashes.
This dose of genetic mutation comes at a cost: Merles can be expensive to breed and own due to potential health problems, along with controversy surrounding their purebred status.
Here are three important points regarding this genealogy:
Breeding two Merle parents together should always be avoided due to the risk of birth defects like blindness or deafness.
Genetic testing must also be done when breeding because other color genes may cover up the Merle gene.
Maintaining healthy standards for Poodles should remain a focus rather than creating drama over color genetics alone!
Taking all these factors into consideration, plus the high costs associated with owning them, makes it clear why many people oppose having these dogs around—even if they possess undeniable good looks!
AKC Does Not Recognize Merle Poodles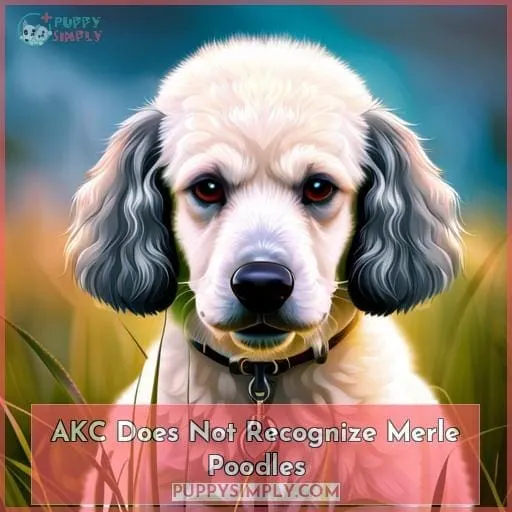 Unfortunately, the American Kennel Club (AKC) does not recognize Merle Poodles in the poodle category, leaving owners of these beautiful dogs with little protection or appreciation for their unique traits.
While Merle genetics may have been introduced to Poodles through breeding with Great Danes or other breeds, it remains controversial among poodle breeders and AKC registered breeders alike due to concerns about maintaining purebred status and potential health risks.
DNA testing is necessary when breeding merles as other color genes can cover up the gene responsible for this patchy coat pattern. Additionally, double merles born from two parents carrying the gene are at high risk for birth defects such as blindness and deafness.
Despite these challenges, some AKC breeders continue to register Merle Poodles under alternate colors like Black & Silver or Brown and Tan while others focus on healthier standards rather than causing drama over color genetics alone
Genetic Testing for Merle Poodles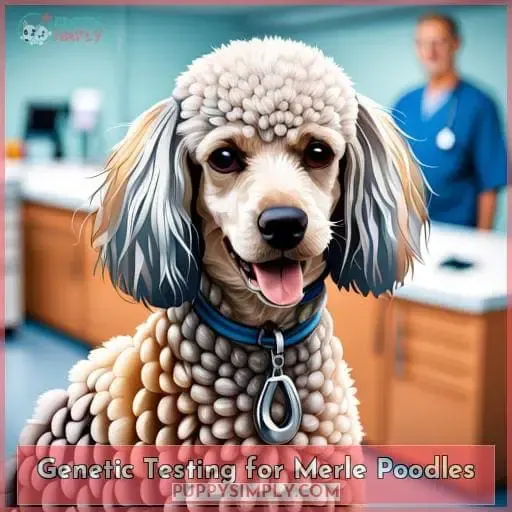 You may be wondering why genetic testing is needed for Merle Poodles. After all, isn't it obvious when the dog has a multicolored coat? The answer is no. While two-tone coats are common, some dogs carry the copy of the merle gene without showing any visible signs.
Furthermore, double merles born from two parents carrying this gene are at high risk for birth defects such as blindness and deafness. Therefore, careful breeding practices must be followed to ensure healthy litters with acceptable traits like long hair genes or other color genes that cover up and regulate expression of the Merle inheritance pattern in poodles.
This helps preserve their purebred status while making sure they remain safe from health issues associated with this unique coloring trait.
Health Risks Associated With Breeding Merle Poodles

Sadly, breeding Merle Poodles comes with its own set of health risks that could impact the puppies. The merle gene is an incomplete dominant gene and can cause serious side effects if both parents carry it.
Inbreeding concerns may arise when using a grandparent of another breed or a double merle dog, which increases the chance for birth defects such as blindness and deafness in offspring.
AKC regulations do not accept these pups in their poodle category due to this factor; however, phantom merles can be registered by breeders even though they are difficult to detect without genetic testing.
Blind breeding should be avoided at all costs since this puts puppies at risk for inheriting multiple copies of genes associated with adverse conditions like eye problems or learning disabilities from their parents' lines.
With proper care and responsible breeding practices, future generations will benefit from healthy Merle Poodle litters!
The Cost of Merle Poodles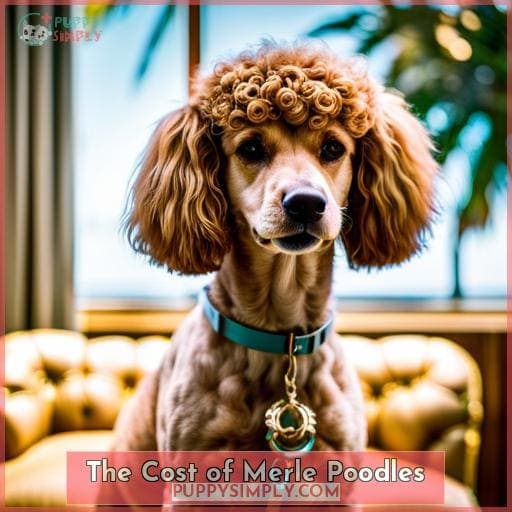 Owning a Merle Poodle can be quite pricey, with some litters costing up to an eye-popping $15,000! This is due to the unique genetics of these dogs and their complex coat colors.
A white base with patches of black skin leads to a variety of dots, spots, and dashes across the coat. Merles may also have blue eyes or multi-colored eyes due to their genes. While this breed has long been accepted by some as its own distinct type, in recent years it is not officially recognized by AKC in the poodle category, which adds another layer of difficulty for potential owners looking for purebreds within budget constraints.
The health risks associated with breeding merle poodles should also be considered before investing in one, as they are accompanied by many issues such as blindness and deafness if both parents carry the incomplete dominant gene responsible for producing this coloration pattern.
This makes them more expensive than other breeds when it comes time for vet visits or genetic testing prior to breeding activity taking place between two merle dogs.
It's important that those considering owning any type of dog understand all aspects involved, including cost, care requirements, possible problems down the road, etc.
Controversies Surrounding Merle Poodle Breeding and Ownership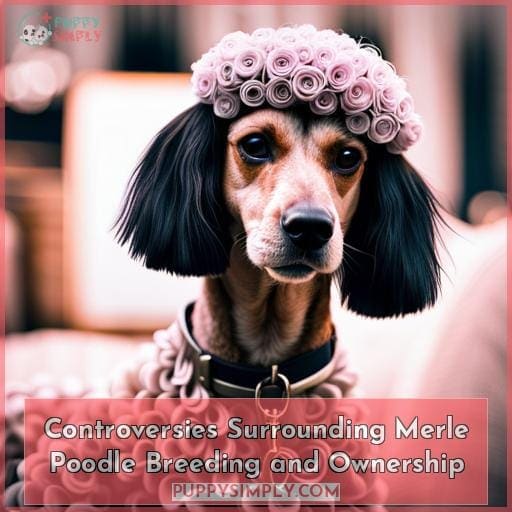 Due to the health risks associated with breeding Merle Poodles and concerns about maintaining their purebred status, there are a number of controversies surrounding this breed's ownership.
Breeders have a responsibility to ensure that any puppies they produce meet the breed standard, as defined by the AKC. This includes ensuring that no Phantom Merles or Double Merles exist in their gene pool due to these mutations having potential for serious health issues if passed on.
Furthermore, some believe it is unethical for breeders not to disclose information regarding genetic testing prior to purchasing a merle poodle puppy in order for buyers to know what they are getting into when bringing home such an expensive pet.
Although it has been suggested that certain color genes can mask the presence of the merle gene mutation, which could mean intentional mislabeling within litters – making testing essential – many argue against its necessity since all colors come from a copy of 'the curl' gene contained within each individual dog's DNA makeup and most facial furnishings should be black regardless of whether or not one carries merling traits.
The debate continues over whether this issue will ever receive recognition from AKC; however, until then, those considering owning this beautiful animal must research extensively before deciding if it is the right fit for them and their lifestyle
Other Breeds With Merle Coat Pattern

Aside from Poodles, there are many other breeds that have the merle coat pattern. Like a patchwork quilt, each breed has its own unique design. Merle Australian Shepherds and Bernedoodles have striking black patches on white backgrounds.
Chihuahuas and Corgis can also be seen sporting spots of various colors in different sizes across their coats. English Bulldogs may feature cryptic merles while French Bulldogs flaunt browns and tans in distinct shapes throughout theirs – an eye-catching sight! Mastiffs too come with various shades of gray marbled over them, as do Pit Bulls whose blueish hues create a mesmerizing look.
Recognizing Purebred Poodles: Eye Color in Poodles

Recognizing purebred poodles can be tricky, but one way to tell is through their eye color. Poodles can have black, blue, brown, amber, or green eyes. Poodle breeding standards are very exacting, with a variety of coat colors including patches, dots, spots, and dashes.
All true Poodles have thick fur coats due to a particular gene known as the curly gene.
The Merle inheritance of this breed has been contested over fears about maintaining its purity while protecting the well-being of these pooches. However, genetic testing reveals that other coloring genes may mask the merle pattern in dogs like Chihuahuas or Corgis.
Therefore, it is important for those looking into adopting a posh poodle to research beforehand.
Eye color genetics also play an important role in identifying purebreds. Black & tan, brown & tan, or even rarer shades such as green or amber eyes usually signify they belong within this line if combined with appropriate skin tones on the body too.
As responsible pet owners, we must ensure proper ethics when breeding our beloved pets.
Frequently Asked Questions (FAQs)
Are merle poodles a recognized breed by the AKC?
No, the AKC does not recognize merle Poodles as an official breed. They are registered and bred true to type, but their unique coat colors do not meet the standards set by the American Kennel Club
Are there any other breeds that carry the merle gene?
Yes, there are other breeds that carry the merle gene, including Australian Shepherds, Bernedoodles, Chihuahuas, Corgis, and English Bulldogs, among others. Double merles have two Merle parents and are at risk for birth defects such as deafness or blindness.
How can I tell if a poodle is a purebred?
To determine if a poodle is purebred, look for certain characteristics such as color and size. Ask the breeder to provide documentation of their lineage, and check with an AKC-approved registry to verify registration information.
Inquire about any health tests that have been done on the dog's parents or grandparents.
What is the cost of owning a merle poodle?
Owning a merle poodle can be expensive, costing up to $15, The AKC does not accept this breed in the poodle category, and breeding carries risks due to the Merle gene.
Is breeding two merle parents together discouraged?
Breeding two merle parents together is strongly discouraged due to the risk of health issues and birth defects in puppies. The Merle gene can be difficult to identify and poses a potential danger if both parents carry it.
Conclusion
In conclusion, Merle Poodles are a unique coat pattern, but they are not natural and are not accepted by the AKC. They come with a high cost and carry the risk of health problems if not bred properly. Breeding Merle Poodles can be controversial, but breeders should focus on healthy and well-tempered Poodles instead of creating drama over a color gene.
Other breeds, such as Australian Shepherds, Bernedoodles, Chihuahuas, Corgis, and more, may also have Merle coat patterns. Recognizing purebred Poodles is also important, and eye color should be taken into consideration.
All in all, Merle Poodles are certainly a unique and interesting breed