This site is supported by our readers. We may earn a commission, at no cost to you, if you purchase through links.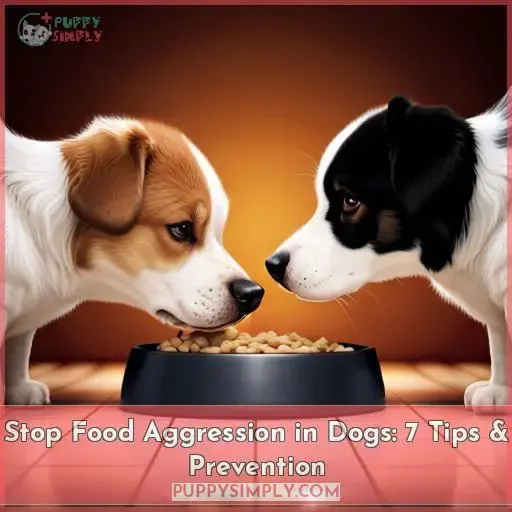 Do you have a pup who seems to become Cujo when someone reaches for their food bowl? Food aggression is an issue that can arise in any breed of dog, but it's important to take action quickly before the situation escalates.
Unfortunately, this type of behavior isn't always easy to spot and can be dangerous if ignored. But don't worry – there are ways you can stop your dog's food aggression and prevent it from happening again.
In this article, we'll share 7 tips on how to deal with food aggression in dogs so your beloved pet remains safe while eating peacefully alongside the family!
Key Takeaways
Resource guarding is common in certain breeds like Rottweilers and German Shepherds, but any dog can show food aggression.
Signs of food aggression include growling, teeth baring, snapping, lunging, and lip licking when approaching food.
Solutions involve trust building through hand-feeding, adding treats to the bowl, and touching the bowl briefly while speaking calmly throughout.
Stages of addressing food aggression include getting used to presence, adding treats, standing close while talking, hand-feeding, and touching the bowl.
What is Food Aggression in Dogs?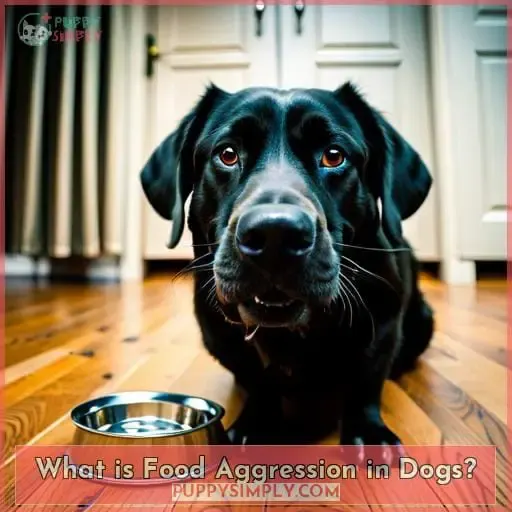 You're not alone – 20% of dogs have the instinct to aggressively guard their food, and it can be difficult to break this unwanted behavior. Resource guarding is often seen in breeds like Rottweilers and German Shepherds, but any dog can show signs of aggression over food.
Growling or teeth baring are milder forms, while snapping or lunging could signal a more serious issue. The best solutions involve trust building and desensitization techniques. For example, hand feeding your pup, creating safe eating spaces where they feel secure, dropping treats into their bowl during mealtimes, and lifting the bowl briefly for them to check if anything has been taken away from them before returning it back with no consequence.
All these methods help build trust between you and your pet so that when touching the food bowl becomes necessary, there will be little resistance shown by them.
If needed, don't hesitate to ask for professional advice from a vet or trainer on how exactly you should go about tackling this problem safely without jeopardizing either party's safety. Always separate mealtimes too! With patience, along with consistent effort put in place every day, you'll soon start seeing progress being made towards eliminating aggressive tendencies around mealtime altogether.
Spotting the Signs of Food Aggression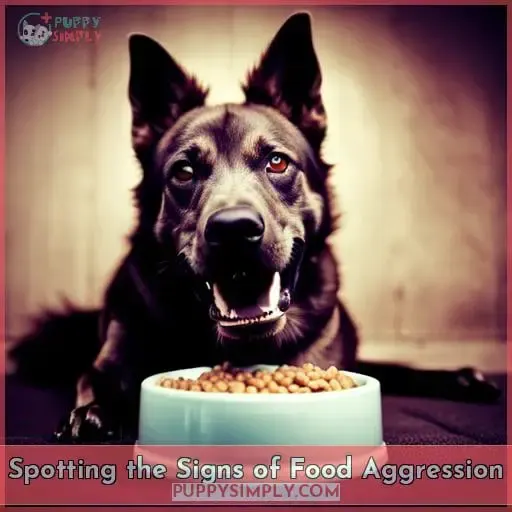 Observing your pup's behavior around food is key to spotting the signs of food aggression. Mild forms include growling and teeth baring, while moderate levels involve snapping or lunging.
It's important to remember that 20% of dogs have this instinctive guarding behavior, so it's essential to start socializing them at an early age through reward-based training sessions and trust-building exercises like hand-feeding treats or lifting their bowl briefly.
Be aware too that certain breeds are more prone due to natural traits, such as Rottweilers and German Shepherds, but any dog can show these aggressive tendencies if they haven't been well cared for before adoption into a home environment with you as their new pack leader!
Keep an eye out for body language cues like lip licking when approaching the bowl, which may indicate uneasiness. Then respond by talking calmly until your pup relaxes again – only then should you proceed further with other trust-building techniques mentioned above.
With patience, consistency, and understanding from both sides, there's no reason why food aggression cannot be managed successfully over time.
7 Tips to Stop Your Dog's Food Aggression

If you're looking for ways to stop your dog's food aggression, there are several steps that may help. First, talk to your pet gently while they eat – this reinforces their trust in you and calms them down.
Gradually get closer as they eat too; start by standing nearby, then move over next to the bowl so it becomes a normal part of the routine. Additionally, hand-feed treats during mealtime and touch their bowl occasionally – these can all help build up positive associations with eating around humans.
Talk to Your Dog While They Eat
Talk to your pup as you approach their bowl – make it a pleasant experience by praising them when they stay calm. Positive reinforcement is key for reducing stress and helping socialize puppies. Reward good behavior with treats or verbal praise, but avoid scolding any aggressive reactions.
Stay in the room with them and talk to them casually during mealtime too. This will allow your pet to become more comfortable around people near food sources naturally over time.
Gradually Get Closer to Your Dog While They Eat
Get closer to your pup while they chow down – but take it slow. Positive reinforcement is key, so start with an enjoyable mealtime routine and reward system. Desensitize them to any human presence near their food dish by slowly getting closer each time you feed until the growling stops.
Practice with treats as well; remove food from the bowl and then return it once they've calmed down before standing near them during meals.
Get Next to Your Dog's Bowl as They Eat
Position yourself next to your pup's bowl as they eat and gradually move closer over time. Positive reinforcement is key, while creating a safe environment for both you and your dog. Breed differences should be taken into account when it comes to behavioral modification – some may take longer than others due to genetic predispositions towards food aggression.
Try calming techniques like hand-feeding or giving treats near the mealtime area, but also make sure other people can feed them too in separate bowls with supervision in a gated area if needed.
Hand Feed Your Dog Treats as They Eat
As you sit next to your dog's bowl, offer them treats from your hand while they eat. This helps build up positive reinforcement with body language and breed differences. Environmental factors like resource guarding can also be addressed by hand feeding the dog treats as it eats.
Signs of food aggression include growling, teeth baring, snapping, or lunging. If these occur, stop immediately and consult a vet or trainer for further advice. Hand feeding is an important tool for families looking to eliminate food aggression in their dogs.
Conversation among family members should always remain calm around meals! It can help create trust between humans and dogs when done properly with the right amount of positive reinforcement.
Touch Your Dog's Bowl During Mealtimes
Gently touch your pup's bowl as they eat to help them become comfortable with you near their food. This will have a range of bonding benefits, such as reducing fear and calming the pup. Positive reinforcement through treat exchange, or simply speaking softly and reassuringly while touching the bowl, can also bring about positive results for how to stop food aggression.
Here are three key steps:
Offer treats while touching or lifting up the bowl briefly.
Drop treats inside when running by.
Speak calmly throughout this process.
By gently introducing yourself during mealtime, it'll create a more secure relationship between you and your pet! Through patience and practice, these small changes can lead to big improvements in reducing aggressive behavior around food sources – giving both of you peace of mind!
How to Stop Your Dog's Food Aggression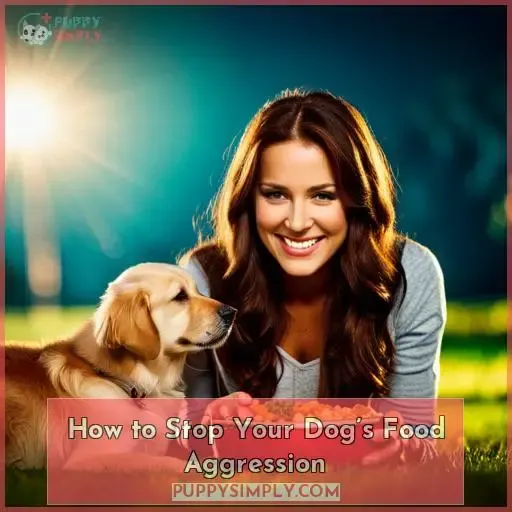 Are you tired of dealing with your dog's food aggression? It can be a challenging problem to solve, but using these five stages may help.
First, get them used to your presence when they eat by standing near the bowl and talking softly.
As they become more comfortable with this process, start standing closer and talking while they eat.
Finally, touch their bowl while eating–but don't take any food away from them! With practice and patience, you should see progress in reducing their aggressive behavior towards food over time.
Stage One: Get Your Dog Used to Your Presence When Eating
Build a trusting relationship with your pup by getting them used to having you near while they eat. Socialize the mealtime routine and know their fear triggers; certain breeds tend to be more aggressive than others.
Consistency in training is key, so stay in the room when eating starts, talk calmly, and stand nearby at first – no sudden movements or loud noises! Gradually move closer, but don't rush it. If aggression shows, back off, then start again. Reward small successes until comfortable being petted while chowing down! Positive reinforcement will help build trust between you both for a happy home life without food aggression worries.
Stage Two: Add a Tasty Treat, Then Step Back
Once your dog is comfortable with you being around while they eat, start adding some tasty treats to the equation and take a step back. This will help them understand that food rewards come from having humans nearby and can be associated positively.
Begin by hand-feeding or using clicker training techniques for desensitization and counterconditioning, then move on to dropping treats in their bowl when safe eating has been established.
Training steps should always be taken slowly. If aggression occurs at any point during this process, stop immediately, yet still reward positive behavior with praise or extra treats.
Stage Three: Stand Close, and Talk to Your Dog
Now it's time to take a big step and stand near your pup while they eat, talking calmly in reassuring tones. Avoid punishment; instead, use positive reinforcement like calming techniques or treats for good behavior.
Take note of breed differences and subtle body language cues that can indicate aggression.
Keep practicing with patience and consistency, rewarding progress little by little until food aggression is eliminated. Give rewards when appropriate. Monitor closely for signs of stress. Maintain calm energy at all times.
Don't forget to enjoy the process – this is an opportunity to build a strong bond with your beloved dog!
Stage Four: Try Hand Feeding
Try giving your pup treats by hand to build trust and create a bond that will last forever, like sweet poetry. Positive reinforcement is key; reward good behavior with praises and treats when they show appropriate body language while eating.
Food puzzles are also great for mental stimulation. Many breeds have different needs, so consult breed-specific advice if you're not sure what's best for yours! Remember to feed indoors as outdoor feeding can increase aggression levels due to environmental triggers like other animals or people passing by.
Stage Five: Touch Their Bowl, but Do Not Take Food From It
Gently touch your dog's bowl while they are eating to get them used to the idea of humans being near their food. This is part of desensitization techniques, which help create safe spaces and reduce resource guarding behaviors.
Touch reinforcement can be a powerful tool in stopping food aggression – for some breeds, genetics may play a role too! Move slowly so as not to trigger any aggressive behavior from your pup, rewarding with treats when appropriate.
Building trust through regular contact will benefit both you and your pet long-term, reducing the risk that this issue persists into adulthood.
6 Tips for Preventing Food Aggression in Dogs Include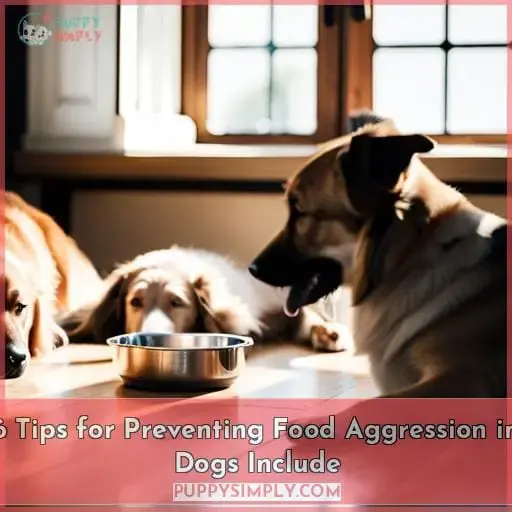 Food aggression in dogs is an unwanted, yet common behavior that can be dangerous if a dog bites someone. To prevent food aggression in your pup, it's important to stay in the same room while they eat and stand near them, talking calmly.
You should also practice with treats and consider hand-feeding for a while, as well as touching their bowl without disturbing it when they're eating.
Stay in the Same Room While Your Dog Eats
Stay close while your pup chows down, like a bodyguard ensuring their meal remains secure. Establishing boundaries and providing a safe space is key in reward-based desensitization training to prevent food aggression.
Move slowly and reward them often for good behavior to encourage stress reduction when you're around the bowl.
Stay consistent with routine so they know what will happen each time and gradually increase distance as relaxed responses increase. This helps create positive associations with humans being near their food! Keep sessions short but sweet, rewarding successes along the way until you can successfully leave them alone during meals without worry or fear of aggression.
Stand Near Your Dog and Talk to Her While She's Eating
As your pup indulges, stand close by and offer soothing words; this helps build trust while also addressing any dominance tendencies that may exist.
Socializing your dog through obedience training, positive reinforcement, and reduced stress levels is a great way to prevent food aggression from occurring in the first place.
Speaking softly keeps safety precautions at the top of mind too – if their aggression increases too much, it can quickly become dangerous for you or those around them.
If done regularly over time, it will become second nature for both you and your pet as they start to understand that there's nothing to worry about when someone stands near them eating.
No matter how small the progress is – be sure to always reward with praise!
Try Practicing With Treats
Try giving your pup treats while they eat; this will desensitize them to having people nearby when meals are served. It's important to remember that patience is needed and the process may take time.
Here are five steps you can follow:
Start with small, safe treats away from their food bowl.
Move a little closer and drop more treats near it each day.
Progressively move closer until they're comfortable with being around the bowl while eating.
Repeat once or twice daily so your dog builds trust in food situations.
Genetics also play a role, spay/neuter for best results.
With consistent practice, you can help build positive associations between humans and mealtime!
Consider Hand-feeding for a While
Hand-feeding your pup can be a great way to build trust and reduce the chances of food aggression. Consider it as an alternative method, but for a limited duration only. Food rewards should also be given during this process in order to desensitize your pup slowly while creating a safe environment for them.
Touch the Dog's Bowl Without Moving It While She Eats
Gently touch your dog's bowl while she eats – studies show that this helps build trust between you and your pup, with up to 20% of dogs exhibiting food aggression. This desensitization technique is an important part of socializing training for any breed, from those prone to guarding like Rottweilers and German Shepherds, or not.
Having humans present during meals can help prevent resource guarding in the long run through reward-based tactics such as providing treats for good behavior near a food source.
Create positive associations by rewarding calmness and encouraging friendly interactions.
Frequently Asked Questions (FAQs)
What other breeds are prone to food aggression?
Dive into the deep end – other breeds prone to food aggression include Rottweilers, German Shepherds, and some hound breeds. Be aware of behavior around meal times; if you see signs such as growling or teeth baring, seek help immediately from a vet or trainer.
What should I do if my dog displays severe food aggression?
If your dog displays severe food aggression, such as attacking or biting, it is important to consult a vet or trainer right away. Begin by creating safe eating spaces and hand-feeding them treats to build trust.
Then, gradually introduce people near the bowl while they eat, lifting the bowl briefly if necessary.
Is food aggression a sign of dominance?
Food aggression is often seen as a sign of dominance, although it can be caused by many factors. It is important to take the time to understand why your dog is exhibiting this behavior and find ways to help them feel secure.
Training with patience and positive reinforcement may be necessary in order for both you and your pup to feel safe.
How long should I expect it to take before I can stop my dog's food aggression?
Stopping food aggression can take time and patience. Expect progress over weeks or months, depending on your dog's individual needs.
Are there any medications that can help calm my dog?
Medication can help your dog stay calmer and more relaxed in stressful situations. Speak to your vet about the options available to help manage food aggression, so you can continue training with a calm pup.
Conclusion
Finally, food aggression in dogs can be a serious problem and should be taken seriously. With the right training techniques and patience, however, it can be resolved. By talking to your dog while they eat, gradually getting closer, hand-feeding treats, and touching their bowl without taking food away, you can help stop your dog's food aggression.
Prevention is key, too: stay in the same room while they eat, stand close and talk to them, and practice with treats. With these tips, you can help your pup learn to trust and enjoy mealtimes without fear of aggression.