This site is supported by our readers. We may earn a commission, at no cost to you, if you purchase through links.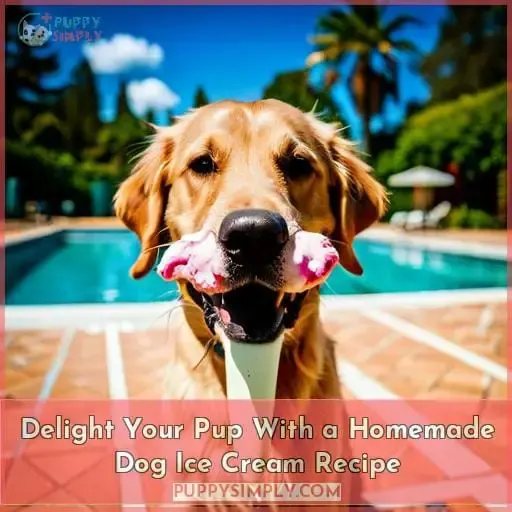 Indulge your furry companion in a delightful frozen treat that will have their tail wagging with joy – homemade dog ice cream! Your pup deserves the coolest, most tail-thumping refreshment, and this article is your ultimate guide to crafting canine delights.
With just three simple ingredients, you can whip up a batch of this icy goodness that your dog will adore.
But it doesn't stop there. We'll also introduce you to pawfectly versatile silicone molds, including adorable puppy paw and bone trays, to give your frozen creations that extra flair.
Plus, we'll share tips on the ideal temperature range for these treats and provide a range of tail-wagging possibilities, from frozen pupsicles to luscious chocolates for your furry friend.
So, grab your blender and get ready to unleash your culinary creativity for the four-legged member of your family!
Key Takeaways
Prepare homemade dog ice cream using yogurt, peanut butter, and creative ingredients.
Utilize IHUIXINHE's food-grade silicone molds (Paw and Bone trays), designed for a variety of dog treat shapes.
Experiment with different flavors, ranging from peanut butter and banana pupsicles to dog-friendly chocolate treats.
IHUIXINHE molds present an easy-to-use, temperature-resistant design, catering to dogs of different sizes and encouraging culinary exploration.
Crafting Canine Delights

Dive into the art of crafting irresistible treats for your furry friend with a playful twist, as we explore the world of canine delights in a realm where creativity knows no bounds.
When it comes to satisfying your pup's summer indulgence, nothing beats homemade dog treats. And what better way to do it than with a delightful dog ice cream recipe? Canine preferences vary, but most dogs can't resist the creamy allure of yogurt-based dog ice cream infused with the nutty richness of peanut butter.
It's a nutritional win-win, keeping your dog cool and content on hot days while offering a healthy treat.
Consider freezing some small portions in adorable paw and bone-shaped molds, adding an extra layer of charm to your DIY dog treats. These frozen delights not only quench their thirst but also provide a source of amusement as they lick and nibble their way to the creamy center.
So, get creative, cater to your pup's cravings, and embark on a summer adventure of crafting scrumptious, homemade dog ice cream treats!
Pawfectly Versatile Silicone Molds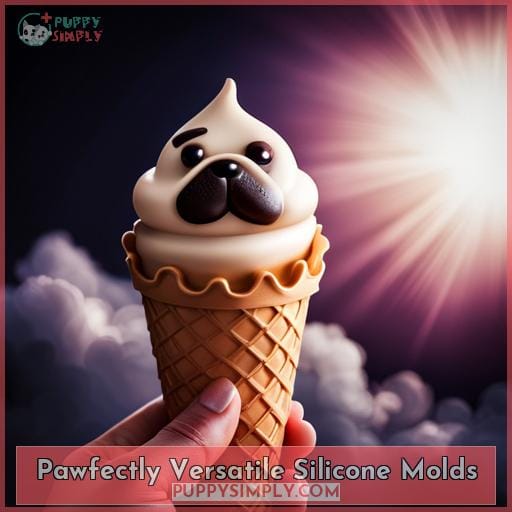 Stepping into the realm of culinary creativity is easy with the IHUIXINHE Silicone Baking Mold Set, where playful Puppy Paw and charming Bone designs await your artistic touch. Created from safe, food-grade silicone, these versatile molds empower your baking and freezing endeavors, enabling you to concoct a variety of delights for both your furry friend and yourself.
Puppy Paw Tray
Dive straight into an exploration of the Puppy Paw Tray – an enchanting addition to your treat-crafting journey, infusing a playful twist into your culinary escapades. The Paw Tray offers convenience with its dimensions of 8.7" x 4.3", making it perfect for concocting frozen dog treats such as homemade dog ice cream.
Demolding proves to be effortless, and the endearing paw-shaped molds introduce a touch of whimsicality to your creations. Experiment with diverse dog ice cream recipes involving yogurt and peanut butter for the ultimate Paw Tray pawfect experience.
Bone Tray
Explore the enchanting potential of the Bone Tray, infusing a delightful twist into your culinary creativity. Shape frozen treats for your furry companion using this versatile mold. Experiment with freezing techniques to create canine delights.
While some may find the smaller size suitable for tinier dogs, owners of larger dogs might yearn for more substantial treats. Embrace the challenge of crafting icy indulgences, customizing your dog ice cream recipes with the Bone Tray's distinctive shape and advantages.
A Temperature Range for Every Treat

Transitioning from the world of pawfectly versatile silicone molds, let's explore the temperature versatility of these culinary companions.
Imagine a kitchen adventure where you're not bound by temperature limitations. The IHUIXINHE Silicone Baking Mould Set offers an impressive temperature range: from a chilly -40°F to a toasty +446°F (-40°C to +230°C).
Such temperature flexibility revolutionizes canine comfort and treat-making exploration. Whether you're whipping up yogurt and peanut butter ice cream for your furry friend on a scorching summer day, or experimenting with homemade frozen treats for dogs in the winter, these molds have got your back.
Your dog's tail will wag with excitement as you serve them these delectable canine desserts, lovingly crafted in the versatile IHUIXINHE molds.
So, embrace temperature freedom and let your creativity shine in the world of dog ice cream recipes and frozen pet treats.
Tail-Wagging Treat Possibilities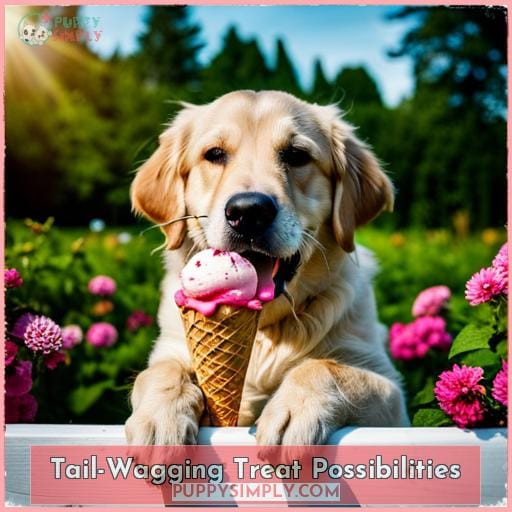 Prepare to tempt your pup's taste buds and indulge in some frosty fun with Frozen Popsicles and Luxurious Chocolates! These delightful treats, crafted using the IHUIXINHE Silicone Baking Mold Set, will set tails wagging and tongues drooling with excitement.
Frozen Pupsicles
Create delightful Frozen Pupsicles with the IHUIXINHE Silicone Baking Mould Set – the perfect kitchen companion for crafting irresistible treats for your canine companion. Beat the summer heat and provide your furry friend with the ultimate Canine Comfort through these chilling treats.
Experiment with Pup-Friendly Flavors like peanut butter dog ice cream and banana yogurt dog treats.
Luscious Chocolates
Indulge in the rich and irresistible world of decadent chocolate delights for your furry friend with these delectable canine-safe cocoa creations.
Discover the perfect balance of flavors and textures with:
Decadent Varieties: From velvety dark chocolate to creamy milk chocolate, discover your pup's perfect match.
Gourmet Flavors: Infuse treats with hints of peanut butter, banana, or even a touch of cinnamon, adding a gourmet twist.
Tempting Textures: Enjoy crunchy chocolate-coated biscuit bites or savor smooth truffle-like centers to satisfy every craving.
Chocolate Inspirations: Get creative with unique shapes and designs, transforming treat time into a delightful experience.
Turn treat-making into an adventure, offering your canine companion a taste of these irresistible indulgences.
User-Friendly Feedback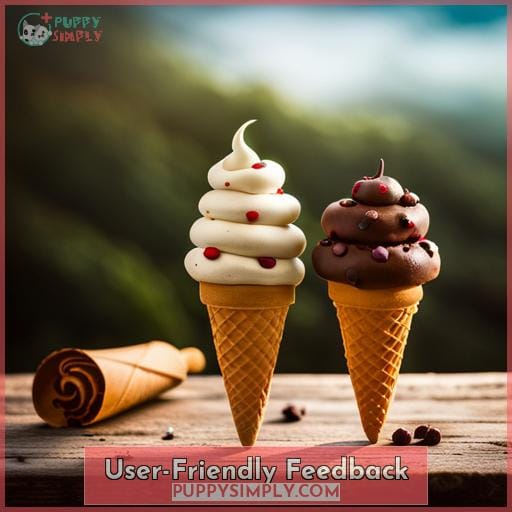 Unlocking the realm of user-friendly convenience, let's explore the enchanting world of demolding ease and cleaning simplicity that the IHUIXINHE Silicone Baking Mold Set brings to your culinary escapades.
As you embark on crafting your delectable dog ice cream treats, these molds gracefully transform into mess-free companions. They ensure that each frozen creation pops out effortlessly, while their easy-to-clean nature adds an extra sprinkle of joy to your tail-wagging adventures.
Demolding Ease
Demolding Effortlessness
Uncover how effortlessly these molds release your delectable creations, enabling you to relish the satisfaction of easily extracting your homemade delights. While demolding your frozen doggy delights, you'll witness treat presentation at its finest, maintaining their intricate shapes for an appealing pup-friendly frozen snack.
Concerns about mold durability fade as you observe the sturdy construction that keeps up with your chilled dog dessert experiments. With recipe variations tailored to canine preferences, these molds turn into your trusty companions for delightful treat storage.
Cleaning Convenience
Experience the Effortless Convenience of Maintaining the IHUIXINHE Silicone Baking Mould Set's Pristine Condition
Indulge in the ease of effortlessly upholding the impeccable state of the IHUIXINHE Silicone Baking Mould Set, ensuring that your imaginative culinary ventures remain unburdened by the complexities of intricate cleaning regimens.
Swift Rinse: A rapid rinse with tepid water frequently proves sufficient for eliminating residue.
Dishwasher Compatibility: Utilize the dishwasher for a hands-free cleaning experience.
Non-Stick Enchantment: The non-stick silicone material drastically reduces the occurrence of food remnants.
Embrace a trouble-free cleaning process, safeguarding your inspiration for concocting delectable dog ice cream and beyond.
Size Considerations for Different Dogs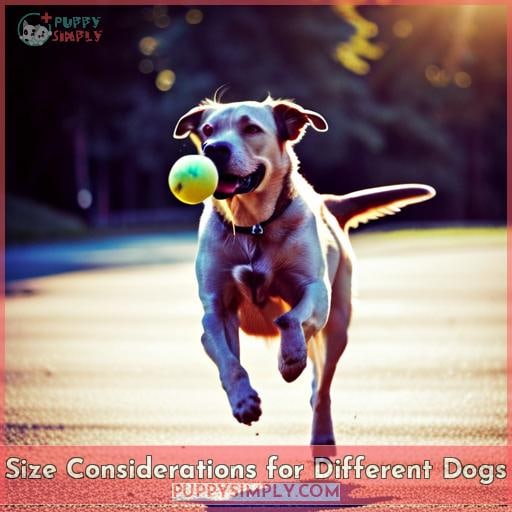 Explore the realm of tail-wagging delights with these molds designed to cater to a variety of pups! From the most delicate of doggos to the heartiest hounds, the IHUIXINHE Silicone Baking Mold Set offers a canvas for creating frozen treasures that are just the perfect size.
Unleash your inner culinary artist and embrace the limitless possibilities these molds provide, whether it's for your pint-sized companions or for crafting unique frozen concoctions that will keep tails wagging in pure delight.
Ideal for Smaller Breeds
Tailored for Smaller Breeds
Perfect for smaller pups, these molds offer a delightful twist to your treat-making endeavors, designed to cater to petite pooches with their charming motifs and cavities tailored to their size. Pamper your toy breeds and miniature pooches with these specialized molds that ensure the perfect bite-sized portions for their enjoyment.
Craft adorable pet desserts, such as the dog ice cream recipe mentioned earlier, by freezing dog-friendly mixtures into mini delights that will have their tails wagging in delight.
Creative Potential for All
Explore the limitless creativity these molds offer, tailoring frozen treats to fit the preferences of every furry friend, whether they're pint-sized or larger breeds. Adaptable innovations ensure that each icy delight becomes a unique expression of your pet's personality.
Create pet-friendly frozen desserts that cater to individual tastes, from peanut butter delights for the classic connoisseur to fruity yogurt bites for the adventurous palate. Embrace versatile imagination and craft a diverse array of frozen delights that cater to all, making summer treats an all-encompassing inspiration.
Unleash Culinary Creativity
Unleash your culinary creativity with the IHUIXINHE Silicone Baking Mould Set – a versatile addition to your kitchen endeavors.
Crafted from 100% food-grade silicone, these molds offer a temperature range from -40 to +446°F, making them ideal for various culinary creations.
The set includes both Paw and Bone trays, each with their distinct measurements, allowing you to craft a variety of treats for different preferences.
Canine flavor pairings take center stage as you dive into frozen delights tailored for your furry friend.
Whip up DIY dog treats using wholesome ingredients like ripe bananas, peanut butter, and Greek yogurt.
The molds' playful designs infuse a touch of humor into your culinary process, while their ease of use ensures that making flavorful innovations is a breeze.
Whether you're experimenting with bacon bits for a savory twist or exploring dog-friendly frozen treats, these molds encourage a sense of belonging as you craft healthy dog treats that embody your pet's preferences.
Conclusion
As you embark on a journey to delight your furry friend with a homemade dog ice cream recipe, don't forget the secret ingredient – creativity! The IHUIXINHE Silicone Baking Mould Set is your ticket to crafting canine delights that are as charming as they are delicious.
With adorable Puppy Paw and Bone designs, these molds add a playful touch to your treat-making endeavors. They offer temperature versatility, ranging from freezing to baking, ensuring that your pup's icy indulgence will be both safe and scrumptious.
Tail-wagging possibilities await – from frozen pupsicles to luscious chocolates, all perfectly shaped in these fun molds. These user-friendly designs are created with your pup in mind, making them easy to use and clean.
Ideal for smaller breeds and big on creative potential, these molds make treat-making a joyous and imaginative activity. So, unleash your culinary creativity and let your pup's taste buds dance with this delightful homemade dog ice cream recipe.