This site is supported by our readers. We may earn a commission, at no cost to you, if you purchase through links.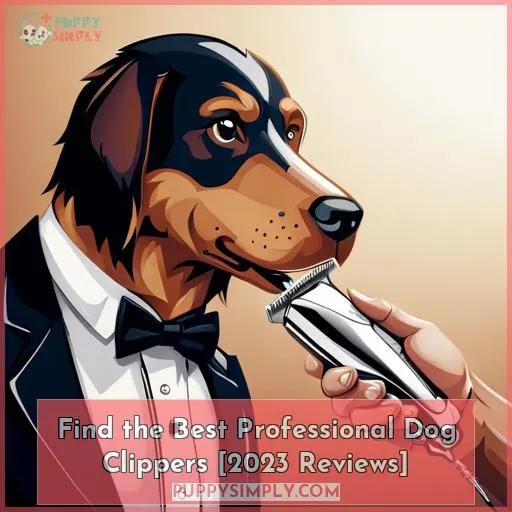 Surprise! Professional dog clippers are the key to a perfect grooming job for your pup. Whether you're an experienced groomer or just starting out, finding the right clipper is essential – and we have all your questions answered.
We asked pet care experts about their favorite professional dog clippers and why they prefer them, so you don't have to do any guesswork when choosing yours. In this article, we'll cover what features make these tools stand out from others on the market as well as how best to use them for maximum results when it comes time to trim those fur babies' coats.
Get ready – with our reviews of top-notch professional dog clippers in hand (including noise levels, blade materials & accessories), plus tips on using them safely and correctly – you'll be clipping away like a pro in no time!
Key Takeaways
Consider blade type/material, speeds, guide combs, and accessories.
Different models offer various features such as motor power, battery life, and weight.
Safety and maintenance are essential for prolonging the lifespan of the clippers.
When choosing clippers for cats, prioritize adjustable blades, quiet motor, and lightweight design.
How to Pick the Right Clippers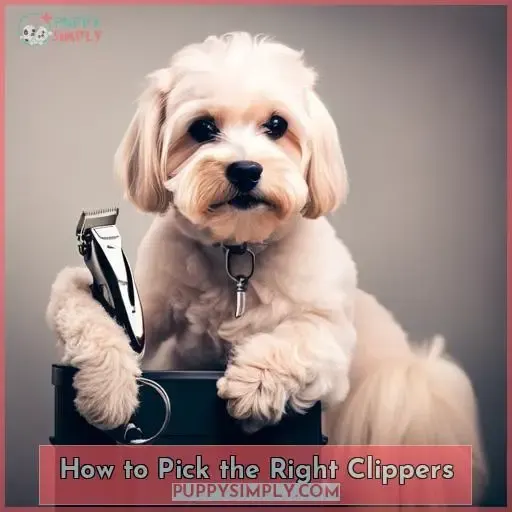 Choosing the right professional dog clippers can be a daunting task. Consider factors such as blade type and material, variable speeds, guide combs for safety and comfort, and other accessories like low noise feature to reduce stress in anxious pets while clipping.
Type and Material of Blade
When it comes to deciding the right clippers for you, blade material is key; from titanium that heats quickly, to steel providing durability and skip tooth precision – choose wisely. Blade types vary, including stainless steel, ceramic blades, or detachable blades.
Maintenance is important with regular sharpening and oiling essential for longevity. Consider coat type when selecting your blade material: tough coats require strong yet flexible materials, while thin coats need sharp but gentle ones.
Various Speeds
Choosing the right clipper for your pup can get tricky, but having multiple speeds makes it a breeze! Whether you opt for corded or cordless convenience, look out for low vibration and battery life.
Depending on coat type, blade sharpening and material is key; titanium blades heat up quickly while steel offers more durability. Multiple speeds give precision when clipping sensitive areas without forcing the clip – this reduces irritation from too much pulling of fur.
With professional-grade clippers that offer varying speed settings at your disposal, groomers have the power to provide their pet with quality results every time!
Guide Combs
Guide combs make it easy to achieve the desired length of fur while grooming your pet, and they can help ensure a smoother cut. Guide combs are used in conjunction with blade sharpening or oiling for blade maintenance.
They also reduce pet anxiety by providing comfort during grooming sessions and reducing noise levels from cordless convenience clippers. Rechargeable batteries offer ease-of-use when changing guard combs on cordless models, making them ideal for home use and brush outs between full groomings.
Combs come in various sizes depending on the breed of dog being groomed. They should always be compatible with the blades chosen so that proper tension is maintained throughout each step of pet care.
Professional-grade guide comb sets provide an easier way to personalize styles without taking away precision cuts achieved using quality tools like steel blades plus coconut oil lubrication prior to storage.
Other Accessories
Aside from guide combs, other accessories such as blade oil and cleaning brushes are essential for ensuring your clippers last longer and provide you with the smoothest trim possible!
Regularly maintaining your clipper blades is key to prolonging their life. Consider sharpening them every 6-8 weeks if using frequently or when cuts become less precise.
Cordless convenience offers more freedom but comes with limited battery life – look out for lithium-ion batteries that offer up to 5 hours of runtime.
When clipping, use proper grooming techniques like cutting against the grain in sensitive areas and keep an eye on skin irritation while avoiding force or speed settings too high for delicate coats.
Quality tools come with a warranty, so consider investing in one of those rather than paying professional grooming costs regularly!
Low Noise Feature
When selecting clippers, look for those with a low noise feature to help reduce your pet's anxiety while grooming. Quiet operation is essential for sensitive animals. It can significantly lower sound levels and prevent startling them during the process.
Quality clippers are designed to operate silently, allowing you to continue without interruption or distress. Look for brands that offer noise reduction features such as adjustable combs and cordless options.
These provide further flexibility when clipping hard-to-reach areas of fur on your pet's body. The best professional dog clippers have been tested rigorously to ensure silent operation even at full power, so make sure you check specifications before purchasing! With these considerations in mind, finding the perfect set of quiet trimmers should be no problem.
How I Started Using Professional Dog Grooming Clippers Myself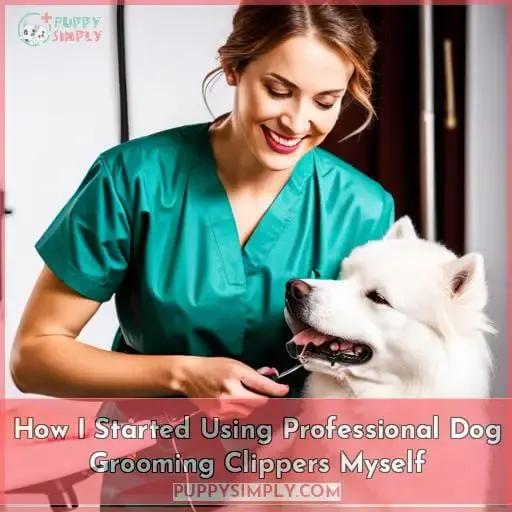 Ready to level up your pup's look? Try out the Showlovein Pet Grooming Clipper Kit and show off their style!
This cordless kit comes with everything you need for manual grooming: a clipper, sharpening stone, lithium-ion battery, and charging stand.
With its ergonomic design, powerful motor, and adjustable blade length settings, it is perfect for multiple dogs. The long-lasting battery ensures cordless convenience while still providing plenty of power for thick coats.
The professional-grade blades provide precise cuts every time without snagging or pulling fur.
If you're looking to groom like a pro at home or on-the-go, this clipper will take care of all those needs – plus there is no maintenance required, so just enjoy clipping away!
Plus, if ever needed, it can be used as both a corded and cordless device, giving you ultimate control over any coat type with ease – making your life easier when caring for multiple pets simultaneously.
In addition to being multifunctional, this kit has all the tools necessary from start through finish – allowing even novice groomers to get amazing results quickly in an affordable package.
So go ahead, try out the Showlovein Pet Grooming Clippers Kit, and watch as they turn heads everywhere they go!
How to Choose the Best Professional Dog Clipper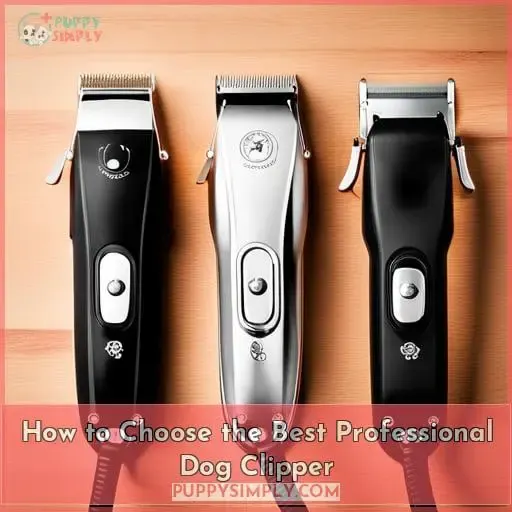 Choosing the right clipper for your furry companion can be overwhelming, but with a few key considerations, you'll soon be on your way to giving them an at-home groom. Safety tips, blade maintenance, and cordless convenience are all important factors to consider when choosing professional dog clippers.
Quiet motors reduce anxiety while adjustable blades provide versatility and precision. Look for dog hair clippers that have a long battery life so you won't need to frequently recharge during grooming sessions.
With these considerations in mind, it's easy to find the perfect pair of pet-friendly shears with features tailored specifically towards their needs!
How to Trim Dog Face Hair With Clippers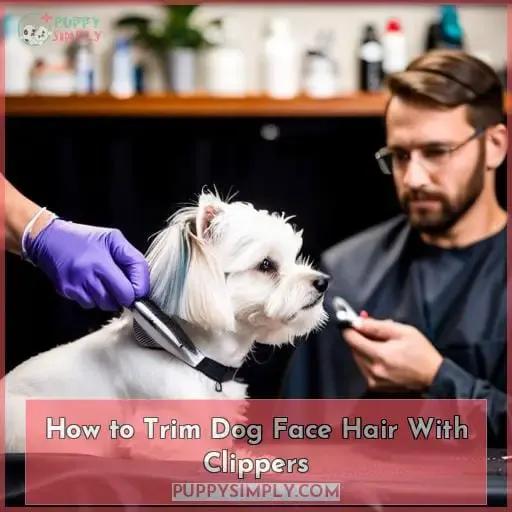 Trimming your pup's face hair with clippers requires patience and precision, so take your time to ensure a smooth finish. Before beginning the cut, brush out any tangles or mats in the fur and make sure that both you and your dog are relaxed.
Here is what you'll need: guide combs of varying sizes depending on breed size, sharp clipper blades suited for pet fur coats, coconut oil (for lubricating blade edges), calming treats if needed to reduce anxiety in pets during grooming sessions.
Start by running an appropriate-sized comb through the hair from top to bottom before cutting – this will help determine how much needs trimming off as well as give you a feel for where it should be trimmed down evenly across all parts of their face.
Finally, use scissors around sensitive areas such as eyes, ears, and nose. Then lightly clip away excess fuzzies near these areas until the desired look is achieved – always check temperature often and sharpen blades regularly with a honing stone after every few months of usage to maintain optimal performance over the long-term care of dog breeds' haircuts!
Top 8 Best Professional Dog Clippers
Finding the best professional dog clippers can be a daunting task. To help you make your decision, we have selected eight of our top picks: Oster Volt Pet Clipper, Andis AGC2 UltraEdge Clipper, Wahl KM10 Brushless Clipper, Wahl Bravura Cordless Clipper Kit, and more.
Each of these clippers offers powerful motors and durable blades that are built to last for years with proper care. Weighing in features such as speed settings and battery life will ensure that you find the perfect tool for your pet grooming needs.
Oster Volt Pet Clipper

View On Chewy
The Oster Volt Pet Clipper boasts a powerful, 2400 SPM motor and an advanced Li-Ion battery for up to 2 hours of cordless operation – perfect for quick and effortless grooming.
Compatible with all A5 detachable blades, this clipper is versatile enough to tackle any job from matted fur to full shave downs. Its lightweight design makes it comfortable in your hands, while its ergonomic shape reduces wrist fatigue so you can groom all day without tiring.
The single-speed rotary motor ensures consistent power where you need it most, making the Oster Volt ideal for even the thickest coats. Plus, its extra battery space in the base allows you to swap quickly if needed, and its shatterproof housing offers durability that will last through years of use.
Cordless convenience
Powerful single-speed rotary motor
Versatility with compatible detachable blades
Lightweight design reduces hand fatigue
Shatterproof housing provides long-lasting durability
Loud noise may agitate more sensitive dogs
Some professional groomers found it underpowered compared to corded models
Can overheat with prolonged heavy use
Andis AGC2 UltraEdge Clipper


View On Chewy
The Andis AGC2 UltraEdge Clipper is a powerful and precise pet grooming tool that offers fast cutting, quiet operation, and break-resistant housing for long-term use. This clipper features a two-speed rotary motor with a 14-foot power cord, allowing for an extended range of motion.
It comes with an easy on/off lock switch to prevent accidental shutoff while in use. The detachable blade design works with both UltraEdge and CeramicEdge blades, providing versatility in trimming all coat types.
Despite its lightweight design, it provides enough force to easily cut through even thick, matted fur without causing hand fatigue.
Quick delivery from Chewy
Cuts through matted fur well
Easy to change blades without tools
Same quality as previous Andis clippers
Short video shows how to fix blade lever if stuck
Gets extremely hot very quickly
Blades seem dull
Heavy, can cause hand fatigue
No blade guides included
Wahl KM10 Brushless Clipper

View On Chewy
You'll appreciate the power and torque of the Wahl KM10 Brushless Clipper, which runs up to 10,000 hours with its revolutionary motor for effortless grooming. It comes equipped with a #10 Ultimate Competition blade set that will stay secure while detaching easily.
This corded clipper is designed for professional groomers and pet owners who are looking for maximum performance as well as Constant Speed Control. The lightweight design reduces wrist fatigue over long periods of use, making it comfortable even during all-over grooming including mats and full shave downs.
Revolutionary motor lasts up to 10,000 hours
Maximum power & torque with Constant Speed Control
Lightweight ergonomic design reduces wrist fatigue
Blades stay secure & detach easily
Some users received used/defective units
Blades dull quickly
Can't hold alignment causing clipping issues
Wahl Bravura Cordless Clipper Kit


View On Chewy
Enjoy reliable power and convenience with the Wahl Bravura Cordless Clipper Kit. This professional-grade clipper offers up to 90 minutes of full-speed run time and features a 5-in-1 adjustable blade for sizes #9, #10, #15, #30, and #40.
It is lightweight yet powerful with low vibration levels for quiet operation that won't startle your pup or other animals. The lithium-ion battery has no memory effect, so it can be charged even when partially depleted without having to wait until completely empty before recharging again.
The cordless design gives you the flexibility to maneuver around your pet freely while still providing plenty of power for all kinds of grooming jobs – from feet pads and small areas like eyes to matted fur on larger animals such as horses or livestock.
However, this particular model isn't suitable for full body haircuts due to its shorter runtime. It may require more frequent charging if used regularly in long sessions over multiple days or weeks.
Up to 90 min runtime & 60 min quick charge
Lightweight & low vibration
5-in-1 adjustable blade
Not suitable for full body haircuts
Blades may arrive damaged
Battery life is questionable
Wahl Arco Cordless Pet Clipper

View On Chewy
Experience the power and convenience of the Wahl Arco Cordless Pet Clipper for a smooth, fast grooming session. This professional-grade clipper features an adjustable 5-in-1 blade that adjusts between sizes #9, #10, #15, #30, and 40.
It runs on a lithium-ion battery with up to 80 minutes of runtime and a 75-minute charge time, so you can easily groom your pet without worrying about cords getting in the way or needing to find an outlet nearby.
The included 4 combs make it easy to get precisely cut fur at any length while still being gentle on sensitive skin areas like near ears or eyes. Not only is this cordless clipper lightweight for ease of use, but it also has low vibration operation, which helps keep pets calm throughout their grooming sessions.
This allows you more control over them during difficult procedures such as trimming feet or face fur around eyes or mouth.
Adjustable 5-in-1 Blade
Lithium-Ion Battery For Up To 80 Minutes Runtime
Low Vibration Operation Keeps Pets Calm During Grooming Session
Includes 4 Combs For Precise Length Cuts
Poor Battery Life Even With Light Use
Reliability Concerns Reported By Some Reviews
Andis AGC2 Pet Clipper
View On Chewy
The Andis AGC2 Pet Clipper is a highly versatile tool that offers two speeds and an easy on/off lock to ensure your pet's safety. It can work on all fur and coat types, making it suitable for a range of animals.
Coming with one UltraEdge blade, the removable blade system also works with both UltraEdge and CeramicEdge blades – giving you plenty of options when it comes to clipping.
The clipper is powerful enough to cut through thick fur quickly without bogging down or slowing down due to its high-speed motor. However, the blades get hot during use, so caution must be taken when using this product around pets as they may become injured if not used carefully.
Additionally, some have found this clipper feels heavier than other models, which could be uncomfortable for those who are unused to handling larger grooming tools like these ones over long periods of time.
Versatile clipping system
Cuts through thick fur easily
Blades are affordable & easy to find
Power motor doesn't bog down
Blade gets hot during use
May be heavy for some users
Blades can cut skin if not careful
Oster Cordless Pet Clippers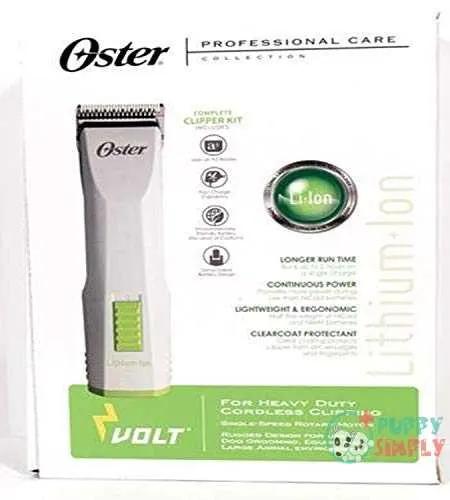 View On Amazon
Immerse yourself in effortless grooming with Oster's cordless pet clippers. Their lithium-ion battery provides a powerhouse of power to tackle even the toughest fur. The single-speed motor produces 2,400 strokes per minute and is built for heavy-duty use.
The clippers are lightweight and portable, making them perfect for mobile groomers.
With up to two hours of run time on a full charge, you can easily groom six or eight dogs without needing to recharge. Additionally, this model is quieter than similar corded clippers, so your furry friends won't be frightened away by loud noises during the grooming process.
Powerful for heavy-duty grooming
Lightweight and portable
Holds charge well between dogs
Battery lasts one full day of 6-8 dog grooms
Quieter than similar corded clippers
Easy blade changes
Battery life decreases over time with use
Replacement batteries sold separately
Noisy compared to competitors

May struggle on thick coats
Blade changing may be tricky
Tendency to rust quickly
Andis ProClip AGC2 Clipper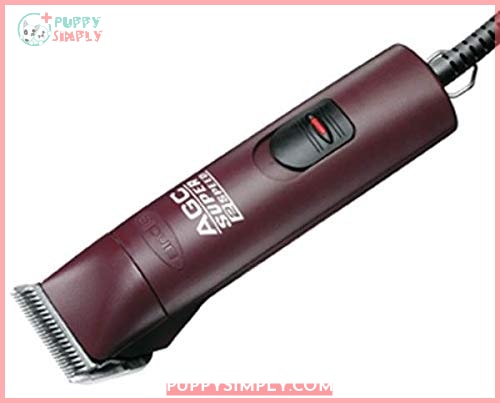 View On Amazon
You'll appreciate the Andis ProClip AGC2 Clipper for its powerful two-speed rotary motor, cool and quiet running frequency, shatter-proof housing, and virtually maintenance-free design. This clipper is perfect for all coats and breeds with its 14′ heavy-duty cord. It offers a no-hassle on/off lock switch to ensure safety while using it.
Its detachable blade system works with UltraEdge or CeramicEdge blades, so you can customize your experience based on the kind of coat you're dealing with.
Powerful two-speed rotary motor
Cool & Quiet running frequency
Virtually maintenance-free design
Expensive compared to other options
Confusing instructions at first use
Can overheat if used too long
Frequently Asked Questions (FAQs)
What safety precautions should I take while using professional dog clippers?
Safety first! Always check attachment and blade temperature. Cut with the grain, avoid forcing clippers. Clean blades after use; oil before storage. Cordless clippers are convenient but have limited battery life; corded clippers are stronger but have a restricted range of motion.
What maintenance do professional dog clippers require?
Maintain your professional clippers by regularly brushing, oiling the blades, checking attachments/teeth, and monitoring the temperature. Cut with the grain to avoid snagging; go slowly for matted fur. Avoid using human clippers and sharpen the blades as needed.
Pay attention to sensitive areas; use guide combs for safety and accuracy. Clean the clippers after each use and store them properly with oil applied before storing them away.
How often should I replace my clipper blades?
Replace your clipper blades regularly for optimal results. Dull blades can cause skin irritation and subpar grooming, so replace them as soon as they become dull or nicked.
Is it safe to use professional dog clippers on cats?
Yes, professional dog clippers are safe to use on cats. However, ensure that they are equipped with adjustable blades and combs for precise grooming, as well as a quiet motor to prevent stressing your pet.
Additionally, choose a lightweight and ergonomic option to minimize hand fatigue.
Are there any special features I should look for when buying a professional dog clipper?
Look for adjustable blades, cordless/corded options, battery life, and speed settings to suit your needs. Consider noise levels and blade material too – ceramic is smoother than steel! Get quality with a warranty for long-term use.
Conclusion
Finding the right professional dog clippers can be a daunting task – but it doesn't have to be! With the right guidance, you can easily find the clipper that's perfect for your pup.
Astoundingly, these amazing tools can provide you with a professional-level trim that will have your furry friend looking their absolute best! From the lightweight and ergonomic Oster Volt Clipper to the durable Andis ProClip AGC2 Clipper, there are many top-notch clippers to choose from.
With the perfect combination of speed, noise reduction, and battery life, you can't go wrong with any of these amazing professional dog clippers.
So what are you waiting for? Give your pup the perfect trim they deserve!