This site is supported by our readers. We may earn a commission, at no cost to you, if you purchase through links.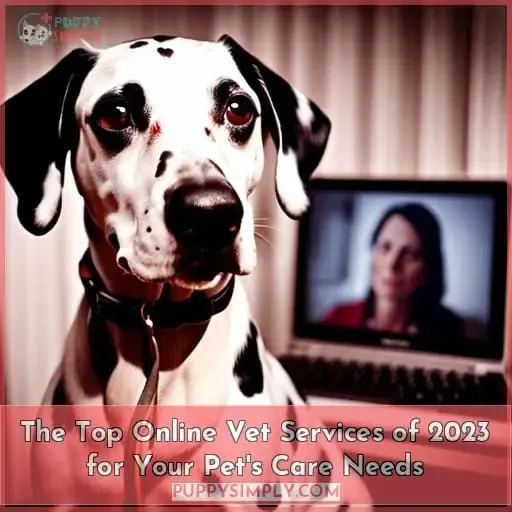 Is your furry friend under the weather? As a pet parent, you know that knot in your stomach when your pup's tail stops wagging or your kitty loses her appetite. Your mind races through possibilities faster than your feline pouncing on catnip.
That's where online veterinarians swoop in like caped crusaders, providing expert care on demand. Top online vet services like Vetster and PetCoach grant peace of mind without leaving home.
They offer around the clock consultations to diagnose and treat non-emergency issues. While no website replaces hands-on exams, virtual vets can still assess symptoms, recommend treatment, and ease worries.
Read on to learn how online veterinarians can save the day when your pet needs care without the clinic. With just a few clicks, you can connect with experienced vets to get tails wagging again.
Key Takeaways
Online vets provide quick, convenient access for minor pet health concerns through chat, phone, or video calls. Telehealth veterinarians can prescribe medications and make treatment recommendations without an in-person exam.
Access to 24/7 availability gives pet owners peace of mind for getting answers to urgent pet health questions or issues at any time.
However, limitations exist in that telehealth vets cannot perform hands-on physical exams. So in-person veterinarians are still vital for dealing with medical emergencies or conditions requiring an exam.
Online Vet Care: an Overview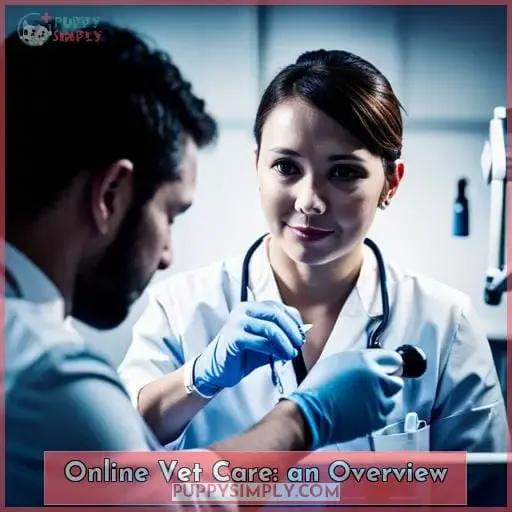 Online vet care is an overview:
Online vet care is a convenient way to get quick advice for your pet's minor issues without leaving home. With telehealth, you can video chat or message licensed vets to compare symptoms and get treatment recommendations and prescriptions called in.
Online consultations save time and money on trips to the clinic for nonurgent concerns. Just make sure you still establish care with a local, in-person vet for exams and emergencies.
When comparing platforms, prioritize 24/7 availability, a range of services like behavioral advice and specialized care, and multiple communication methods. While virtual vets have limitations, they provide an affordable supplement for pet owners needing fast guidance on basic health questions.
With the right online service, you can get quality pet care advice conveniently at home.
Benefits of Online Veterinary Services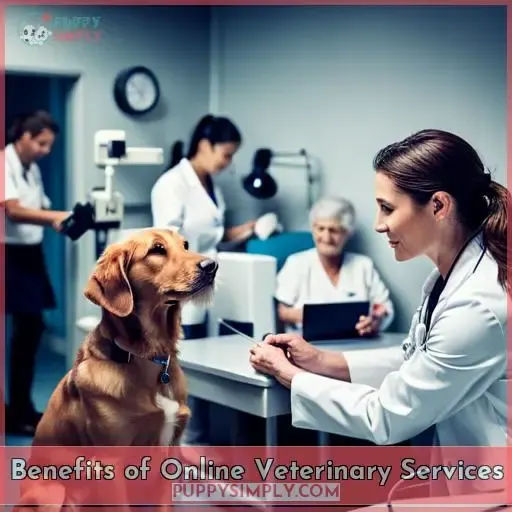 When choosing an online veterinary service, you'll want to compare communication methods like chat, phone, and video to find the option that best suits your preferences. Also prioritize services that offer prescription medications and 24/7 veterinarian access so you can get quick answers and care whenever your pet needs it.
Compare Communication Methods
Don't you just love when online vets let you send them a quick text or email instead of having to wait on hold forever to talk to someone live? It makes getting fast pet advice so much less of a hassle.
When comparing platforms, consider how each lets you communicate – like video chats, text messaging, phone calls, or live chat. Telehealth vets offering multiple options like texting make getting veterinary advice quick and easy for busy pet parents.
Evaluate Prescription Availability
One thing to consider is whether the service offers prescription medications directly, as this can save you time and hassle versus having to get them elsewhere. When comparing options, check if the online vet can prescribe medications or if an in-person vet visit is required.
Though convenient, legal requirements may limit prescription availability through telehealth. Focus on services that seamlessly provide medications to maximize convenience and comparison shop to find the best fit.
Prioritize Around the Clock Access
Having access to a vet 24/7 can provide peace of mind when your pet has an urgent health issue in the middle of the night. Virtual consultations through telehealth give pet owners the emergency support they need, when they need it.
Around the clock availability removes limitations of in-person care for those who value immediacy in moments of distress—a key benefit from the pet owner's perspective when evaluating services.
Top Online Vet Services of 2023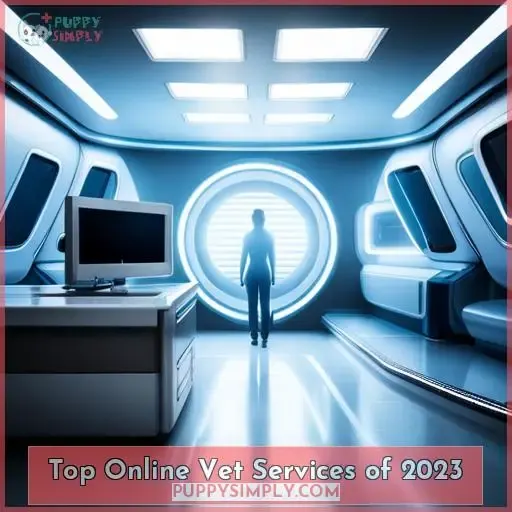 If you're looking for the best online veterinary services for your pet in 2023, stick around — I have the top options for you. According to experts, you can't go wrong with Vetster, Banfield Vet Chat, PetCoach, Hello Ralphie, or whiskerDocs when you need convenient and affordable virtual pet care.
These services allow you to get medical advice and treatment for your furry friends without leaving home.
Vetster makes it easy to connect with licensed vets via video chat or phone 24/7. Their network of US-based veterinarians can diagnose, treat, and prescribe medications for non-emergency issues. Banfield Pet Hospital also offers virtual vet consultations through their Vet Chat service.
You can speak to a veterinarian within minutes to get advice on your pet's symptoms and determine if an in-person visit is needed.
PetCoach connects pet parents with veterinarians for video or text chats. Along with diagnosing conditions, their vets can answer your questions about behavior, nutrition, and preventative care. If you're looking for fast answers via text, Hello Ralphie has a team of vets responding in under 30 minutes.
They can also refer you to local clinics as needed. For unlimited 24/7 vet advice, whiskerDocs has monthly subscription plans starting at $19. Their veterinarians can address non-emergency issues and provide after-hours support.
With these top-rated online vet services, you can get convenient medical care for your four-legged family members right from home in 2023. Just reach out whenever you have a question or concern about your pet's health and wellbeing.
Vetster
You'll find Vetster offers the best overall telehealth experience for your pet through their innovative marketplace-based approach connecting you to licensed vets across the country.
Access to a network of licensed vets across the U.S.
Quick video consultations within minutes
Prescription medications delivered to your door
Reasonable flat-rate pricing for consultations
Easy sign-up and user-friendly mobile app
Though online veterinary services have limitations, Vetster provides quality veterinary telehealth with convenience and cost savings.
Banfield Vet Chat
Beyond Banfield's brick-and-mortar presence, their chat app beckons busy bodies by bringing basic benefits by bullhorn. Their wide network virtually connects you to vets nationwide. Prescriptions and records integrate with physical locations.
While limited by state telehealth laws, their chat brings convenience over competitors for your furry friend's non-emergency needs.
PetCoach
You can rely on PetCoach for budget-friendly support from licensed vets 24/7 via chat or video. PetCoach offers online pet prescriptions and telehealth benefits like quick veterinarian advice and pet health advice.
With prescription availability and features like cost savings and convenience, PetCoach is a solid budget friendly option for telehealth for pets.
Hello Ralphie
Next up is Hello Ralphie, offering convenient prescription availability and online vet consultations for your furry friends. Hello Ralphie connects pet owners to licensed veterinarians for telehealth services and virtual pet care.
Prescription medications shipped directly to you
Appointment scheduling and record access
Secure video chats with vets
Home delivery of pet prescriptions
Access to pet care 24/7
Telehealth makes pet care more convenient. Hello Ralphie's licensed vets provide timely advice without an office visit.
WhiskerDocs
WhiskerDocs offers a unique subscription service and solid communication methods as one of the leading online veterinarian platforms in 2023. This online vet platform provides convenient features like 24/7 text and video chats with licensed vets, flexible monthly plans starting at $12/month, an online pharmacy for prescription fulfillment, and member perks.
With its subscription model, WhiskerDocs delivers exceptional value for pet owners seeking routine care and advice. As telehealth expands, WhiskerDocs stands out for its subscription-based access to virtual veterinary care.
Limitations of Online Veterinary Care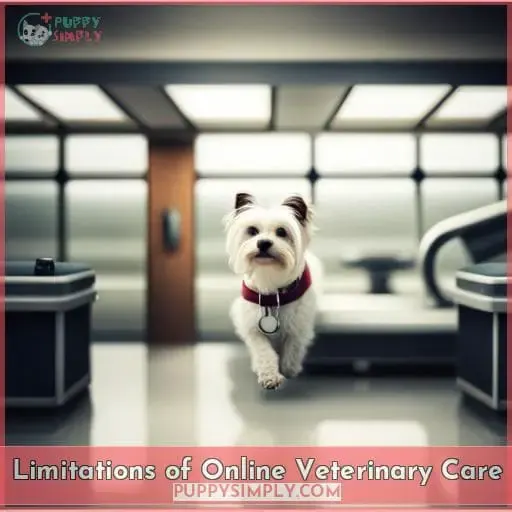 Though convenient, online vet care has limits, like inability to do physical exams or emergency procedures needing hands-on care.
No hands-on physical exams or testing. This limits diagnosis accuracy.
Can't provide emergency care. Severe issues need in-clinic treatment.
Prescription restrictions due to regulations. Meds often need an in-person exam first.
Diagnostic limitations without on-site equipment. X-rays and bloodwork require clinic visits.
Online vet consultations can guide minor issues, but anything needing hands-on emergency care, diagnostic testing, or regulated meds will require an in-clinic visit with your primary vet. While telehealth is convenient, it's not a full replacement for in-person vet care.
When to Use Online Vet Services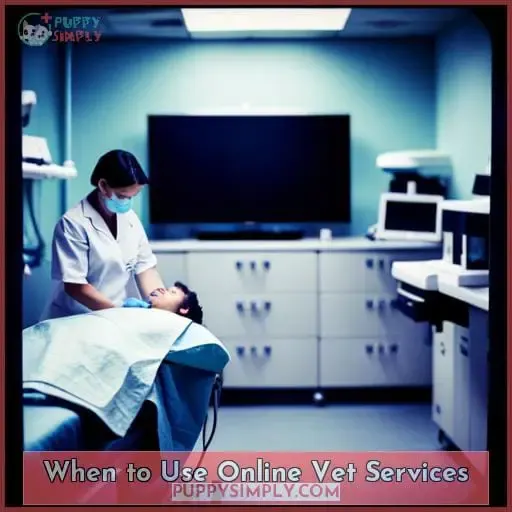 You'll want to consult your local vet for anything major, but online vets can be really handy for getting quick answers to minor questions.
| When to Use Online Vets | When to Use In-Person Vets |
| --- | --- |
| Getting a second opinion on a diagnosis or treatment plan | Emergencies – injuries, breathing issues, sudden behavior changes |
| Asking questions about preventive care like vaccines, flea/tick medication | Annual exams and diagnostic testing – bloodwork, x-rays, dental cleanings |
| Guidance on chronic conditions like ear infections, allergies, arthritis | Surgeries and hospitalization |
| Troubleshooting behavioral issues like separation anxiety, aggression | Anything where the pet needs to be physically examined or handled by a vet |
Connecting with a licensed vet online for minor concerns can save time and give you peace of mind. But for serious medical issues, hands-on veterinary care is still essential. Leverage technology for convenience without compromising your pet's health.
Choosing the Right Online Vet for You

When choosing an online veterinarian, first compare the services offered by different platforms to determine which align with your pet's needs. Evaluate communication methods like live chat, video calls, and consultation time to ensure you can easily discuss your pet's health.
Prioritizing your pet's unique circumstances and your preferences will assist you in finding the appropriate online vet for convenient, quality care.
Compare Services Offered
You can compare the types of services offered, like consultations, prescriptions, and follow-ups, between online vets to find what fits your needs best. When choosing an online veterinarian, compare their service offerings in areas such as telehealth consultations, prescription writing, lab work, and follow-up care.
This feature comparison helps you evaluate which online vet matches your pet's needs and your preferences. Select an online vet that provides the consultation types, prescription access, and follow-up care that work for you.
Evaluate Communication Methods
When assessing online veterinary services, prioritize those that offer multiple communication methods like chat, phone, and video to best suit your preferences.
Video consultations allow you to visually show your veterinarian any issues your pet may be having.
Chat support options provide a quick way to get answers to simple questions.
AskVet app enables you to send messages and photos to veterinarians when convenient.
Teleadvice from veterinarians gives you access to professional guidance without an office visit.
Professional consultations let you discuss your pet's health in depth.
Having a range of communication methods available strengthens the vital veterinarian-client-patient relationship by enabling meaningful exchanges tailored to your needs. Evaluating feedback and options allows you to find services with communication choices fitting your preferences.
Prioritize Your Pet's Needs
The types of services available from an online vet should align with your pet's particular needs. Consider prescription options for ongoing medication requirements. However, have an emergency vet available for injuries or sudden illnesses.
For behavioral issues or preventive care, an online consultation can provide professional advice to support your pet's health and well-being.
Conclusion
The best online veterinarian for your pet depends on their unique needs and your priorities as a pet owner. While online vet care has limitations, using the right platform at the right time could significantly impact your furry friend's health and happiness.
Do research, evaluate options, and choose an online vet service that's a great fit.