This site is supported by our readers. We may earn a commission, at no cost to you, if you purchase through links.
Ready to find the best dog food for your Pit Bull? Look no further! We've rounded up 10 of the top vet-approved brands in 2023 so you can keep your pup happy and healthy.
But before we get to our picks, let's review some key points about feeding a Pit Bull. Metaphorically speaking, picking out a quality diet is like going on an exciting treasure hunt. You'll need knowledge of what makes an ideal meal, as well as awareness that not all foods are created equal when it comes to bully breeds' nutritional needs.
From understanding which ingredients are appropriate at different life stages and size levels to avoiding allergens or preservatives, there's much more than meets the eye when selecting Pitbull-friendly chow! Opting for grain-free options or wet vs dry dog food? Don't worry – we have plenty of advice on those topics too!
Let's dive right into finding the very best bowlfuls for your beloved Pittie today.
Key Takeaways
High-protein, grain-free formulas with quality ingredients like chicken and fish
Select senior or large breed formulas with glucosamine for joint health
Use elimination diets with one protein source for allergies
Puppies need higher calories for growth, switch at 12-18 months
Top 10 Best Dog Foods for Pitbulls
If you are searching for the best dog food for your Pitbull, look no further! Annamaet Ultra Dry Dog Food, Dr. Tim's Kinesis Dog Food, Crave Chicken Adult Dog Food, Taste of the Wild Wetlands Dog Food, Diamond Naturals Chicken Rice Dog Food, Wellness Complete Health Dog Food, Nulo Freestyle Turkey Sweet Potato Dog Food, Merrick Backcountry Raw Large Breed, CANIDAE Lamb Rice Dog Food, and Blue Buffalo all offer complete nutrition as well as a wide range of additional health benefits.
Each of these delicious recipes is sure to provide your pup with all the nutrients they need to stay healthy and strong.
Annamaet Ultra Dry Dog Food
View On Chewy
You may want to consider Annamaet Ultra Dry Dog Food for your pit bull, which is crafted in the USA with grain-free ingredients and includes marine microalgae as a source of omega-3 fatty acids. The kibble also contains L-carnitine to help maintain lean muscle mass, plus prebiotics and probiotics for gut health.
It comes in a 40lb bag suitable for all breed sizes of adult dogs. While some dogs like the taste better than others, this food has been reported to improve skin issues, allergies, and coat while providing extra energy too! Plus, it's pea-free so you don't need to worry about any additional sensitivities or digestion problems either.
However, there have been reports that it causes soft stools or diarrhea in some cases due to its high protein content. It is also very expensive compared to other brands on the market – although those who've bought it do say they trust its quality product from a reliable company that is easy to reach if needed.
Grain Free
High Protein Content
Contains Omega 3 Fatty Acids & Prebiotic/Probiotic Blend
Pea Free
Reported To Improve Skin Issues & Energy Levels
Expensive Compared To Other Brands
Can Cause Soft Stools Or Diarrhea In Some Dogs
Dr Tims Kinesis Dog Food
View On Chewy
Enjoy the benefits of 88% animal protein and omega-3 fatty acids with Dr. Tim's Kinesis Dog Food.
Formulated with no corn, wheat, or soy for digestive health support – plus taurine and DL-methionine for heart health – this all life stages recipe is sure to give your pup the nutrition they need. It's also enriched with probiotics to aid digestion while providing balanced carbs for energy.
Reviews suggest that dogs love the taste too; however, an increase of 42.7% in price has left some owners looking elsewhere instead.
88% Animal Protein & Omega 3 Fatty Acids
No Corn, Wheat, Or Soy
Taurine And DL Methionine For Heart Health
Probiotics To Aid Digestive Health
Balanced Carbs For Energy
Enriched With Prebiotic Fiber
Price Increase Of 42% In 2 Years
Some Dogs Refuse To Eat The Newer Recipe
Soft Stools Reported By Some Owners
Crave Chicken Adult Dog Food
View On Chewy
Crave Chicken Adult Dog Food is the perfect choice for adult dogs of all breeds. It provides real high-quality animal protein and meaty flavor without corn, wheat, or soy. This grain-free and high-protein diet helps promote a healthy lean body with adequate nutrients and energy.
The small bites make it ideal for picky eaters as well as slow feeders. Additionally, the lack of artificial flavors or preservatives ensures that your dog is getting only natural ingredients in their diet.
High protein content (34%) with no grains
Real chicken as the first ingredient plus wholesome fruits & vegetables
No byproducts, fillers, colors, or artificial flavoring
Small bites suitable for slow feeders
Some dogs may get gassy from higher protein content
Not suitable if looking specifically for wet food
Pickier eaters may not like the taste
Taste Wild Wetlands Dog Food
View On Chewy
Taste of the Wild Wetlands Dog Food is a great option for adult pitbulls. It offers 32% protein from real duck and added omega fatty acids to support skin and coat health. This grain-free recipe also contains probiotics for digestion, vitamins, and minerals for overall health, plus wholesome fruits and vegetables.
Dogs love the roasted smoked fowl flavor of this premium dry dog food, which is made in the USA with globally sourced ingredients. Owners have reported improved energy levels as well as healthier coats after feeding their dogs this food.
High protein with real duck as the first ingredient
Includes probiotics & prebiotics to promote healthy digestion
Enriched with Omega fatty acids & other nutrients
Wholesome fruits & vegetables included
Roasted smoked fowl flavor that dogs love
Lower priced than comparable brands
May cause loose stools or allergic reactions in some dogs
Picky eaters may not take to the taste readily
Different batches can vary in kibble size/color
Diamond Naturals Chicken Rice Dog Food
View On Chewy
Save yourself some money and give your pup the wholesome nutrition of Diamond Naturals Chicken Rice Dog Food. Made in the USA by Diamond Pet Foods, a family-owned company, this grain-inclusive recipe is suitable for all breeds of small, medium, and large dogs.
It contains 26% protein and 16% fat, as well as omega fatty acids to nourish your pup's skin and coat health. This premium food also includes vitamins, minerals, antioxidants, along with species-specific probiotics and prebiotics for digestion support! Plus, it's free from corn, wheat, or artificial flavors/colors, making it a great choice if you're looking for an affordable option that still provides complete nutrition without any extras needed.
Contains 26% protein & 16% fat
Includes omega fatty acids to nourish skin & coat health
No corn, wheat, or artificial flavors/colors
Some dogs experienced excessive shedding & skin irritation
A few dogs had constipation or digestive upset
Several dogs disliked the taste & barely ate it
Wellness Complete Health Dog Food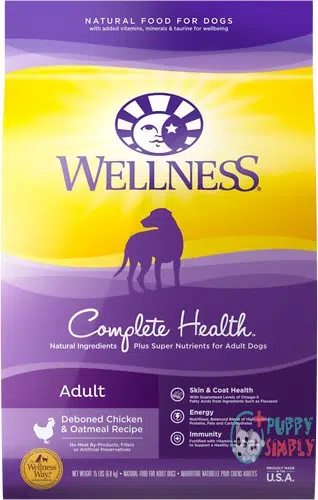 View On Chewy
Try Wellness Complete Health Dog Food for your pitbull and see the difference with its natural, grain-free formula that provides whole-body nutrition.
One customer reported her pup's coat was so shiny after trying this food she thought it had been waxed!
Made in the USA with globally sourced ingredients, this dry dog food is formulated without GMOs, meat by-products, or artificial preservatives.
It contains omega fatty acids to support skin and coat health, plus glucosamine for joint mobility and probiotics to help digestion.
Though some dogs have not enjoyed the taste of certain batches or experienced adverse reactions like fur loss or loose stools, many owners report their pups loving it and showing improved energy levels as well as healthier coats over time.
The 30-pound bag is suitable for adult dogs of all breed sizes – just follow label instructions based on size & age!
Natural & Grain-Free Formula
Omega Fatty Acids For Skin & Coat Health
Glucosamine For Joint Mobility
Some Dogs Don't Like The Taste Of Certain Batches
Reports Of Fur Loss And Loose Stools In Some Cases
Nulo Freestyle Turkey Sweet Potato Dog Food
View On Chewy
Nulo Freestyle Turkey Sweet Potato Dog Food is packed with animal-based proteins, low glycemic ingredients, and probiotics for digestion to provide complete nutrition without extras needed.
The 26 lb bag of grain-free kibble contains omega fatty acids for skin and coat health, as well as calcium and phosphorus for bone strength.
Wholesome fruits and vegetables are also included in the recipe to promote overall good health.
It's suitable for all breeds of small, medium, or large dogs while helping senior pups maintain a healthy weight.
Picky eaters seem to like its taste too!
Many customers report firm stools after feeding their pup this food, plus it has a higher quality than some brands with recalls that have been reported recently due to contamination issues – making it an excellent choice if you want something safe yet nutritious at the same time!
Higher quality than some brands
Suitable for all breed sizes
Probiotics benefits digestion
Expensive compared to alternative dog foods
Recently added chicken fat upsets some dogs
Lacks fillers that upset sensitive dogs
Merrick Backcountry Raw Large Breed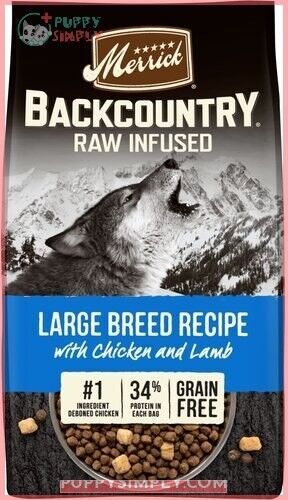 View On Chewy
Merrick Backcountry Raw Large Breed boasts a grain-free recipe with raw coated kibble and freeze-dried raw bites that's sure to appeal to your pup. Packed with real deboned chicken, duck, lamb – plus omega fatty acids, glucosamine, and chondroitin – this high protein option is ideal for large and giant breeds.
Recent batches have smaller kibble than before, but customers report their dogs loving the taste as well as improved energy levels.
High Protein Option
No Corn, Wheat, Soy, Or Gluten
Improved Energy Levels & Taste Loved By Dogs
Smaller Kibble Than Previous Batches
Freeze Dried Bites Come In Powder Form
CANIDAE Lamb Rice Dog Food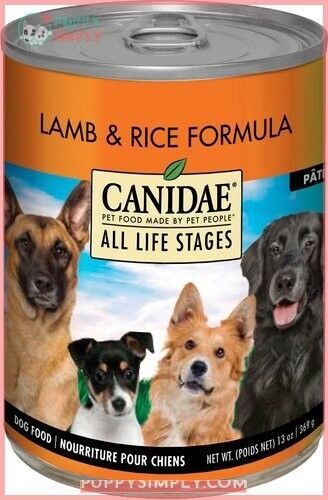 View On Chewy
Experience the deliciousness of CANIDAE Lamb Rice Dog Food with its real lamb simmered in savory broth and wholesome grains! This vet-formulated wet food provides ideal protein levels for adult dogs of all breeds, making it suitable for small, medium, and large dogs alike.
With no corn, wheat, or soy included in the recipe, you can be sure your pup is getting a nutritious meal without any unnecessary fillers. Plus, picky eaters may find this an enjoyable change from their regular kibble as it can easily be mixed into other foods to add moisture and flavor.
For those looking to provide top nutrition on a budget, this canned food makes an affordable option when purchased by the case through Chewy. However, some owners have found that scooping the product out due to its soupy consistency can prove difficult at times.
Some customers have reported bad breath after feeding their pups this concoction, so if your furry friend already suffers from chronic halitosis, then perhaps try something else instead.
Real lamb simmered in savory broth
Wholesome grains included
Suitable for all breed sizes
No corn, wheat, or soy
Can work well mixed with other foods
Makes a good topping to add moisture & flavor
Difficult scooping consistency
May cause bad breath
Picky eaters may not like it
Blue Buffalo Dog Food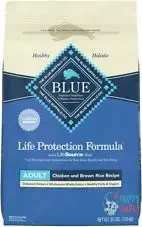 View On Chewy
Blue Buffalo Dog Food is packed with real deboned chicken and wholesome grains, plus added glucosamine and antioxidants to help your pup reach their peak performance. This high-protein formula contains essential vitamins and minerals for strong bones and teeth, making it ideal for adult small to large breeds of all sizes.
Plus, this natural formula contains no corn, wheat, or soy, so you can be sure that your pet is getting the nutrients they need without any unnecessary fillers. Glucosamine helps support joint health, while omega fatty acids promote a healthy skin coat.
Antioxidants also lend a hand in keeping your dog's immune system functioning optimally.
Protein-rich deboned chicken recipe
Carbs for energy & active lifestyle
Essential vitamins & minerals for strong bones & teeth
Glucosamine supports joint health
Omega fatty acids promote a healthy skin coat
Antioxidants boost the immune system
Some dogs don't like black pieces in food
Quality control issues reported
Understanding the Nutritional Needs of Pitbulls

If you're considering adopting a Pit Bull, it's important to understand their nutritional needs. This stocky but not necessarily large breed can quickly become overweight and is prone to joint issues, so watch out for overfeeding or food gobbling habits.
Additionally, selecting the right dog food can help keep your pup healthy and fit into adulthood.
Pit Bulls Are Stocky, but Not Necessarily "Large
Although they're stocky, Pit Bulls aren't necessarily considered large dogs and should be fed accordingly. Breed-specific diet planning is important to ensure a nutritional balance that meets the needs of both puppies and adult Pit Bulls.
Good quality food can help reduce the risk of developing certain health issues, such as skin problems, allergies, joint issues, heart disease, or obesity in later life. When choosing food for your pup, it's best to opt for limited-ingredient varieties if possible.
This will provide essential nutrients without overloading their system with allergens or fillers, which could contribute to weight gain or other medical conditions.
Make sure you monitor portions carefully based on breed size and age. Speak with your vet about any potential dietary requirements before making changes to keep them healthy throughout their lifetime!
Avoid Overfeeding, as Pitties Are Susceptible to Joint Issues
Be mindful when feeding your Pittie, as they are prone to joint issues and can gain weight quickly. Choose foods that are allergen-free and contain quality ingredients like omega-3 fatty acids for joint support.
Monitor portion sizes according to the caloric needs of your pup, making sure not to overfeed them. Consider a food specifically designed for weight management with vitamin E, which is easy on their joints.
Watch Out for Food Gobbling!
It's important to watch out for food gobbling, as pitties can easily gain weight and experience joint issues if they overeat.
When determining portion size and treats in the diet, follow label instructions based on breed size and age. Testing is key when it comes to allergies; ask your vet about an elimination diet if needed.
Meeting dietary needs includes feeding high-quality proteins with fats & omega fatty acids plus real meat without grain-free options, which may increase the risk of heart disease.
Keep these tips in mind so you can provide proper nutrition through dog training while maintaining healthy weight levels!
Signs of a Superior Dog Food: Separating the Good From the Bad

Searching for the best dog food for your Pitbull? Knowing key factors like ingredients, life stage and size, allergens, and AAFCO certification can help you separate superior brands from lesser-quality options.
When considering a new food choice for your pup, look at each of these criteria to make sure that it meets their needs.
Ingredients
Choosing the right ingredients for your pup is key when selecting a dog food – particularly for bully breeds such as pit bulls. Look for high-protein, real meat sources like chicken, plus omega-6 fatty acids and novel proteins like fish.
Life Stage and Size
When considering what dog food is right for your Pitbull, it's important to factor in their life stage and size. Puppy formulas with extra calories, proteins, and minerals are best for younger dogs, while seniors may need senior or large breed-specific diets that offer joint support.
Portion control should also be taken into account when determining the type of food – carbohydrates can add up quickly! Some breeds also benefit from grain-free or raw diets, but these require research to ensure proper nutrition.
Allergens
Be sure to look for limited ingredients and an elimination diet if your pup is prone to allergies. Wet food, fresh food, or a grain-free alternative may help reduce skin issues associated with allergies.
Be aware that grains such as brown rice can provide key nutrients like fiber, which helps regulate digestion. Check the AAFCO statement on any product you purchase, making sure it meets nutritional requirements and has no artificial preservatives or additives that could trigger reactions in sensitive dogs.
If suspected of having serious allergies, consider switching up their diet by trying out different brands until you find one suitable for them.
AAFCO Certification
To ensure your pup is getting the nutrition they need, check that the dog food you buy carries an AAFCO Nutritional Adequacy Statement — it's a surefire way to guarantee amazing results! With these requirements in place, your pet can enjoy nutrient balance and quality protein sources.
Plus, label reading will help identify wet or dry formula with optimal health benefits for their recipe. Knowing what's inside is key to finding the perfect food for superior nutrition and wellness support.
Choosing Between Grain-Free and Grain-Inclusive Food

It's important to consider whether grain-free or grain-inclusive foods are a better fit for your pup when selecting their diet. Grain-free diets may pose risks, such as an increased risk of heart disease, while grain-inclusive options offer numerous benefits.
Here are some things to keep in mind:
Pet allergies: If your pet has food allergies, a limited ingredient diet may be best. Look for one that contains simple ingredients and is free from any known allergens like wheat or corn.
Food types: Dry kibble is great for dental health, but wet canned and fresh food provide more fat and calories, which can be beneficial if you have an underweight dog on the smaller side.
Vet guidance: Ask your vet about prescription or elimination diets if necessary. They will also help identify potential food allergens so you know what to avoid in the future!
Meal size/ingredients: Read labels carefully before purchasing new foods—make sure it meets nutritional requirements based on breed size/age and prioritize quality ingredients with animal protein sources at the top of the list!
Organic & Probiotics: Consider organic products with added probiotics that help support skin issues, coat health, and digestion.
When making decisions about nutrition, plan ahead by doing research into various brands available, then test out different formulas until you find one that works best.
Wet Dog Food

Discover wet dog food that packs a protein punch and satisfies your pup's craving for flavor! Wet dog foods offer an alternative to dry kibble, providing more fat and calories for underweight dogs.
When comparing brands, look at the nutritional adequacy statement on the label first. Then consider meat quality, calorie count, price comparison, as well as buyer reviews.
Pit bulls have specific nutritional needs due to their high propensity towards skin problems or allergies, so make sure to check ingredient labels closely for possible allergens like grain-free formulas, which may increase the risk of heart disease in some bully breeds.
Many owners prefer wet canned food because of its higher levels of animal proteins, but it is also important to factor in vision development benefits from certain omega fatty acids found in fish oils, such as herring or salmon oil too!
Additionally, look out for added probiotics and prebiotics that help promote healthy digestion while supporting skin health, along with glucosamine & chondroitin content, which helps support joint mobility.
Plus, L-carnitine helps maintain lean muscle mass too – all great things when considering what type of wet food best suits a pit bull's dietary needs.
So take time researching different options before making your purchase – find one that not only meets their nutritional requirements but tastes good enough they'll eat it every day without complaint!
Fresh Dog Food

Experience the difference that fresh food can make in your Pit Bull's diet; recent studies suggest feeding a fresh dog food diet can reduce joint pain by up to 28%.
Fresh foods provide essential nutrients for canine health and longevity, offering grain-free alternatives to support brain development and digestive health. With its high-protein content, pit bulls benefit from raw diets as they help promote GI issues associated with this breed.
Here are four key benefits of introducing a fresh dog food into your pup's routine:
Natural Ingredients: Fresh foods contain natural ingredients like lean proteins, fruits, and vegetables that provide vitamins and minerals not found in regular kibble or canned varieties.
Increased Nutrition: They offer increased nutrition when compared to traditional pet foods due to their higher vitamin and mineral content, which helps maintain a healthy skin coat.
Allergy Control: Many dogs suffer from allergies caused by grains, so eliminating them through the use of grain-free options is beneficial for alleviating allergy symptoms.
Digestive Health: The probiotics often included in these recipes aid digestion, helping prevent gastrointestinal problems common among bully breeds.
By providing quality protein sources rich in omega fatty acids, glucosamine, chondroitin, taurine, and other vital minerals, you'll be giving your Pit Bull all the nourishment it needs while maintaining overall good health!
Common Pit Bull Health Issues

Knowing the common health issues Pit Bulls are prone to helps you make informed decisions about their nutrition. Bully breeds, such as the American Pit Bull Terrier, Staffordshire Bull Terrier, and American Bully, may be more susceptible to allergies, skin problems, or joint problems than other breeds.
To minimize these health risks and maintain a healthy lifestyle for your pup, it is important to consider protein sources in their diet, along with fatty acids and probiotics. A high-protein diet with quality ingredients will give them all of the essential nutrients they need while avoiding potential allergens like corn or wheat found in many dry kibbles.
Limited ingredient diets can also help if your pet suffers from food sensitivities due to its single source of proteins, which eliminates any unnecessary fillers that could cause an adverse reaction.
Not only should you focus on finding appropriate protein content, but also look at fat content when choosing dog food. Puppies need higher calories than adults, so wet canned foods are great for adding extra fat into their meals.
On the other hand, senior dogs require specialized formulas that provide support for joints, weight management, and cognition enhancement.
Keep an eye out for grain-free products too, as research suggests this could increase the risk of heart disease.
Pit Bull Puppies Vs Adults: How to Feed Them

When it comes to feeding pit bulls, even the best dog food can be complicated. It's important to understand that puppies and adult dogs have different nutritional needs, so the right diet for one isn't necessarily ideal for another.
Puppies need higher-calorie diets with more nutrients than adults in order to support their growth. Focus on quality proteins like chicken and fish plus healthy fats like omega-3 fatty acids.
Avoid grains as they may increase heart disease risk; instead opt for grain-free options formulated specifically for bully breeds that contain plenty of protein, fat, and carbs in proper percentages along with joint health supplements such as glucosamine chondroitin sulfate complex or DHA, which helps maintain cognitive function in seniors (over 8 years old).
Buy puppy food until 12–18 months old then switch over if needed – this is particularly true if your pup has started gaining weight quickly as some pups do! Also, consider wet canned foods which provide extra calories but also moisture content not found in dry kibble alone – great when dealing with picky eaters who don't always eat enough at mealtime or those needing help putting on a few pounds due to being underweight previously.
If allergies are suspected, an elimination diet might be necessary where only one type of meat/fish-based ingredient is used while all other ingredients remain constant – this will allow easier identification of trigger allergens without having too many variables involved.

However, make sure whatever product you choose meets AAFCO standards so there's no compromise on nutrition either way! Therefore, when selecting a suitable dog food option, bear these points in mind – size matters especially since certain breeds require larger serving sizes compared to others; age plays an equally significant role since puppies need additional energy sources whereas senior dogs benefit from joint & cognition support formulas plus low glycemic index recipes tailored around weight management requirements respectively.
Frequently Asked Questions (FAQs)
What is the difference between wet and dry dog food?
Wet food offers more fat, calories, and moisture than dry food does. It's easier to digest for some dogs, and it can be a great way to add flavor and variety. Dry kibble is usually the most economical option and can help keep teeth clean through chewing action.
However, wet foods may be better suited for picky eaters or those with allergies or special needs.
How often should a pitbull be fed?
Feed your pitbull twice a day, ensuring their diet is balanced with high-quality proteins and fatty acids. To ace the nutrition game, do some research and choose foods that fit your pup's age group to keep them healthy as they grow.
Are there any supplements I should consider giving my pitbull?
Give your pup the nutrition they need to thrive with a high-quality supplement! Fish oil is an excellent source of omega-3 fatty acids that can help keep their coat and skin healthy, while glucosamine helps support joint health.
Probiotics are like a superfood for their gut, ensuring they get all the nutrition from food.
Is it safe to feed my pitbull human food?
Feeding your pup human food may be tempting, but it's important to consider their nutritional needs and potential allergies. Depending on the ingredients, some foods can be harmful or just not beneficial for pit bulls.
Are there any foods I should avoid giving my pitbull?
Are you considering feeding your pitbull human food? If so, be sure to avoid onions and garlic, which can cause anemia; grapes and raisins, which are toxic; chocolate, which can cause seizures; and anything with a high fat or sugar content.
Conclusion
When it comes to finding the best dog food for Pit Bulls, it's no exaggeration to say that the stakes are high. Pit Bulls need special nutrition to maintain their health, and any owner needs to be sure to choose the right food for their pup.
Fortunately, there are plenty of great options available that meet the nutritional requirements of Pit Bulls, including Annamaet Ultra Dry Dog Food, Dr.
References
mypetneedsthat.com
dailydogstuff.com
cuddleyourdogs.com
avidpup.com