This site is supported by our readers. We may earn a commission, at no cost to you, if you purchase through links.
The best dental chews for dogs are an excellent complement between brushes or dogs that allow you to get close to their teeth quickly.
Chewing is a natural behavior. Dogs explore the world around them through sight, sound, smell, and taste.
Our four-legged friends can and will suffer from many of the same conditions that people fall victim to, including plaque build-up, gum disease, and perhaps most clearly given their fondness for licking their owner's face: halitosis or bad breath.
Whether your dog is an older dog or a puppy, best dog dental chews take advantage of this mechanical chewing behavior to help clean the teeth.
Several dog chews are available to keep your dog's teeth and gums clean and healthy.
Dental chews come in both edible and non-edible varieties. Many dogs love the taste of edible chews and consider them a tasty treat. Inedible species are toys for many puppies and fulfill their natural urge to chew.
We reviewed dozens of dog dental chews to identify the best of the best. We discussed both edible and inedible dental chews of various sizes and flavors to narrow down your options.
How To Picking The Best Dog Dental Chews?
A dog's dental chews should have some essential features. Here's what to consider when selecting a dental chew for your dog:
1. Inspect the Ingredients
Inspecting the ingredients is an essential part of choosing the suitable dental chews for your beloved canine friend.
The ingredients should have a clear definition, so avoid vague phrases like (contains meat).
Edible dental chews that indicate which meat is included (such as beef, lamb, or chicken) are better because you have a clearer idea of what your pet is eating.
Also, most dental chews are flavored when edible, making them more attractive to your pet.
Edible dental chews that contain vitamins E or C are better because both are considered natural preservatives, making them healthier alternatives to chemical preservatives.
2. Edible versus Non-edible
You can find both edible dental chews for dogs (treats with tooth-cleaning properties) and non-edible dental chews (chew toys specially designed to clean teeth while your dog chews them).
Choose what you think your dog can do best, or use both to give an extra boost.
3. Taste
Taste plays no role in actually helping your dog's teeth and gums, but it's a powerful motivator for getting your dog to use the chewing tooth you buy for him.
Dental treats in the form of treats are, of course, flavored, but so are many chew toys, which is excellent for motivating dogs who aren't as good at chewing unless food is involved. Make sure your dog does not chew flavored but inedible dental products.
4. The Size And Durability Of Their Dental Chews
While most dental treats are labeled for the specific size and breed of the dog, it is not advisable to rely on them alone as they must be effective in cleaning the dog's teeth.
Dental chews that are easy to break and consume are essentially useless to ensure your dog's oral health. The best dental chews for dogs are those that allow your dog to take the time to chew because they will clean their teeth more effectively.
5. Cleaning Power
Sure, a dental chew dog can claim to keep the canines clean, but does it pay off? Not all dental chews are equally effective, so it's worth looking at reviews from people who gave them to their dogs to see if they have enough cleaning power.
10 Best Dental Chews For Dogs Of 2023
1. Greenies Dental Dog Chews
View On AmazonOne of the best things about the Greenies Original TEENIE Dental Dog Chews is that it offers an exceptional blend of macronutrients and micronutrients to enhance dental health benefits. The chewy formula has been flavored with delicious poultry goodness, so your dog will be more than likely to chew on it. Each dog treat is packed with bone and teeth build-up and strengthens calcium and phosphorus while also adding choline and lecithin to the mixture for added health benefits.
The chewy texture of the Greenies TEENIE serves as a brush on your dog's teeth and a sponge on the gum to effectively remove food particles and prevent plaque and tartar build-up. The formulation is made from only selected ingredients, although it contains wheat gluten. So if you don't want to give your dog something he is allergic to, you can skip this dental chew.
However, because wheat gluten is as allergenic as any other high-protein food like beef and chicken, the amino acids it contains should make you want to give it to your pet. Like many dental treats for dogs, the Greenies TEENIE is also great for giving your pet a fresher breath.
Available in teenie, petite, regular, large, and jumbo
Helps fight plaque and tartar build-up
Helps with bad breath
Made in the USA (check ingredient pack before purchase)
2. Greenies Dental Dog Chews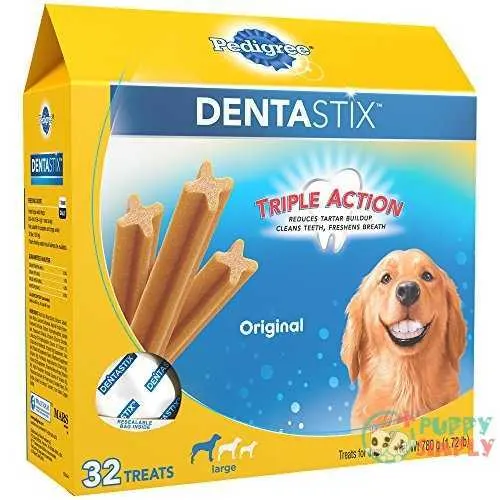 View On AmazonPedigree is recognized worldwide for its line of quality puppy meals that our canine pals like. It comes as no shock that they also have quality dental treats that assist in safeguarding your dog's teeth from decay.
Their Dentastix Puppy Dental Treats, in its exceptional taste, is a favorite amongst puppy owners everywhere for its triple-action abilities of cleaning, reducing tartar develop-up, and freshening breath. Every deal is cross-shaped, making it simple to attain down to the dog's gum lines, efficiently creating it in cleansing even folks' tough-to-attain places.

It has triple-action abilities, which are effective in cleaning their teeth and gums.
Its cross kind permits it to reach even the most challenging locations to attain, effectively cleansing down to the dog's gum lines.
3. Natural Balance Dental Chews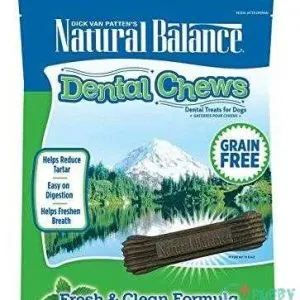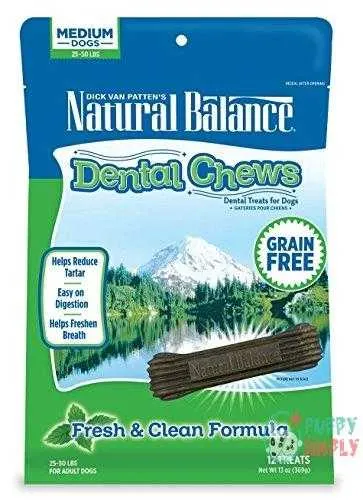 View On AmazonIs your canine companion a sucker for a deal with? Attempt feeding him 1 of these All-natural Balance Dental Chews every day instead of his regular treat, and you will soon discover an improvement in his dental hygiene.
We especially like these dental chews more than other equivalent items offered that they're produced from all-all-natural ingredients, such as greens and meat, and are accessible in restricted ingredient formulas, which are best for canines with delicate stomachs. Their grain-totally free-of-charge formula is also ideal for puppies with grain allergic reactions or gluten sensitivities.
Although we've centered on the Fresh and Clean Formula treats, they're also available in Restricted Ingredient Duck Formula, Constrained Ingredient Sweet Potato and Chicken Meal Formula, and Pumpkin and Chicken Meal Formula. They come in two sizes: small (for canines among five and 25 lbs) and medium (for dogs in between 25 and 50 kg).
At $16 for a 13-ounce packet, they price significantly a lot more than several other dental treats, but they're well really worth it for the ingredient's best high quality.

Aid decrease plaque and tartar
Freshen breath
Simple-to-digest formula
4. Milk-bone Brushing Chews Daily Dental Dog Treats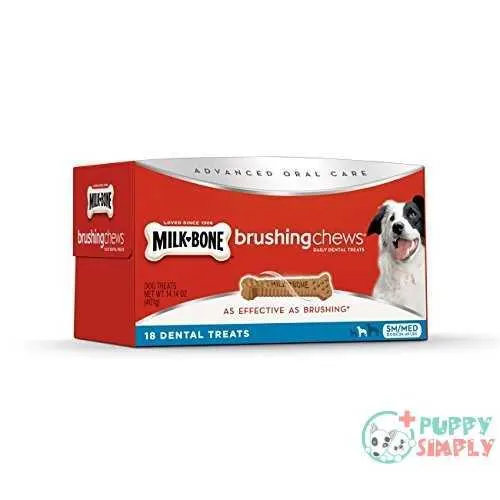 View On AmazonThe Milk-Bone Brushing Chews Daily Dental Canine Treat is clinically confirmed to be as efficient at cleaning your dog's teeth as brushing them without actually carrying out so. It is produced from higher-top quality factors and contains sixteen crucial dietary nutritional vitamins and minerals, all of which aid market not only your dog's dental wellness but his overall effectively-becoming as well.
A single of the crucial vitamins and minerals current in every deal is calcium, which assists your dog has strong bones and teeth.
Furthermore, it has the seal of acceptance from the Veterinary Oral Wellbeing Council for tartar management, marking it as a unique way of cleaning your dog's teeth every day without any trouble.

It is clinically confirmed to be efficient at cleansing the dog's teeth.
It has numerous nutritional vitamins and minerals that enhance the dog's general nicely-being, consisting of calcium promoting strong bones and teeth.
It is acknowledged by the Veterinary Oral Wellness Council as a great way to promote dogs" oral effectively-becoming.
5. Virbac Enzymatic Dental Chews For Dogs
View On AmazonIn our list of doggie dental treats, Virbac's CET Enzymatic Oral Hygiene Chews requires the spot to include the highest protein amounts at a minimum of 75%. This is important because we would like to give our puppies only the best. Protein is an essential macronutrient that canines need to improve their tissues, which includes those recognized in the oral cavity. However, caution must be observed in providing the Virbac dental chews for dogs on canines diagnosed with kidney disease or those with considerably lowered renal execution. As well significantly protein can exacerbate the kidney problem.
Nevertheless, adding glucose oxidase into its formulation can lengthen the healthy becoming-providing rewards of its doggie chew formulation for optimum digestive health. This substantially improves your pet's capacity to battle infections that might originate from the oral cavity. It does not come enriched with nutritional vitamins and minerals, however. But its high protein and probiotic contents alone are adequate to make this as 1 of the healthful puppy treats you can ever buy.

Every oral hygiene chew offers 30 kilocalories for little canines, 32 kcal for medium-sized canines, and 54 kcal for huge sized breeds
It consists of a minimum of 75% protein and one% extra fat
Rated with optimum of 3.five% fiber and sixteen% moisture
Enriched with glucose oxidase enzyme offered by Aspergillus niger
It consists of real beef rawhide
6. Nylabone Dura Chew XL Textured Dog Chew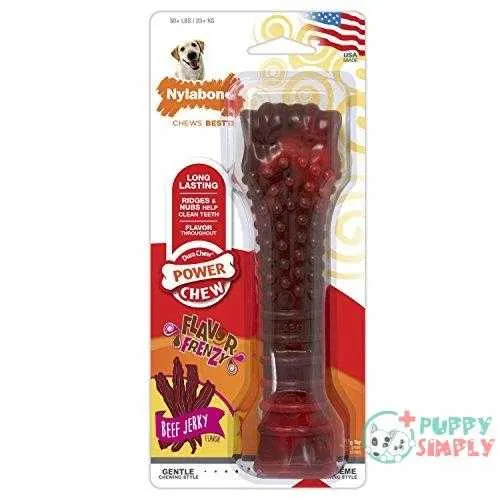 View On AmazonIf you want a canine dental chew that will final for months, rather than becoming devoured in 30 seconds, we'd highly advise the Nylabone Dura Chew XL Textured Canine Chew. This large chew is created for canines of 50 lbs and up, but you can locate smaller-sized Nylabones also.
This chew is covered in different ridges and nubs, which massage the gums and increase oral hygiene. What's a lot more, as your canine chews, she'll scrape away tiny particles of the bone, creating a highly textured, toothbrush-like surface that helps in removing plaque. Your four-legged pal will feel she's merely getting an entertaining chewing session, but indeed she'll be cleansing her very personal teeth!
Most canines love to chew, anyway, but to make it even a great deal a lot more interesting, this chew is infused with a tasty beef jerky flavor. However, you can select from other flavors as nicely, including bacon, chicken, and peanut butter. Priced at about $15, this dental chew is not the most affordable alternative, but it offers outstanding worth, considering its rewards.

Developed for aggressive chewers
Lengthy lasting
Created in the USA
7. Zuke's's Z-bone Dental Chew Dog Treats
View On AmazonThe business behind this brand of dental chews prides itself on using all-natural components and getting rid of wheat, soy, gluten, and corn from their formulas. By performing so, these aids make Zuke's Z-Bone Dental Chew Dog Treats an amazingly wholesome snack for your beloved canine, even though nevertheless becoming appealing to their palate.
The effortlessly digestible formula of this deal prevents your canine from feeling complete. Furthermore, the agreement has a unique texture that is created to gently clean your dog's teeth and gums, enabling him to get his time enjoying his treat.
Furthermore, it freshens your dog's breath, enabling you to cuddle your pet without getting turned off by his bad breath. It is accessible in 3 sizes to accommodate canines of all breeds and sizes.

It is created from organic elements that have no soy, wheat, gluten, or corn.
It's very, very easily digestible, avoiding your puppy from acquiring full.
It gently cleans your dog's teeth.
It freshens the breath.
8. Oravet Dental Hygiene Chews For Dogs
View On AmazonTreats and canines come in all sizes, and the extremely best dental chews for tiny dogs are these Oravet Dental Hygiene Chews. These little but sturdy chews are characteristic delmopinol, an anti-plaque agent employed in human oral rinse things.
As your canine chews, the treats type a protective barrier that aids stop bacteria from attaching to your dog's gums and forming plaque and tartar (or producing poor breath). The chews are reduced-calorie and suited to canines from ten to 24 lbs.
Customers create that Oravet Dental Hygiene Chews depart canines with even severe halitosis with minty-fresh breath. They do a superb performance of breaking down tartar and are just the correct dimension for small breeds like Chihuahuas and King Charles Cavalier spaniels.

It cleans dogs" teeth efficiently.
It cleans and prevents additional injury to the teeth by fighting the provided: bacteria.
9. Blue Buffalo Dental Bones Natural Adult Dental Chew Dog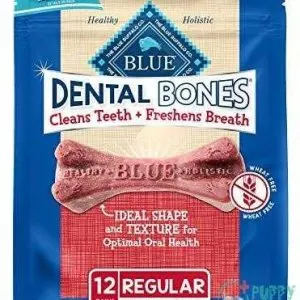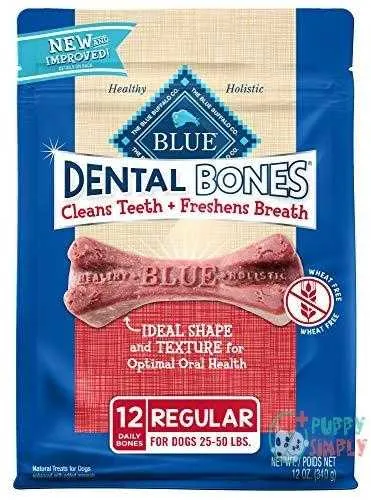 View On AmazonThe Blue Buffalo puppy dental bones are obtainable in numerous sizes, so your canine is not eating a deal with the dimension of your dog's physique. (Even even though we're confident she wouldn't like ideas!) The treats are textured to help soothe the dog's sore gums, which are outstanding for teething.
Integrated is DHA to aid cognitive improvement, Taurine for a wholesome heart, and nutritional vitamins for her immune technique. These chews will not only clean your dog's teeth but give them fresh breath as well.

Accessible in mini, little, regular and big sizes
Produced in the USA
A single hundred% grain and gluten-free of charge of charge
10. Whimzees Natural Grain-Free Dental Dog Treats
View On AmazonWhimzees All-natural Grain Completely totally free Dental Canine Treats are only produced up of 6 components, all of which contribute to your beloved canine friend's all-round well-being. They contain an assortment of nutritional vitamins and minerals that make sure your beloved canine pal stays with you for an extended time.
As a vegetarian deal with, it is meat-free of charge, gluten-free, and GMO-free of charge, which is excellent for canines with sensitivities to certain metals. In addition, it is significant in fiber, which improves your dog's digestive approach.
It is obtainable in different shapes, produced with grooves, hollow spaces, and knobs to reach even these tiny nooks and crannies in your dog's mouth, offering your puppy triple care safety, minimizing tartar and plaque construct-up while concurrently freshening his breath.

It is grain-free of charge and vegetarian.
It is high in fiber, which improves digestive health.
It is accessible in different shapes and sizes.
It provides triple care protection.
Different Types Of Dental Chews For Dogs
As you noted in our discussion, you can buy several types of dog dental chews to improve your pet's dental health. Here are some of the most common.
Dental Diets: These are dry chunks that provide nutrition and help your pet clean his teeth, freshen his breath, and remove plaque. These are often larger than dry chunks and are specially designed with ridges or studs to remove food particles mechanically.
Dental Treats: Certain products look like a regular dog chew but are specially blended with various substances or even medications to help improve dogs' oral health. For example, dental treats are infused with 10% chlorhexidine gluconate, which helps kill bacteria in the oral cavity.
Rawhide Chew Snacks and Bully Cookies: We mentioned this above. These are excellent dental chews for dogs because they are more resistant to dogs' chewing power. Depending on the product, these are also very rich in proteins because they come from animals. That said, you should be careful about your choice because you tend to get a mediocre product.
Chew Toys: Some dog toys are designed with ridges or studs to remove debris from the dog's mouth. Canines are playful by nature, and they love to bite and pull on things. KONG dog toys come with refillable compartments that you can fill with delicious treats. The rubber material is considered safe and chew-resistant, so your dog can brush his teeth while enjoying tasty treats.
FAQs About Dental Chews For Dogs
What are dental chews for dogs, and how do they work?
Dog chews are chewed toys with ridges and nodules or chew with slightly raw ingredients. They are designed to scrape plaque from the teeth and massage the gums to improve the health of the teeth.
How often can I give my dog dental treats?
It depends on what dental treatment you have. Usually, one a day is enough.
Do dental chews work for dogs?
Dental chews help in the oral health and hygiene of dogs. However, they are not a substitute for brushing your dog's teeth or regular dental checkups by a vet. Check with your vet if you are unsure about your dog's dental health or what you can do to help.
Will dental chews for dogs remove my dog's bad breath?
Bad breath in dogs is often a sign of gum disease. Dental chewable tablets can help reverse gum disease as part of a comprehensive oral hygiene routine, so they should help get rid of bad breath.
Are chewing teeth enough to prevent dental problems in my dog?
While most dental chews effectively reduce tartar and plaque in your dog's teeth, it is still recommended to have them checked regularly by a vet to make sure everything is okay. It is recommended to take your dog to a vet once a year to ensure overall health.
Conclusion
Managing your pet's oral and dental health is necessary to prevent tooth decay, bad breath, and periodontal disease in dogs.
Dental dog chews are a great way to do that without the chance of accidentally biting your hand.
That said, with the variety of options on the market, you are sure to find the best dog dental chews your dog will love. Make sure to consider the ingredients, the dog's preference, and the durability of the product.
References
mypetneedsthat.com
gooddogsco.com
caninejournal.com
petlifetoday.com