This site is supported by our readers. We may earn a commission, at no cost to you, if you purchase through links.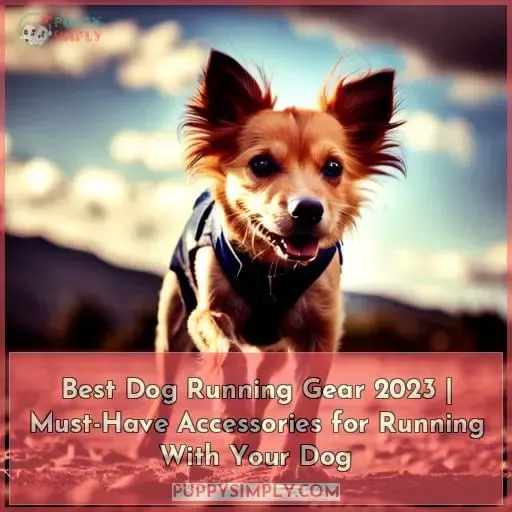 You've laced up your running shoes for a jog, Fido's leash in hand, his tongue already lolling in anticipation.
From collapsible water bowls to reflective vests, the best dog running gear keeps pups hydrated, visible, and comfortable over the miles.
So before your next jog, take a moment to sniff out accessories that let you run freely together. Because with the right equipment, you'll find rhythm, endorphins, and canine camaraderie that make every step a joy.
Key Takeaways
Use reflective vests and LED harnesses to keep your dog visible during runs. Vests and harnesses with reflective strips or LED lights will help keep your dog safe when running in low light conditions.
Protect your dog's paws with dog boots and their nose with paw balm. Booties can shield your dog's paws from hot pavement or sharp trail debris. Applying paw balm before runs moisturizes their paws and helps avoid cuts and cracks.
Keep your dog hydrated with a leakproof water dispenser and collapsible bowls. Bring water for your pup with a dog-friendly hydration pack.
Control your dog safely during runs with hands-free leashes. Waist and cross body leashes allow you to run comfortably while keeping hold of your dog.
Top 10 Best Dog Running Gear
When selecting gear for running with your dog, you want to prioritize options that keep your pup safe, comfortable, and hydrated. The top items include portable dispensers like Malsipree's leakproof water bottle, paw protectants such as Expawlorer's durable boots, and visibility aids like SafetyPup's reflective vest and Light Up LED's illuminated harness.
1. MalsiPree Dog Portable Leakproof Water Dispenser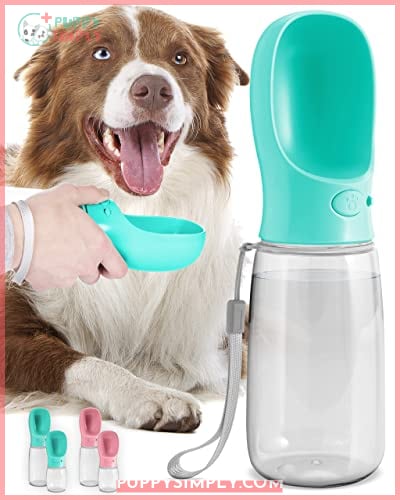 View On Amazon
For on-the-go hydration when running with your pup, the MalsiPree leakproof water dispenser provides a portable and convenient solution with its one-hand operation button and built-in drinking bowl. This compact bottle keeps water easily accessible for your dog, preventing the need to stop and set up a collapsible bowl.
With leakproof durability, you can refill on the run without worrying about messes. Your dog can stay hydrated with a simple press of the button to dispense water into the bowl.
Portable and lightweight
Leakproof and easy to use
Dispenses water on demand
Built-in drinking bowl
Only suited for small to medium dogs
Bottle may need frequent refilling
Potential chewing hazard if left unsupervised
2. Collapsible Dog Water Bowls Portable Pet Feeding Dish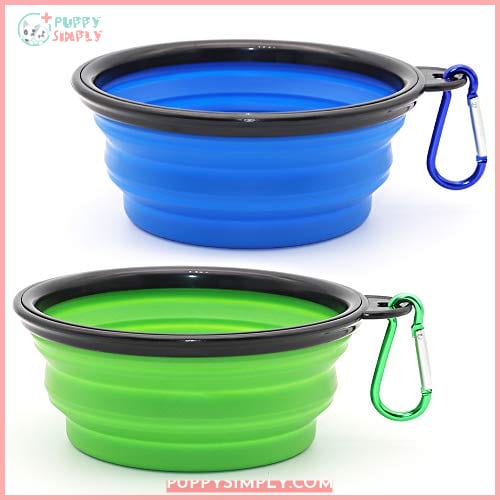 View On Amazon
Sometimes you're out 'n about with your pup in the great outdoors, so keep these handy collapsible bowls in your pack for quick water 'n chow breaks. These foldable pet dishes are lightweight yet sturdy, made from odorless, BPA-free plastic that pops open in seconds.
The bright colors make 'em easy to spot in your gear. Clip it to your pack or belt for fuss-free feeding and hydrating wherever your adventures take you. Your furkid will love these on hikes, camping trips, and even just out for a walk around the block.
Portable and space-saving
Durable and easy to clean
Carabiner for securing to bags/belts
Only for small/medium dogs
Capacity may be small for large dogs
Carabiner quality varies
3. Hands Free Dog Leash With Dual Handles Large Black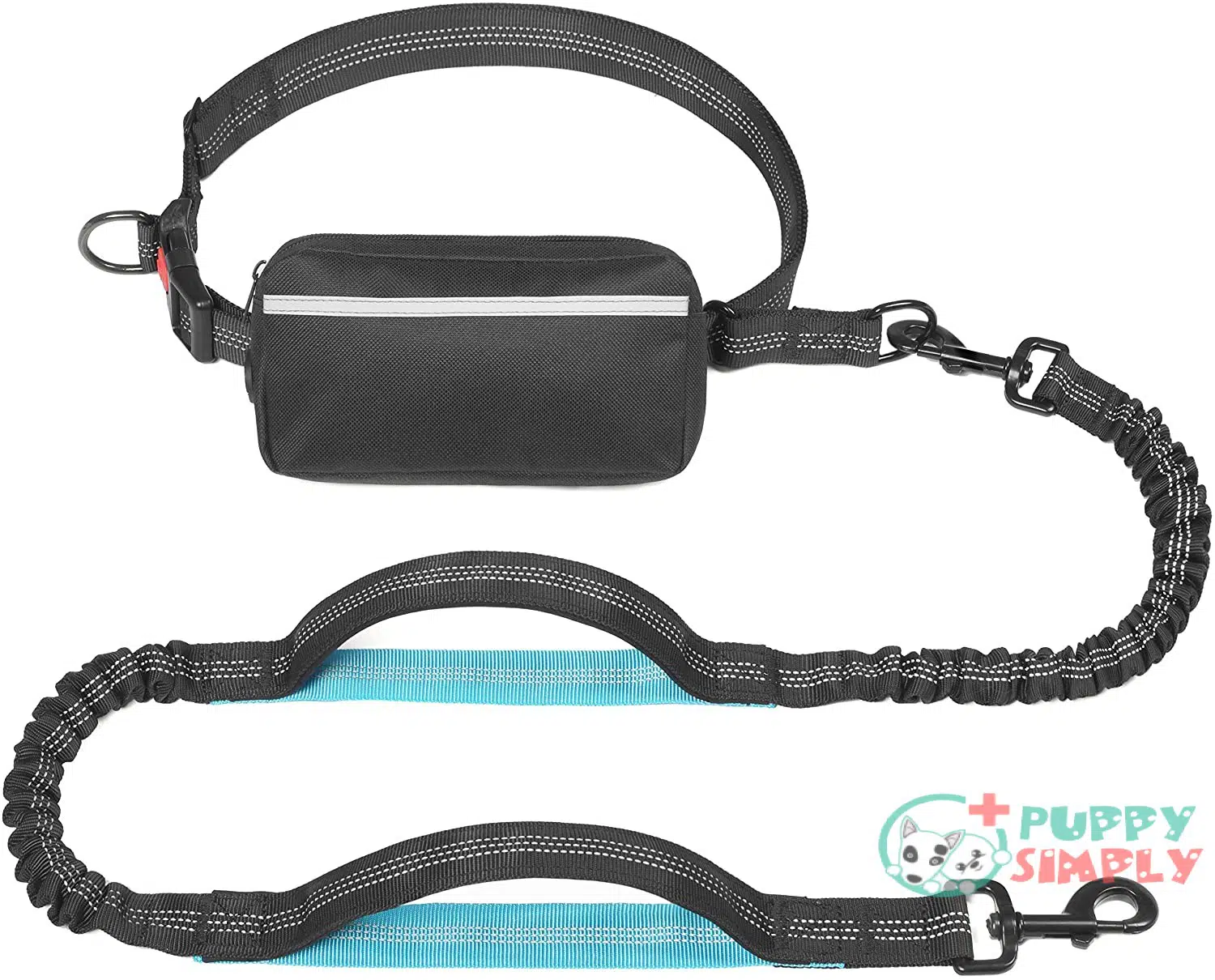 View On Amazon
You'll love controlling even the strongest pullers with this heavy-duty hands-free leash's dual shock absorbers and extra handles. This adjustable iYoShop leash allows you to securely walk large dogs, with its padded waist belt, removable zippered pouch, reflective threading, and heavy-duty hardware.
The dual shock absorbers reduce pulling, while the two regular handles give you extra control when needed. The hands-free waist handle enables relaxed strolls without tangled arms. Sturdy construction and smart features make this leash a top choice for large, powerful pullers.
Dual shock absorbers reduce pulling
Padded waist belt for comfort
Reflective threading for visibility
Extra control handles as needed
Can be too long for smaller handlers
Waist belt may lack enough padding for some
Shock absorption could be better
4. Hands Free Retractable Dog Leash Fanny Pack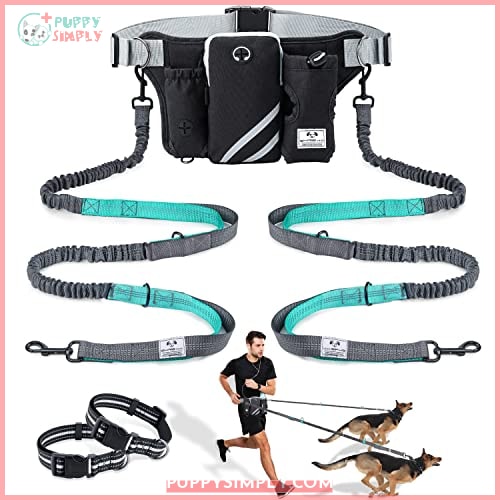 View On Amazon
Versatile and user-friendly, this SHINE HAI dual dog leash belt offers hands-free, adjustable functionality plus reflective safety and storage for your walks. The multifunction waist bag provides convenient storage for water, treats, phones, and waste bags.
Its reflective stitching and bungee design add visibility and shock absorption for walking two dogs. For pet owners needing extra control, dual handles allow handheld use. Customers find it's easy to walk multiple dogs hands-free.
The storage capacity suits shorter walks but may be limiting for all-day use. While made of quality materials, concerns exist about long-term durability.
Overall, it's a functional option for hands-free small dog walking with useful accessories.
Hands-free design
Shock absorbing bungees
Reflective for visibility
Convenient storage pockets
Limited storage capacity
Possible durability concerns
May not fit smaller frames
5. Greener Dog Poop Bags Leak Proof Strong Thick
View On Amazon
These leak-proof and extra thick corn starch blend bags are an eco-friendly choice that most users prefer for their durability, size, and biodegradability. With their unscented, sturdy construction, they easily contain waste from dogs big and small while meeting your desire to serve the planet.
The 540-count value pack means you'll stock up for months ahead, keeping bags on hand for daily walks or wherever your freedom-loving spirit takes you and your pup. While the sticker seals sometimes tear, these bags broadly win fans through their leak-proof performance and compostable constitution.
Durable, leak-proof, and extra thick
Corn starch blend is compostable/biodegradable
Large 13×9 size fits all dogs
Good value with 540 bags per pack
Some issues with sticker seal on rolls
Need confirmation of composability
6. SafetyPup Urban Dog Reflective Vest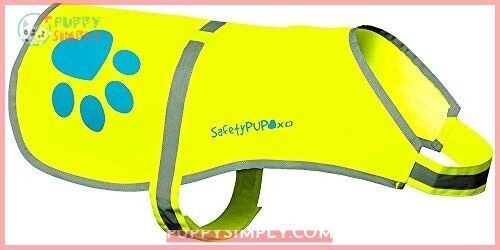 View On Amazon
The SafetyPup Urban Dog Reflective Vest keeps your pup visible with its highly reflective fabric, providing critical safety during evening walks according to over 75% of customers. This premium vest's rip-resistant Oxford Weave and weather-resistant build ensures durability, while the adjustable straps provide a customized fit.
Designed for medium to large dogs, the vest's high reflectivity allows you to safely walk your pup at night.
Highly reflective for visibility
Durable rip-resistant fabric
Adjustable for good fit
Keeps dogs dry in rain
Utility strap for accessories
May run small
Needs adjustments for some dogs
Not for tiny breeds
7. Light Up LED Dog Harness for Night Walking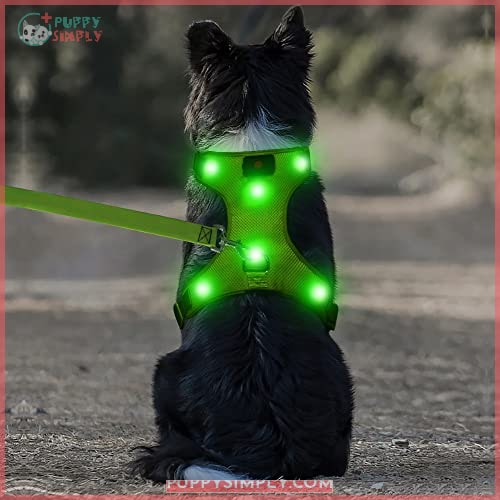 View On Amazon
You'll keep your pup visible at night walking with the rechargeable LED harness's adjustable straps and reflective trim. This safety harness distributes pressure evenly with its innovative no-pull design, so your dog can focus on the walk versus the gear.
The removable battery case ensures easy cleaning and maintenance. With two flashing modes and up to 3 hours of glow time, this LED dog harness provides customizable visibility for different lighting conditions.
According to customer feedback, it fits snugly and works well on dogs of all shapes and sizes. Some owners wish the lights stayed on longer between charges. Overall, the harness effectively improves visibility and safety during after-dark adventures.
Adjustable for a custom fit
Evenly distributes pressure for no-pull comfort
Battery case is removable for easy cleaning
Reflective trim and LED lights enhance visibility
Lights may turn off unexpectedly
Harness can shift during active movement
Glow time less than advertised for some users
8. Dog Boots Waterproof Reflective Anti Slip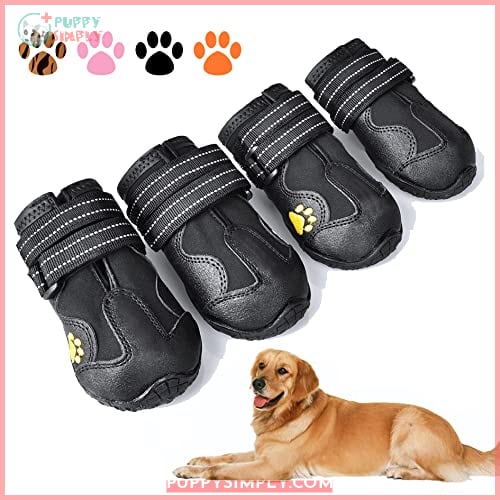 View On Amazon
You can keep your pup's paws protected with Expawlorer's adjustable and reflective dog boots. These boots are designed with durable, anti-slip rubber soles and soft, breathable fabrics to shield paws from hot pavement, snow, thorns, and more.
These thoughtfully designed boots allow your pup to comfortably join you on walks in any weather. With two adjustable straps for a custom fit, they're suitable for most medium-sized breed dogs from 23-33 lbs.
The soft, hand-washable fabrics keep paws cozy while the wear-resistant, non-slip rubber soles provide stability. Offered in cute colors, they provide multi-purpose protection in various conditions.
Adjustable for custom fit
Durable and non-slip soles
Breathable and protective fabrics
Reflective for visibility
Cute color options
Sizing can be tricky
Dogs may need time to adjust
Not for deep water or sand
Straps offer uneven adjustment
9. Dog Raincoat Hooded Slicker Poncho for Small to Large Dogs and Puppies Yellow XL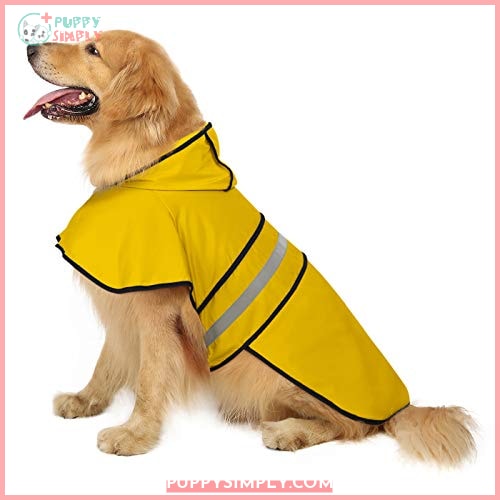 View On Amazon
Made with waterproof polyester coating, its adjustable strap and reflective trim keep your wet pup safe and visible on rainy walks. This lightweight, foldable HDE dog raincoat provides customizable wet weather protection for pups.
Its waterproof design shields them from the elements, while the high-visibility reflective strip enhances safety during low-light strolls.
Though occasional issues with hood depth and full hindquarters coverage have been reported, most users find it fits as expected based on precise size measurements. It packs down easily for storage and travel, making it a convenient minimalist raingear option for on-the-go pet owners.
Waterproof polyester material
Reflective strip for visibility
Adjustable belly strap
Lightweight and packable
Good value
Potential hood and coverage issues
Thin material
Sizing discrepancies
10. Natural Dog Nose Balm Moisturizes Soothes Dry Cracked Dog Noses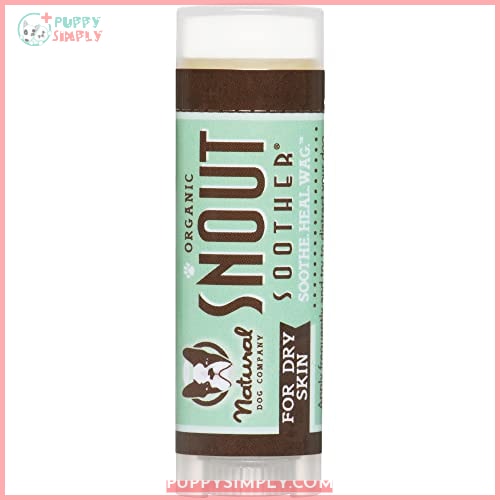 View On Amazon
Treat your pup's dry, flaking snout with Natural Dog Company's vegan balm – it soothes cracked noses fast. This moisturizing balm uses natural ingredients like coconut oil and shea butter to relieve common nose ailments in dogs of all sizes.
Just apply it to dry, irritated areas one to three times a day for quick relief. Customers report seeing improvements in their dog's nose condition in as little as two days.
The balm is specially formulated to treat hyperkeratosis, sunburn, and discoid lupus. It softens, soothes and protects cracked nose leather. The vegan recipe is safe if licked off and works well on giant breeds too.
Your pooch will thank you for keeping their tender snout moisturized and healthy.
Fast relief for dry, cracked noses
Made with natural moisturizing oils
Safe formula if licked off
Multiple daily applications needed
Not a cure for underlying conditions
Preparing Your Dog for Running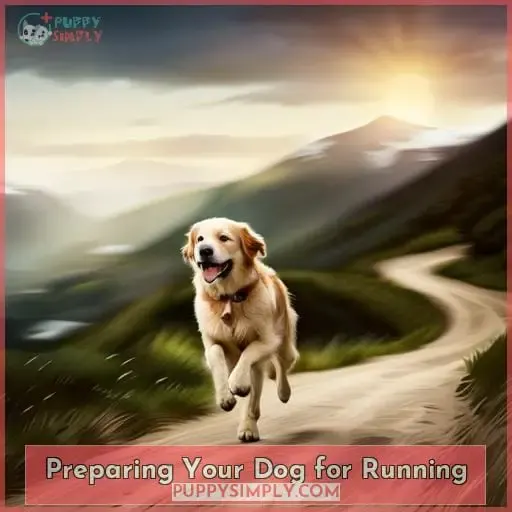 Before you start running with your pup, it's crucial to take the proper steps to condition them appropriately.
Follow this 4-item checklist to set you both up for success:
Get your vet's approval that your dog is healthy enough for running.
Pick a breed built for endurance like a Labrador or Dalmatian. Avoid brachycephalic breeds like Bulldogs.
Start with short distances and build up duration slowly over several weeks. Let your dog determine the pace.
Warm up with 5-10 minutes of brisk walking to get muscles loosened up. Then ease into a light jog together before going full speed.
Following proper conditioning protocol helps minimize injury risks for both of you. Invest in the right running gear like a sturdy harness and reflective leash so you can focus on enjoying your fitness journey together! With the proper preparations, running with your dog can benefit you both physically and mentally.
Choosing Safe Running Locations

When taking your dog running, be sure to carefully select safe terrain and enhance visibility based on weather precautions. Choose softer surfaces like grass or dirt to avoid injuring paws, and use reflective gear or LED accessories if running in low-light conditions.
Rain calls for waterproof boots, and slick surfaces require extra caution. Varying your route and being aware of potential hazards will help keep you and your pup safe while getting in some quality exercise.
Checking weather and visibility conditions before heading out can help you plan ahead for any necessary gear or route changes. With some thoughtful preparation, you and your furry running buddy can enjoy many happy jogs together.
Safe Terrain Selection
You'll want to carefully pick running routes with softer surfaces when starting out. Avoid concrete or asphalt, looking instead for grass, dirt trails, or tracks which cushion your pup's paws as their pads toughen up.
Monitor for signs of discomfort, adjusting your path and pace for their comfort. Remember weather impacts terrain – avoid slick or icy patches which increase injury risk. With time and training, your companion will build endurance to handle more varied terrain at your side, treasuring the freedom of each new trail conquered together.
Weather Precautions
Measure your dog's paws before running on hot pavement. During summer, closely monitor the temperature and your dog's hydration.
Here are 5 weather precautions to follow when running with dogs:
Avoid running when pavement temperatures exceed 77°F.
Bring water on runs and take frequent breaks in the shade.
Run in the early morning or evening when it's cooler.
Use dog boots or paw balm to protect paws in snow or ice.
Equip your dog with a raincoat and utilize reflective gear in low light.
When running with your pup, wisely and proactively modify plans based on weather conditions.
Visibility Enhancements
Equip your pup with reflective and illuminated accessories before heading out on those night jogs. Opt for an LED dog collar or harness that distributes light 360 degrees for maximum visibility from all angles.
Pair bright gear with reflective vests or strips that shine when headlights hit them. Thoughtful precautions like these allow you both to continue your outdoor exercise together, even when daylight is scarce.
With the right high-quality products, you can safely enhance your visibility and keep your running buddy in sight.
Running in Different Weather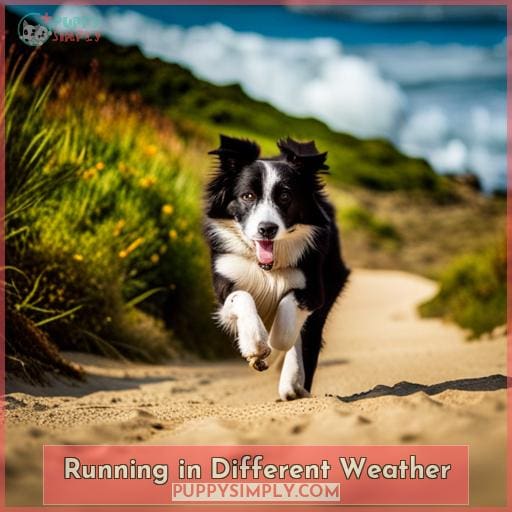 Prepare your dog to handle rain by having them wear a lightweight, waterproof poncho with reflective trim that remains dry underneath.
Keep your dog visible with reflective gear like LED collars or vests. Dark, rainy days reduce visibility.
Choose quick-drying fabrics like nylon for any dog apparel. Avoid cotton which stays damp.
Rinse and dry your dog's paws after runs to remove mud and chemicals. Extended moisture can cause irritations.
Inclement weather needn't deter you and your energetic canine from enjoying invigorating runs together. With thoughtful preparation and the right gear selection, you can forge ahead on your shared fitness journeys rain or shine.
The bonding experience of outdoor dashes is worth a little wet weather creativity.
Knowing When to Leave Your Dog Home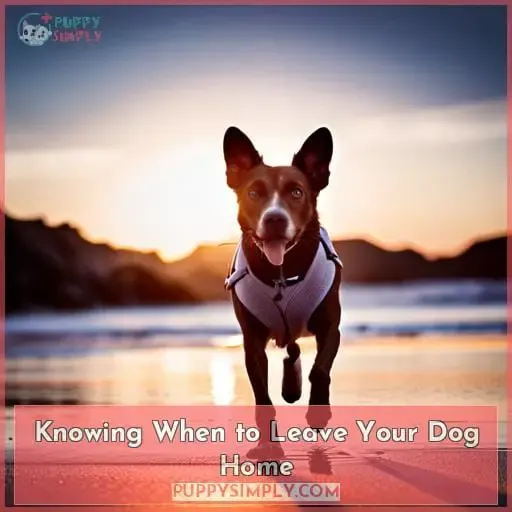 You'd care more for your dog's welfare if you left him home when the weather's dreadful. Before setting out on even the most familiar running route, give your canine companion's needs close consideration.
Skipping a jog to let your dog rest isn't a failure of commitment; it's an act of thoughtful compassion that shows you prioritize his health and safety. If the forecast calls for dangerous heat, icy patches, or storms, the best running accessory you can provide is a cozy dog bed where he can wait comfortably until conditions improve.
No leash, harness, or cooling vest outweighs your pooch's need for shelter when the elements turn harsh. So check the weather and use good judgment – a healthy dog is always preferable to an extra mile logged.
When you must leave Fido behind, make it up to him later with playtime and pampering.
Training Your Dog to Run With You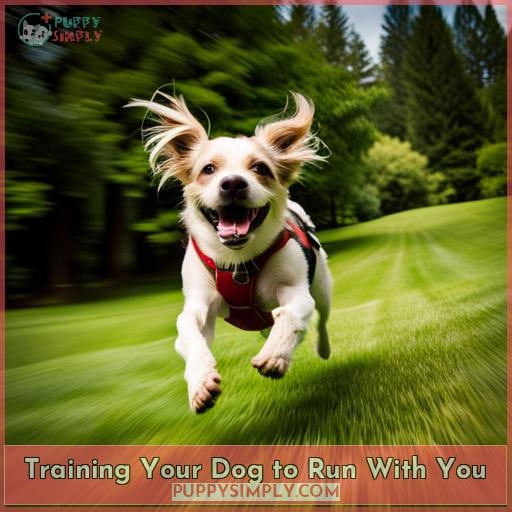 Start conditioning your pup gradually with short jogs before going the distance. Slowly build up endurance through interval training. Vary terrain and never exceed your dog's limits. Focus on reading body language; panting and lagging signals a needed break.
Master the basics first – practice loose leash walking before attempting a run. Use positive reinforcement; reward good behavior on the run with treats and praise. With patience and the proper prep, you'll have a happy, healthy canine cardio companion.
Essential tips for shared running joy:
Start slow and short
Bring water and a collapsible bowl
Watch for signs of fatigue
Try new routes to keep it exciting
Make it fun with toys and play
Keeping Your Dog Hydrated and Healthy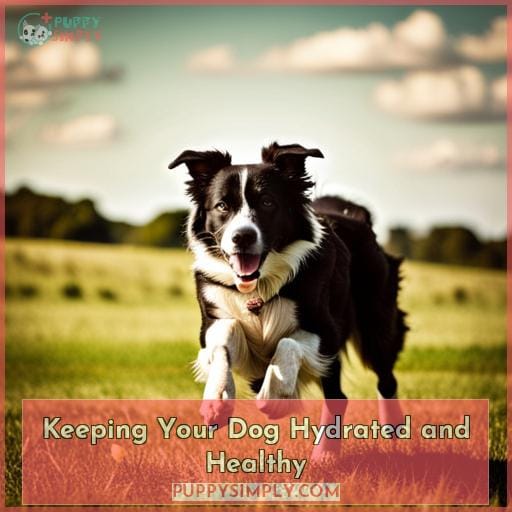 Always carry water and a collapsible bowl when running with your pup. Keeping your furry friend hydrated and healthy on outdoor adventures protects their wellbeing. Use a portable dog water bottle like the MalsiPree dispenser, which provides on-the-go access to water.
Collapsible travel bowls like Outward Hound's are lightweight and convenient for portable hydration. Check the forecast and your route to identify water access points. Schedule breaks every 20-30 minutes for small to medium dogs.
Carry treats in a zippered pouch like Kurgo's; reward good behavior and use high value treats to redirect attention. Monitor for signs of overheating and overexertion. With preparation and preventative care, you'll be ready to hit the running trails together.
Equipping yourself with the right gear keeps canine companions healthy. Focus on safety and fun as you explore new sights, sounds, and smells.
Conclusion
Stay fit and keep your pooch safe while running together. At the start, health comes first, so ensure you are prepared with the best gear for your faithful companion. From visibility vests to durable raincoats, a checklist of must-have best dog running gear will support you every step of the way.
With the right accessories, weather protection, and training, you will have many happy miles ahead with your furry running buddy by your side.